Breathtaking design for Shopify stores with Veda Builder.
Breathtaking design for home living.
Veda Builder is an all-in-one app that allows you to build your aesthetic Shopify stores on steroids!
Nam aliquet ante porta, gravida elit interdum, luctus porta sapien justo, at fringilla felis suscipit vestibulum.
Various theme templates & preset styles
Veda Builder offers a variety of Shopify theme templates with diverse shop pages. Plus, theme settings (e.g. colors, typography, icons, animation) are preset in different styles to choose from.
Override other Shopify themes smoothly
Veda Builder can build a whole Shopify store by itself. And, it can override any other Shopify themes to add fascinating functionality to your current store.
Enable full customization & personalization
Users are empowered to edit & custom every element, block, and section to fit their store brand. The drop-drag menu with a live preview editor makes it easier for them to do so. Besides, users are allowed to custom code & export code.
"Veda Builder app really can do anything. Easy to learn – and although I'm not a professional, I've worked with many other themes. Veda is without a doubt the most flexible and fun to use."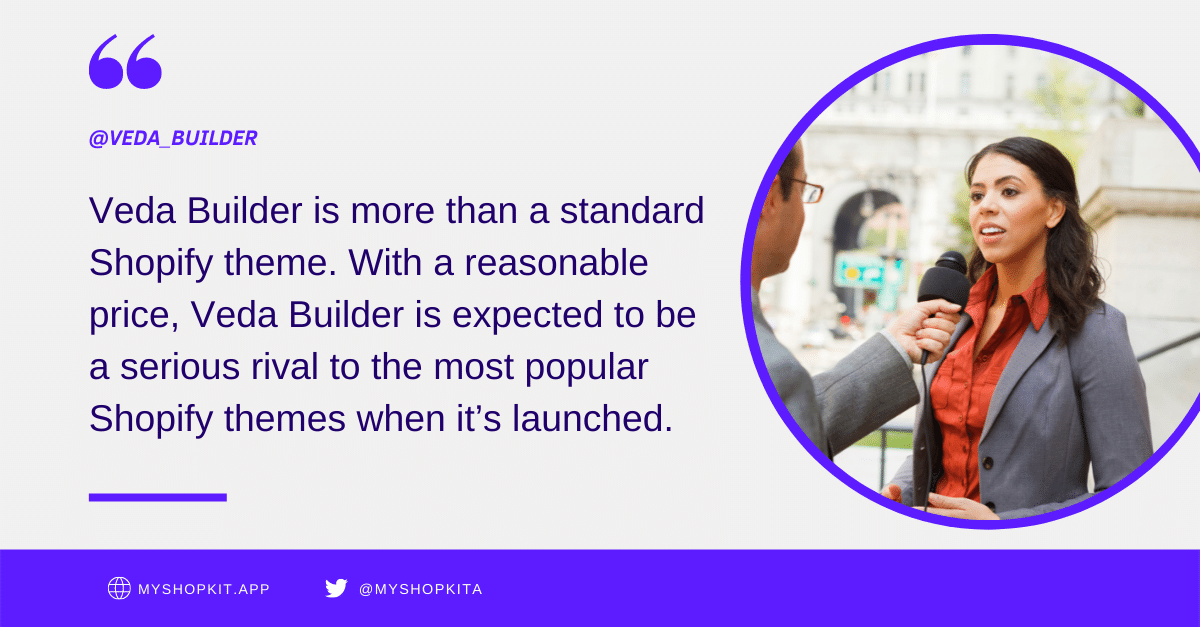 Build rich & meaningful Shopify stores
on steroids!
Build them fast, without having to think about data structure or code. Design and publish your Shopify store in seconds – as fast as a Shopify developer can code it.
Get
professional-looking

Shopify stores
Get professional-looking Shopify stores without coding! With reliable Shopify template building options. Increase sales with eCommerce store design options like drop shipping sales, B2B discounts & coupons, and many more! Stop boring your customers with plain Shopify templates, use Veda Builder instead. Get eye-pleasing Shopify stores from trusted MyShopKit app developers!
Get Veda Builder FOR FREE now!!
We have a super special offer for Veda's earliest users. If you're among the very first users, you'll get a FREE version of Veda with complete functionality. Also, you can receive full support from the IT helpdesk to embed the app & fix any errors immediately.
Sign up to become the first ones to have Veda Builder embedded in Shopify stores FOR FREE.