We are thrilled to announce the groundbreaking integration between Veda Builder and Areviews, bringing you an unbeatable combination to supercharge your Shopify store and drive unparalleled success. Prepare to witness the transformation of your online business as we explore the remarkable features and benefits of this dynamic integration.
🌟 Discover Areviews: Elevate Your Reviews to the Next Level
Areviews – Photo Reviews Importer helps you to import photo reviews from AliExpress and other websites with a few clicks and collect photo reviews from your customers. Display all your reviews in many styles that help with boosting your sales and maximize your customer's trust.
Also, it helps you with conversion through visitors tracking, many ways of displaying reviews like a happy customer page, send emails to customers for each new order. Bulk import from products importer apps like Importify or Dropified and more.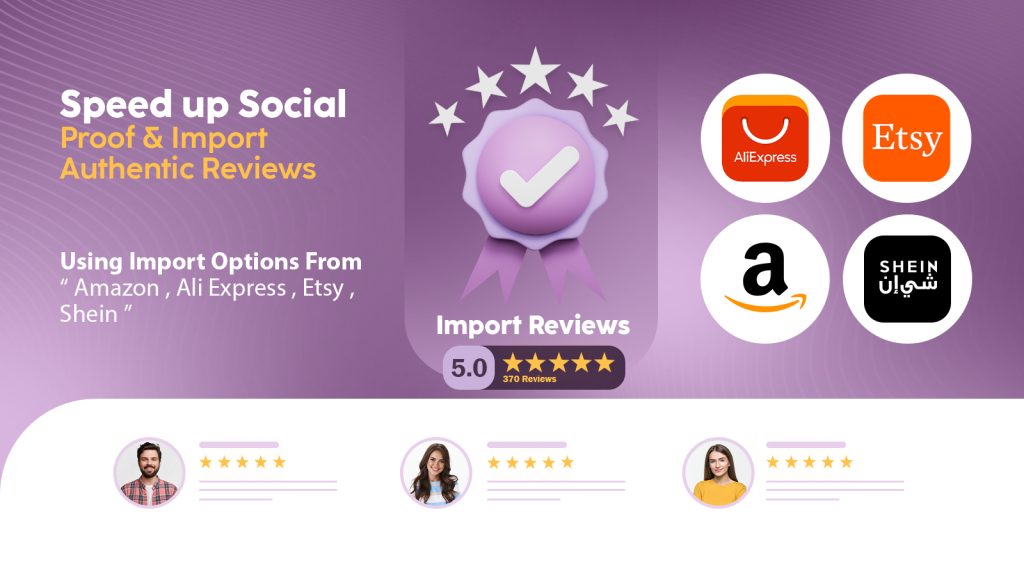 What will you get with Areviews?
Import reviews through supported website such as Amazon, Aliexpress or using CSV
Auto sync new reviews to make your products look active all the time
Integration with many apps and services such as Google shopping & Google snippet
Messages system for new orders where you can send messages and coupons
Many ways to display the reviews like sliders, popups, badges and many more.
Enjoy exclusive lifetime discount of 25%
As a special offer for Veda Builder users, Areviews is delighted to provide an exclusive lifetime discount of 25%! Take advantage of this limited-time offer to enhance your store's performance and reputation while saving significantly on Areviews' exceptional features and services. This offer is available exclusively to Veda Builder users, allowing you to maximize the benefits of this powerful integration.
Don't miss out on this exclusive opportunity! Click on the discount link below to automatically apply the 25% discount when you upgrade your plan on Areviews. Start harnessing the power of reviews to boost your sales and establish trust with your customers.
🚀 Unleash the Power of Veda Builder: Create Stunning, High-Converting Pages
Veda Builder is the all-in-one solution for creating exceptional pages that surpass the limitations of a standard Shopify theme. It empowers you to build captivating pages tailored to specific products, collections, blogs, or articles. With Veda Builder, you can effortlessly beautify every aspect of your store, granting it a unique and professional look that leaves a lasting impression on your visitors. The built-in library of amazing templates covers various niches and purposes, from promotions and mega sales to holiday-themed pages.
Moreover, Veda Builder seamlessly integrates with a range of complimentary apps that enhance your store's functionality and performance, including Product Badges, Freeshipping Bar, Email Popup, Multi-currency Converter, Image Optimizer, and Instafeedhub. Embrace the power of customization without the need for coding expertise and take your store's visual appeal and conversion rates to unprecedented levels.
💥 The Synergy of Veda Builder and Areviews: Unlock Your Store's Potential
When Shopify merchants combine Veda Builder and Areviews, magic happens! The integration seamlessly merges the strengths of both platforms to elevate your store's credibility, boost customer trust, and maximize sales. Effortlessly display imported photo reviews from Areviews on your Veda Builder pages, providing an engaging and trustworthy shopping experience for potential customers.
Wondering how to create an Areviews widget right within Veda Builder? We've got you covered! Follow this instruction article: How to add Areviews widget in Veda.
Harness the power of Veda Builder's advanced customization options and Areviews' comprehensive review management tools to create a store that inspires confidence and drives conversions. Watch as your store becomes a thriving hub of customer engagement and sales growth, backed by the seamless integration of Veda Builder and Areviews.