Are you looking for ways to find the Shopify stores list? Then, you've come to the right place! In this article, I'll walk you through different ways to obtain the full and most updated Shopify stores list. Also, I provide you with how to check if the store you're visiting is built with Shopify or not.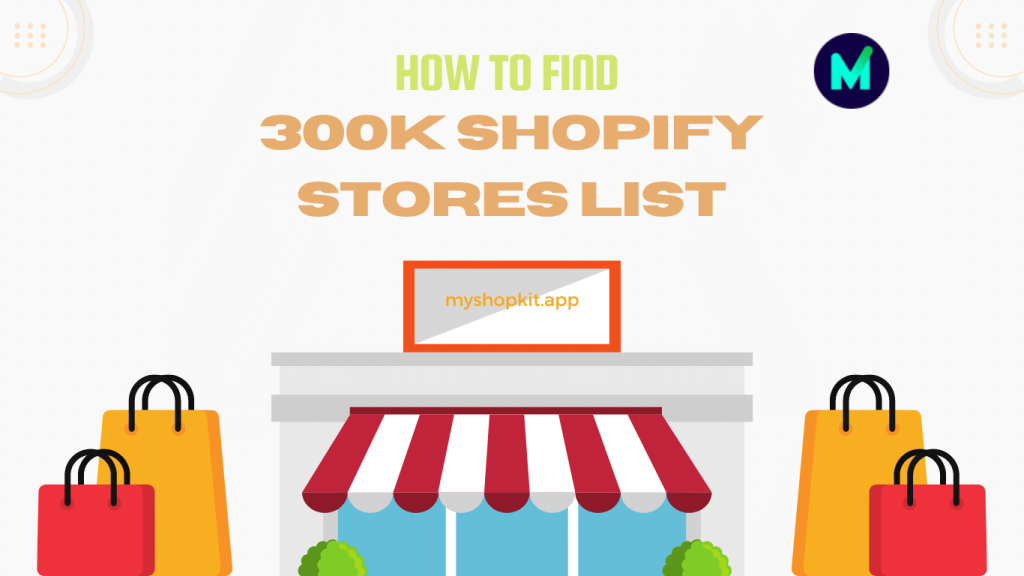 Ways to find the comprehensive Shopify stores list
SimplyTrends tool
As a matter of fact, I believe SimplyTrends is an even better way to find the Shopify store lists and spy on their insights. They've got about 1M active stores in their database, and you can search for any Shopify stores using our powerful filters.
For example, if you'd like to find all active Shopify stores located in the US with at least $100K monthly revenue, here you go: 
https://app.simplytrends.co/shopifystores/search?type=Keyword&country=United+States&min_monthly_revenue=100000
If you'd like a Chrome extension to tell if a website is powered by Shopify and also get a quick in-depth insight into it, we got you as well: SimplyTrends Chrome extension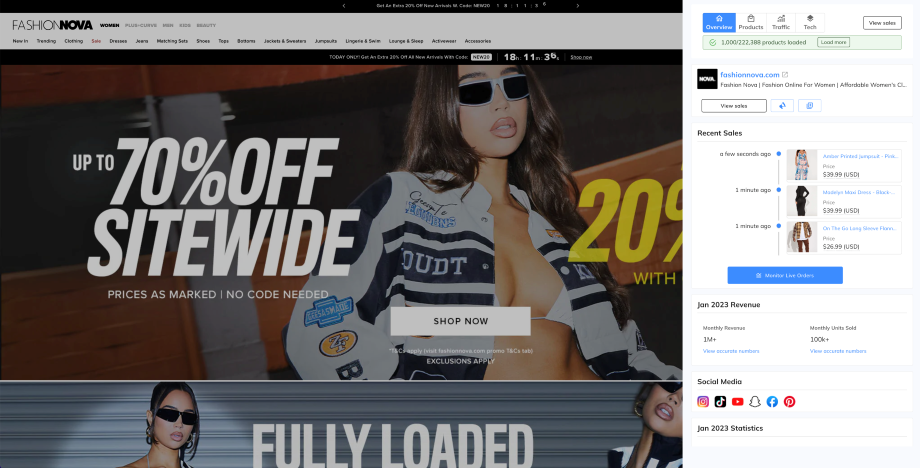 Check the IP address via MyIpMS
The first method I would like to mention is checking via the IP address. All Shopify stores are hosted on the same server as Shopify Inc. Therefore, we had better pull data of all stores with the ID address 23.227.38.0 – the ID address of Shopify Inc.
Another wonderful tool I highly recommend is myip.ms
First, access the website MyIpMS and enter 23.227.38.0 on the Whois Lookup search bar. You will see Whois IP Live Results for 23.227.38.0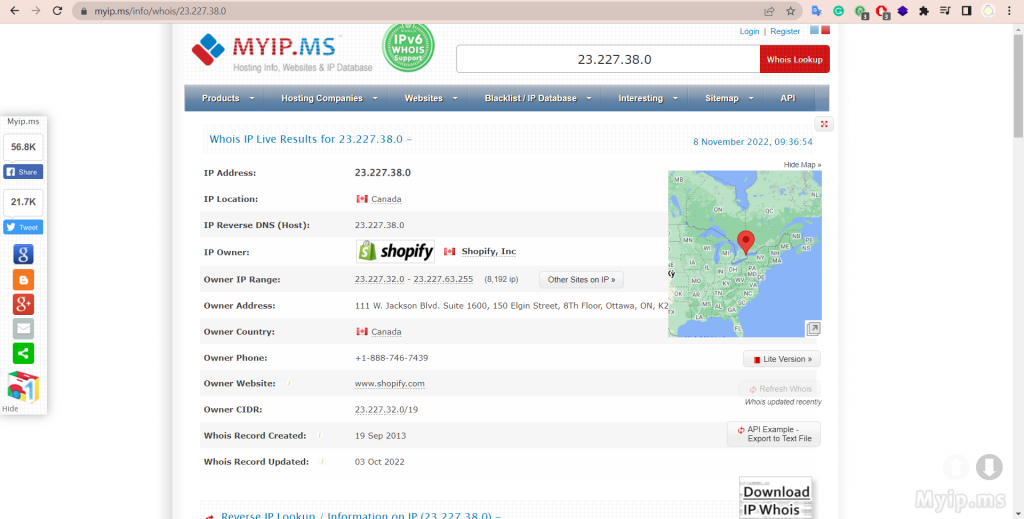 Second, click on the button "Other Sites on IP" to explore all Shopify stores that are active. You will be required to confirm that You're a Human Being.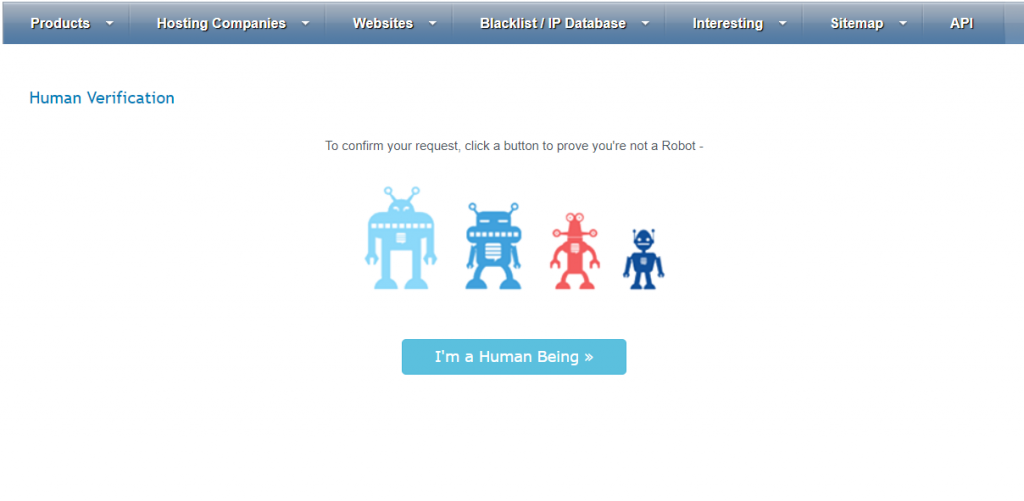 Third, scroll down to see 395,259 records of Shopify stores list in the table of "Known Websites between IP: 23.227.38.0 – 23.227.38.255". Click on "View All Records" to see in details. There, you are able to break down the data based on Website Name, Web Server Location, Site Popular Rating, Top Level Host (Reverse IP), DNS Records, etc.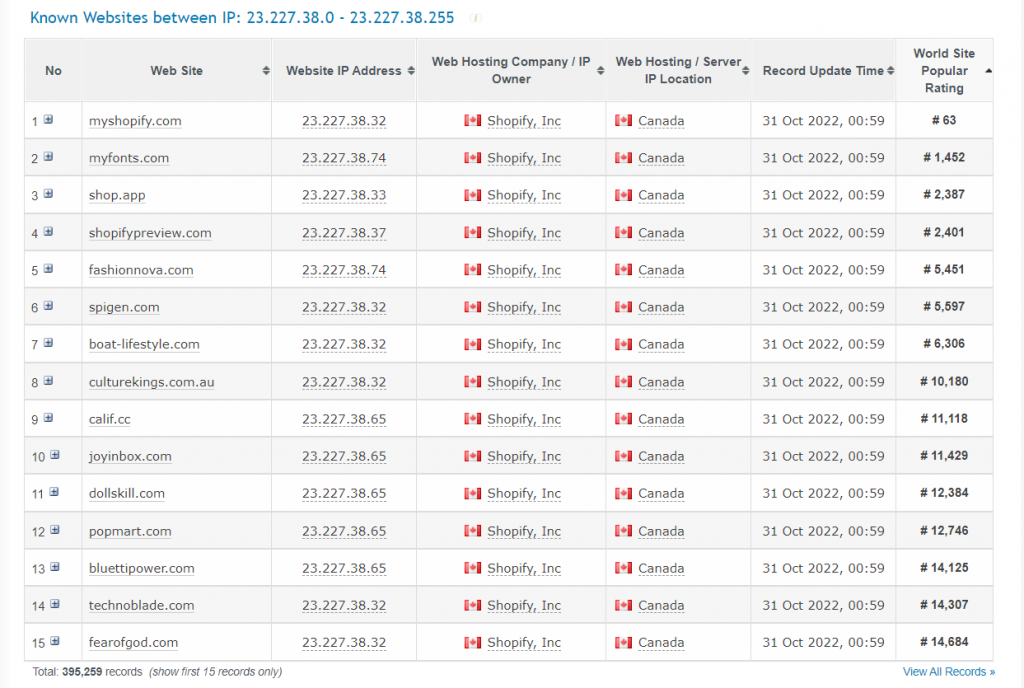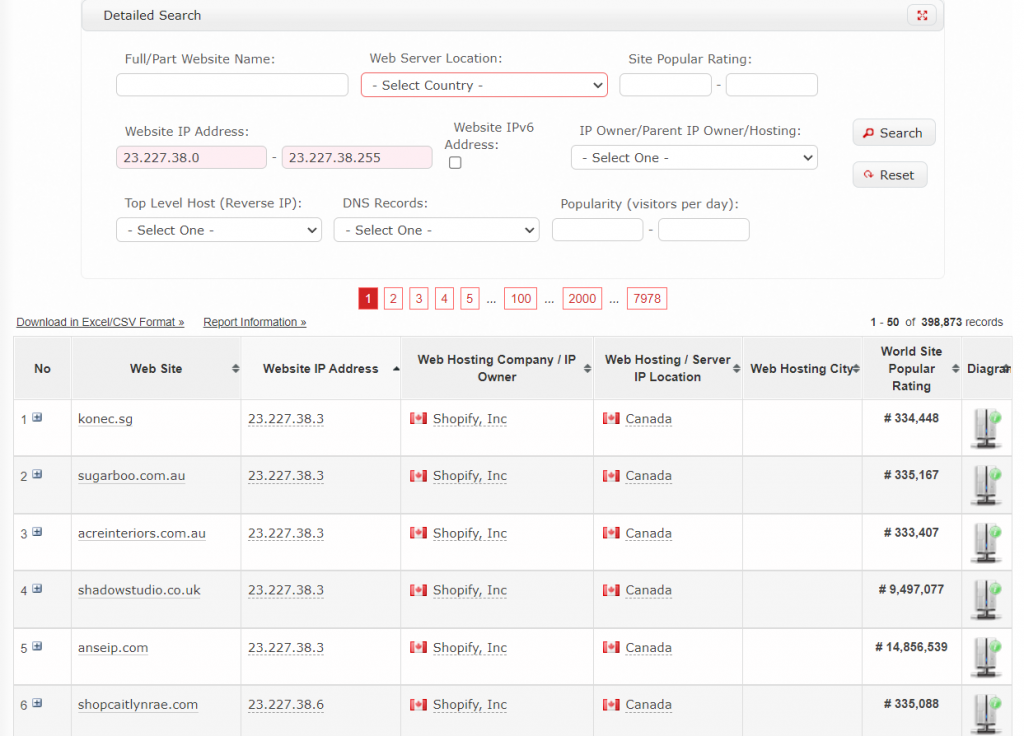 Besides that, you can also notice Websites IP Address Change History, Not Working Websites, and Nameservers.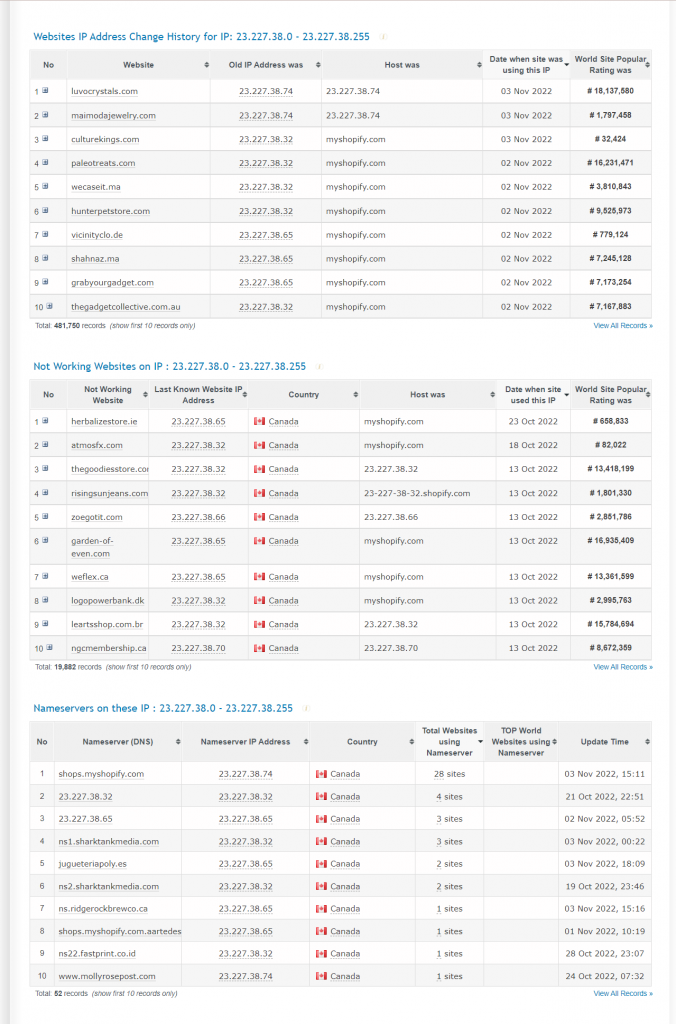 Check the technology via the Woorank Tool checker
Access the Woorank Tool checker via this link.
Click on the card "All eCommerce websites using Shopify"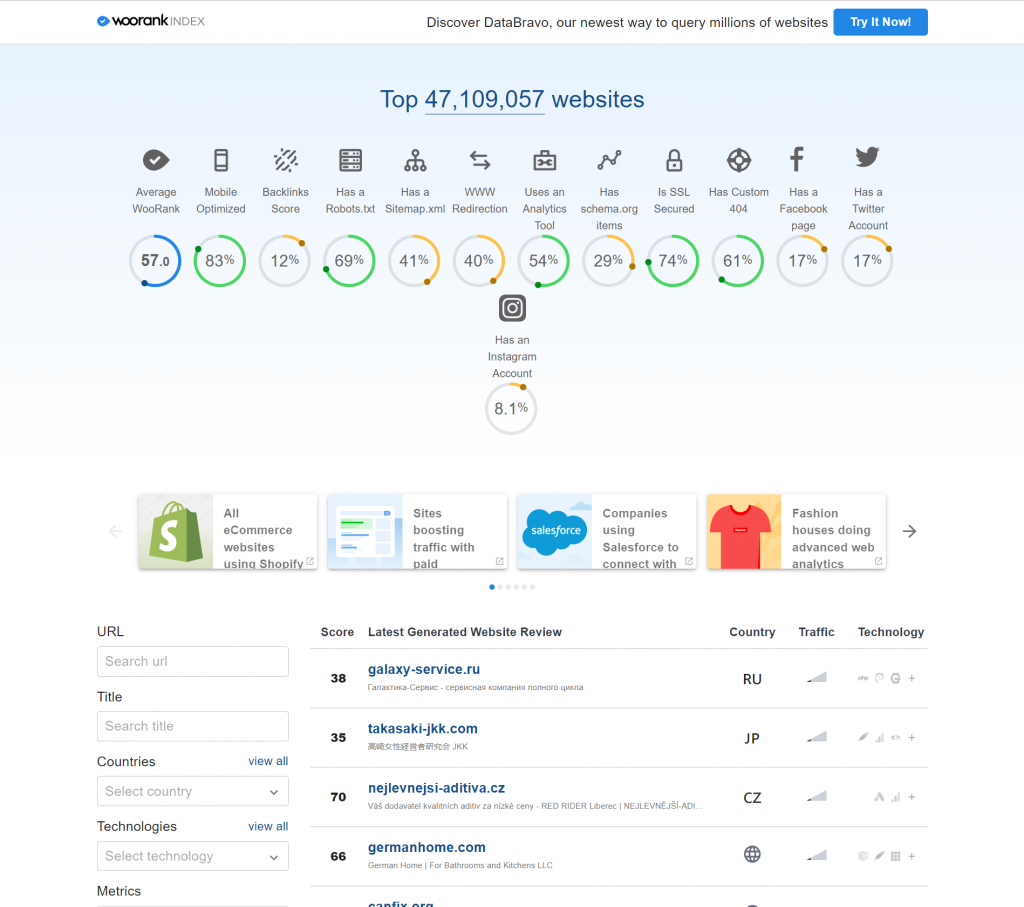 Select the country to narrow down the data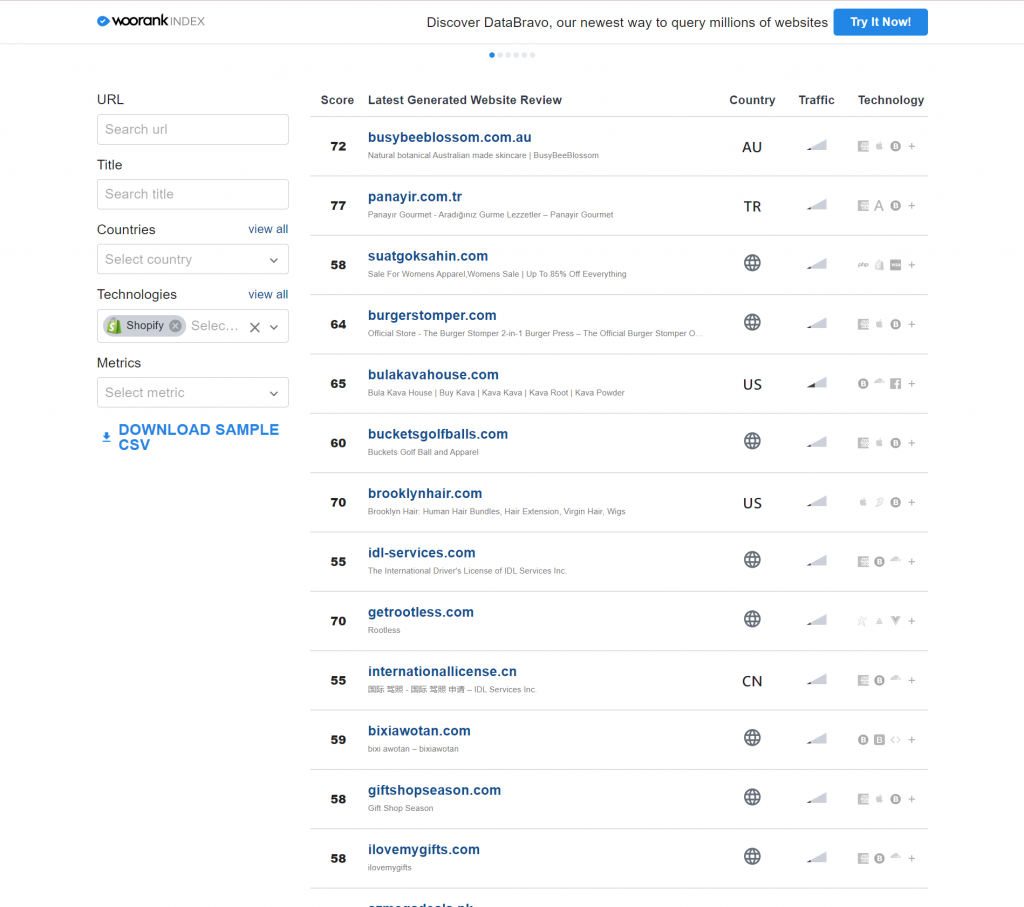 There, you can see the traffic and technology that store is employing
Use BuiltWith tool
BuiltWith tool provides a comprehensive list of Shopify stores. You can find a detailed profile of the website powered by Shopify such as contact info, social links, traffic ranking, etc.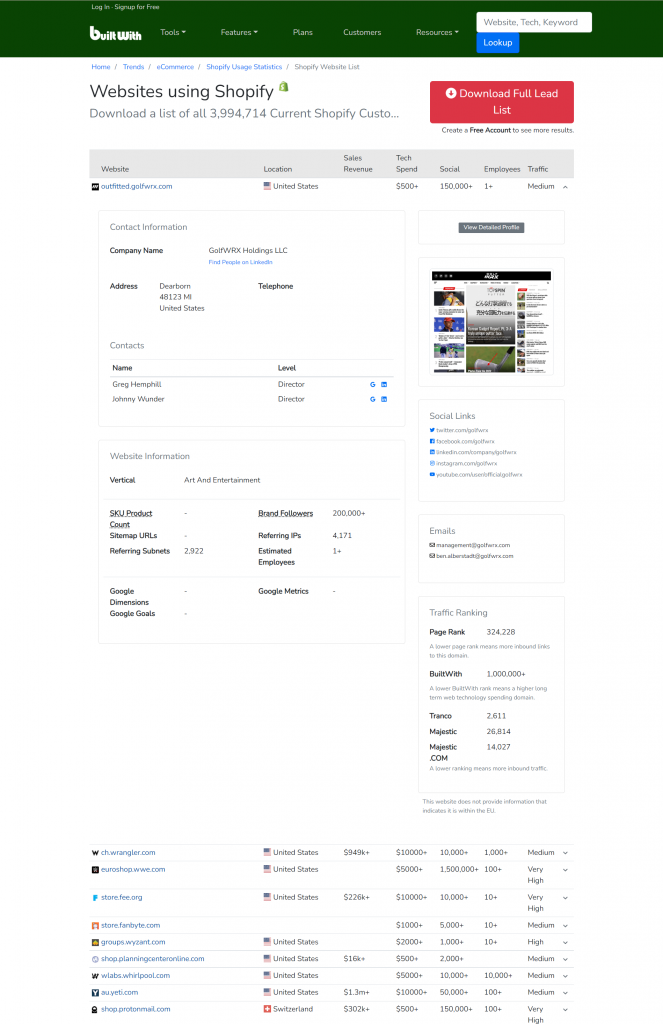 On top of that, you are also given useful report suggestions related to Shopify.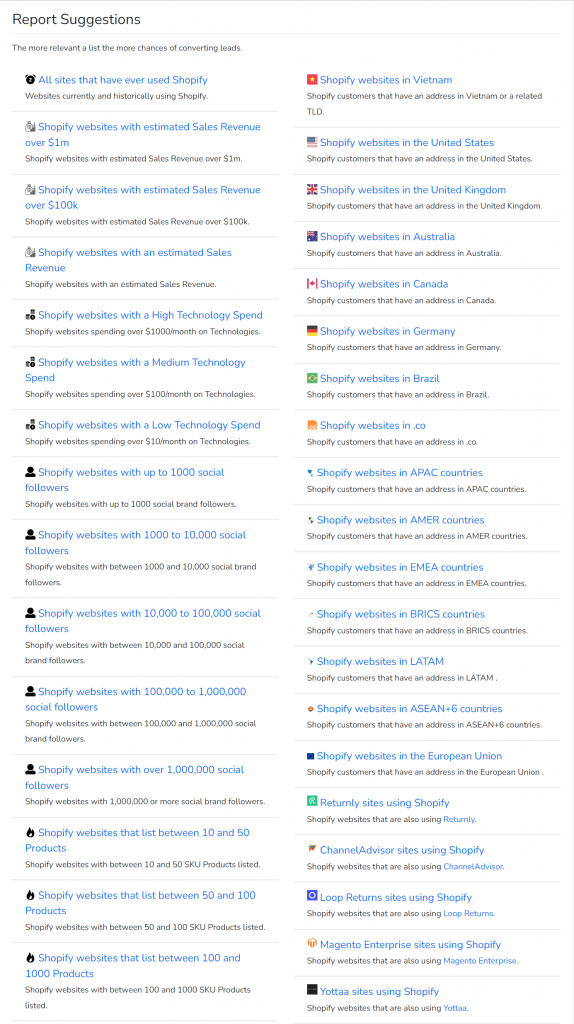 Google search via keywords
This method can be used to find stores that don't have a custom domain. They have a myshopify.com extension in the store URL. Search the syntax site:myshopify.com and see the results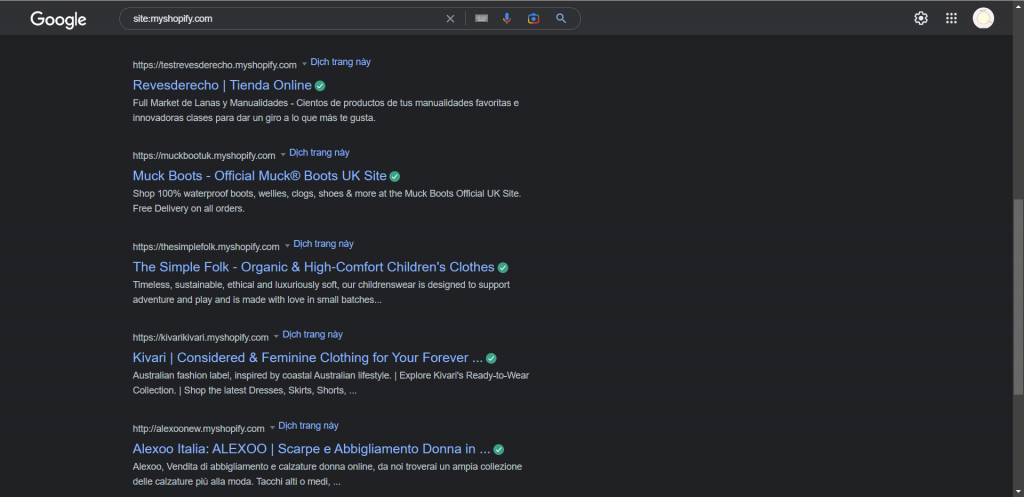 You can also find stores based on niche. Simply search the syntax site:myshopify.com niche. In this case, I will find shoes nice.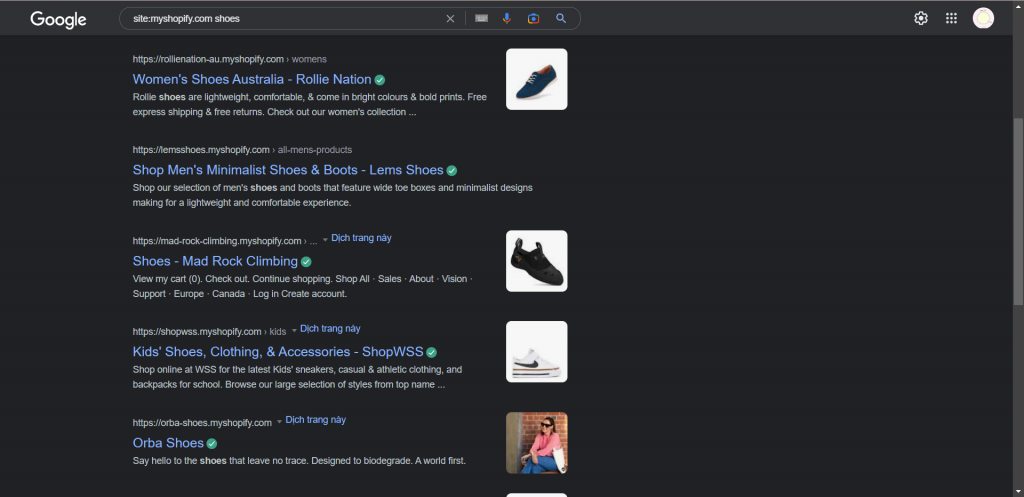 Ways to check if the website is built on Shopify or not
Once you obtain the data from one of the above methods, you can double-check if the website is built on Shopify or not.
Use extension Wappalyzer
Install the extension Wappalyzer. While you are on the website, turn on the extension. It'll show you all technologies the website is using, including eCommerce.
Take https://www.fashionnova.com/ for an example, this is the result I get from Wappalyzer.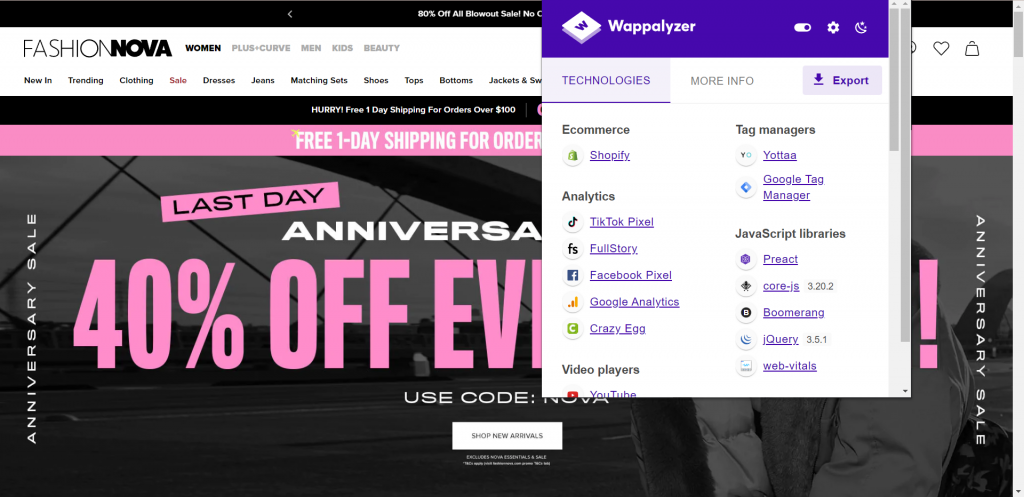 Inspect source code
If you don't want to install third-party extensions on your browser, you can inspect the source code. The simplest way to do this:
Right-click on any image
Choose "Open the image in new tab"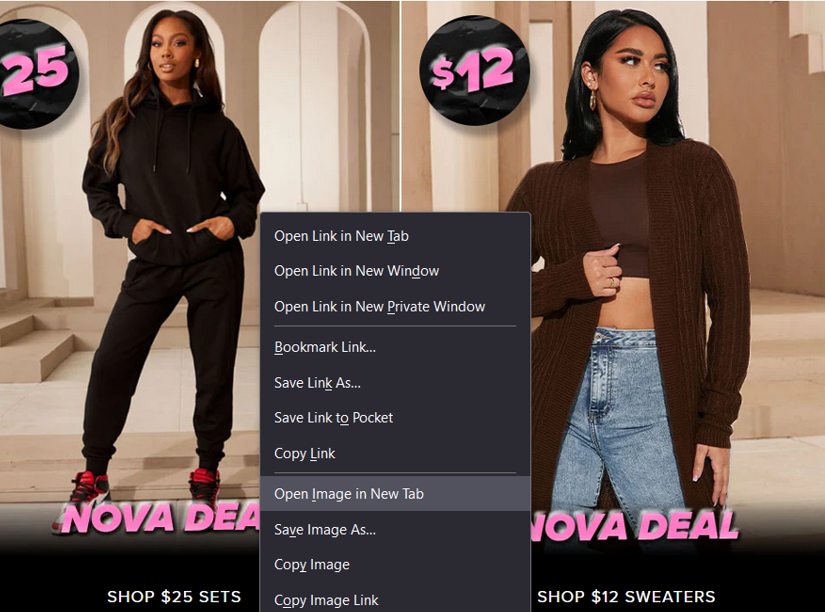 See the image URL that contains the "cdn.shopify.com", which means that the store is powered by Shopify.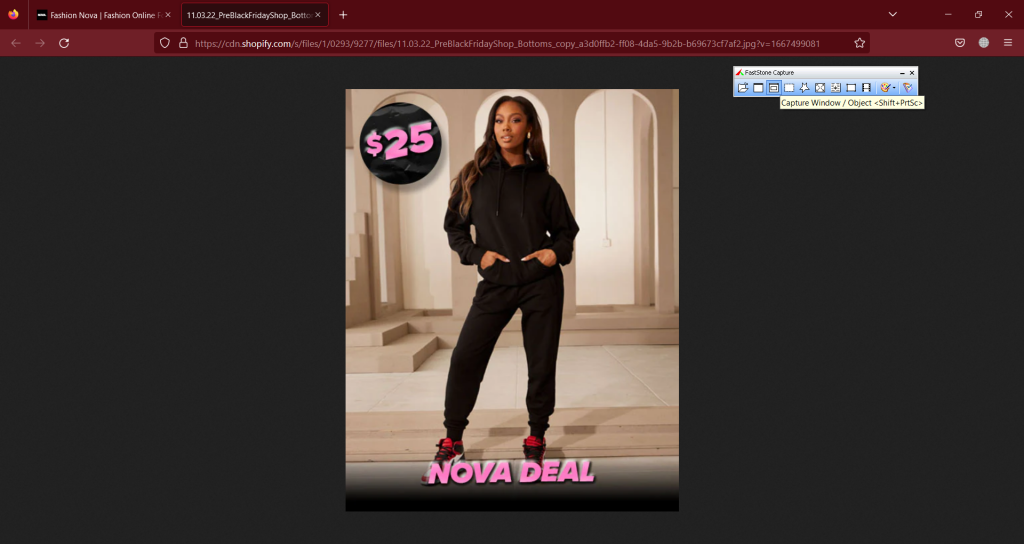 Final words: Shopify stores list
Now, you've already known how to find the latest Shopify stores list. Whether you're spying on your competitors or finding design inspiration, I hope you can achieve your goals. By the way, when it comes to beautifying Shopify storefront, we can't refuse to mention Veda Builder – Advanced Shopify Page Builder.
FAQ: Shopify stores list
Why Use Shopify?
If you're looking to build an eCommerce store, you've possibly heard of Shopify. Shopify is one of the most popular eCommerce platforms out there, and for good reason. Here are just a few of the many reasons why you should use Shopify to power your online store.
Shopify is user-friendly. Even if you're not a tech-savvy person, you'll be able to create a beautiful and professional-looking online store with Shopify. Their platform is easy to use and navigate, so you'll be up and running in no time.
Shopify has amazing customer support. If you ever have any questions or run into any problems, their customer support team is always there to help. They're quick to respond and always happy to help, so you can rest assured that you're in good hands.
The Benefits of Shopify
Perhaps the most obvious benefit is that Shopify makes it very easy to create a professional-looking online store without any prior experience or knowledge in web design. Even if you have no experience with coding, you can still create a beautiful and functional online store using Shopify.
Another great benefit of using Shopify is that it offers a wide range of features and tools to help you run your business effectively. For example, Shopify provides built-in payment processing, so you can start accepting payments from customers as soon as your store is up and running.
Additionally, Shopify also offers a number of marketing and SEO tools to help you promote your store and attract more visitors. Finally, one of the most appealing aspects of using Shopify is that it offers 24/7 customer support.
Shopify is a great platform for those who are looking to start an eCommerce store. There are a few things to consider before choosing which type of store is right for you, but overall, Shopify has a lot to offer.