If you are looking for a comprehensive Shopify image size guide like Shopify banner size, Shopify product image size, Shopify logo size, etc. You've come to the right place! We'll walk you through important notes for each type of Shopify image as well as image optimization tips.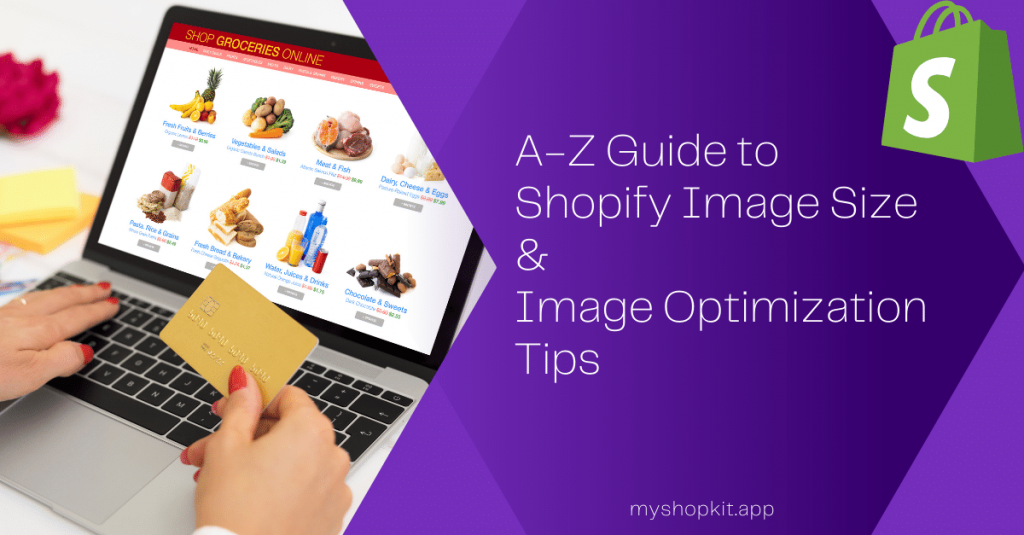 Why Is Image Size Important For Your Shopify Store?
Images are the most important element in any eCommerce Shopify store. They are the first thing that catches people's attention and evokes emotions.
Shopify online stores have to be visually appealing and offer a great user experience. That's why they need to have images that are optimized for various screen sizes, so they will look good on desktop computers, tablets, and mobile phones.
There is a right size for every image on your Shopify store, but what is it? And how to find your Shopify image size? Let's find out the answer right now!
The Shopify banner size has a generally recommended size of 1200-2000 px in width and 400-600 px in height.
The banner image is often placed at the top of the home page. Most Shopify store owners frequently use banner photos with slideshows or text overlays. Banner images have been called "hero pictures" by some.
Most of the common Shopify themes also follow this guideline. For example, Debut Shopify banner size is also 1200 to 2000 wide x 400 to 600 high. That said, you had better check out image size recommendations in each Shopify theme you use to ensure the best look.
Take Prestige theme Shopify for example, this theme clearly states the ideal size for each image. As for Shopify banner size Brooklyn, it should be at least 1200 x 550 px.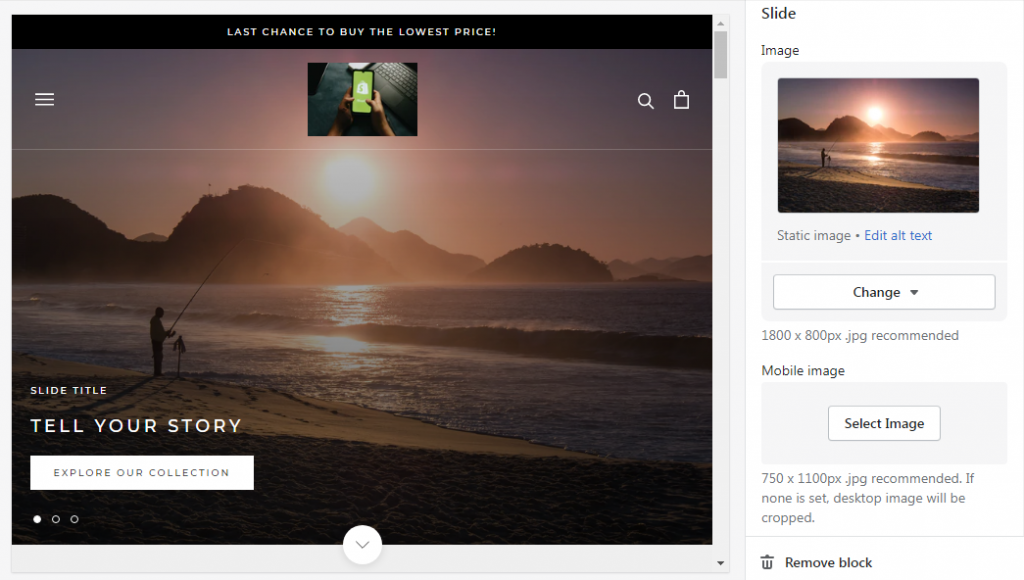 In terms of mobile Shopify banner size, it might be slightly different from desktop banner. The banner's side can be cropped to fit the customer's screen. Therefore, the solution is you can upload images for mobile and desktop with different sizes.
When you use images with text overlay for banners, you should place the text in the middle of the image to avoid being cropped.
As for your slideshow images, you'll need to choose high-resolution & simple backdrop photos so that the text overlay doesn't seem cluttered.
Shopify product image size: min 800 x 800 px & max 2048 x 2048 px
Shopify product images can make or break your sales. Specifically, if visitors see blurry and low-quality product images, they hardly click to examine the product. In contrast, if visitors see high-quality product images, they will tend to click on the product to see details.
Hence, you should upload Shopify product images with a min size of 800 x 800 px and max size of 2048 x 2048 px. Also, Shopify product images should be in a square shape and have a flat color for the background.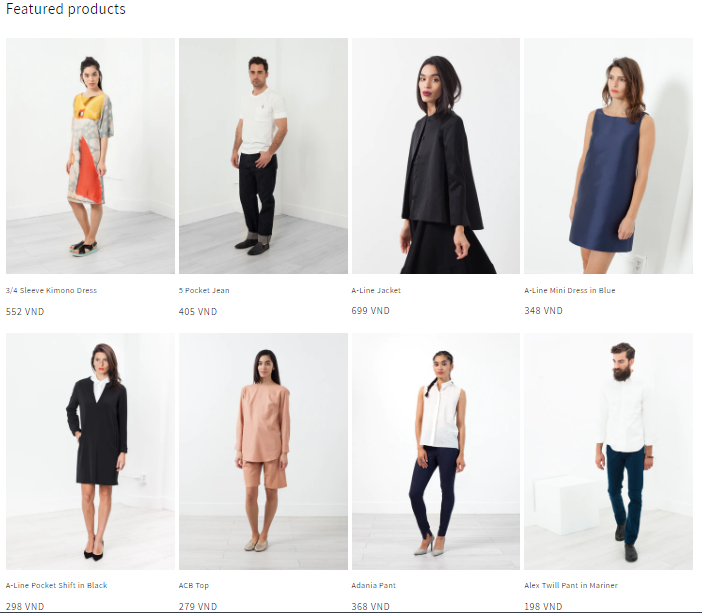 However, different Shopify themes might have different product image sizes. Hence, you should check the image guidelines provided by our current theme.
To take one example, about the Brooklyn theme, the recommended product image is at least 1024 x 1024 pixels. Whereas, the ideal size for the Shella theme product's image would be 1300 x 1667 pixels.
One important note is that you should keep all product images the same size.
Shopify slideshow image size: 1200 to 2000 px width and 400 to 600px height
As mentioned above, Shopify banner images are often used in slideshows. It means that slideshow image size is the same as banner image size with a min size of 1200 x 400 pixels and a max size of 2000 x 600 pixels. Please note that the image will be automatically cropped and resized on mobile devices.
The best Shopify Brooklyn theme slideshow size is 1200 x 800 px because this size is used in the Brooklyn demo store.
Shopify collection image size: 2048 px wide x 2048 px high
In fact, there isn't any particular size for the collection image you are supposed to use. Shopify collection image size can be up to 4472 x 4472 pixels or 20 megapixels. That said, Shopify staff advised shop owners to upload about 2048 x 2048 pixels to ensure high-resolution square images.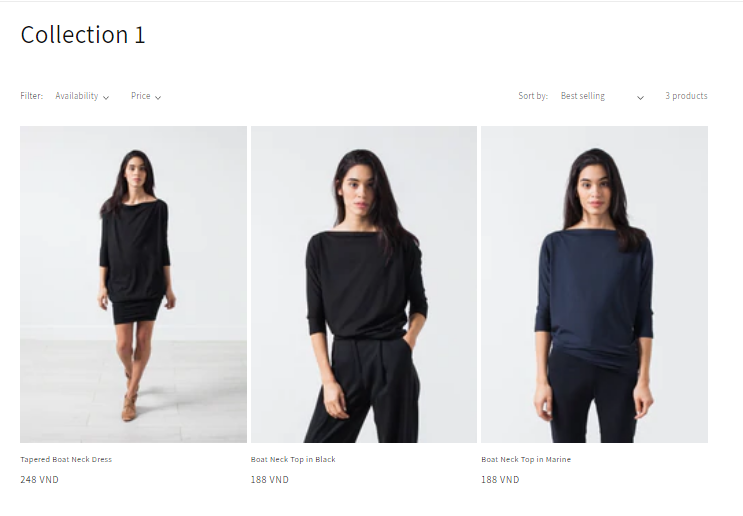 It's more vital that the height-to-width/ aspect ratio of collection images is constant. If not, they'd muck up your collection page's interface, leading to a bad user experience.
Shopify blog image size: 1000 x 350 px
The optimal Shopify blog image size within the content is 1000 x 350 px. However, based on how you want your photos to appear, this may change.
For the Shopify blog featured image size, the best size would be 1800 x 1000 pixels. This is an ideal size to make your blog more professional & polished. If you're going for a 16:9 ratio, the mini dimensions for a blog featured image are 1400 x 788 pixels.
The size of a featured blog photo, like all Shopify photos, cannot exceed 4472 × 4472 px and 20 MB, otherwise, it will be adjusted for you.
Shopify favicon size: 32 x 32 pixels
A Shopify favicon should be 16×16 or 32×32 pixels in size. When you publish your favicon to Shopify, it will be resized to 32×32 px if it is too big.
Shopify mobile image size
As mentioned earlier in the Shopify banner size section, in some Shopify themes, when you upload an image to your store there are two options: desktop version and mobile device version.
To ensure the best image quality on two versions, you are encouraged to upload 2 types of images with the appropriate size.
Otherwise, your current theme will help you adjust the image size to be desktop & mobile-friendly. Watch the video to see how Shopify banner size, product image, etc. is adjusted on a mobile device.
Shopify logo size: 512 x 512 px
According to Shopify experts, for almost all Shopify themes, 512 × 512 px is the suggested logo size. If your logo appears in the sidebar, its size needs to be reduced based on the size of the sidebar.
In the Debut theme, you are enabled to change the width of your logo from 50px to 250px.
Shopify image optimization tips and tools
If you take efforts to optimize Shopify images, your store will stand a high chance of ranking higher in Google search results.
Some practical image optimization tips you can follow:
Adding image alt texts to support accessibility, enhance user experience, and increase traffic.
Compressing images to make sure fast page speed.
Backing up images in case you delete them by chance.
You might wonder:
How can I manually add alt texts for all my Shopify images? I have hundreds of product images. That is really time-consuming
If reducing image size makes my images look unpleasant?
How can I back up Shopify images?
Well, that's why the MyShopKit Image Optimizer app was invented.
This amazing app helps you automatically add alt texts for all your Shopify images, helping your store friendly to search engines

It also compresses images without losing the high quality of original images, which increases site loading

In case you accidentally delete images, this app will restore those images for you.

More importantly, this app offers a FREE pricing plan with full functionality.

MyShopKit Image Optimizer
Veda Builder: Shopify theme that auto-optimize images
Our Veda Builder offers hundreds of Shopify theme templates that are versatile, clean, and responsive. Every image you upload will be adjusted to be mobile-friendly. It means that you don't have to worry about image size or image quality. On top of that, MyShopKit Image Optimizer is already integrated into Veda Builder's themes.
Veda Builder is more than a standard Shopify theme. With a reasonable price, Veda Builder is expected to be a rival to the most popular Shopify themes when it's launched.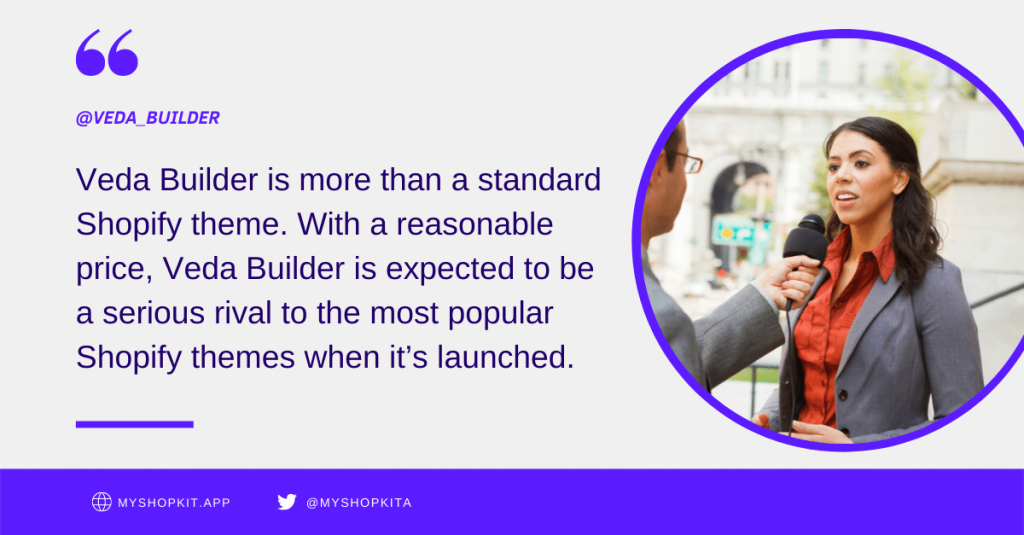 We also have a special deal for those who install Veda Builder earliest. If you are interested, you can contact our support team at [email protected] or drop a comment below. We will guide you through adding and using Veda Builder to design your Shopify store from zero to hero.
In case, you already used another Shopify theme, Veda can override that theme and add interesting features to your current theme. Don't miss out on this amazing pre-launch campaign!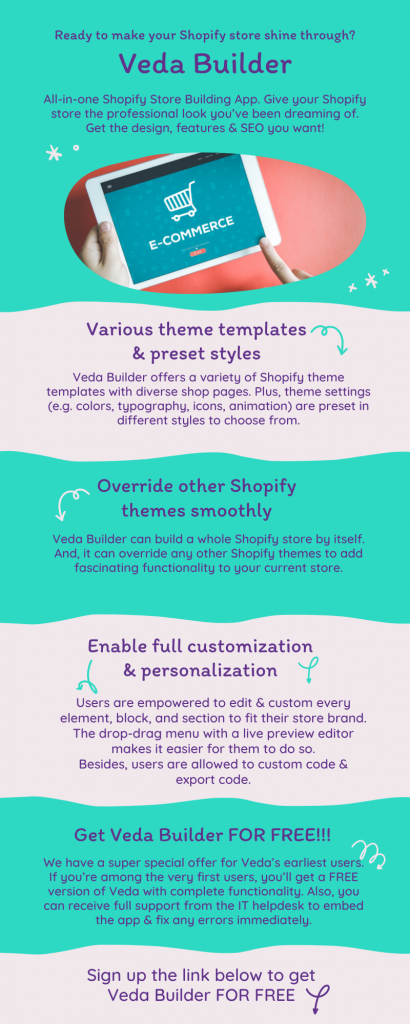 Shopify image size: Final words
You've already known the optimal size of Shopify images such as Shopify banner size, Shopify product image size, etc. You should also design images in JPG/PNG file format.
If you want your store to be more eye-pleasing and SEO friendly, you could consider installing third-party apps such as Image Optimizer and Veda Builder.