Prestige theme Shopify is a high-end and luxurious theme for Shopify store owners to build e-commerce stores quickly. It was designed by Maestrooo, a top Shopify theme provider in the industry. With 400+ reviews and many 5-star ratings, the Prestige theme is well-loved by customers.
This theme is perfect for luxury brands who want to sell their products online. Prestige offers many features such as responsive layouts, customizable sidebar, mega menu, image hotspot linking, WooCommerce integration, and many more. These features meet the requirements of an online store 2.0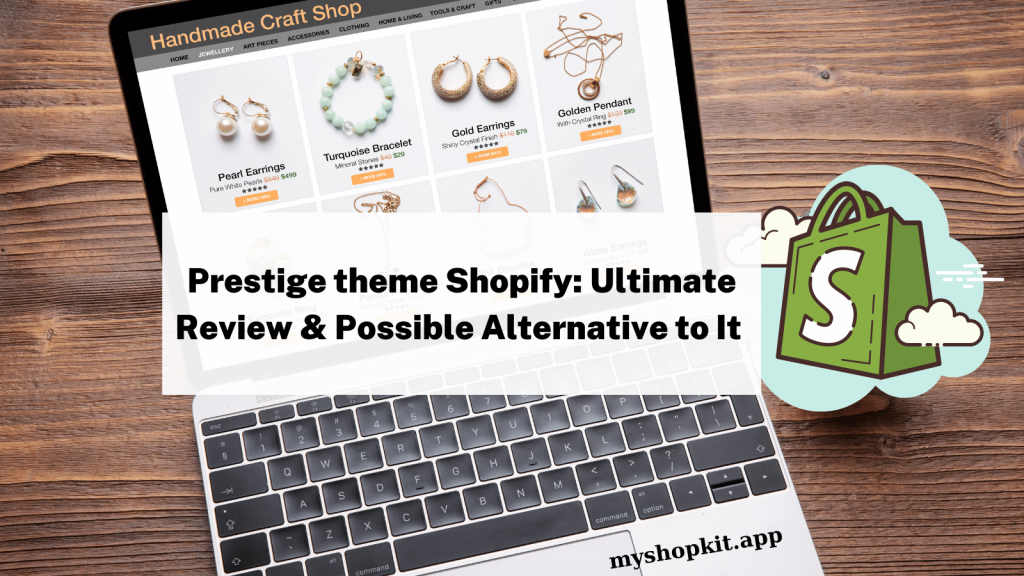 Three types of Prestige theme Shopify
The Prestige Shopify theme has 3 styles: Allure, Couture, and Vogue.
The Allure style – the default style is stylish and sophisticated in design. It features a fresh take on traditional eCommerce.
The Couture style is an elegant and feminine design that would be perfect for any boutique or bridal store.
The Vogue style is modern and sleek in design with an edgy twist to it.
Prestige theme Shopify support
Maestrooo has support services offered to help you solve your problems quickly and efficiently, from small issues to big ones. They have a large team of Shopify experts who are available 24/7 to help you get the most out of your eCommerce platform.
Also, the Support Page has guidelines for customizing your theme so you can get the best experience with your theme.
Prestige Shopify theme free download
Currently, Maestrooo charges about $300 for a Prestige theme. You can use an unlimited free trial to experiment with the theme to see if it's suitable for our brand. If you want to publish your own store, you have to make a payment.
At no time should you get Prestige theme Shopify free download on Nulled. If you get an unlicensed theme, Shopify will permanently delete your store.
Prestige theme Shopify image sizes
Images come in different sizes and formats, so it is important that you know what size/format your images should be before uploading them to your website.
For Prestige theme Shopify, all images should in designed in JPG format.
Blog and collection images: 1800 x 1000 pixels
Product images: 1800×1800 for square images, and 1200×1700 for vertical images
Other recommended image sizes can be found on Maestrooo's support page. Also, Prestige explicitly recommends image format and size for each section.
Prestige Shopify theme demo
I will walk you through all essential elements of the Prestige theme that you can use to build an eCommerce-appropriate store. Watch the below video to see a demo store & test how mobile-responsive Prestige is.
Popup
Popups are often used to catch visitors' attention. Prestige theme Shopify's popup is pretty simple and plain. You have to enable the popup because its default setting is disabled.
Once enabled, the popup is fixed at the bottom right corner. You can decide:
Display the popup only on the homepage or all pages.
Target the popup to those who haven't created an account on your store.
How many times the popup shows per customer.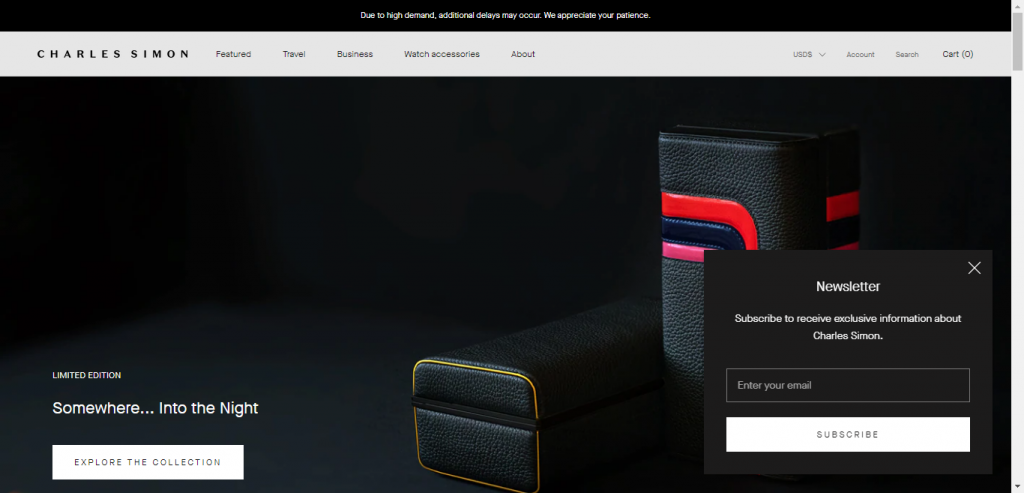 If you feel the Prestige theme's popups are rather unattractive, you could consider installing our free popup app. With MyShopKit's popup app, you can diversify popup, announcement bar, slide designs & styles.
Lacking idea how to design appealing popups? Read 14+ latest Shopify popup examples to be inspired.
Sidebar Menu
The sidebar menu is tailored for smartphones and other small-screen devices. There are two types of menu: primary menu and secondary menu. By default, the main menu (including Home, Catalog & Contact) in the "primary menu" section will be shown but in the case, you need a completely different one, you can totally do so.
In the "secondary menu", you can add the "Search" area and social links.
Announcement Bar
Like its popup, Prestige theme Shopify's announcement bar is fairly simple. You can add text and change color in the announcement bar. Show the announcement bar on the home page or all pages.
If you would like to add more elements such as images, signup forms, animation effects, etc., you could install our free smart bar app to do so.
Header
In the "header" section, you can:
Use a sticky header or not.
Allow transparent header on homepage and collection pages.
Add logo image that answers the question: how to add top image on Prestige theme Shopify
Add navigation (main menu by default)
Show country selector and language selector
Especially, the "mega menu" area can show you how to add nesting menus in Prestige theme Shopify.

Slideshow
There are four main setting options:
Display full-screen images
Display bottom arrow that leads customers to the right next section – featured collections
Enable carousel
Time to change slides every
For each slide, you are able to add text, 2 buttons, and 1 image.
Featured collections
The featured collections can contain only 2 collections at once. If you click on each product image, you will be navigated to the product page. There is also a button "view all products" that lead you to the collections page.

Collection List
Unlike featured collections, you can add as many collections as you want in the collection list section. You can add a sub-heading and a button linked to the collections page for each collection.
Featured Product
There is detailed product information such as vendor, SKU, product rating, price taxes notice, color swatch & carousel. You can also enable to show quantity selector, inventory, local pickup availability, and product description.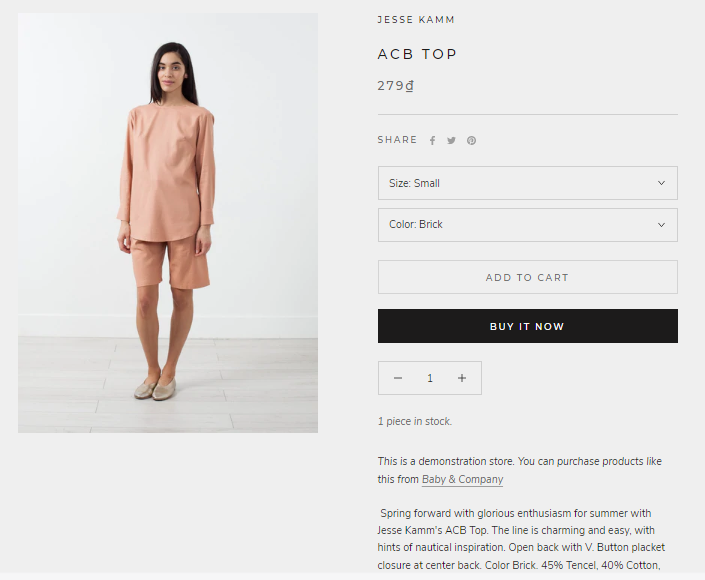 Timeline
You can show your brand's development or the process of creating one of your products. In this way, customers can better understand your vision and have more faith in your brand.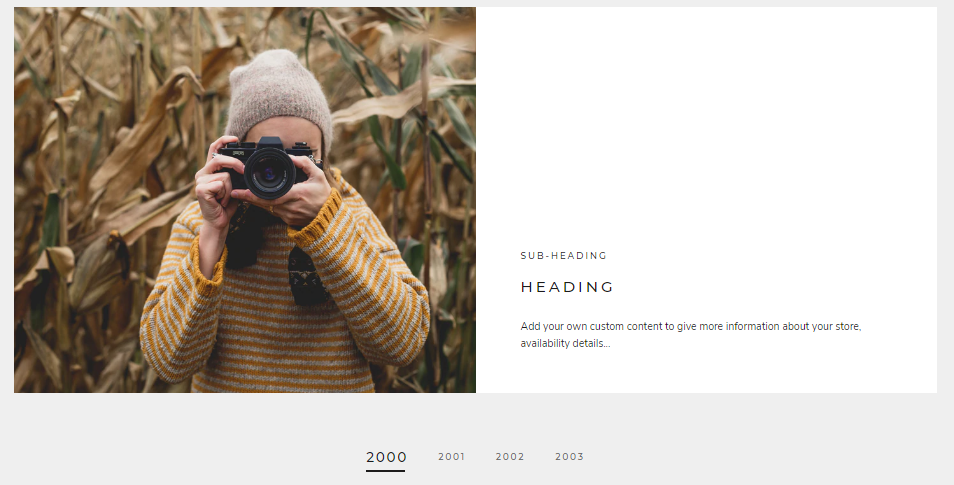 Blog Posts
Give a brief overview of all articles you published. Customers will stop having a look. If your blog is valuable and informative, customers will be persuaded to make a purchase.
Shop The Look
This function addresses the question: How to create a lookbook on Prestige theme Shopify with image hotspot linking. For each image, you can add 3 hotspot links to 3 corresponding products.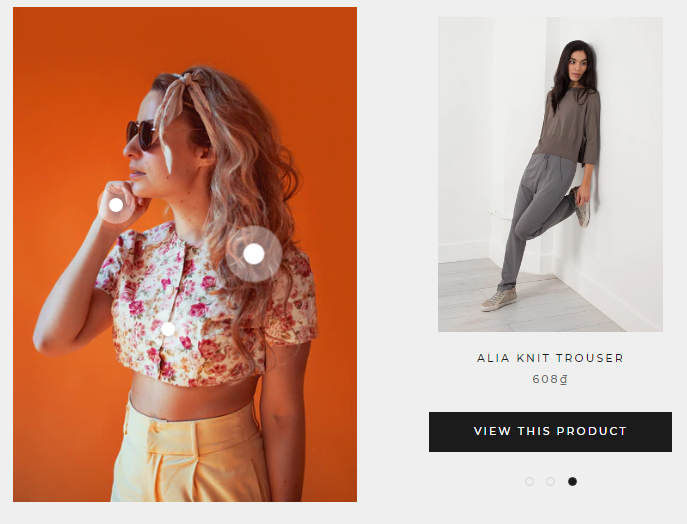 Besides basic information such as About the shop, Search, and Newsletter signup, Prestige theme Shopify provides country/region selector, language selector, and payment methods.
Product recommendations and recently viewed products
These two sections are extremely beneficial and convenient for customers. They not only fit customers' tastes but also promote cross-selling.
Other hidden useful sections include:
Newsletter
Map
Testimonials
Rich text with image
Background & Featured video…
To add these hidden sections and the default sections to your store, choose "Add section" right below the "Footer" section.
Prestige theme Shopify documentation
You can easily find necessary Prestige documentation on the Maestrooo support page
Some of the guidelines available can be named:
Theme changelog
Image recommendations
Collection footer image
Moving the product description below add to cart & pricing above
Adding a FAQ page…
Besides, you can update a lot more information on Prestige theme Shopify via the Maestrooo support page.
Prestige theme Shopify customization
It can be said that Prestige customization is still limited to some basic elements. You can only edit text, images, buttons, and colors. If you desire to edit further, you are required to edit HTML. This is a real hassle especially when you're clueless about coding.
Prestige theme Shopify review
Plus points

Online store 2.0 theme
Simple but modern & responsive theme design.
Many features: Megamenu, Sidebar menu, Shop the Look, Pop up, Color Swatches, etc.
Excellent customer service: Solve problems fast & provide documentation for theme customization.
Minus points

Require high-quality & high-resolution images. If you upload a large number of images, it will slow down your store page speed. Revere audited 83 Shopify themes' speed, in which Prestige ranked #31. You can find more about how fast Prestige theme Shopify is via this link.
=> A viable solution is installing MyShopKit's FREE Image Optimizer. Our wonderful app compresses images without losing the original quality, auto-adding alt text & restoring accidentally deleted images.

The customization is not diverse as mentioned earlier. Specifically, we can't find any animation effects & icons; the design and style of elements (popup, announcement bar, button, image, etc.) are simple.
=> A feasible solution is installing our Veda Builder. You are empowered to customize many elements such as image radius, background image & color, add icons & emojis, font size & font family, etc. You can also duplicate, move and delete sections at ease.
You can create the entire Shopify store or one separate page with the help of Veda Builder. You can either replace the Prestige theme Shopify with our Veda Builder or use both themes at the same time. Veda is able to override any pages of the Prestige theme and many other Shopify themes.
Shopify Prestige theme examples
You can find stores using Prestige theme Shopify through the Reviews section in which they left a comment. Type the store name on Google, you can find their website without any difficulty.
Charles Simon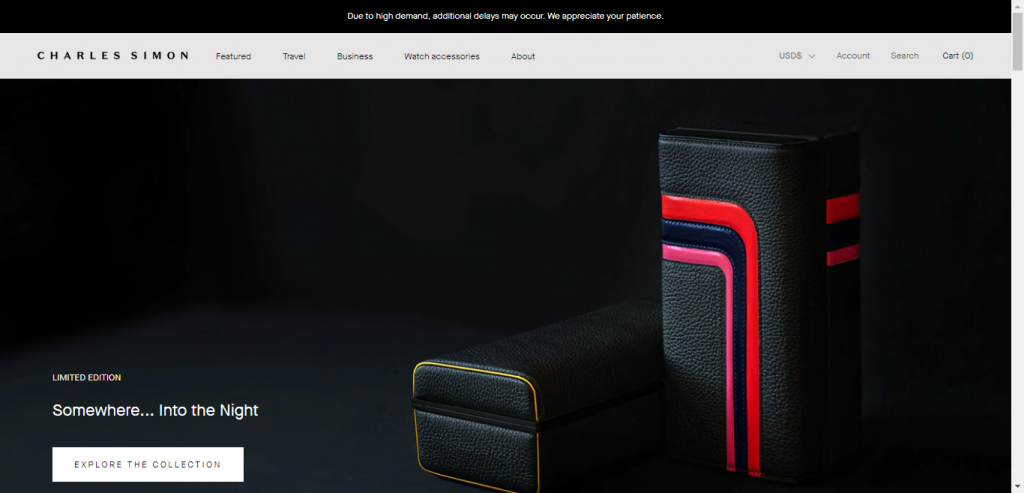 Tule Fog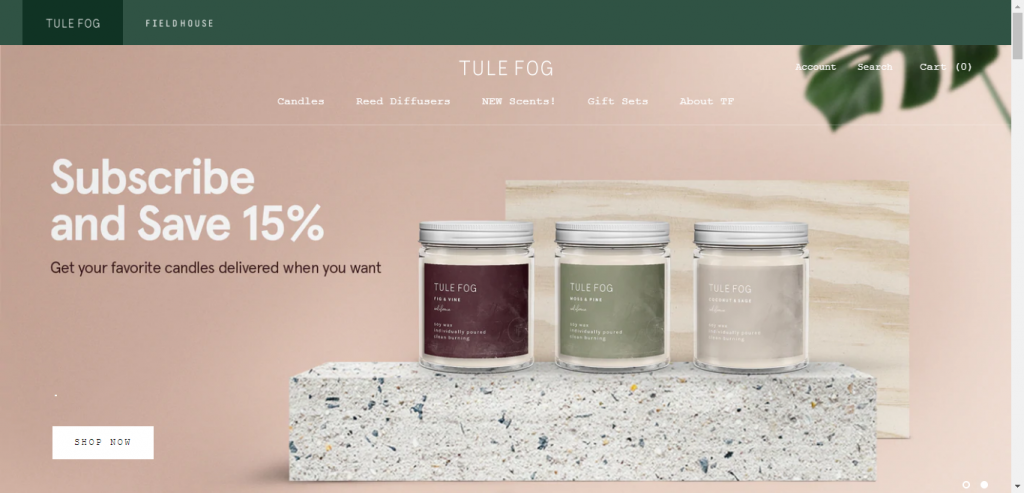 Veda Builder: Reasonable alternative to Prestige theme Shopify
Veda Builder takes pride in offering various aesthetic templates of all Shopify store pages. On top of that, this amazing app provides preset styles such as colors and typography, which definitely saves you a lot of time building your own store.
Veda Builder contains different Shopify themes while Prestige is only one Shopify theme. And, almost all Prestige sections can be found in Veda Builder. In this sense, we can say that Veda equals many Prestige themes.
Most importantly, Veda's team of developers reveals a secret that the price is really affordable. You will certainly get more bang for your bucks when installing Veda Builder.
Veda Builder also meets all requirements of an online store 2.0. Essentially, Veda can be considered a rival to Prestige & other widely-used Shopify themes.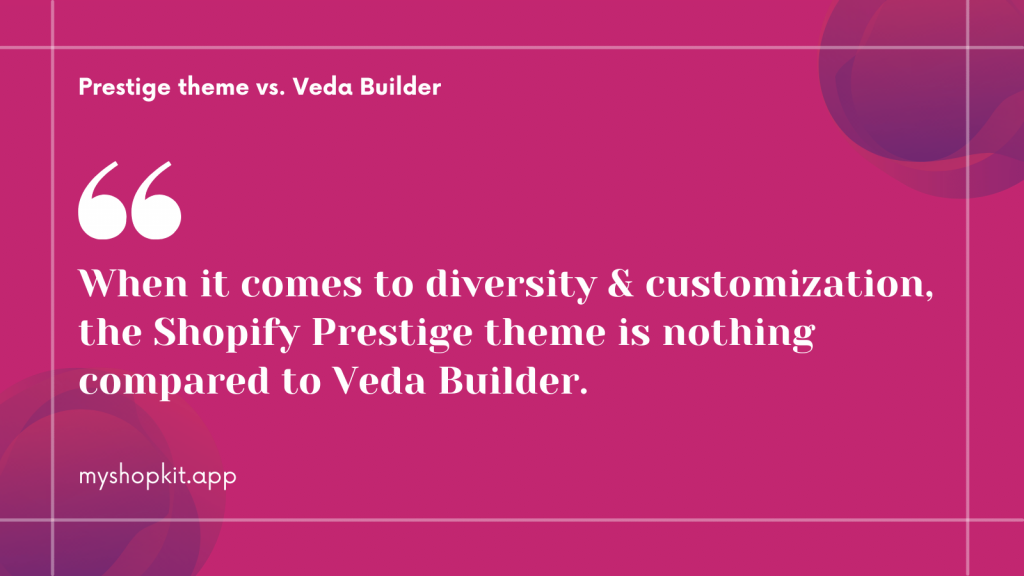 If you take a keen interest in Veda Builder, you can contact our support team at [email protected] or comment on this post. Our customer service team will walk you through how to install Veda when it's launched.
We also have a very special offer for those who install Veda first. Don't miss out on this great deal!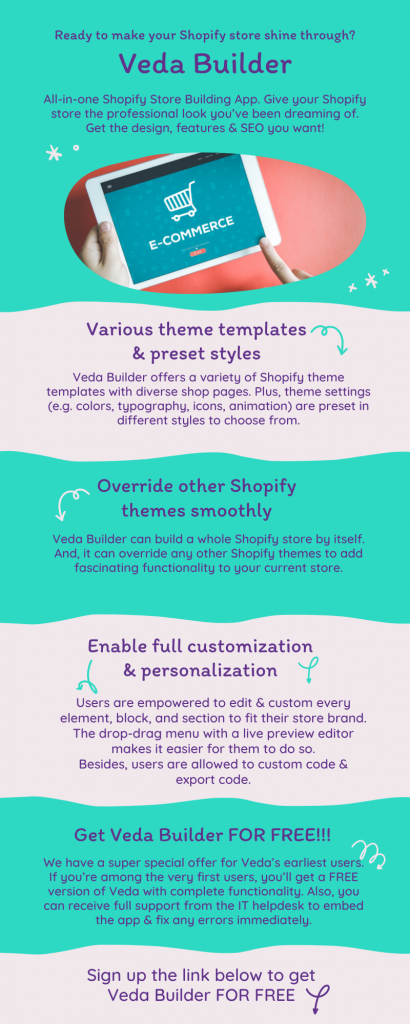 Maximize your sales by adding 3rd-party Shopify apps
MyShopKit Popup, Smartbar, Slidein
Instead of plain Prestige theme popups, MyShopKit popups are lively and appealing with images, animation effects, different typography, gamification, FOMO countdown timers, sign-up form, social media links, etc.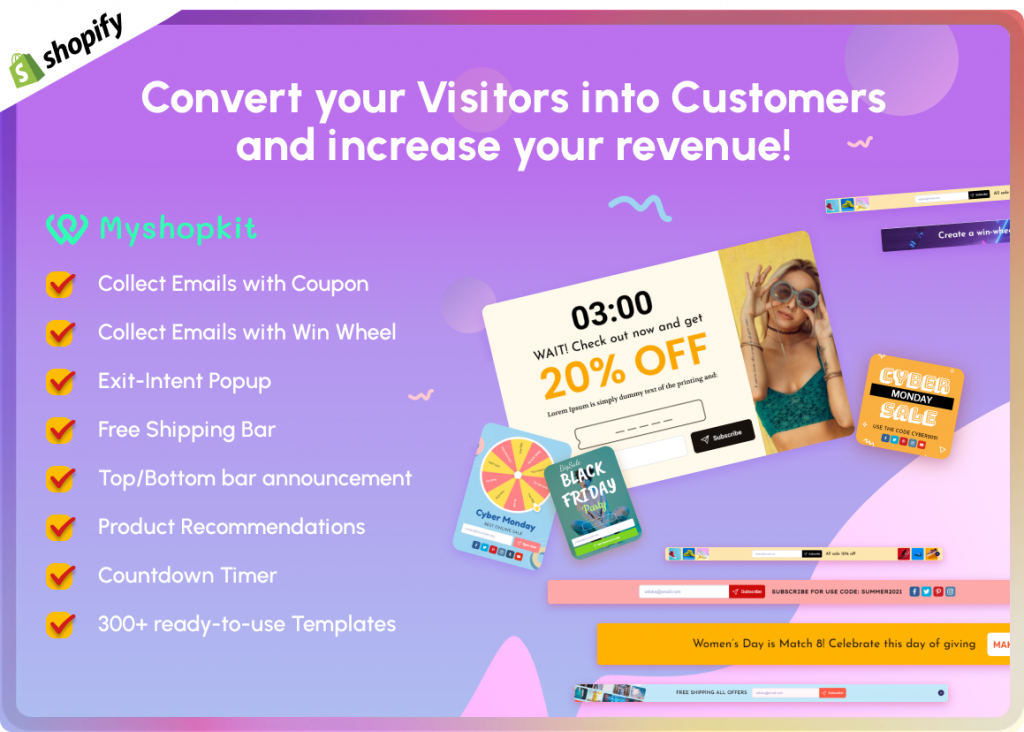 You can even add a product recommendation and customize any elements of your own accord. Plus, you can also enable exit-intent popups that can help reduce the bounce rate and increase the conversion rate.
Especially, you can monitor how many emails, clicks, and views you have got through Stats Dashboard. These collected emails can be imported into well-known mail service providers. Smartbar and Slide-in have the same features as Popups.
>> Learn more about MyShopKit Popup, Smartbar, Slide-in: Amazing App To Grow Email List Naturally
Below is the video list of how to add the app to the Shella theme. The same process can be applied to the Shopify Prestige theme as these two are eCommerce themes for Shopify stores.
Product Badges
Catch visitors' attention immediately by adding badges to products. There are 5 types of product badges MyShopKit offers New Arrival, On Sale, Best Seller, Low Stock & Out of stock.
These product badges are added automatically. You are allowed to customize the content, stickers, color, placement, size, and animation effects.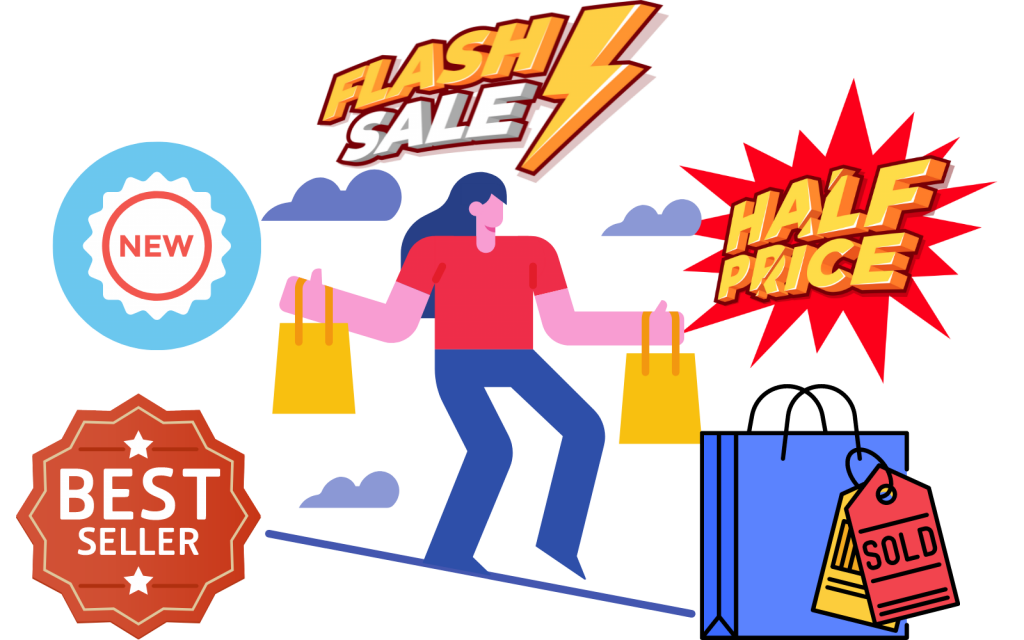 >> Learn more about MyShopKit Product Badges: Wonderful App To Boost Shopify Sales
Multi Currency Converter
Multi-currency conversion toolbar can be placed right next to the country selector or language selector in the Prestige theme Shopify. These undoubtedly expand your business worldwide.
With up to 170+ currencies & bitcoins, this app frees international customers from mentally converting foreign prices into their domestic prices. MyShopKit Currency Converter app even supports currency conversion at checkout, 3rd-party mini cart, and blogposts.
>> Learn more about MyShopKit Currency Converter: At Checkout & Other Placements With Auto-Updated Prices
Image Optimizer
As mentioned before, this app does wonders for product images, other images uploaded on your Shopify store. It compresses images with the same quality as before, adds image alternative text, restores removed images by chance.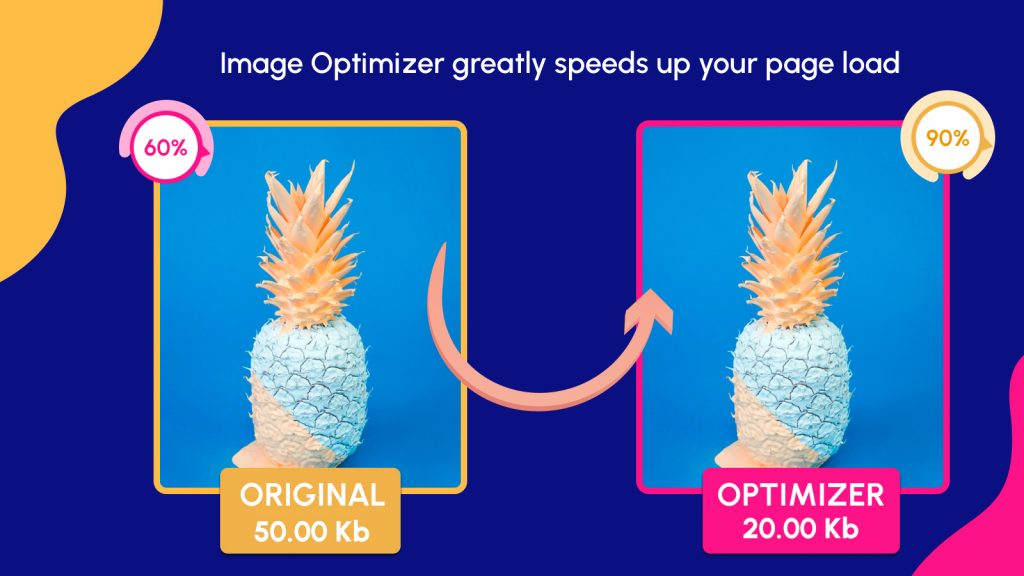 >> Learn more about Image Optimizer Shopify: Increase Page Load Without Doing Harm To Image Quality
Smart Scroll To Top
Help visitors go back to the top with a single button. This app is extremely helpful for long product pages. The scroll to top button can be put either right or left. Also, you are able to modify the style, speed, and color.
>> Learn more about Shopify Scroll To Top: Viable Solution To Infinite Product Pages
Final words
No need to say that Prestige theme Shopify is a great choice for building simple and modern Shopify stores. However, if you want to beautify your store further, you could consider adding 3rd-party apps.
Or else, you can install Veda Builder to override Prestige's basic theme. Veda Builder provides theme & page templates for you to choose from. Veda also empowers you to customize to make your own distinct stores.
When it comes to diversity and customization, the Shopify Prestige theme is nothing compared to Veda Builder.

Veda Builder vs. Prestige theme Shopify