The Shella theme is the next innovative product developed by Themeforest – one of the most popular themes in the world so far. It is no exaggeration to say that Themeforest has become a household name among ecommerce business owners in general and Shopify merchants in particular.
At present, the Shella theme is the latest one coming from Themeforest. Since Shella was launched in the marketplace, it has garnered massive support and praise for its unique features namely versatile, clean, fast, and flexible. 
Password: Noluld
Out of my curiosity, I desire to find out the secret behind Shella's phenomenal success. And, when you click on this article, I bet that we are already on the same page. So, without further ado, let's uncover the Shella theme now!
My justifications for Shella theme's spectacular success
1. The Shella theme regards the customer as god
What I am trying to say is that Shella theme's team of experts has put years of web development experience into it to add exceptional features (all-in-one builder, true collection filter, fashion icons, etc.)
This one-of-a-kind theme was born for the ultimate purpose of assisting ecommerce business owners in the establishment of their virtual stores. It is tailored for more than ordinary stores since it helps create wonderful stores winning the hearts and souls of customers immediately.
Some typical characteristics that contribute to user experience betterment include:
Countless ready to use layouts & skins.
True collection filters (by brand, product size, color, price, collection & description)
AJAX search & shop
Wishlist & compare product
Advanced swatches, Zoom popup for product page at mobile, Lookbook & Quickview
3D product model & video
Endless scroll, Set quantity & Slider on collection page
Custom product tabs
Size guide popup and page
Reviews slider at the home page
The list goes on.
See how the Shella theme comes in handy in the table below
| | |
| --- | --- |
| Customers' courses of action | Shella's feasible solutions |
| If customers visit any Shopify store using the Shella theme | They won't have any difficulties in finding their favorite products with the help of True collection filters and AJAX search & shop. |
| If they come across their product of choice but cannot afford it now | They could add it to Wishlist for later purchase. |
| If they are not sure whether to buy this or that product | They could take advantage of the Compare Product function to make a wise decision. |
| If they wish to have a real look at the item | They are able to do it thanks to Advanced swatches and 3D product models & videos. |
| If they are still on the fence, trying to decide whether they should proceed to checkout | They would refer to social proof from the Reviews slider on the home page. |
Apparently, Shella theme users always put user experience on high priority. We can say that with the power of the Shella theme, shoppers can actually go "window shopping" in a virtual world.
2. The Shella theme deeply integrates into international ecommerce business
This is shown in many praise-worthy features
Adding other popular payment systems besides Paypal
As a result, everyone from different walks of the world can make an order with ease. This is the first and foremost step in expanding your ecommerce business internationally. Most worldwide used payment systems can be named: PayPal, Apple Pay, Google Pay, Visa, Mastercard, Maestro, Shopify Pay, Dwolla, JCB, American Express, After Pay, Diners Club International, ideal, Sofortüberweisung, Klarna, Discover, Bitcoin, and Litecoin.
Having multi currency at Checkout page
Shella theme users can sell in up to 133 currencies with Shopify Payments, like United States dollar, Australian dollar, British pound, Canadian dollar, Danish krone, Euro, Hong Kong dollar, Japanese yen, New Zealand dollar, the list goes on.
Full Right-To-Left support
Several widely-used right-to-left writing systems in modern times are supported such as Hebrew, Arabic, Persian, and Urdu.
Built-in theme translations
Available languages are: German, Russian, Portuguese, French, Spanish, and Japanese. These aspects of Shella prove itself a global theme that connects sellers and buyers all over the world.
3. The Shella theme helps its users build cost-effective online stores
Once you use the Shella theme, you will never need to install other additional apps. This is because you will arm yourself with Shella's extra theme features, for example:
Megamenu
Price & Stock countdown
Price slider filter
Sticky add to cart at the product page
General Data Protection Regulation (GDPR) popup
Sale notification popup
The free shipping progress bar
Visitors count
The list goes on
With Shella's all-in-one theme, ecommerce entrepreneurs are able to save a considerable amount of capital, which can be allocated for other steps in building a successful business
As for ecommerce dropshipping, there are famous dropshipping apps compatible with the Shella theme such as Shopzie, Gooten, Printify, Privy, Printful, Aliexpress Review Importer, Ali Reviews, Dropified, and Dripshipper.
Equipped with the Shella theme, ecommerce business owners can easily meet customers' expectations in almost all steps in the buying journey.
4. The Shella theme creates SEO-friendly stores.
Packed with loads of amazing additional theme features, but the Shella theme has little impact on the page load speed. Instead, according to Google Lighthouse performance metrics, the speed score of the store built by Shella is faster than similar stores in Shopify, with a score of 89. As we all know, page load speed is one of the most crucial elements in search engine optimization.
On top of that, based on the MOZ SEO tool's evaluation, Shella is mobile-friendly with 100% responsive design and also has Google rich snippets.
Obviously, Shella users will stand a high chance of ranking high in Google search results in comparison to others.
5. The Shella theme is constantly updated and renewed
As of 19 November 2021, Shella has been updated approximately 55 times since its initial release on 22 November 2018. No wonder Shella has unique, clean, and multipurpose attributes. Hats off to Shella's skilled developers who have been working their way through the up-to-date Shella theme.
The most outstanding achievement that is worth mentioning is that Shella is compatible with Shopify's online store 2.0. Up until now, very few themes can fulfill OS 2.0 requirements. Such a fantastic theme!
In the context of a fast-changing ecommerce market, the capacity of catching the trend can make or break the business. Indeed, Shella's users can always stay ahead of the curve with constantly updated versions. Hence, they hardly worry about lagging behind their competitors.
The compatibility between the Shella theme and MyShopKit apps
After having spent a great deal of time exploring the Shella theme, I came to the realization that there are striking similarities between this powerful theme and our MyShopKit apps.
I will show you how compatible our 4 apps are with Shella right now. Experience how MyShopKit apps work in our demo store built by the Shella theme. You might type the password "noluld" to access the store.
1. Popup, SmartBar, Slide In
Shella users can diversify their stores by using hundreds of MyShopKit pop ups, announcement bars, and slides.
Our popups handle various goals such as collect emails, collect emails with Win Wheel, collect emails and get social followers with discounts, target a URL and get social followers. Also, our app provides lots of appealing templates to choose from (e.g. Pop-ups, Announcement Bars, Win Wheels & FOMO Countdown Timers, ..).
Some ideas to boost sales with Shopify exit intent popups and Shopify add to cart popups you might want to learn from. You can make use of our Shopify exit intent popups to retain customers who are about to leave the store. And, Announcement Bars can be placed either on the header or the footer.
See how Popup, SmartBar, Slide In works in the Shella theme
2. Product Badges
Currently, MyShopKit Product Badges are categorized into 5 types: Out Of Stock, On Sale, New Arrival, Low Stock & Best Seller. You can let the app auto-update the badges or manually edit them to fit your products best. The app will prioritize displaying manually edited badges over automatic ones. 
If you lack ideas for designing enticing badges, you can refer to the article 12 ideas to boost sales with product badges to be inspired.
Have a close look at the Product Badges app. 
3. Multi Currency Converter
Using our Multi Currency Converter, you can:
Automatically Convert Currency
Automatically update currency changes based on the location of your customers. Customers can easily change the currency by hovering their mouse over the price. Shella users can convert currencies on any page, including checkout page and blogpost.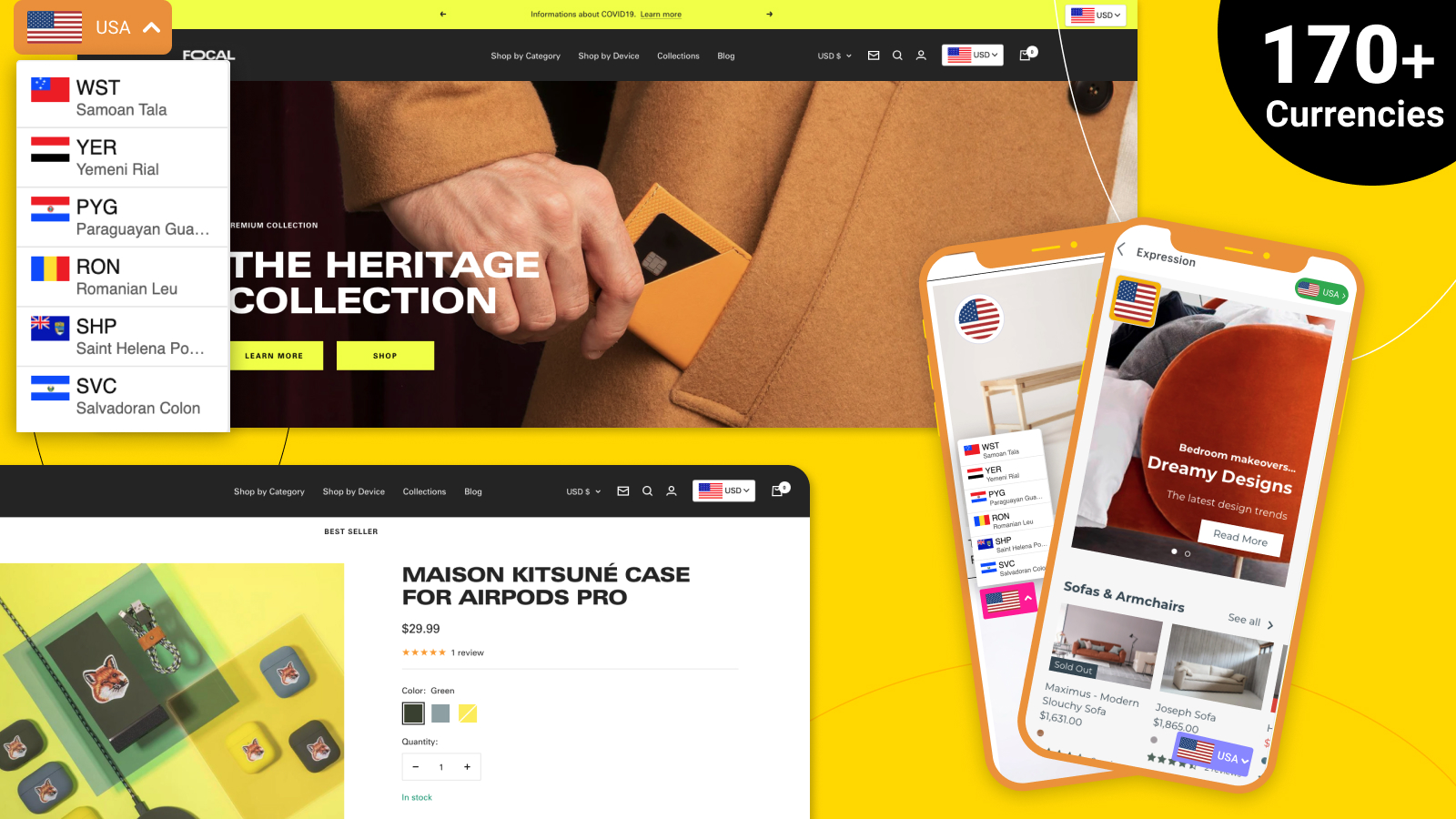 Maximize International Sales
You can approach and delight foreign clients with 170+ currencies supported, resulting in increased worldwide E-commerce sales.
4. Smart Scroll To Top
For Shella's infinite scroll on a collection page, our smart scroll to top button can be an ideal solution in case customers wish to go to the top of the page with just a single click. This practice helps save a certain amount of time for customers while surfing your store. 
This scroll to top button can be placed either left or right. You can also change other elements like style, background & arrow color, and speed.
We can see that Shella and MyShopKit are on the same wavelength when it comes to enhancing user experience and striving to add up-to-the-minute theme features. To illustrate, in every app, MyShopKit users are empowered to modify essential elements ranging from styles, colors, animation effects, texts to which pages and what type of customers can be targeted.

MyShopKit – Ecommerce Solution.
Veda Builder: Good Alternative to the Shella theme
In essence, Shella is a single Shopify theme while Veda Builder has a large number of Shopify themes. Building a Shopify store is a breeze using Veda Builder. This wonderful app provides a variety of page and theme templates that you can quickly alter to build your own single page or the entire store.
The majority of Shella theme features are also available in Veda Builder's themes. Shella, as well as any other Shopify themes (e.g. Kalles, Wokiee, Prestige, etc.), may be overridden by Veda. Veda may be used as a standalone theme or combined with other themes.
You are able to personalize all parts, sections, pages, and themes in Veda, which helps you create a unique eCommerce store.
Most significantly, Veda's price is quite reasonable, especially for a small and low-budget start-up. Veda Builder is a fully featured Shopify shop builder and a direct competitor to other famous Shopify themes.
Contact our support staff at [email protected] or post a comment below if you'd like to get this sophisticated Shopify store builder for free. We'll be happy to show you how to get Veda Builder as soon as it's available. We have a fantastic deal for new Veda users, so don't miss out!
The Shella theme: FAQs
Is there any chance for a Shella Shopify theme free download?
Unfortunately. The answer is no. Maybe in the future, Themeforest might introduce a very special deal for Shella. But, to be honest, this possibility is pretty low since chargeable Shella has already pleased loads of international users. The regular license is only $39, which gives its users a lot of bang for their buck for such an ultimate Shopify theme.
Where can I find Shella theme tutorials?
If you are unfamiliar with Shopify themes, including Shella, you could refer to tutorial lists on YouTube here. On the MPI themes channel, you are able to find other Shella-related videos by clicking on Shella hashtag.
Where can I read Shella theme reviews?
You can have access to different candid opinions about how effective Shella is on the page Review for Shella on Themeforest website. For the most part, Shella users left positive comments on this fast, clean & versatile theme. If you want to find out whether you should install Shella, you can totally reference social proof for better consideration.