Shopify product badges are akin to "virtual labels" which are placed on Shopify product images to highlight their essential features. For almost all eCommerce business owners, product badging is not an uncommon term.
Shopify products badges are particularly famous among Shopify merchants. These product labels, badges & stickers help do wonders for online items, thereby catching a visitor's attention easily. This, in turn, boosts conversion rates and drives sales.
However, not every eCommerce business owner knows how to take full advantage of Shopify product badges to boost sales. That's why we're writing this blog which is aimed to introduce you to 12 worthwhile ideas and examples to use product badges properly.
The below Shopify product badges are skillfully designed by MyShopKit website editors. They are easy to use and free product badges Shopify merchants are really into.
Ideas for Recency Shopify Product Badges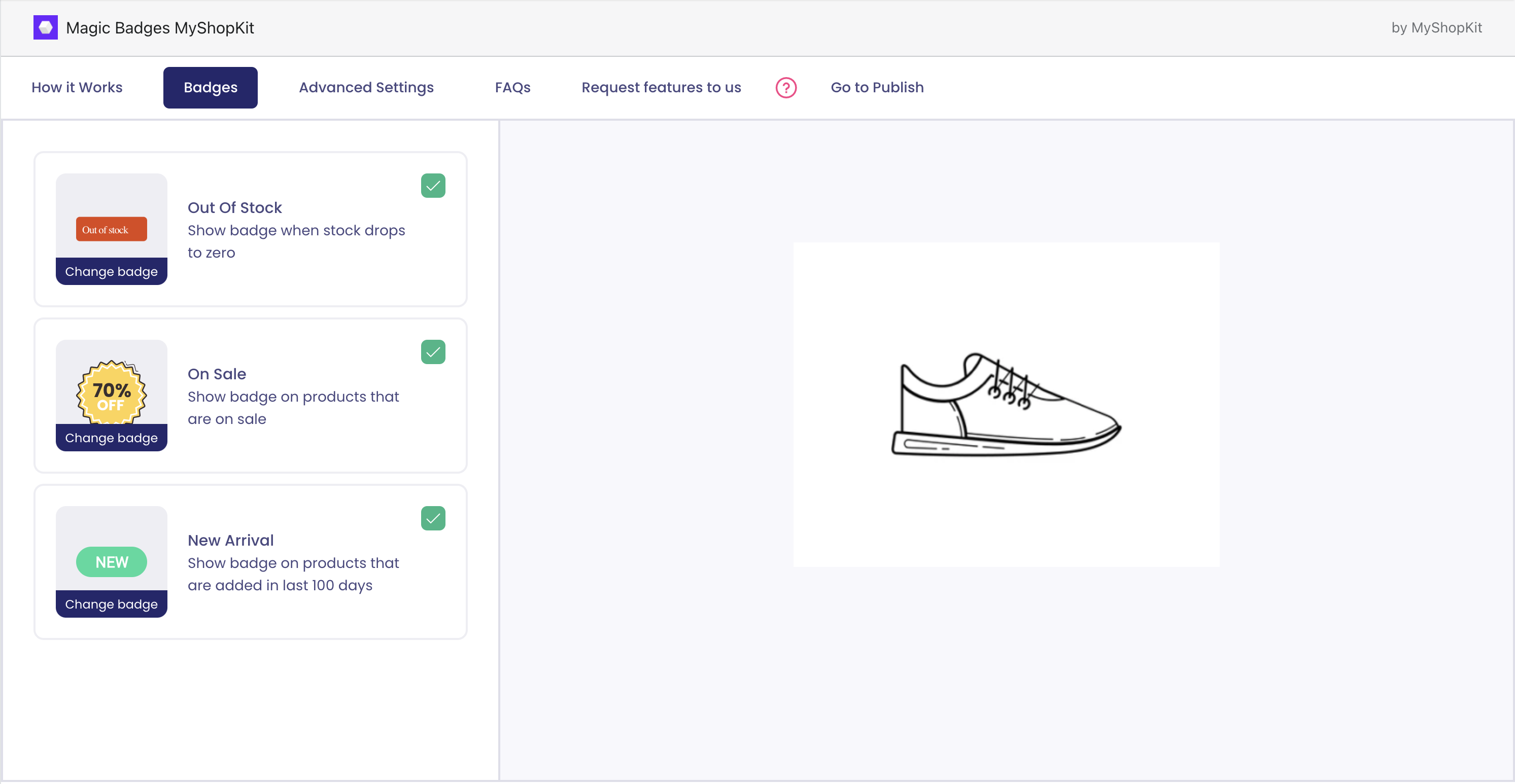 The type of customers these badges can attract is classy consumers who are constantly on the lookout for the most up-to-date items. Fashionable customers never want to lag behind anyone else.
They always wish to become a trendsetter and social climber. Therefore, Recency Product Badges can immediately win their hearts. You should attach your products with such product badges as:
New Arrival: for newly released products. You can either choose dark colors to display minimalism or bright colors to capture a customer's attention easily. Have a look at some New Arrival badge designs of the Magic Badges app to better imagine.
Hot Today: for products that have a high sales rate within a day.
Festival: for seasonal products like Black Friday, Thanksgiving, Christmas, New Year, Halloween, or Valentine.
Current Event: for products bought by participants of political or athletic events such as Presidential Elections, Superbowl, and College Sporting Events.
Ideas for Social Proof Shopify Product Badges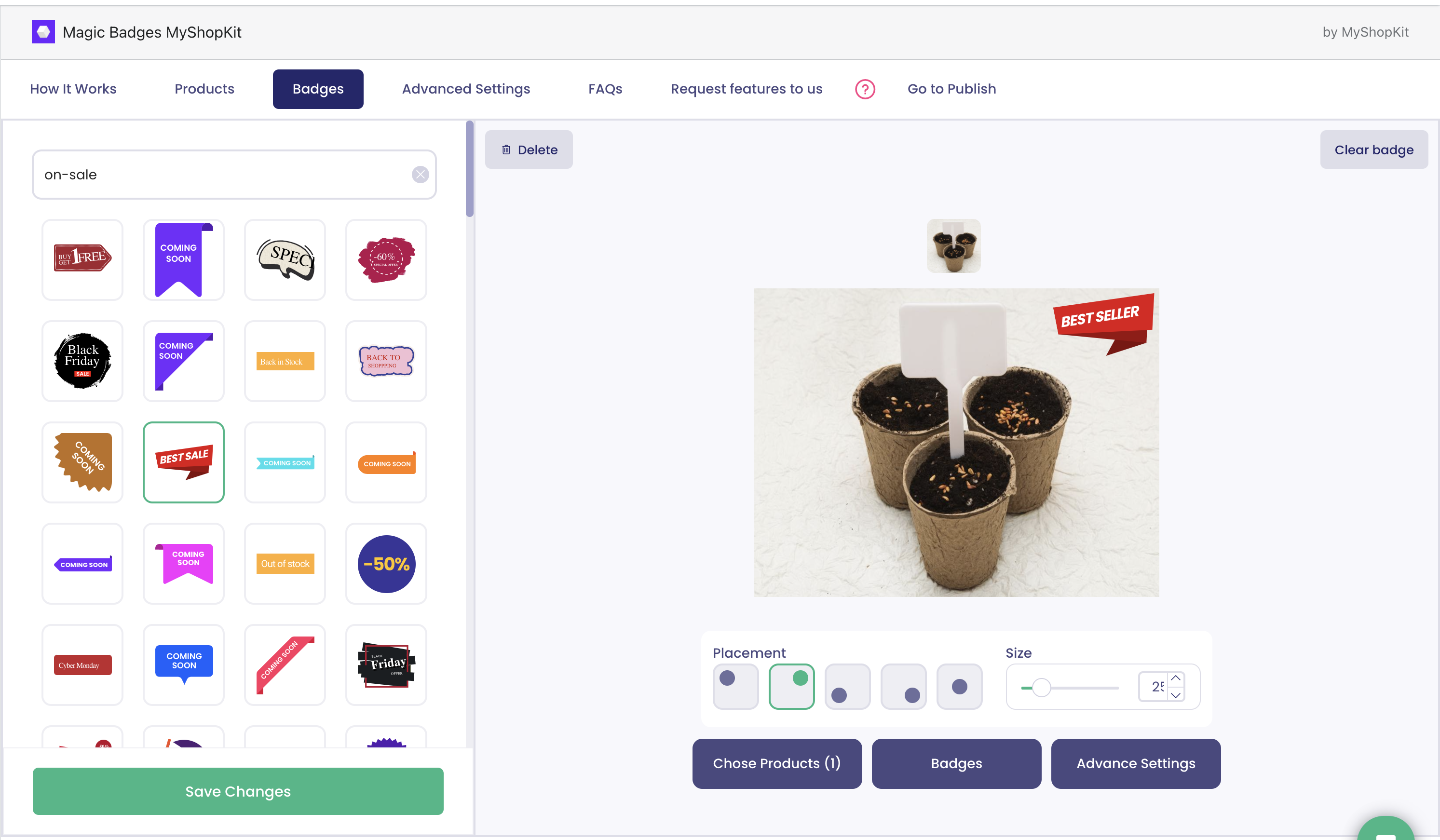 If customers are impressed with your online products but they are in two minds whether to make an order or not, these badges are made to target them directly. Some typical social proof product badges include:
Best Seller: Compared to other products, a Best Seller product is put in a cart of most potential customers.
As Seen On: Celebrities as well as field experts have given credit to this product.
Out Of Stock: This product is so popular that it is completely sold out. Shoppers will come next time to buy it before it's gone. To illustrate, the Magic Badges app offers appealing Out of Stock badge templates for Shopify business owners to pick.
Pre-order: Before launching in the market, this product is highly appreciated by many people. Customers even demand to pre-order and possess it beforehand.
Ideas for Promotion Shopify Product Badges
These kinds of product badges are tailored for shoppers having a tight budget. They will purchase the items as soon as possible before the offers expire. Nobody on Earth wants to miss out on a good deal. You may use promotion product badges such as:
Save $: This product label clearly displays the amount of money a buyer will save if they order this item during the sale.
On Sale: A one-of-a-kind opportunity for customers having a negligible income to get bargains. Take a look at some noticeable On Sale badges by Magic Badges app.
Buy One Get One Free (BOGO): In actuality, this is a 50% discount. Customers are enticed to make extra purchases in order to obtain something for free.
Free Shipping: Customers are able to save a certain sum of money for transporting products.
Shopify Product Badges
In fact, Shopify also provides free product badges for you to put on your products. However, there are some limitations such as limited badges and fixed badges that cannot be edited.
MyShopKit
Product Badges

app can get rid of any limitations

With the help of our product labels app, you are able to edit the badge's template, text, color, size, animation, and positioning. What's more, if you want to raise demand for a certain product, you can use a badge to target it.

Outstanding features of Product Badges app include:
The number of Product badges is unlimited.
They are editable badges that allow you to customize the elements.
You can apply specific labels to individual goods.
You have control over which page the labels appear on.
This app is an excellent replacement for such complex photo & design software as Photoshop. You can select from a variety of aesthetic badge templates with the Magic Badges app. Simply follow a few simple steps and you'll be well on your way to making stunning badges.
What's new in MyShopKit's Product Badges?
Auto-add a badge by product tags
You can now auto-add a badge to products of the same tags. It's super simple, start by selecting the "Tags" goal and adding an existing tag you already created.
Keep in mind that you can add only 1 tag at once. Of course, you are allowed to modify the badge template as usual. This function is especially useful when you categorize your products by tags.
Arrange the priority of badge types
You now have even more control over which badge type (Tags, On Sale, New Arrival & Out of stock) is prioritized to display. To give it a go, simply drag and drop the badge type.
In case you add more than 1 badge to only one product tag, whichever badge was created first will display. Take the product tag "men footwear" for example, I added the On Sale badge to the tag 10 minutes ago and added the New Arrival badge to the tag 5 minutes ago, the products from the "men footwear" tag will display the On Sale badge.
With this function, you won't be afraid that our app will misunderstand your intention. Watch the video below to see your these features work
Auto-add Best Seller product badges
You might ask how the app knows which product is considered the best seller? Well, you help the app detect. Specifically, you will set the number of sold products within a particular period of time. For the time period, we preset the date range for you to choose.
For example, you only need to set 50 sold products per month or 200 sold products/ six months for Best Seller badges. It's the app that automatically adds Best Seller badges to products satisfying the conditions you've set above.
Auto-add Low Stock product badges
The rule is similar to Best Seller badges. You need to specify how many products are left considered Low Stock. For instance, if you set the number of products below 10 as Low Stock, the products in 9 quantities will be attached to Low Stock badges immediately.
>> Update new exciting features of Product Badges app via Shopify Product Badges: Wonderful App To Boost Shopify Sales
Install the Product Badges app to attract the attention of your visitors. Once your items have a warm spot in the hearts of your visitors. It's only a matter of time until sales skyrocket.
Other Shopify tools that can help accelerate your sales are Shopify exit intent popups and Shopify announcement bars.