Explore the top 25 free Shopify themes with their pros and cons in MyShopKit comprehensive blog post. From customization options to support resources, we weigh the benefits and drawbacks of each theme. Plus, uncover a game-changer: Clothify, a premium theme that won't cost you a single penny. Discover how it helps elevate your Shopify store with a premium experience at zero cost.
What qualities make a good Shopify theme?
When evaluating Shopify themes, keep the following qualities in mind. Firstly, look for a theme that offers customization options, allowing you to tailor it to your brand without extensive coding knowledge. Secondly, prioritize themes that are responsive and optimized for fast loading times, ensuring your store performs well on all devices.
Additionally, a good theme should align with your company's branding, conveying your unique identity to customers. Lastly, consider themes that provide reliable customer support, as having assistance available can be invaluable if you encounter any issues or have questions.
The cons of Free Shopify themes
Limited Customization Options
Free themes may offer limited customization options compared to premium themes.
Users may have fewer choices when it comes to modifying the theme's design, layout, or functionality.
Advanced customization may require coding or additional plugins.
Lack of Advanced Features
Free Shopify themes may lack certain advanced features and functionalities found in premium themes.
Users may miss out on specific functionalities or tools required for more complex websites or specific niches.
Support Limitations
Free themes may have limited support resources compared to premium themes.
Users may face challenges or delays in receiving assistance or resolving issues related to the theme.
Documentation or community support may be less comprehensive for free themes.
Potential Compatibility Issues
Free Shopify themes may have compatibility issues with certain plugins, widgets, or third-party integrations.
Users may need to troubleshoot or seek alternative solutions to ensure smooth functionality with other website components.
Limited Updates and Maintenance
Free themes may receive fewer updates or maintenance compared to premium themes.
Users may encounter compatibility issues with newer versions of the website platform or plugins over time.
Design Similarities
Free Shopify themes tend to have a more limited selection of unique designs.
Users may find that their website looks similar to other websites using the same free theme, reducing the uniqueness of their brand or identity.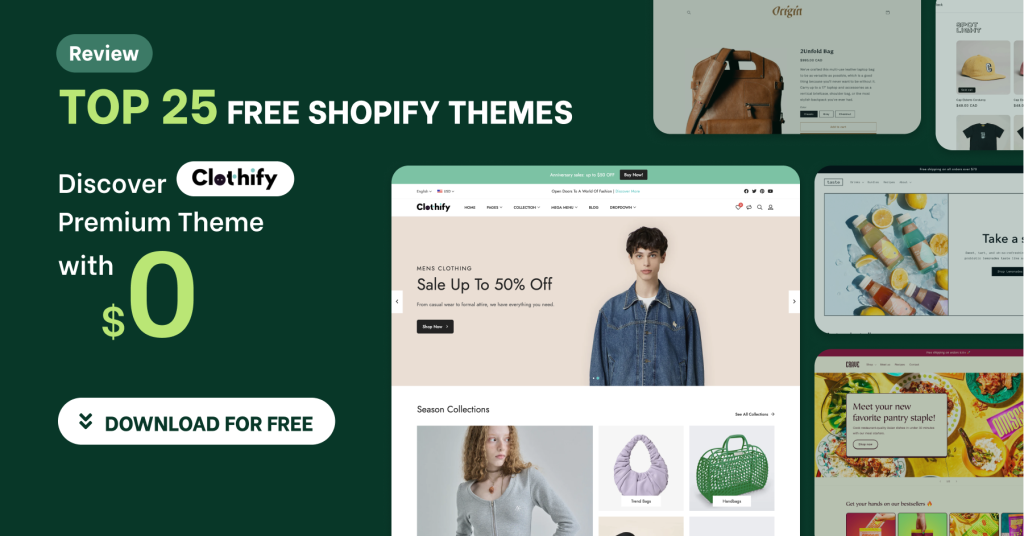 Experience Premium Quality for Free with Clothify
Are you tired of the limitations and drawbacks of free themes? While free themes can be a great starting point, they often come with their fair share of cons, such as limited customization options, lack of advanced features, and limited support resources. But what if you could enjoy the benefits of a premium theme without spending a single dollar? Introducing the Clothify, the solution that combines the best of both worlds.
Effortless customization with Veda Builder
It takes customization to a whole new level with the inclusion of the powerful Veda Builder. This remarkable feature allows you to effortlessly customize every aspect of your store, surpassing the capabilities of the standard Shopify theme editor. With Clothify and Veda Builder, you have full control over the design, layout, and functionality of your store, ensuring a unique and tailored shopping experience for your customers. Watch the captivating introductory video showcasing the prowess of Veda.
What makes Veda Clothify outstanding
⏩ Create high-converting pages that focus on specific product(s)/ collection(s)/ blog(s)/ article(s).
⏩ Beautify other pages that a standard Shopify theme cannot do, giving your store a unique and professional look.
⏩ Use FREE complimentary apps that can be used in Veda, such as Product Badges, Freeshipping Bar, Email Popup, Multi-currency Converter, Image Optimizer, Instafeedhub, and more.
⏩ Add more pages to your store without changing your current theme, making it easy to customize your store to your liking.
⏩ Effortlessly create stunning & sales-boosting pages that convert visitors into customers without coding required.
⏩ Many awesome templates for various niches and purposes like promotion, mega sale, or holiday.
⏩ Rank top with fast speed & mobile responsiveness.
⏩ Save money with many built-in addons: subscribe pop/slide, fake sales pop, mini cart, dark mode, scroll to top, etc.
⏩ Boost sales with high-converting features: product bundle sales, fake view, product popup, countdown timer, etc.
⏩ Easily customized with a drag-n-drop live preview editor & step-by-step tutorial.
⏩ Integrated with many popular Shopify apps like Ryviu, Loox, Judgeme Review, Depo, USB, etc.
Veda Clothify can save you over $1900
It's a game-changer that not only offers stunning design and powerful customization but also saves you over $1900 in additional costs. With Clothify, you get a treasure trove of built-in add-ons and features that other apps would typically charge you for.
Say Goodbye to Monthly Fees
& Hello to over $1999/year Savings
FREE
(With Clothify no monthly cost)
Fake Sales Notification Popup
Advanced Filter for Collection Page
Product Variation Swatches
Multi-Language and Currency
Support OS 2.0
By leveraging the power of OS 2.0, Clothify delivers a seamless and cutting-edge e-commerce experience. With its compatibility and adherence to the latest standards, Clothify ensures that your Shopify store remains up-to-date, secure, and optimized for performance. Provide your customers with an exceptional shopping journey with Clothify.
Download Clothify Zip file
Dive deeper into the possibilities by exploring the Clothify demo store, and witness firsthand how this theme can elevate your brand. Remember to enter password: 1 to access the demo store.
Make the switch to Clothify today and discover a new world of possibilities for your Shopify store. Experience the best of both worlds—premium quality and a price tag of $0. Don't let the limitations of free themes hold you back. Unleash the true potential of your online business with Clothify.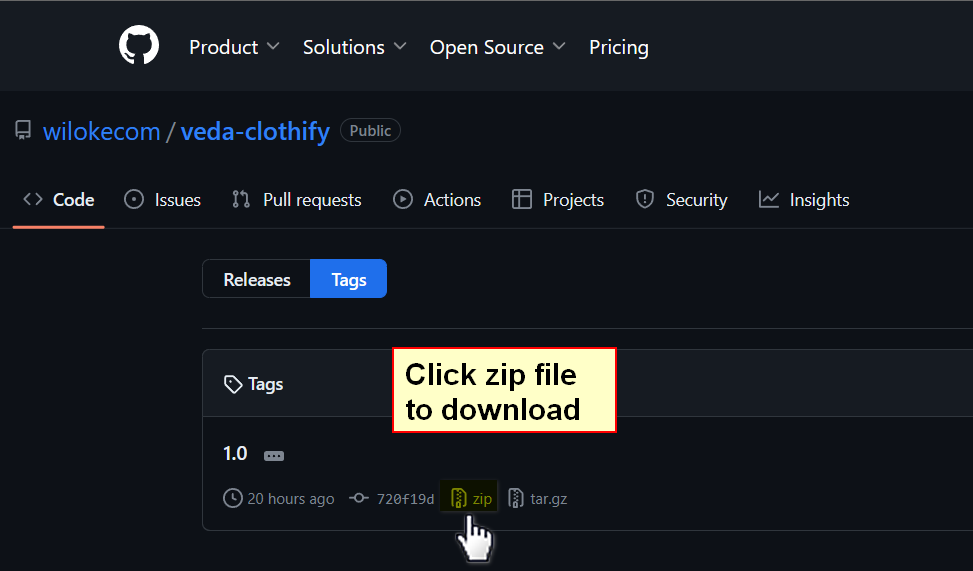 Upload Clothify and customize it
You'll need to upload the zip file named "veda-clothify" to Shopify theme dashboard.
Go to Online Store > Themes > Theme library > Upload zip file.


Click "Customize" button to customize it. Note: You can customize Clothify right on Shopify editor or using Veda Builder. It's recommended to use in Veda to enjoy its full potential and free built-in add-ons.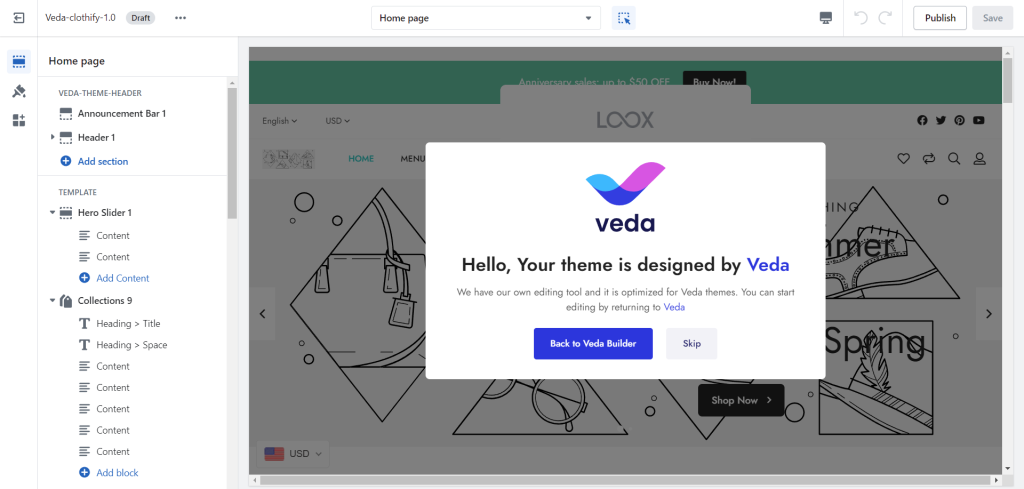 Why OS 2.0 theme is better than Vintage one
The key distinction between OS 2.0 Shopify themes and vintage themes lies in their underlying architecture and capabilities. OS 2.0 themes are built using the latest version of Shopify's framework, offering enhanced performance, improved security, and access to advanced features and functionalities. These themes are optimized for responsiveness, ensuring a seamless shopping experience across various devices.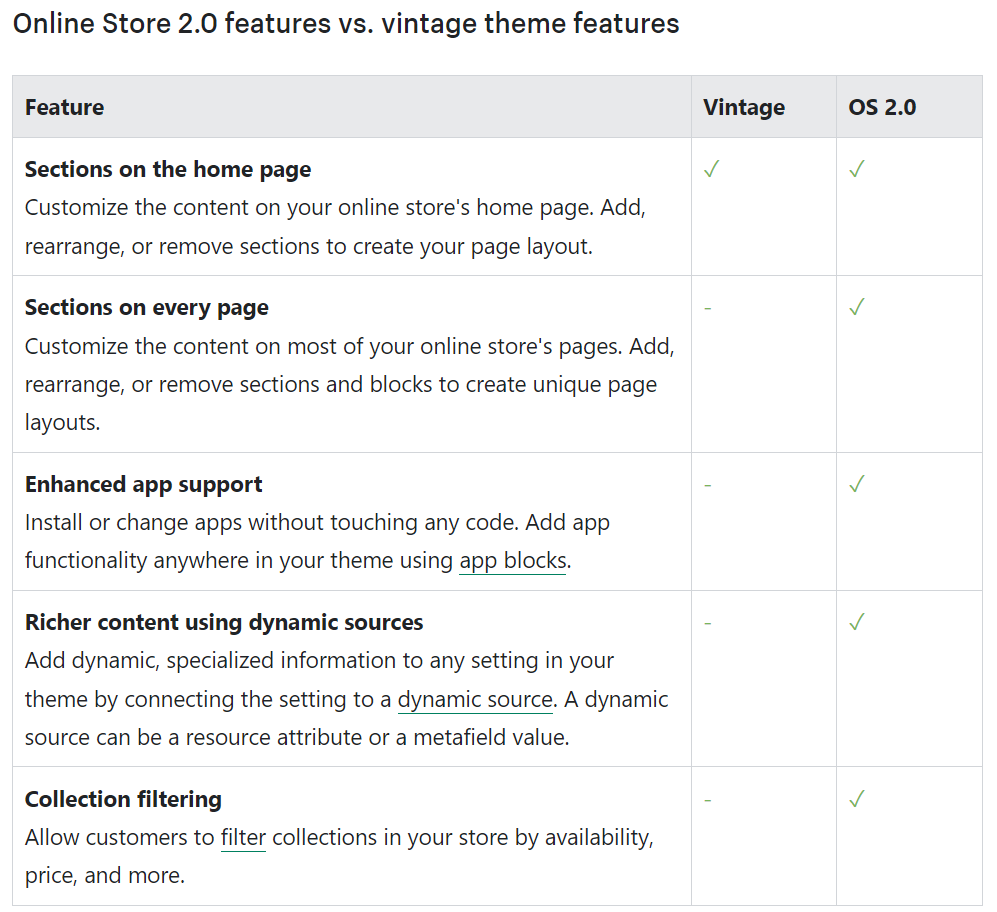 On the other hand, vintage themes refer to older versions of Shopify themes that may lack the latest updates and features. While vintage themes can still provide a functional website, they may not offer the same level of flexibility, customization options, or compatibility with newer Shopify features. As a result, choosing an OS 2.0 theme ensures you have access to the latest technology and a broader range of tools to create a modern, user-friendly, and visually appealing online store.
Top 12 free Shopify themes featured on Shopify theme store.
Discover a selection of free Shopify themes featured on the Shopify Theme Store. These OS 2.0 themes, created by experienced Shopify experts, offer attractive designs and practical features. If you're in search of a free theme for your online store, we've got you covered. Take a closer look at each theme as we provide a brief overview below. Follow this link to explore them further. Let's find the right theme for your store together.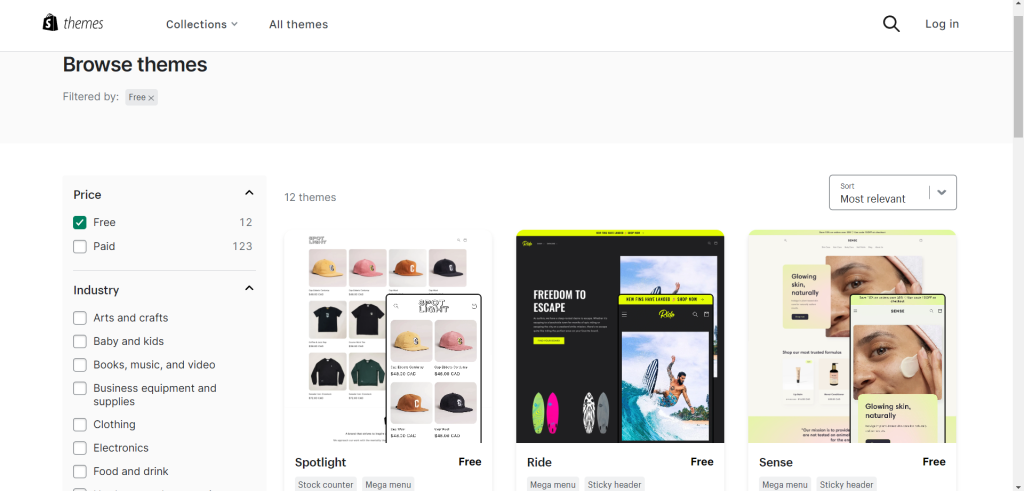 Spotlight
A streamlined theme designed to provide an efficient experience for quickly launching your online store and start selling your products in no time.
Quick buy and slide-out cart: Enhance the convenience of purchasing by incorporating quick buy buttons and a slide-out cart, allowing customers to add items to their cart and make purchases without leaving their current page.
Real-time stock counter: Keep your customers informed about product availability with a stock counter that displays real-time updates, creating a sense of urgency and encouraging prompt purchasing decisions.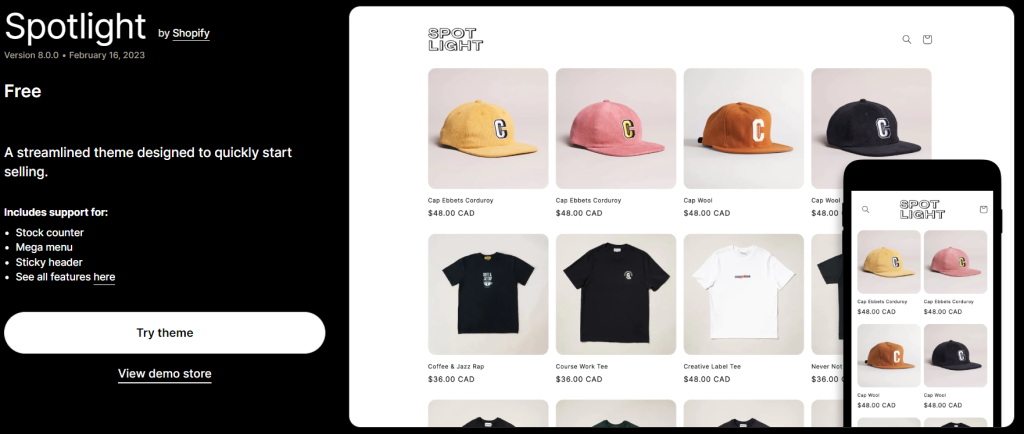 Detailed size chart feature: Help your customers make confident sizing choices by offering a size chart feature that provides comprehensive information about measurements and fits, ensuring a better shopping experience.
User-friendly design: Create a seamless and enjoyable shopping journey for your customers with a user-friendly design that prioritizes intuitive navigation, clear product information, and a visually appealing layout.
Craft
An elegant and sophisticated Shopify theme that pays homage to craftsmanship and artisanal work.
Genuine and sincere design: Experience a refined design that prioritizes generous spacing, elegant typography, and a clean layout, allowing your content to take the spotlight.
Captivating storytelling: Utilize purpose-built sections and templates to create immersive and captivating narratives that highlight your brand's story and values.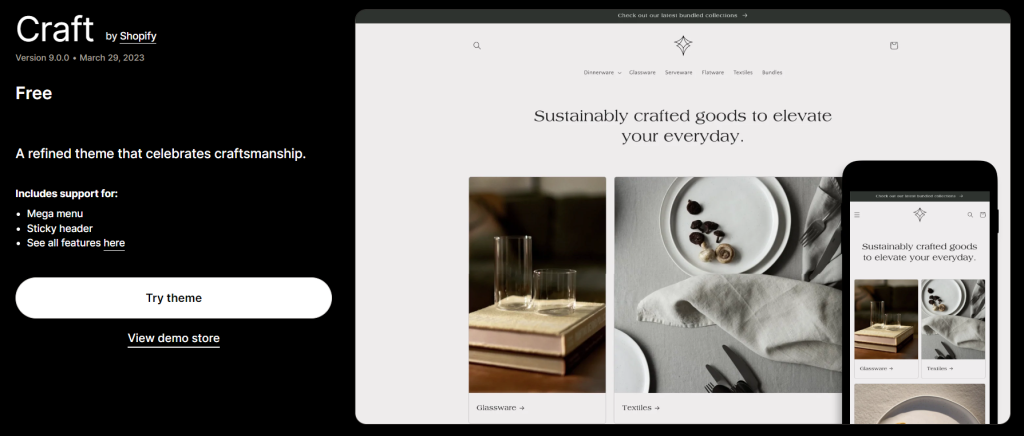 Engaging image galleries: Showcase your products and brand imagery with stunning image galleries, providing customers with a visually appealing browsing experience.
High-resolution imagery: Take advantage of the theme's support for high-resolution images, ensuring your products are displayed in exceptional detail.
Enhanced product filtering and sorting: Enable customers to easily find what they're looking for with intuitive product filtering and sorting options, streamlining their shopping journey.
Origin
A stylish and captivating Shopify theme tailored for makers selling unique and distinctive pieces, designed to ignite curiosity and showcase craftsmanship.
Whimsical design: The combination of a neutral color palette and quirky typography adds a touch of playfulness and intrigue, capturing the attention of visitors and piquing their curiosity about your craft.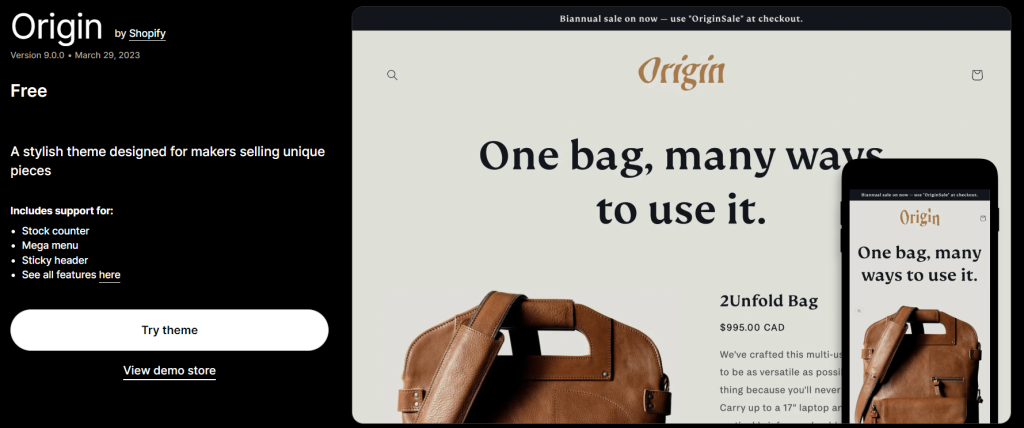 Storytelling layouts: Highlight the stories and experiences of your buyers through structured layouts that invite exploration and allow you to showcase the details behind your products.
Organized product information: Display product details in convenient tabs, ensuring a clean and organized presentation that enables customers to easily access the information they need.
Sticky header: Keep your header navigation visible at all times as visitors scroll through your website, providing seamless navigation and easy access to key sections and categories.
Publisher
A visually captivating Shopify theme with a moody and progressive design that sets the stage for immersive brand experiences.
Contemporary aesthetics: Enhance your store's visual appeal with subtle gradients, modern typography, and immersive product cards featuring dark and atmospheric product imagery.
Streamlined navigation: Prioritize your brand narrative and create a seamless browsing experience with minimalist navigation that offers contextual links to products and categories throughout the page, keeping visitors engaged and informed.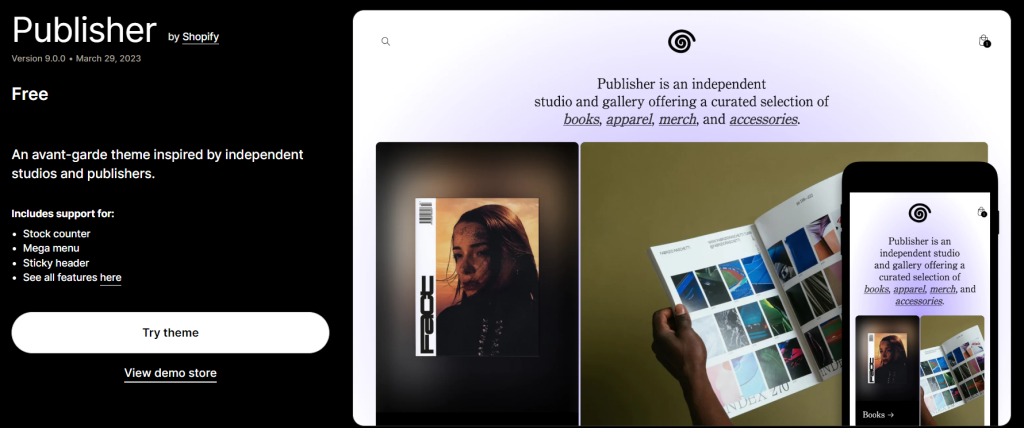 Flexible product options: Provide a variety of product choices to your customers with product options, allowing them to customize and personalize their purchases to meet their unique preferences and needs.
Showcase high-resolution images: Capture the attention of your audience and highlight the fine details of your products with high-resolution images that bring your offerings to life, fostering a sense of quality and professionalism.
Sense
A vibrant and modern Shopify theme that revitalizes your brand with a fresh color palette, soft gradients, and curved elements.
Engaging image rollover: Grab customers' attention with interactive image rollover effects, allowing them to explore product details effortlessly.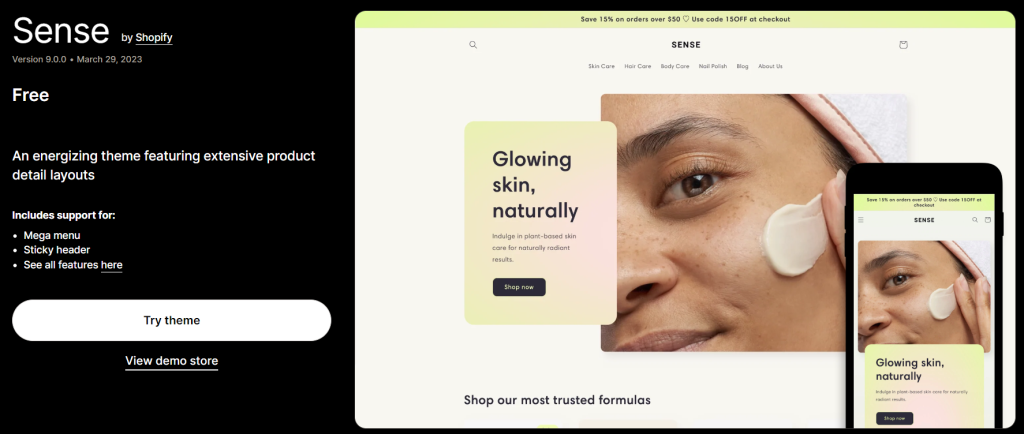 Zoom in on product images: Enable customers to examine product details closely with the image zoom feature, providing a closer look at the finer aspects of your offerings.
Enhanced search functionality: Sense theme offers an improved search feature, making it easier for customers to find specific products or content on your website.
Refresh
A sleek and contemporary Shopify theme that exudes sophistication with clean lines, assertive headings, and a minimalist color palette.
Highlight product details: Utilize adaptive section layouts to showcase testimonials, ingredient information, quality details, special certifications, and other relevant product information, enhancing customer confidence and trust.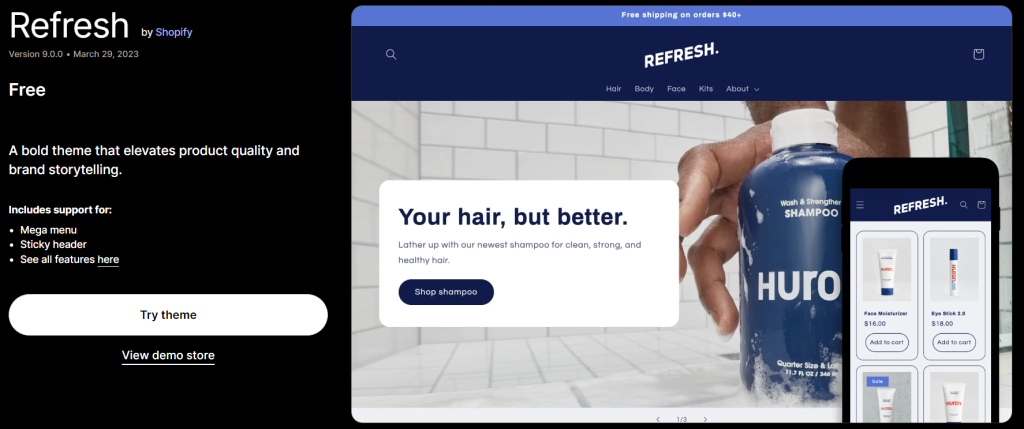 Boost sales with recommended products: The theme includes a feature that suggests related or recommended products to customers, encouraging additional purchases and increasing average order value.
Studio
A visually striking Shopify theme designed specifically for artists and collections, with a focus on style and creativity.
Art-centric design: Capture the essence of your artwork with stylish typography and vibrant accents that frame your products and collections, elevating the overall presentation.
Inspire collectors: Engage art enthusiasts with collection-based navigation, filters to explore creators, featured collections for galleries and new arrivals, and artist profiles to showcase the stories behind the artwork.
Showcase with image galleries: Present your artwork in stunning detail through image galleries that allow visitors to immerse themselves in your creative offerings.
Create lookbooks: Curate visually compelling lookbooks to inspire customers and showcase your artwork in unique and captivating ways.
Dawn
A stylish and minimalistic Shopify theme that allows your products to shine through its chic design, featuring large imagery, crisp lines, and clean fonts.
Enhanced product page: Showcase your products effectively with a media-forward approach, providing large visuals that allow customers to see product details and get a sense of their appearance and texture.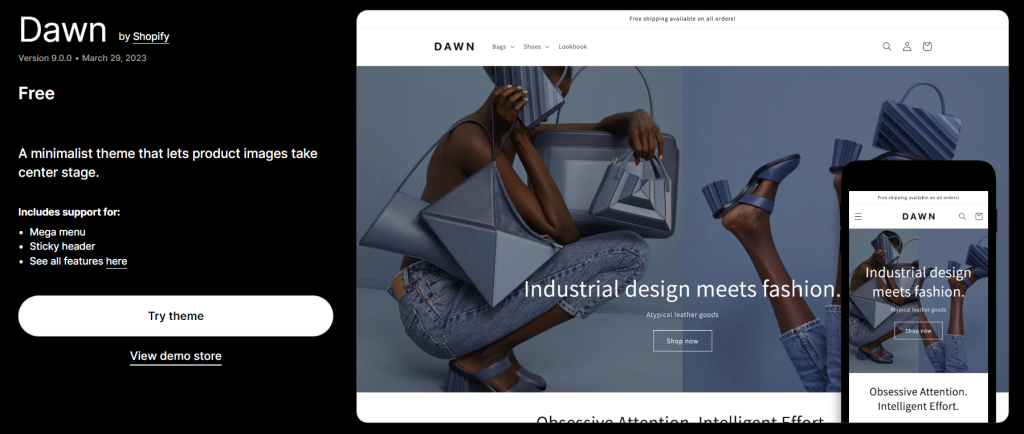 Boost sales with cross-selling: Utilize cross-selling features to suggest related or complementary products to customers, encouraging additional purchases and increasing revenue.
Build customer trust with product reviews: Incorporate product review functionality to gather feedback from customers, helping build credibility and assisting potential buyers in making informed purchasing decisions.
Colorblock
A visually stunning Shopify theme designed specifically for high-end fashion brands, offering a confident and colorful design that elevates your products to the next level.
Unique and eye-catching design: Stand out from the crowd with atypical typography and customizable blocks of color that create a visually striking lookbook feel, capturing attention and enhancing the overall aesthetic of your store.
Perfect for large catalogs: Showcase collections of any size with ease using expanded menu navigation and advanced filtering capabilities, allowing your customers to explore and discover products tailored to their preferences.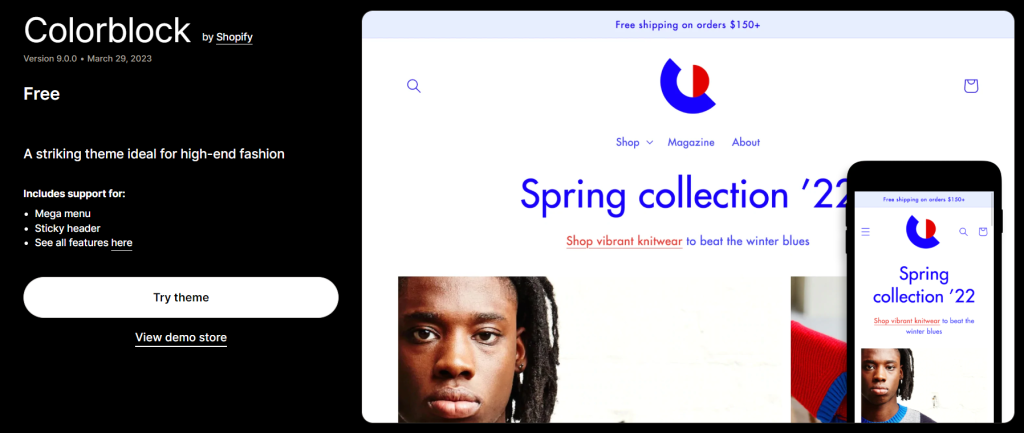 Dynamic slideshow and lookbook features: Engage your audience with captivating slideshows that highlight your best offerings and create immersive lookbooks to inspire and guide your customers through their shopping journey.
Size chart functionality: Ensure your customers have access to accurate sizing information by incorporating a size chart feature, allowing them to make informed decisions and find the perfect fit for their needs.
Taste
A visually striking Shopify theme with a spacious and captivating design that captures attention and creates a memorable browsing experience.
Bold and contrasted visuals: Catch the buyer's eye with impactful headlines, sleek typography, and a high contrast color palette that adds a modern and industrial touch to your online store.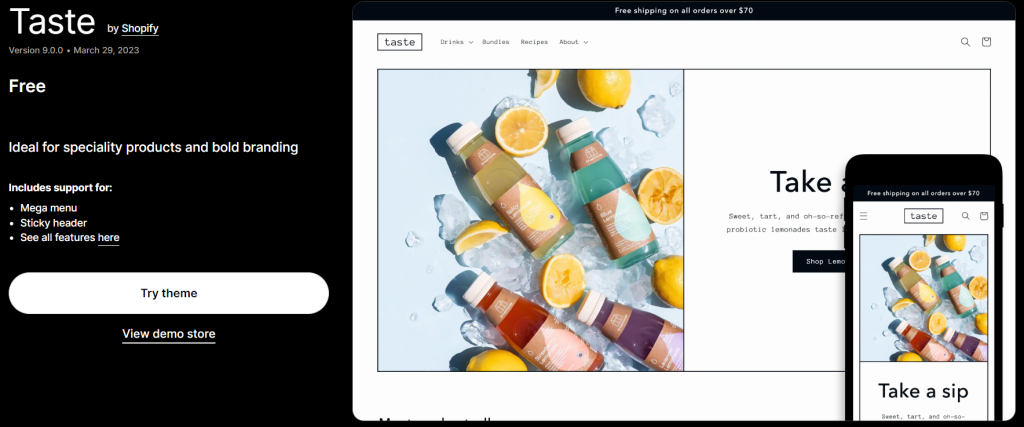 Highlight product quality: Take advantage of product sections that support larger product cards, allowing you to showcase the quality and uniqueness of your offerings. Additionally, leverage speciality product highlights and bespoke FAQs to provide valuable information and assist buyers in making informed purchasing decisions.
Engage with promo banners: Utilize promo banners to effectively communicate sales, promotions, or important messages, enabling you to capture the attention of visitors and drive engagement with your store's offerings.
Crave
A dynamic and vibrant Shopify theme that infuses your brand with energy and playfulness through its bold colors and eye-catching shadows.
Mobile-friendly design: Ensure a seamless shopping experience for on-the-go buyers with mobile-optimized layouts and convenient dynamic checkout options.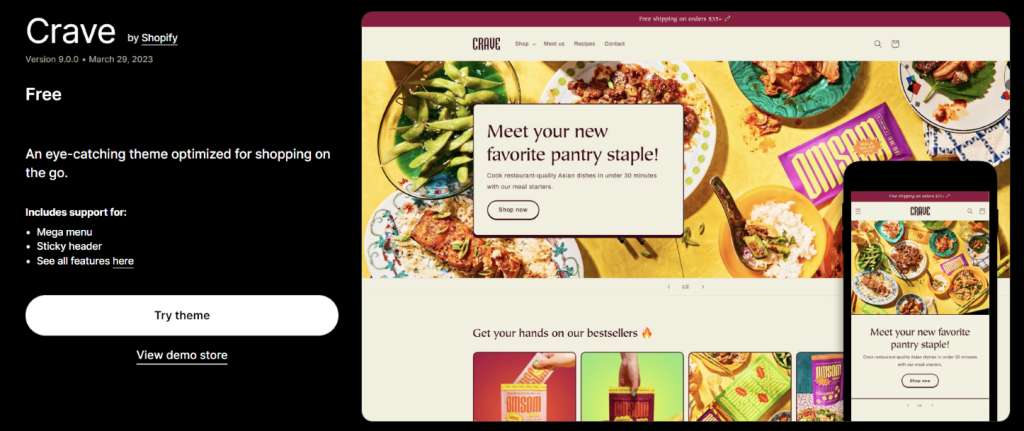 Provide shipping/delivery information: Display clear and concise shipping and delivery information to keep your customers informed and establish trust in your fulfillment process.
Highlight ingredients or nutritional information: Cater to health-conscious customers by showcasing ingredients or nutritional information for your products, helping them make informed purchasing decisions.
Ride
A distinct and dynamic Shopify theme tailored for sports businesses.
Sleek sports-centric design: Dark background, bold typography, and accent colors make your sporting goods pop.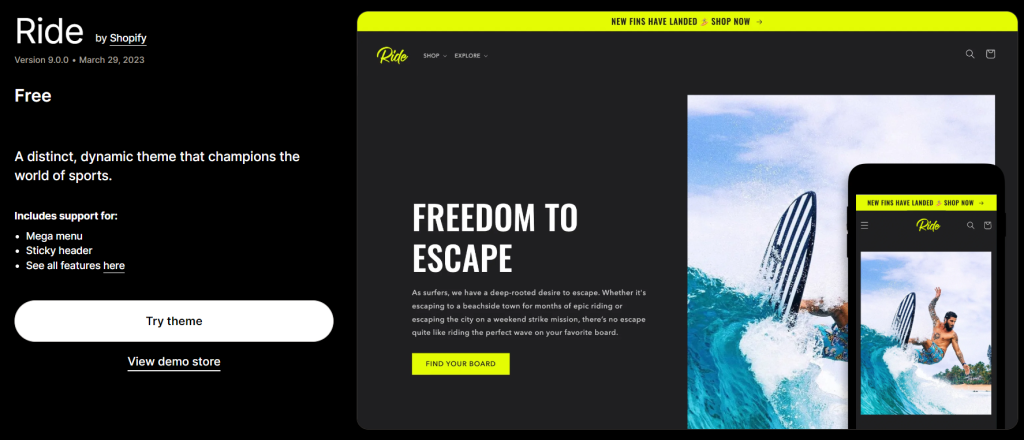 Promo banners and press coverage: Highlight special offers and showcase media features.
Optimized for brand storytelling: Longer-form text sections support sharing your brand's unique journey.
Top 12 free Shopify themes on Templatemonster.
Introducing the top 12 free Shopify themes available on Templatemonster. These themes offer a range of designs and features to kick off your Shopify store. To download them for free, you will need to sign up for a Templatemonster account or share the theme on social media. Additionally, please be aware that these free themes do not include technical support. The biggest drawback is that the majority of themes available there are vintage versions, with only 2 themes being provided by Vendy in the latest OS 2.0.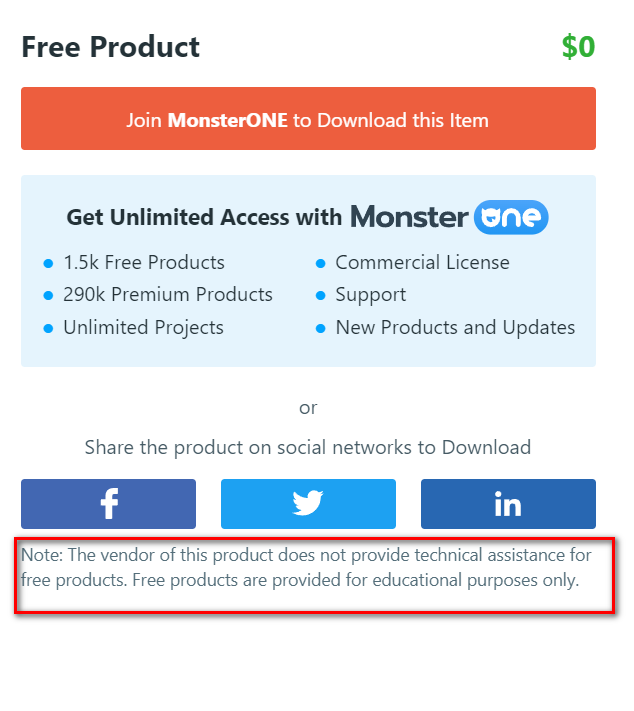 It's important to read the theme descriptions carefully as some may require upgrading to the pro version to access all features (like the image below). Please note that while some themes may boast about their quality, they may not always meet your expectations.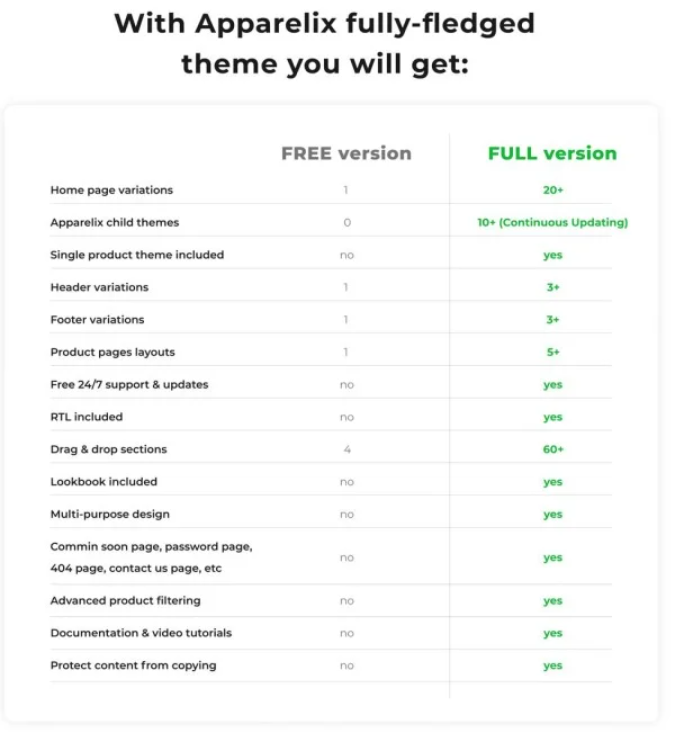 Vendy Shopping
This free Shopify theme is built on Shopify theme OS 2.0, offering enhanced functionality and performance for your online store.
Include a "just bought" popup feature, displaying recent customer purchases to create a sense of social proof and urgency.
With the products compare feature, customers can easily compare different products side by side to make informed purchasing decisions.
Include a newsletter popup, allowing you to capture visitor emails and grow your subscriber list.
Feature a mega menu with image support, enabling you to create visually appealing and informative navigation menus for your customers.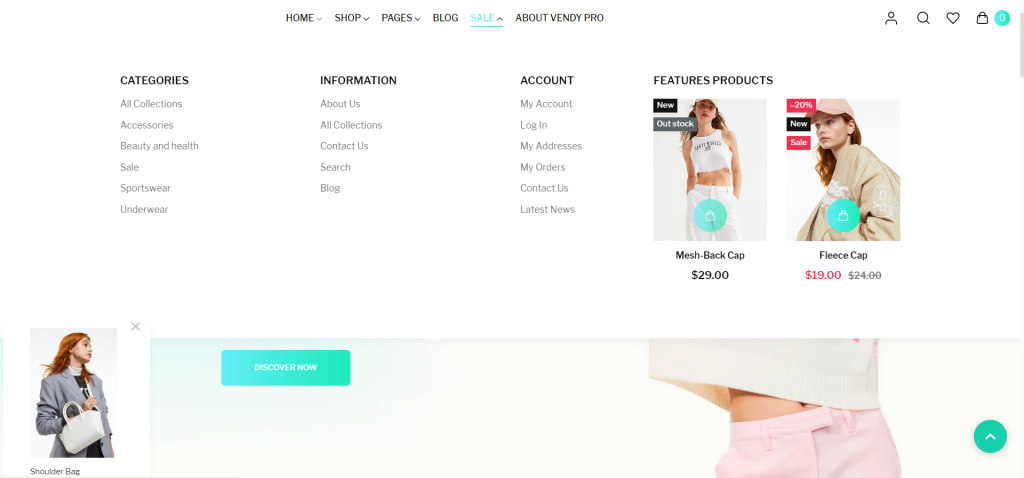 Kardone
Tailored for veterinary clinics and breeding farms: Cater to exotic species, offering a comprehensive solution for managing appointments, selling goods, and showcasing animal food and accessories.
Versatile collection catalogs: Efficiently organize and display your products with collection catalogs, allowing you to present various categories and collections in a visually appealing and organized manner.
Translation-ready functionality: Reach a wider audience by utilizing the translation-ready feature, which enables seamless translation of your store's content into multiple languages, making it easier for international customers to navigate and understand your offerings.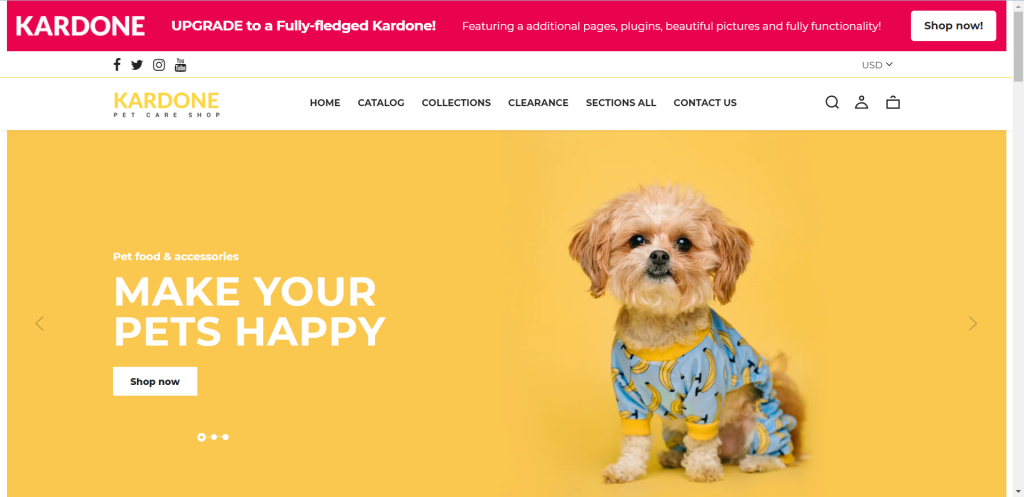 Doris
Perfectly suited free Shopify theme for fashion stores specializing in clothing apparel, including t-shirts.
Embraces a minimalistic design with a bright and clean aesthetic, featuring high-resolution retina-ready graphics and a soothing pastel color scheme.
Enhanced shopping experience with the Advanced Product Filter, allowing customers to easily navigate and refine their product searches based on specific criteria.
Convenient features like Ajax Wishlist, Ajax Compare, and Ajax Add to Cart, enabling seamless interactions and streamlined purchasing without page reloads.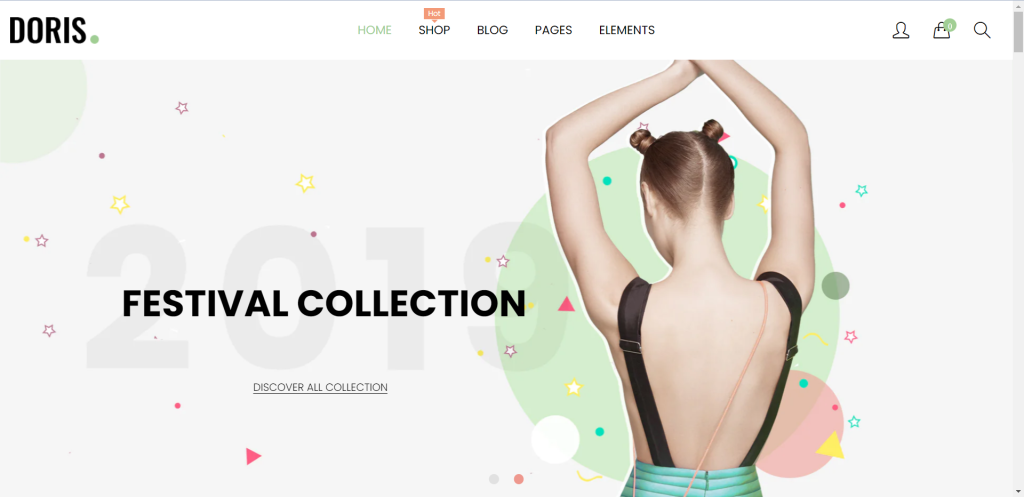 Electro
Trendy and visually appealing design that enhances the overall appearance of your electronics store or electronic devices.
Perfectly suited free Shopify theme for showcasing electronics gifts and other related products.
Contemporary and stylish layout that appeals to modern shoppers.
Responsive design ensures optimal viewing and browsing experience across different devices.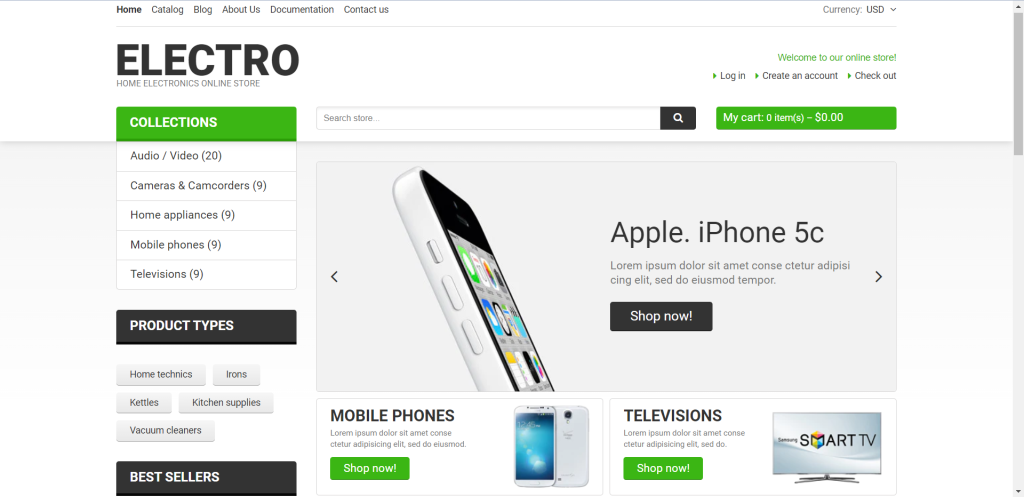 SuitUp
Captivating design in soothing soft color tones, instantly catching the attention of customers.
Convenient shopping features such as cart, wishlist, and currency options, ensuring a comfortable and hassle-free shopping experience.
Integrated search form for quick and effortless product searches.
Seamless acceptance of digital payments, providing a secure and convenient transaction process.
Versatile category pages enabling the sale of various products, including footwear, sportswear uniforms, clothes, and more.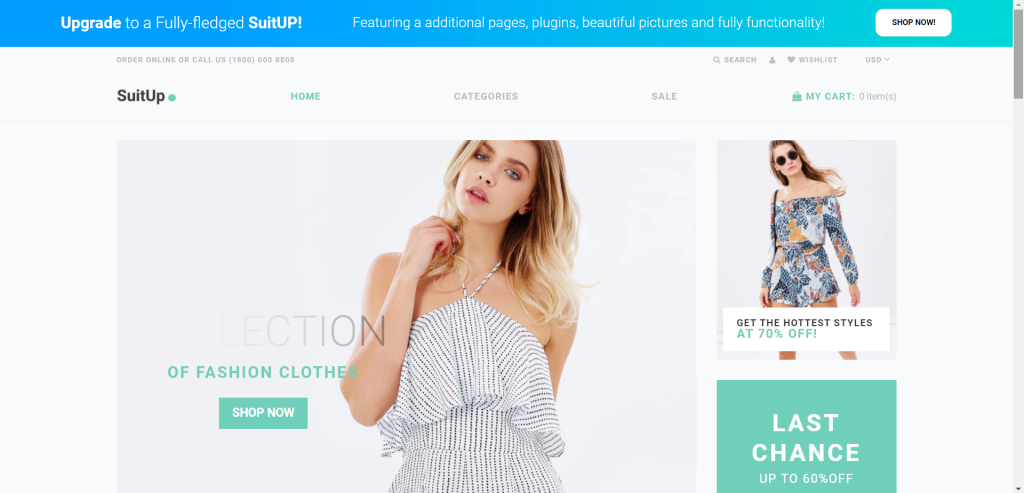 Multifly
Minimalist and responsive theme designed specifically for medical marijuana stores.
Includes various essential features such as catalog, product page, collections, and social icons.
This free Shopify theme offers convenient functions like wishlist and quick view for enhanced user experience.
Option to add promotional counters and maintain a blog for engaging with customers.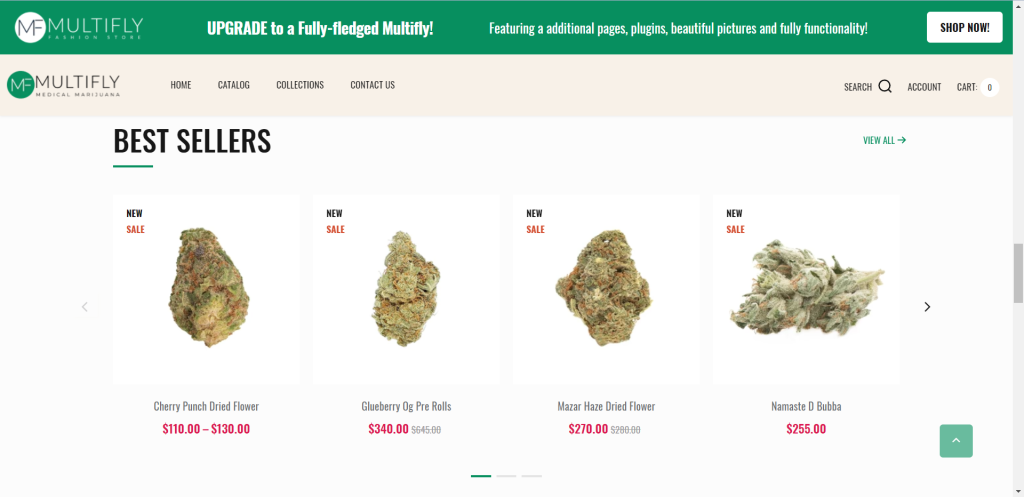 Furniture Company
Well-crafted and visually impactful Shopify theme designed specifically for furniture shops and stores.
Trendy and modern template tailored for showcasing furniture products.
Responsive and SEO-optimized, ensuring a seamless user experience and improved search engine visibility.
This free Shopify theme offers numerous layout options, providing flexibility to customize and personalize your website.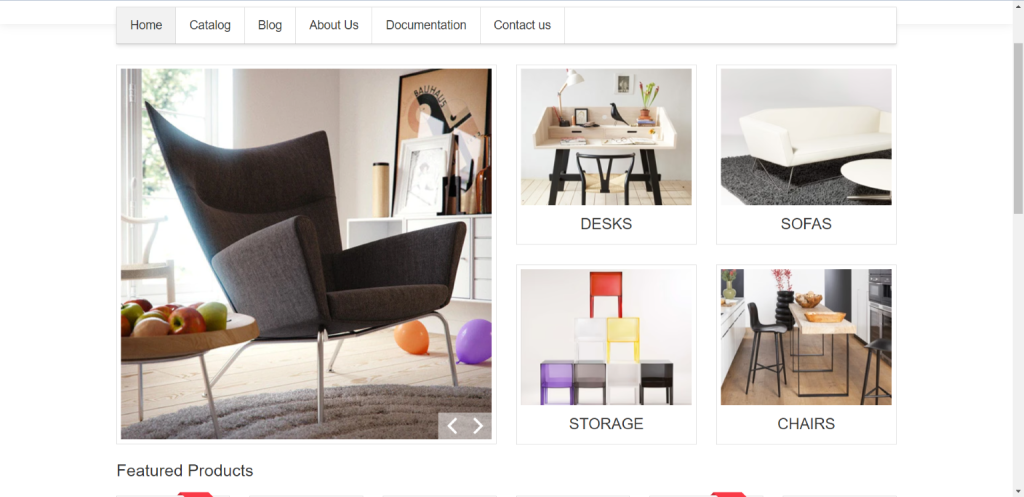 Classygift
Perfect free Shopify theme for gift stores, flower shops, and accessories stores, providing a stylish and elegant design.
Integration of Google fonts and Google maps for enhanced typography and location-based functionality.
Multi-language support, allowing you to cater to a wider audience and expand your customer base.
Includes a mega menu feature, enabling you to create expansive and user-friendly navigation menus for easy browsing.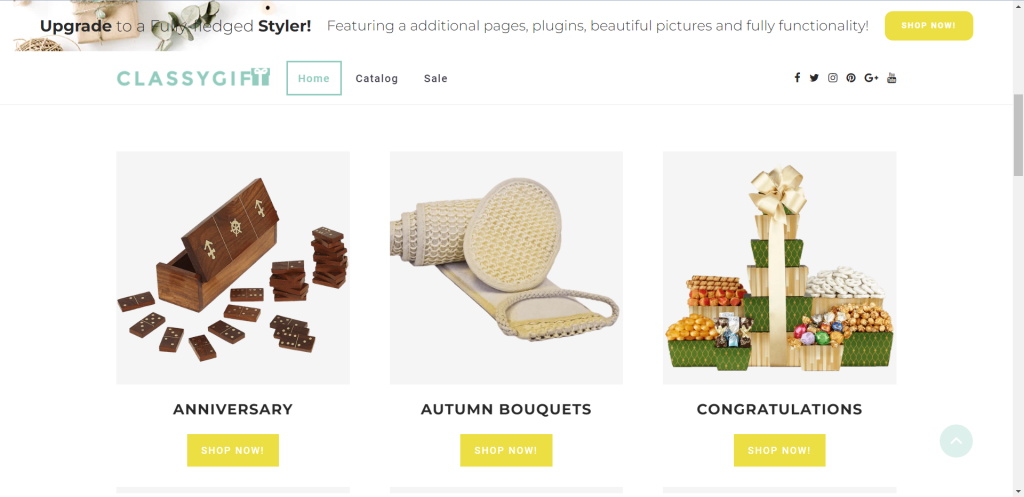 SNKR
A free Shopify theme ideal for entrepreneurs looking to launch an online footwear store, offering a specialized theme tailored to the industry.
Stylish image sections with text overlay, allowing you to showcase products and promotional messages in an engaging manner.
Product carousel feature for displaying multiple products in a visually appealing and interactive way.
Integrated slideshow functionality to create captivating visual presentations and highlight key products or offers.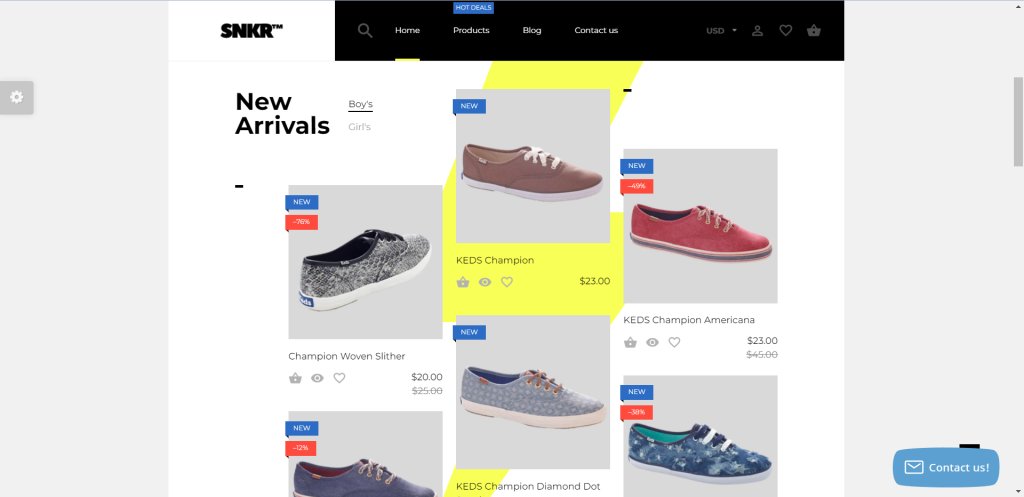 Apparelix
This free Shopify theme offers a single, unique homepage design variant that is perfect for fashion stores.
Enjoy the flexibility of using 4 drag-and-drop sections to customize and arrange content according to your preferences.
A single, well-designed header and footer variant that complements the overall aesthetic of your fashion store.
Specifically designed to cater to the needs of fashion stores, providing a visually appealing and functional solution for your online business.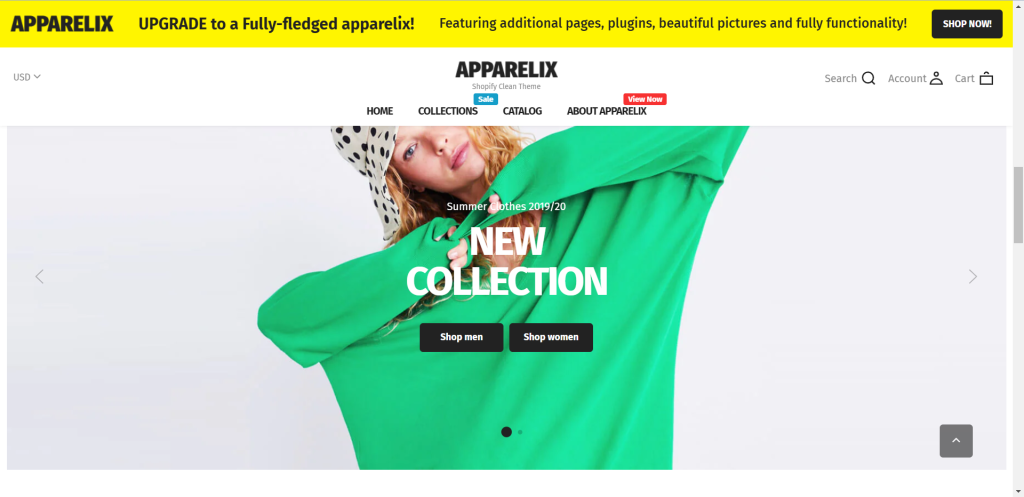 Coffeera
A free Shopify theme designed specifically for selling coffee, tea, food products, pastries, and desserts, providing a suitable and visually appealing layout for these types of businesses.
Support multiple languages, allowing you to cater to a global audience and reach customers from different regions.
Include sorting options, enabling customers to easily navigate and find products based on different criteria such as price, popularity, or relevance.
Fully responsive, ensuring that your online store looks great and functions smoothly on various devices, including desktops, tablets, and mobile phones.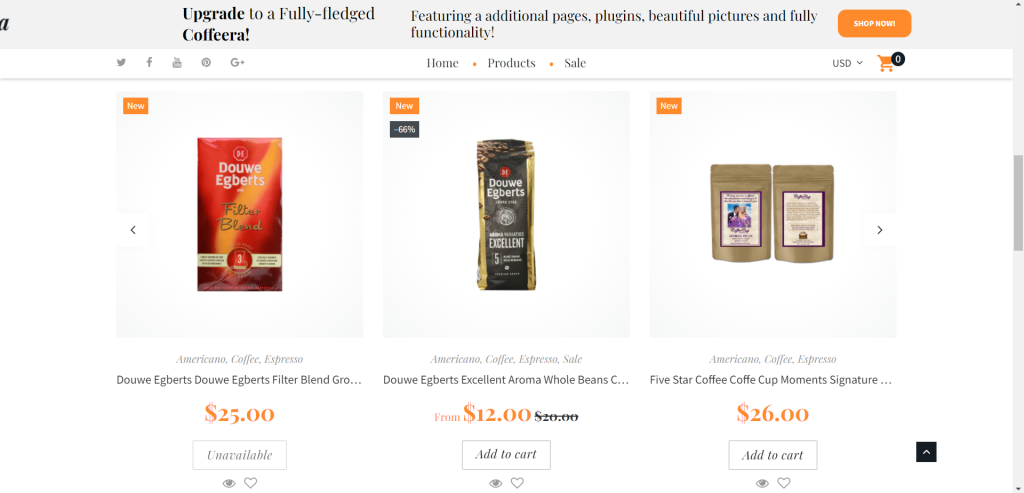 Tools
An excellent free Shopify theme for stores specializing in equipment, electronic devices, and related products, providing a tailored design for these types of businesses.
Include a contact form feature, allowing customers to easily get in touch with you for inquiries, support, or any other communication needs.
Incorporate a mega menu, providing a comprehensive and organized navigation system to help customers navigate through different categories and products effortlessly.
Support Google Fonts, allowing you to choose from a wide range of font styles and enhance the visual appeal of your store with typography that matches your brand identity.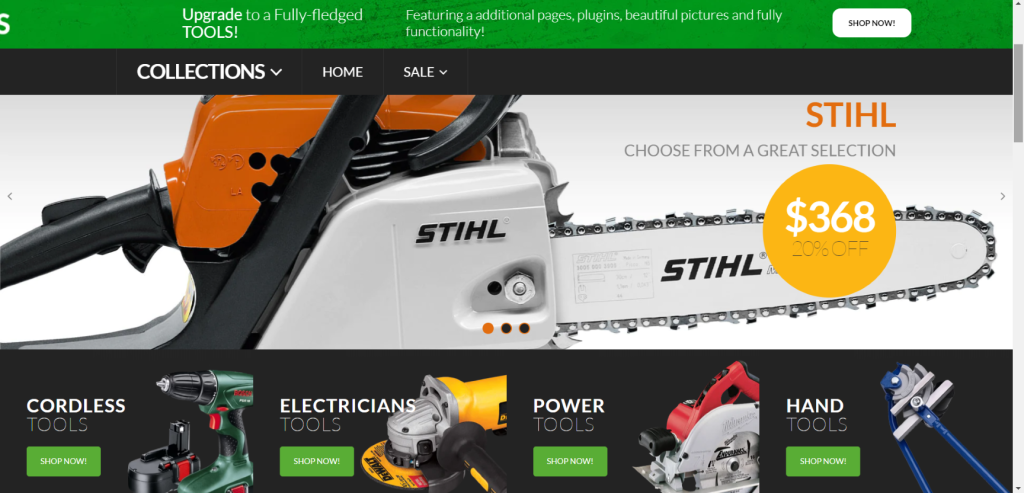 FAQs for Shopify themes
Why can't I find Shopify themes like Debut, Simple, Supply, and others?
The themes you mentioned, such as Thalia, Brooklyn, Narrative, Minimal, Boundless, Simple, Venture, Debut, and Supply, have been removed from the Shopify theme selection since November 2022. Shopify has sunsetted these vintage non-OS 2.0 themes, and they are no longer available for new installations.
How do I choose the right Shopify theme?
When selecting a Shopify theme, it's important to consider your target audience and their preferences. Think about the type of experience you want to offer and the specific features you'll need on your store. Look for a theme that aligns with your brand's aesthetics and values, ensuring it showcases your products effectively. It's also crucial to choose a theme that loads quickly on both mobile and desktop devices, providing a seamless user experience.
Why is having a good theme important for my online business?
A good theme is essential as it represents the face of your business. Studies show that design-related factors influence consumer trust, with 94% of participants considering design when assessing website credibility. Additionally, 38% of visitors will leave a website with an unattractive layout. A well-designed theme not only attracts customers but also keeps them engaged, increasing their likelihood of making a purchase. Invest in a good theme to make a positive impact on your Shopify business.
Key takeaways for free Shopify themes
In conclusion, we have explored 24 free Shopify themes, considering their pros and cons. However, if you're seeking a premium theme without any cost, Clothify stands out as an excellent choice. Remember to carefully evaluate your options and make an informed decision when selecting a theme for your Shopify store. Choose the one that aligns with your brand, offers the desired features, and provides a seamless user experience.