If you're looking to enhance your online food Shopify store's performance and conversion rates, you're in the right place. In this blog post, we will unveil key strategies and features to transform your online store into a conversion powerhouse, all geared towards boosting your sales and revenue.
Whether you're a seasoned e-commerce pro or just starting your journey, these tips will help you enhance the shopping experience for your customers while optimizing your food Shopify store for success.
Key CRO Features for Your Food Shopify Store
First off, watch these amazing Shopify food store built by Veda Builder
To kick-start your journey towards a highly optimized food Shopify store, consider these essential CRO features tailored to the food industry:
Mega Menu
Your food Shopify store's Mega Menu is a powerful tool that facilitates easy navigation for your customers. It categorizes your food products in a user-friendly, accessible manner, ensuring that visitors can effortlessly browse through your extensive selection of delectable offerings.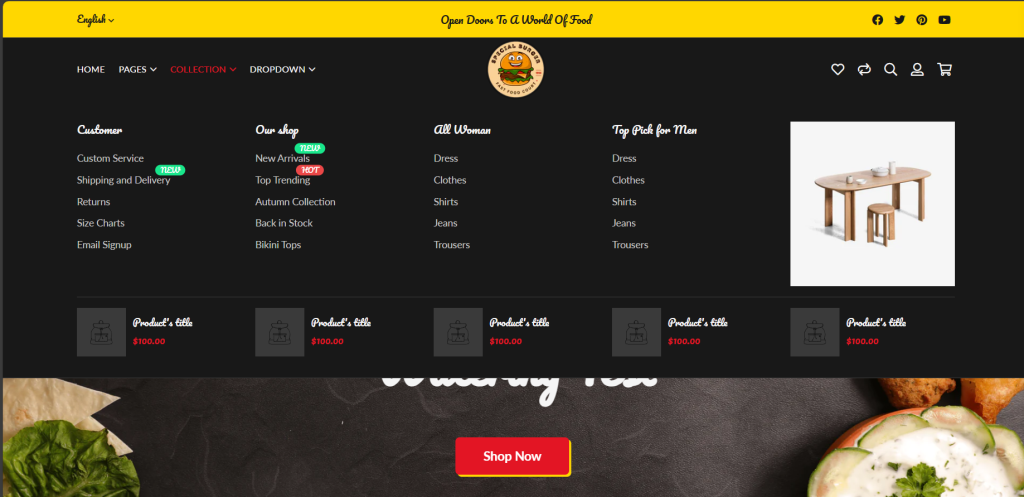 This intuitive menu simplifies the shopping experience, allowing customers to quickly find their desired items, whether they're looking for fresh produce, artisanal cheeses, gourmet snacks, or anything in between.
Services
Providing exceptional services is paramount in the food industry. Your customers expect a seamless and convenient shopping experience. This is where your Shopify store's services shine.

Offer free shipping to ensure that delicious treats arrive at their doorstep without extra costs. Easy returns and quality guarantees provide peace of mind, assuring customers that your commitment to their satisfaction is unwavering.
Food Menu Card
Simplify meal planning for your customers with a comprehensive Food Menu Card. Each item in your store comes to life with detailed recipes, ingredient lists, and nutritional information.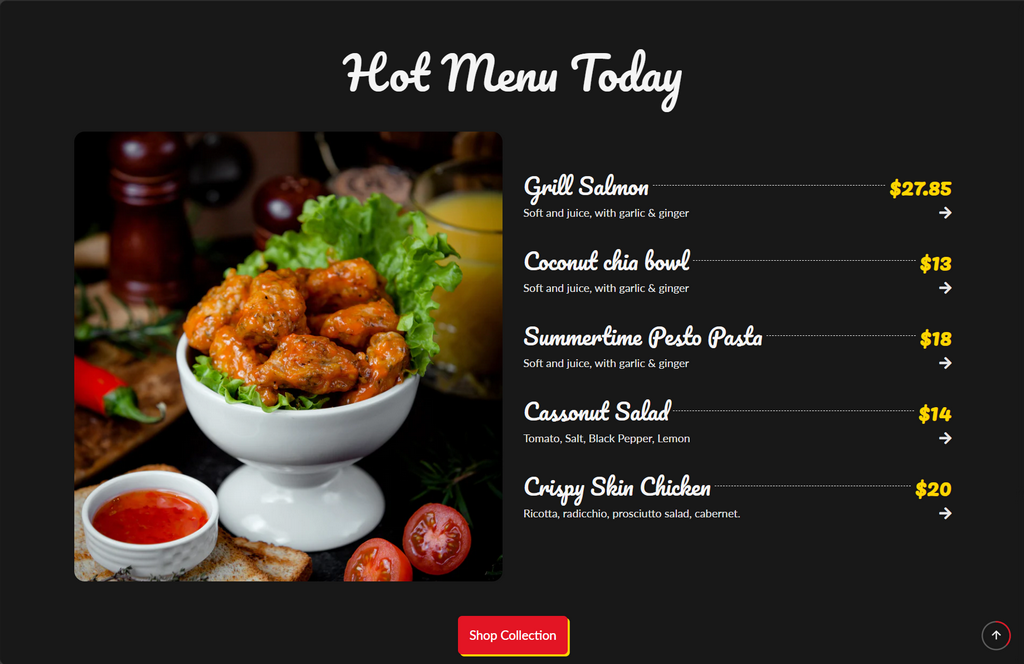 Shoppers can easily access the information they need to make informed choices. This feature not only simplifies the purchasing process but also engages customers by helping them plan delicious meals with your products.
Buy in Bundle, Buy Combo, and Buy More to Save More
Encourage your customers to stock up on their favorite food products with enticing discounts. By offering special pricing for bulk purchases, such as buying in bundles or combos, you provide an incentive for your shoppers to explore your diverse product range.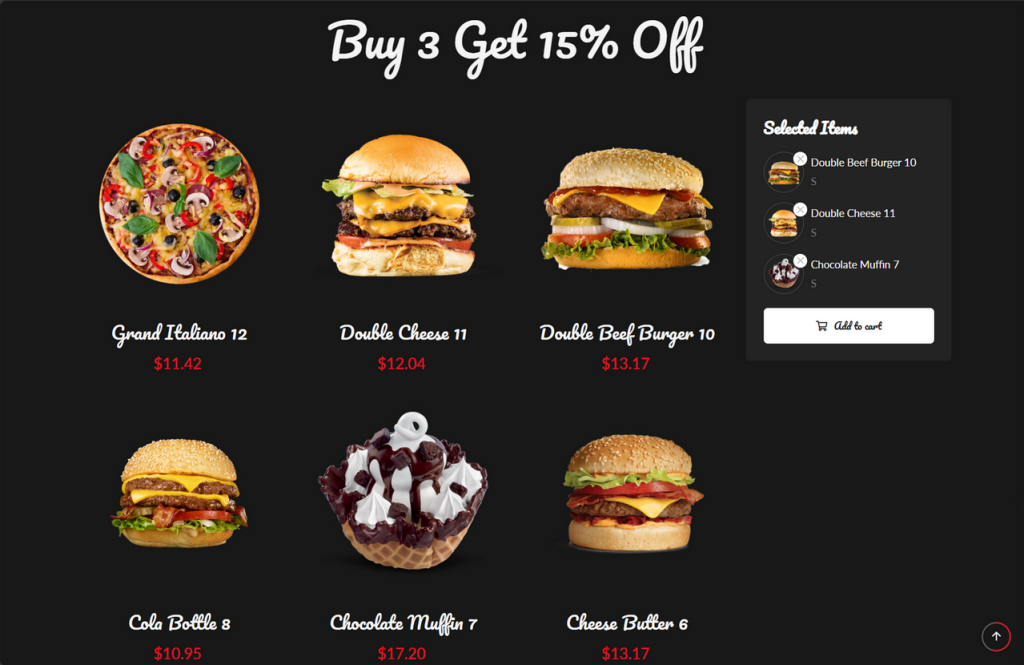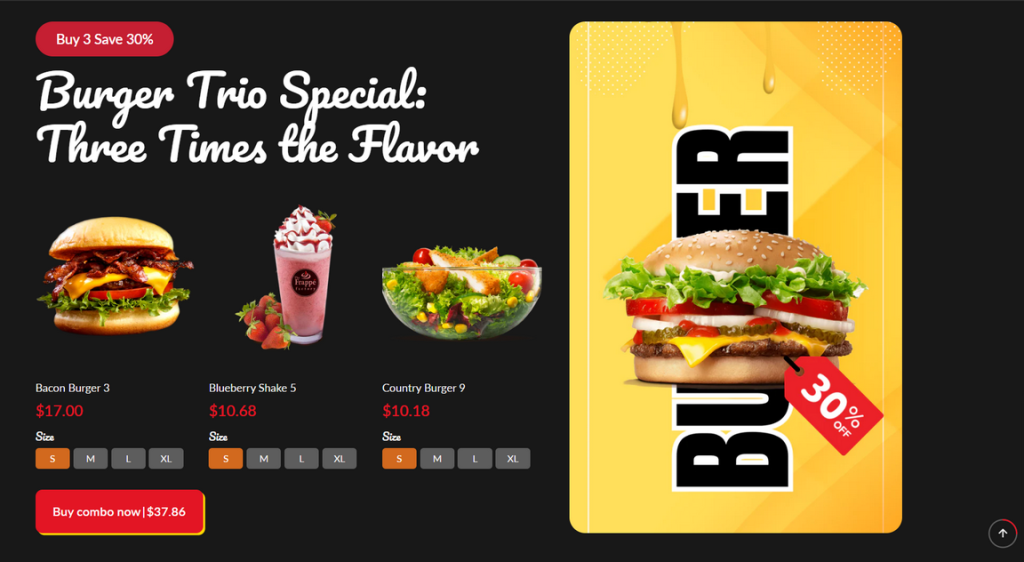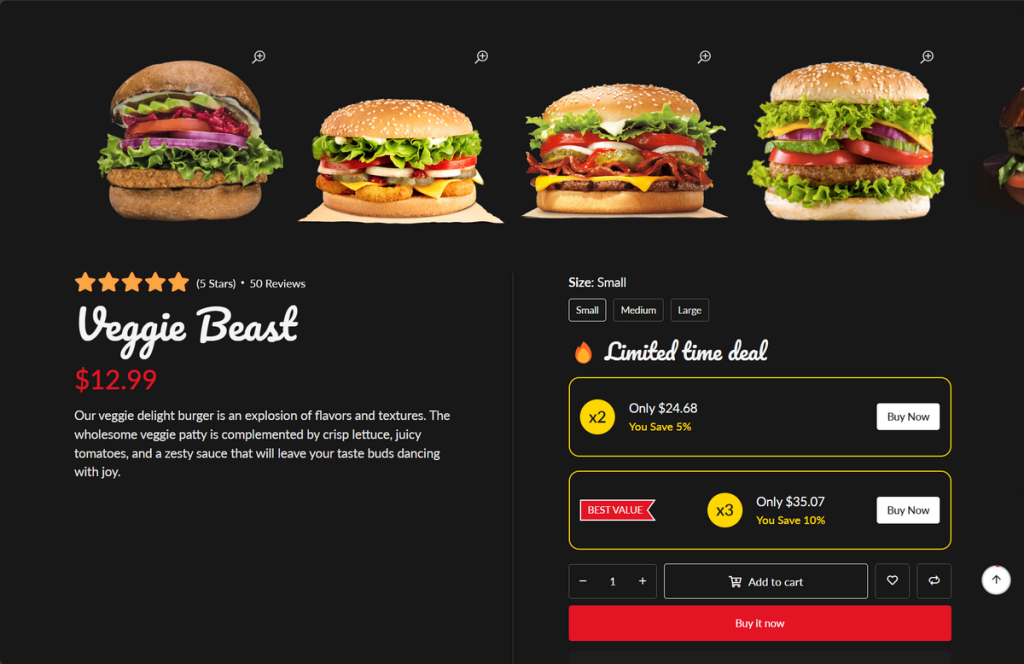 As they discover mouthwatering options, they'll be more inclined to purchase more, ultimately increasing your sales and cart values.
Large Banners and Product Images
The food industry is all about presentation. Large banners and high-quality product images showcase the freshness and variety of your food products.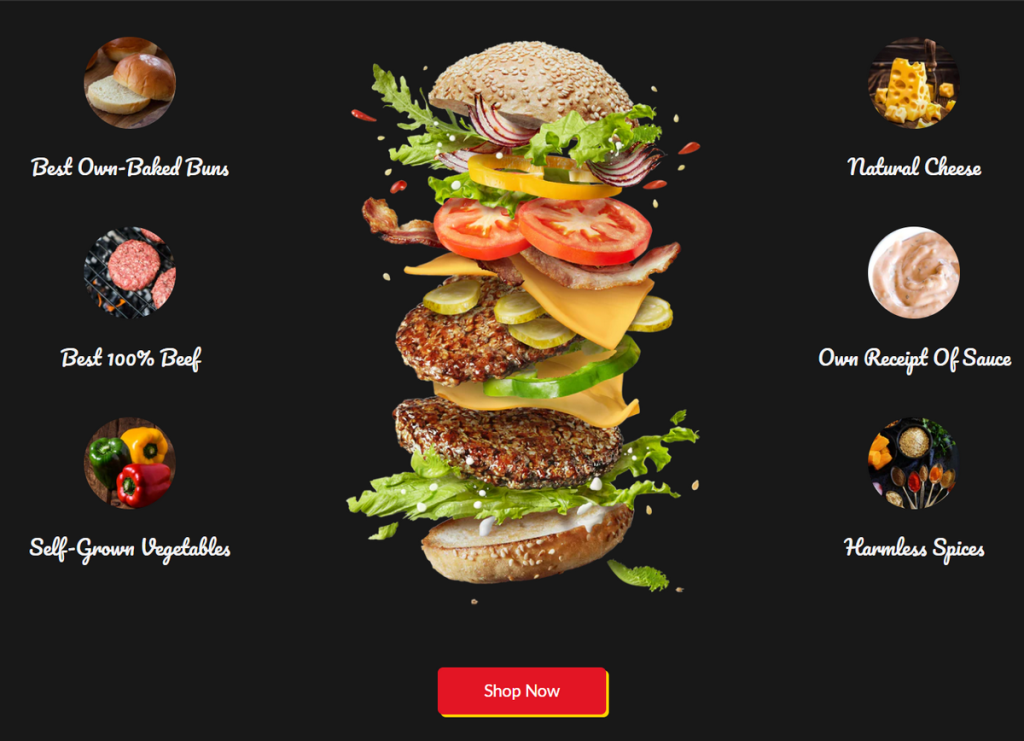 Visual appeal is crucial, and your customers should be able to see exactly what they're buying. These captivating visuals not only make your store more attractive but also instill confidence in the quality and freshness of your offerings.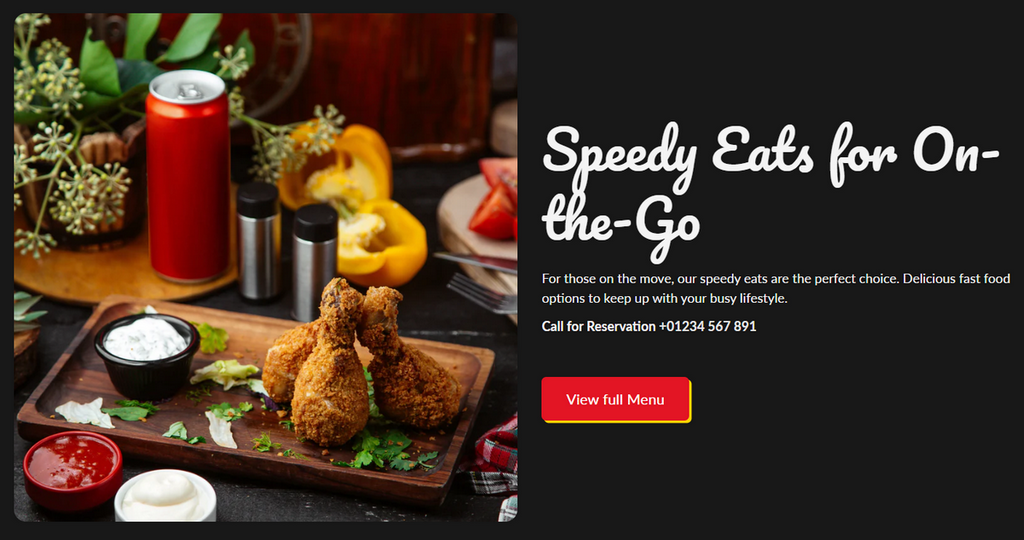 Related Collections
Cross-selling is a tried-and-true method for increasing sales. By guiding customers to related collections, you present complementary food products they might not have initially considered. This approach not only enhances the customer's shopping experience by offering convenience but also boosts your average order value as shoppers discover additional delectable options.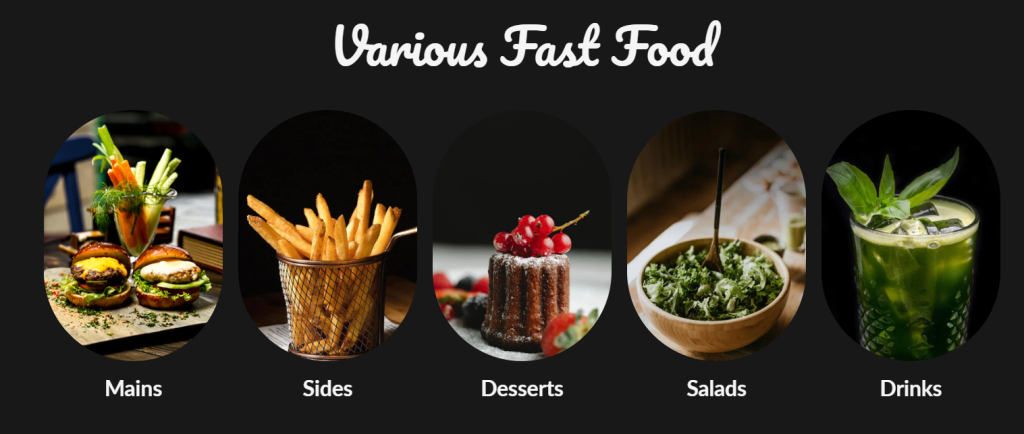 Parallax Images
Engage your customers with dynamic parallax images of your food products. These captivating visuals provide a visually stimulating shopping environment, making your store more exciting and interactive. As customers scroll through your store, parallax images add a touch of interactivity and creativity, captivating their attention and driving their desire to make a purchase.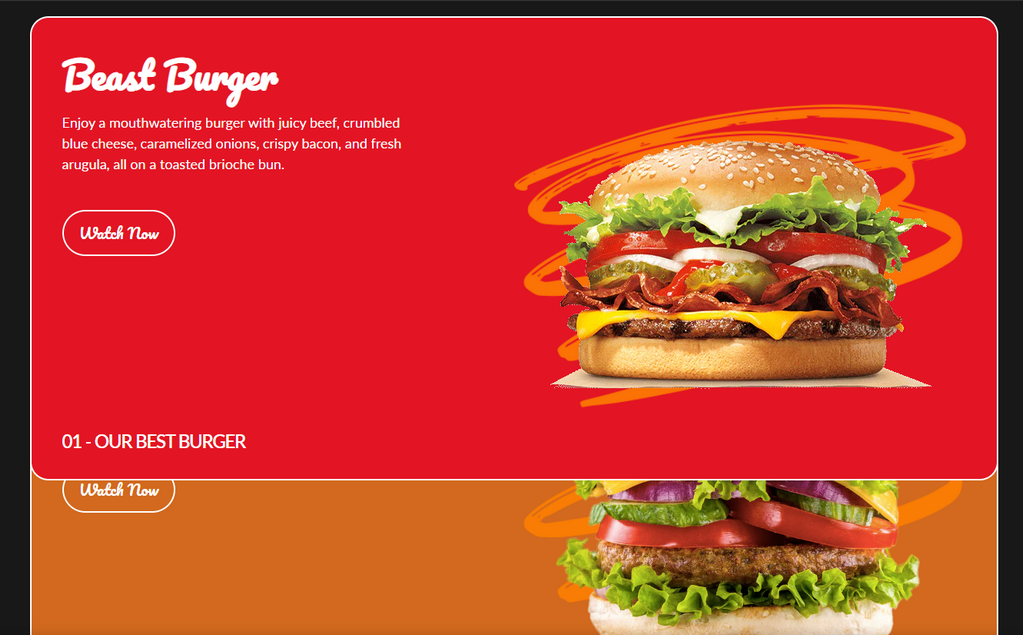 Customer Reviews
Building trust is paramount in the food industry. Displaying authentic customer reviews and ratings for your products reinforces your reputation and credibility. Customers often rely on the experiences of others when making food-related purchases.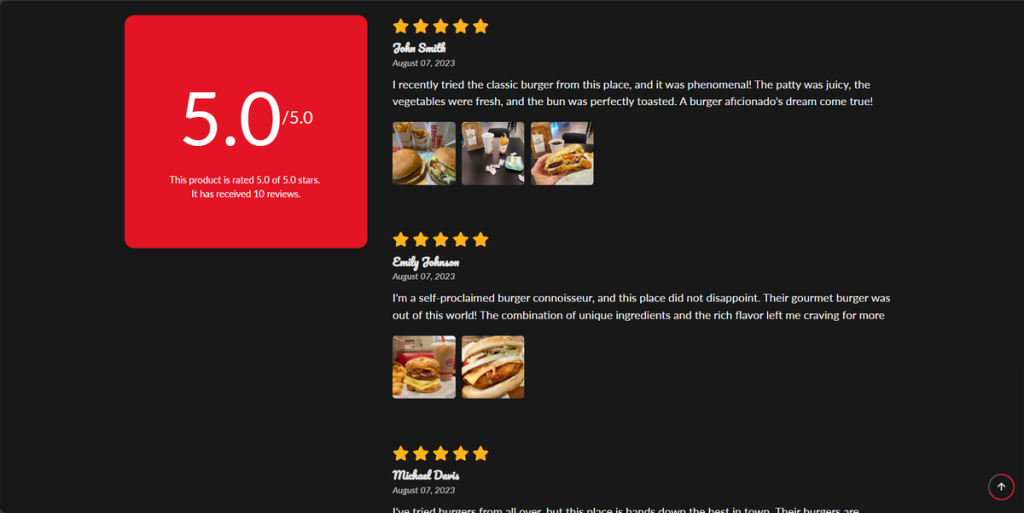 By showcasing positive reviews and ratings, you empower potential buyers to make informed and confident decisions, ultimately leading to more conversions.
Sticky Add to Cart
Cart abandonment is a common challenge in e-commerce, but the Sticky 'Add to Cart' feature can help mitigate this issue. By keeping the 'Add to Cart' button prominently displayed as customers browse your food products, you prevent them from losing track of their selections.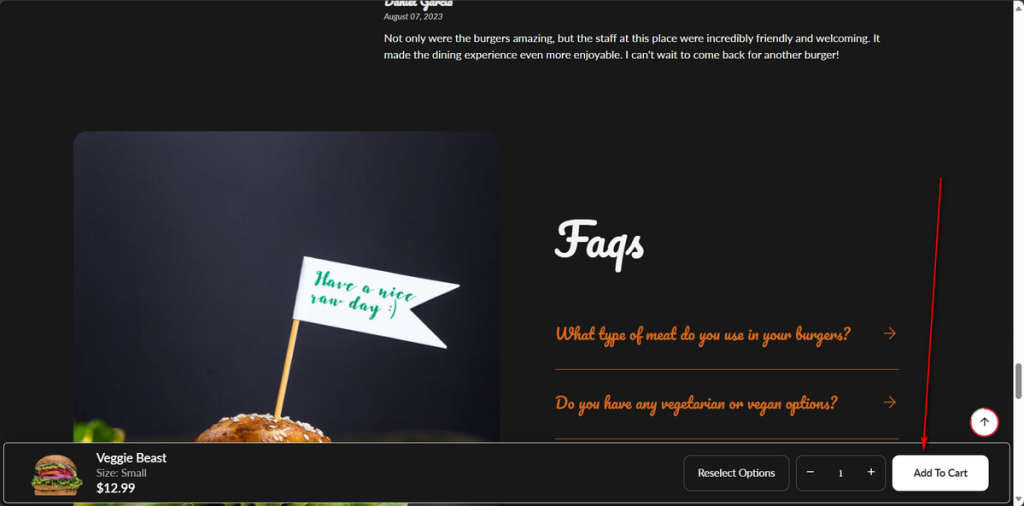 This simple but effective feature ensures that customers can easily add items to their cart and proceed to checkout, enhancing the user experience and reducing cart abandonment rates.
Mini Cart Drawer
Simplify the shopping process and boost convenience with a handy Mini Cart Drawer. This feature allows customers to review their selections and access their cart at any time, from any page on your site.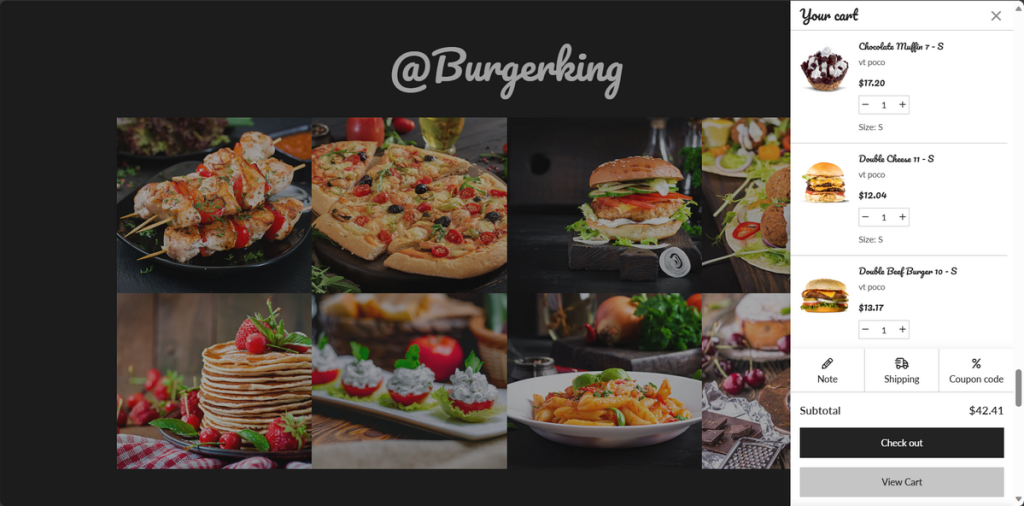 This seamless experience streamlines the shopping process, making it easier for customers to make adjustments to their order and proceed to checkout with confidence.
Visit Our Demo Food Shopify Store
Experience the power of these CRO features in action by visiting our demo food Shopify store. Explore how these features can enhance the user experience, boost sales, and create a seamless shopping environment. See for yourself how a well-optimized food Shopify store can make a significant difference in your online business.
Discover More Store Examples
Don't limit your inspiration to just our demo store. Expand your horizons by exploring even more store examples, gaining insights from successful food stores that have effectively implemented CRO features. Real-world examples offer valuable lessons and best practices that you can apply to your own store.
Install Veda Builder for Your Food Shopify Store
Ready to simplify the process of building a CRO Shopify food store? Install Veda Builder, a powerful tool designed to streamline your efforts and help you implement these CRO features with ease. Begin your journey towards e-commerce success by installing Veda Builder and witness your food Shopify store thrive.
In Conclusion
By following these tips and making use of the CRO features and Veda Builder, you can take your Food Shopify store to new heights. Elevate your online food business, drive conversions, and provide a top-notch shopping experience for your customers.
🔖 You might also like: Top Shopify grocery store examples.
With these strategies in your arsenal, you're well on your way to food e-commerce success. Optimize your food Shopify store for conversion today, and watch your sales and revenue soar.