Are you a Shopify newbie looking to take your online store to new heights? We have fantastic news for you! Introducing our latest free eBook: "950 ChatGPT Prompts for Shopify Newbies." Packed with invaluable insights and recommendations, this eBook is your ultimate guide to boost sales and drive success in the competitive world of e-commerce.
What's Inside
Inside MyShopKit's comprehensive eBook, you'll find a treasure trove of 950 ChatGPT prompts specially designed to empower Shopify newbies like you. These prompts cover various aspects of running a successful Shopify store, from product selection and store optimization to marketing strategies and customer engagement. Each prompt is crafted to spark creativity, ignite ideas, and provide practical tips to enhance your store's performance.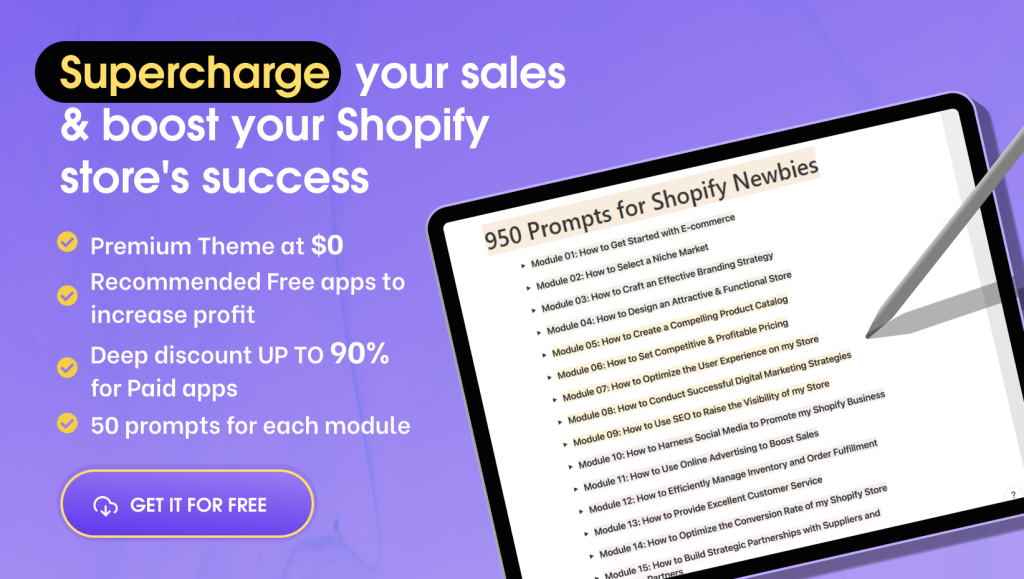 In addition to the prompts, we've curated a curated list of recommended free and paid apps that can skyrocket your sales. We understand that investing in paid apps can be daunting, which is why we've gone the extra mile to secure exclusive discounts of up to 90% on select paid apps. Now, you can access premium tools and features without breaking the bank!
Boost Your Sales
Our eBook aims to equip you with the necessary knowledge and tools to supercharge your sales. With our expert guidance, you'll discover innovative ways to attract customers, optimize your store's conversion rate, and leverage marketing techniques to reach your target audience effectively. Whether you're just starting or looking to scale your business, these prompts and app recommendations will pave the way for your success.
How to Get Your Free Copy
To get your hands on this invaluable resource, simply click on the below button and download your free copy of "950 ChatGPT Prompts for Shopify Newbies." Don't miss this opportunity to gain a competitive edge in the ever-evolving world of e-commerce.
Conclusion
Don't let your Shopify journey be filled with guesswork and uncertainty. Take advantage of our free eBook, "950 ChatGPT Prompts for Shopify Newbies," to unlock the secrets of success in the e-commerce landscape. With 950 powerful prompts and exclusive discounts on paid apps, you have everything you need to thrive in the world of online retail. Get your free copy today and embark on your path to Shopify greatness!
Remember, success is just a prompt away.
[Disclaimer: Limited time offer. Exclusive discounts subject to availability.]