How to make the most of Shopify to earn money?
Shopify is such a fantastic website-building platform that nearly all E-commerce entrepreneurs have heard of it at least once. Shopify can help you easily go through the hassle of building an online store. That said, it doesn't mean that only with the help of Shopify, you can grow your business exponentially.
To do so, you should know more critical things. For example, 5 steps to build a successful business helps facilitate your business's input-process-output. And more importantly, you should know how to enhance the usefulness of your website.
In case you were clueless about these concepts, no worries. This Shopify tutorial will give you a few important clues to expand your business. Let's get the ball rolling!
Getting familiar with Shopify
First off, you need to set up your own online store. Simply follow Shopify's guiding steps, such as creating your account and answering quick questions to better your experience.
When you first log in, you'll get a three-point checklist to help you get started. Everything you need to run your business is on the left sidebar of Shopify's dashboard. When you select one of these options, a drop-down menu with further options will appear.
Choosing a Shopify theme to customize your website's appearance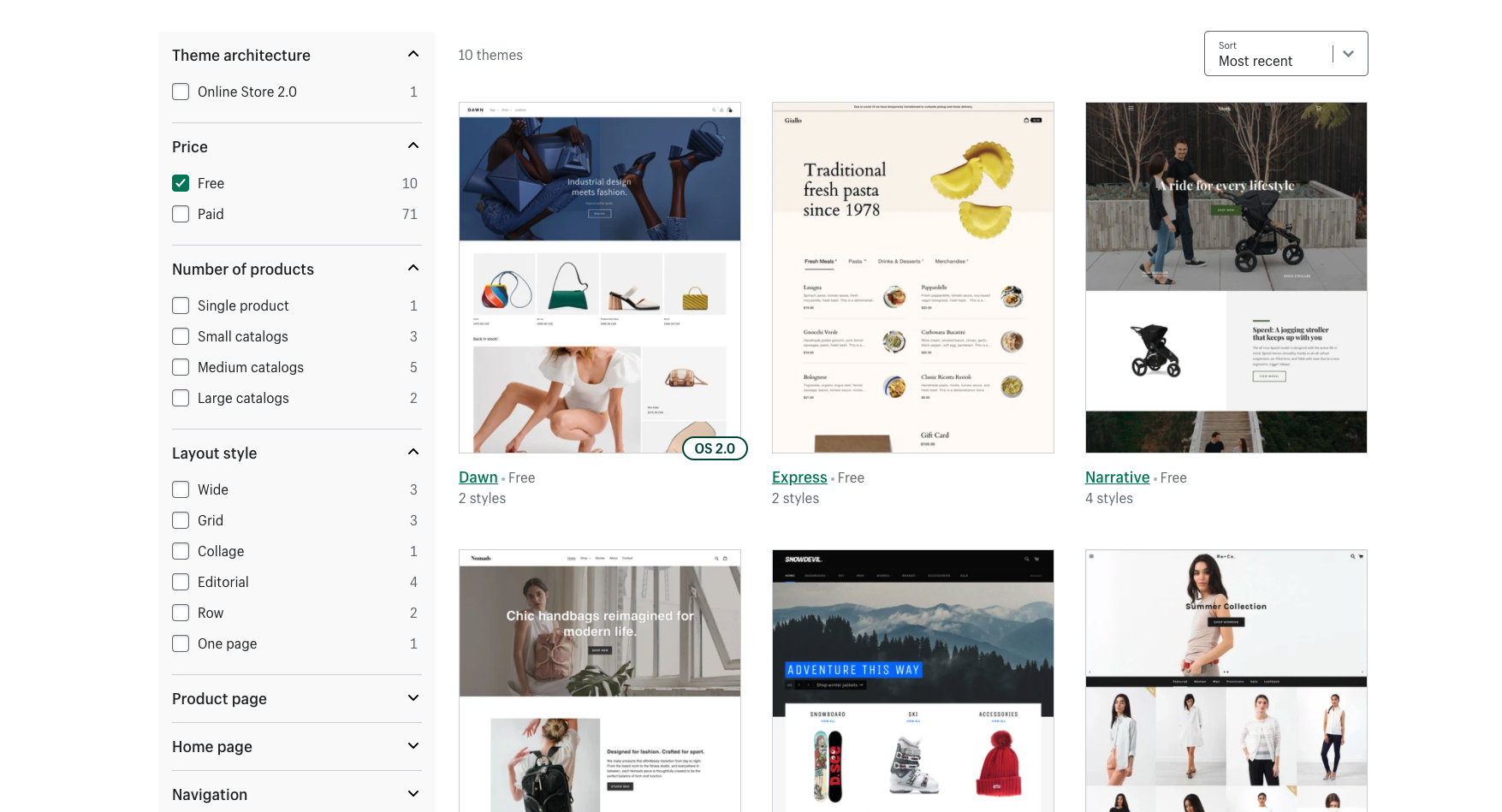 Now, let's get our hands dirty and go over how to use Shopify themes to alter the look of your site. To begin with, go to the sidebar and choose "Online Store," then "Themes." Down the page, there are three options for you to upload and customize your favorite theme:
Visit the Shopify Theme Store to see what's available.
Upload themes from a third-party store.
Shopify's themes cover so many industries – Art & Photography, Clothing & Fashion, Food & Drink, Electronics, and Health & Beauty, to name a few. Obviously, Shopify is an amazing website builder. There's no reason to refuse to choose a pricing plan after the expiration of your 14-day trial. Select one plan appropriate for your business's size and stage.
You are encouraged to balance your budget to pick the most suitable plan and to set aside a certain sum of money for installing Shopify apps to complement your website's functionality.
Optimizing the speed of your website
In the industry of E-commerce, a website's speed can make a huge difference.
According to CrazyEgg's statistics, the damages that a one-second delay in page load time exerts on your business include:
Pageviews have decreased by 11%.
Customer satisfaction has dropped by 16%.
Conversions are down by 7%.
Don't let a slow website chase your customers away. It's not fair, especially when you already have a beautifully designed website.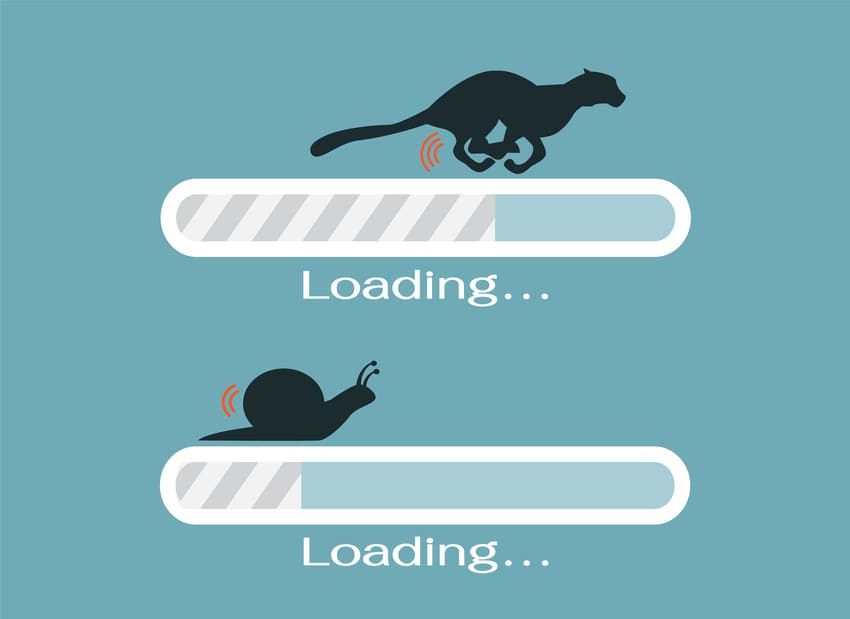 Luckily, among thousands of Shopify apps, Image Optimizer takes the lead in rocketing E-commerce site load speed. Specifically, Image Optimizer speeds up your website by:
Optimizing images for SEO (like changing the image format, resizing & compressing images, customizing image file names & the image title)
Increasing the page load speed
Image Optimizer app, You will never worry about the nightmare of decreased conversion rate due to a sluggish website.
Adding a Facebook and Instagram store to your website
The trend of selling on Facebook and Instagram has been on the rise over the past couple of years. If you haven't created an online store on these two social media platforms, you should give it a try. Refer to the complete guide provided by Facebook and Instagram to set up your online store and approach a new population of customers.
It would be wonderful if you can integrate an Instagram store into your E-commerce website. In this sense, you kill two birds with one stone since customers can surf your website at the same time seeing how you are doing on social media platforms. One powerful tool you can use to get your Instagram store embedded in your website is Instafeed Hub.
The ways Instafeed Hub works involve:
• Embedding your Instagram feeds into your website on any page and at any position you'd like.
• Attaching your products to each Instagram picture through the function Products Tagging
Obviously, InstaFeedHub is super convenient in that it lets your customers see your products sold on Instagram right on your website.
Building an email collection
According to HubSpot's email marketing statistics, 99% of email users check their mail inboxes on a daily basis, with some checking up to 20 times per day. Email yields $42 for every $1 invested, a staggering 4,200 percent return on investment, making it one of the most effective marketing alternatives.
We can see that launching efficient email marketing can drive sales and boost profit. And, the very first phase of email marketing is collecting customers' email addresses. A highly recommended instrument that can assist you in this phase is the MyShopKit Popup, Smartbar, Slide app.
This app provides numerous attractive Pop-up & Smart Bar templates that encourage customers to leave their email addresses. The other case is when your customers intend to exit your page, an Exit-Intent Pop-up will appear to entice them to hold on by offering a discount on their next purchase, for example.
It has diverse objectives, including collecting emails with the Win Wheel, collecting emails & getting social followers with discounts, and targeting a URL & gaining social followers.
To use the MyShopKit Popup, Smartbar, Slide app, you don't need to be a developer or designer since it is designed for everyone. Believe it or not but this awesome app is totally free with up to 500 available templates.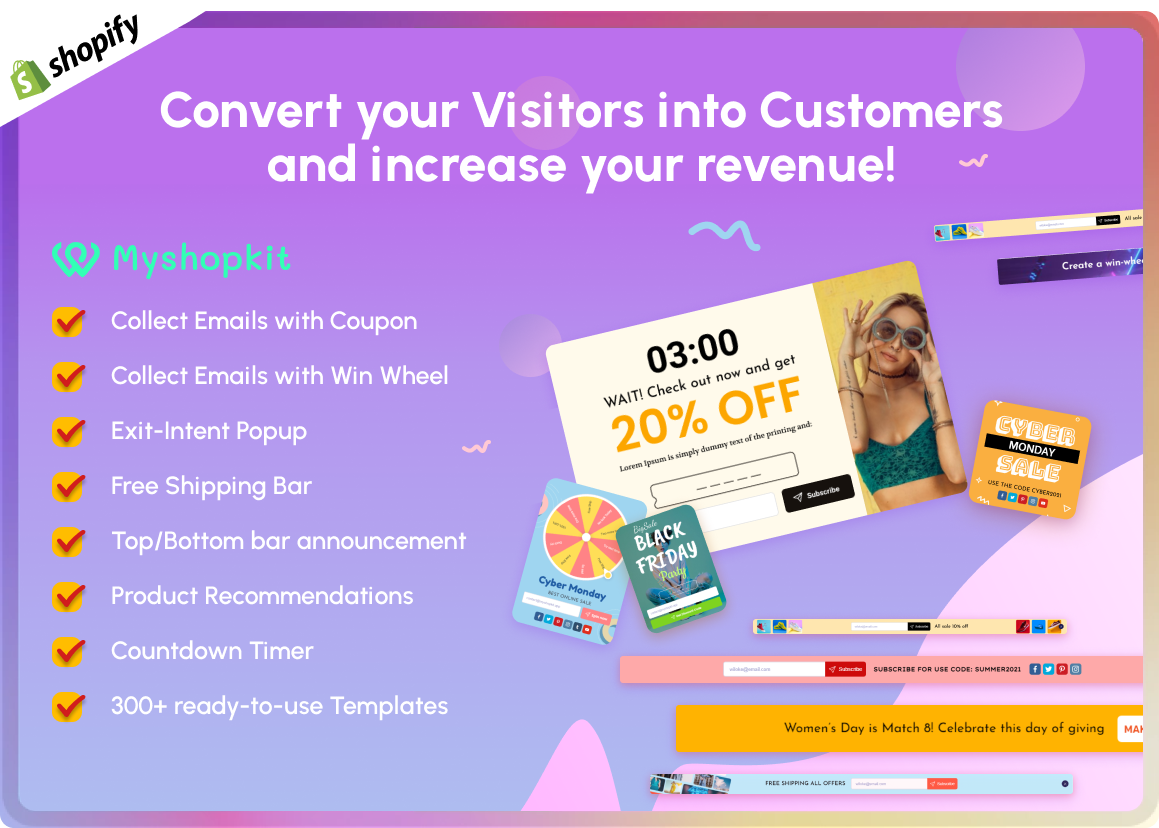 Running a promotional email campaign
Alright, you already have an email list of potential customers on hand. The next move is running an email campaign offering unique deals, discounts, and promotions to entice your audience. You don't need to raise a finger to do this. Just leave it to the MyShopKit app.
It helps you store your customer's email addresses into worldwide popular email marketing services like MailChimp, Klaviyo, iContact, GetResponse, ActiveCampaign, and Campaign Monitor. You can utilize this useful function without extra cost.
Conclusion
In a nutshell, Shopify is a one-stop shop for all of your company's needs. It began as an e-commerce website builder, but it has evolved into much more.
Yet, to survive in a highly competitive market, you need to put flesh on the bones of your website by fascinating features provided by Shopify apps. And opting for a premium plan from a prominent app is well worth it.