Besides the Impulse theme, Motion theme Shopify is among the most widely used themes of Archetypethemes. Motion theme, as its name suggests, gives customers a chance to explore your Shopify stores in motion. Therefore, we can see that the smooth animation effect is an outstanding feature of Motion.
Using Motion theme Shopify, each part of your store can seamlessly animate into view, catching customers' attention and expressing a premium feel and look.
In this blog, I will walk you through every nook and corner of Motion theme Shopify. Also, I'll introduce you to highly recommended apps to skyrocket your sales.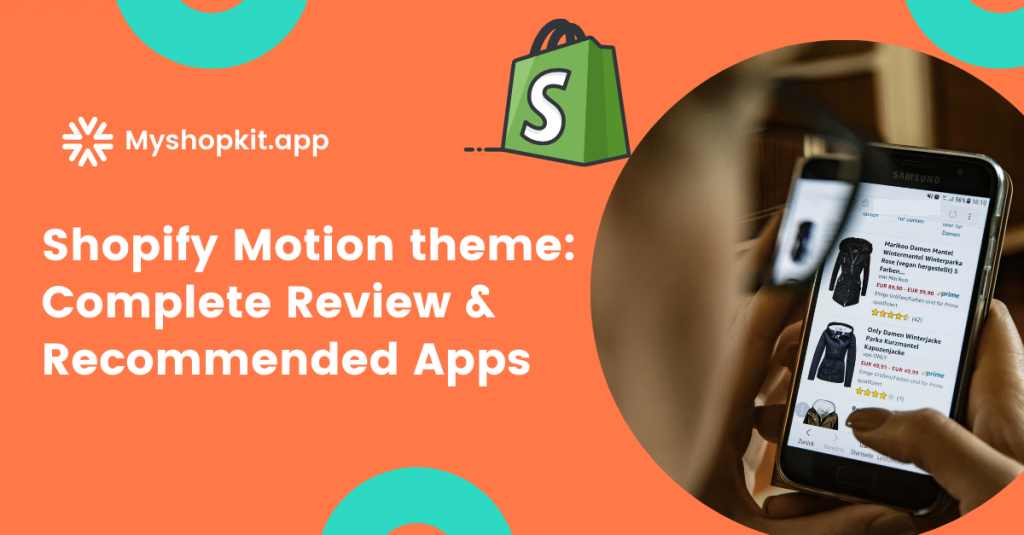 Motion theme Shopify demo
I tried building a demo store by myself before writing this blog post. Take a glance at what Motion theme Shopify looks like on desktop and mobile devices. The playlist also introduces recommended apps you can embed in Motion.
Motion theme Shopify review
I will bring out some interesting functions of the Motion theme that differentiate it from other Shopify themes.
Announcement bar
You can announce a special event such as a super sale or free shipping with a link to a particular product. Customers can choose to close the announcement bar if they wish.
Hero video
A video with text overlay at the top of the home page can engage visitors right away. You can play the background video within the store or put a button linking to a Youtube video. About text, you are enabled to change text alignment and make it readable by darkening the video.
Collection list
You can add as many collections as possible but 3 collections will be displayed per row. When you hover over each collection, the collection's name above the image has the animation effect of underlined text. You might want to add spacing among collections or leave them attached to each other.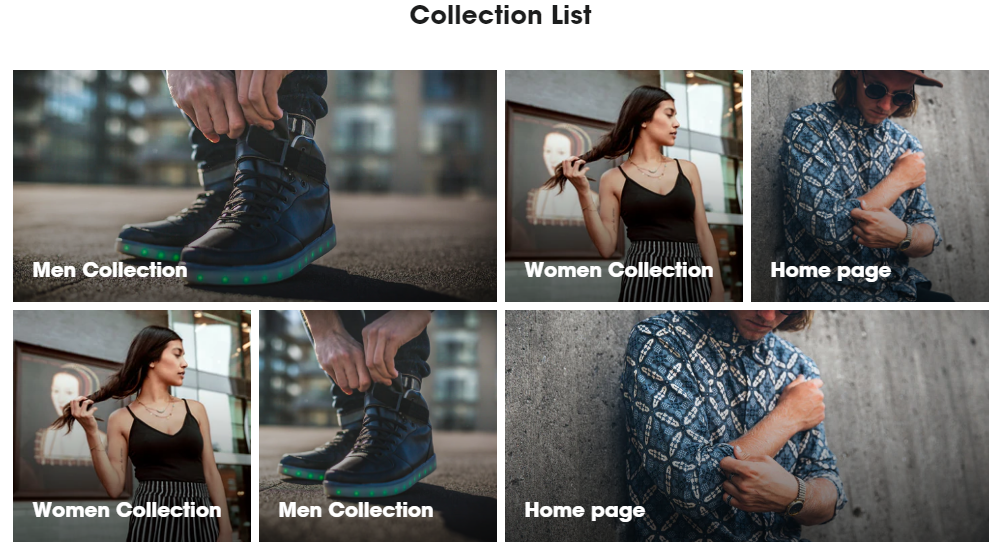 Fading image hero
Fading animation effect is applied to both images and text overlay. These images are displayed in a slideshow with automatic slide changing. Visitors cannot swipe to see another slide manually. But store owners can change how many seconds (3-10s) each slide will be replaced by another. You can change the text's color and the overlay's color & opacity.
Collection callout
Thanks to this section, you are able to draw attention to one of your collections. The first 5 products will be displayed. With 2 CTA buttons, you can easily turn visitors into customers.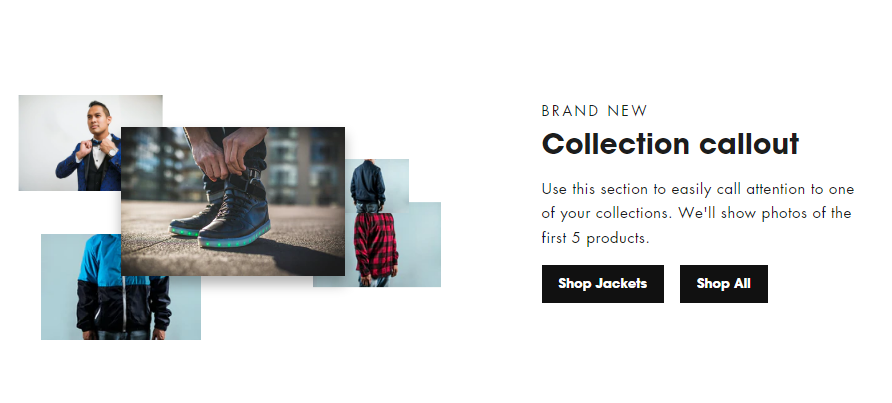 Large image with a text box
Acting as an advertisement banner, this section is very helpful in promoting a product line or drawing attention to the detail of your brand. You are allowed to change the text box placement, image focal point, and enable parallax.
This section is a signature feature of Motion theme Shopify as well as other themes developed by Archetypethemes. You can add up to 3 site-wide promotion columns with a button per column.
Popup
This popup is mainly used for collecting email addresses. You can add a hero image, sign-up form, and a button. Also, you are enabled to change how frequently the popup shows and how many seconds the popup delays.
Product page
There are 4 types of product pages: product landing, pre-order, gift card, and brand story.
The product recommendations section is a noticeable one in Motion theme Shopify's product page. This section helps boost cross-selling.

About the image with text section, pair 2 images with text beside to clarify a detail about the products.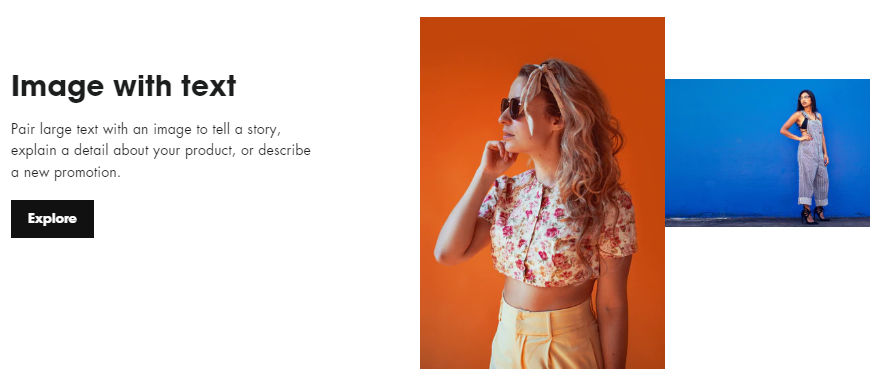 On top of that, visitors can go back to the collection that has the product they're seeing with the Collection links section

Collections page
Visitors will find slide-out product filters and sort options. Product filter contains availability and price while sort options include featured, best selling, price, date, and alphabetical.
Other familiar sections are rich text, customer testimonials, FAQ section, map, etc. You can add these sections throughout the store. For other pages, Motion theme Shopify offers FAQ, Contact, and About page.
>> Read also: Debut theme Shopify: Ultimate & Step-by-step Tutorial
Motion theme Shopify support
Before heading to contact Motion theme Shopify's team of support, you are encouraged to find the answer through the Motion Support blog. All Motion theme Shopify documentation is available there. In case you still cannot find the solution, you can send a support request via the support form.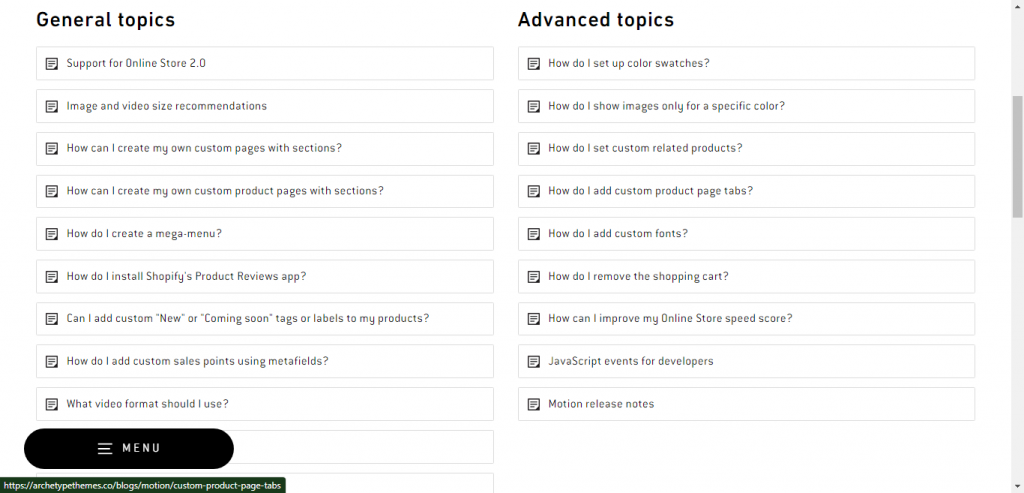 Motion theme Shopify download
Motion theme Shopify is available on the Shopify app store with 3 types: Classic, Elegant, and Minimal. You can download the free theme trial to experiment with it. If you feel the Motion theme Shopify fits your brand, you can pay $320 USD and publish your store.
Motion theme Shopify examples
We can see how many stores are built by the Shopify Motion theme on the Reviews section. Let's look at the 3 latest Shopify stores using Motion.

Tresor Collection product page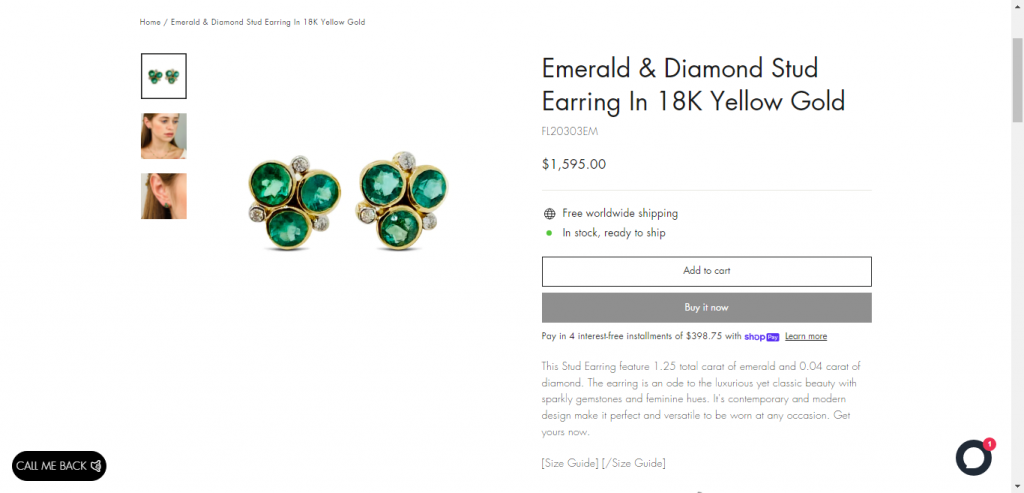 Kenny Brown Performance home page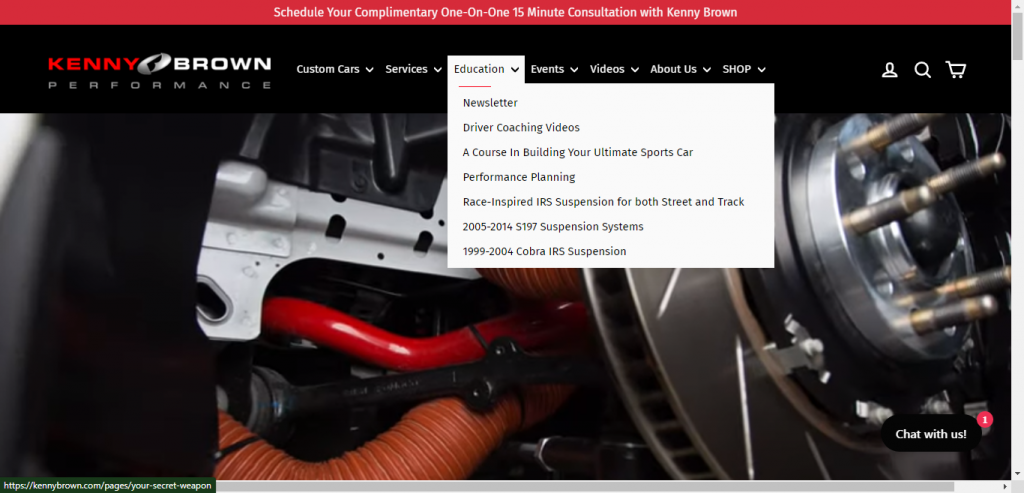 Kapow Meggings collection page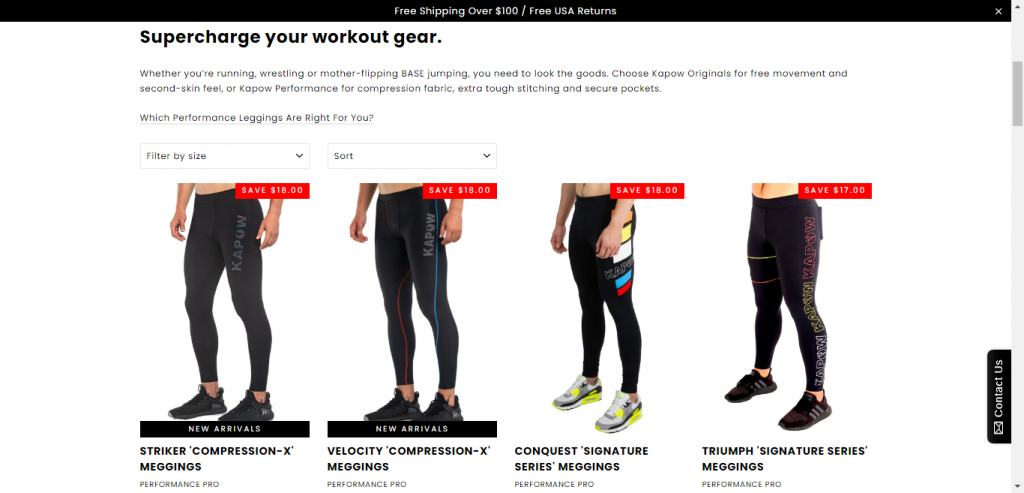 Top 5 Apps compatible with Motion theme Shopify
Veda Builder
If you find your Shopify store built by Motion theme rather unattractive and plain. You could consider installing Veda Builder. This app can override any Motion's pages and add fascinating features. With eye-pleasing, animated, and diverse Shopify page templates, I bet you are able to create a unique & high-converting Shopify store.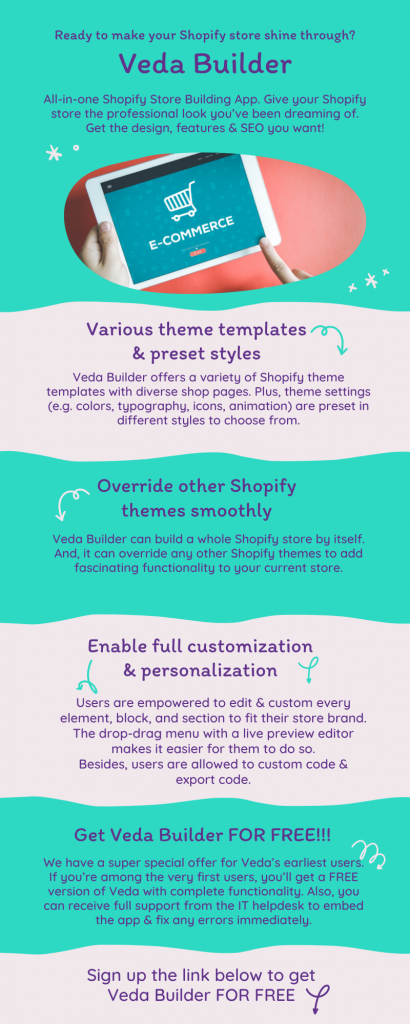 Popup, Smartbar, Slide in
Both Motion's announcement bar and popup are pretty simple in design. Use this app to beautify them by adding animation effects, images, gamification (Countdown timer & Win Wheel), link button, product links, etc. Various templates including holiday templates are available for you to choose from. Most importantly, you can use an exit-intent popup to retain customers when they're about to leave your store. Offering them discount codes or exclusive offers to drive sales and reduce the bounce rate.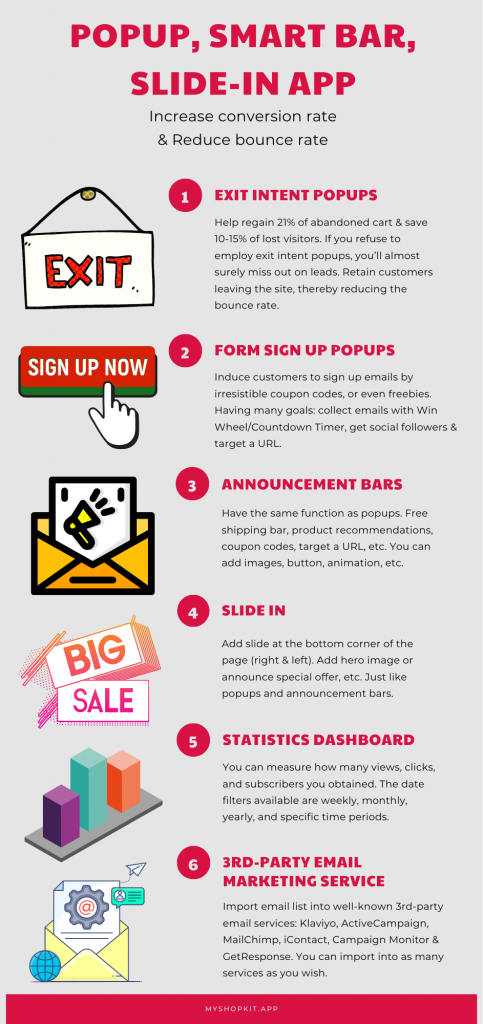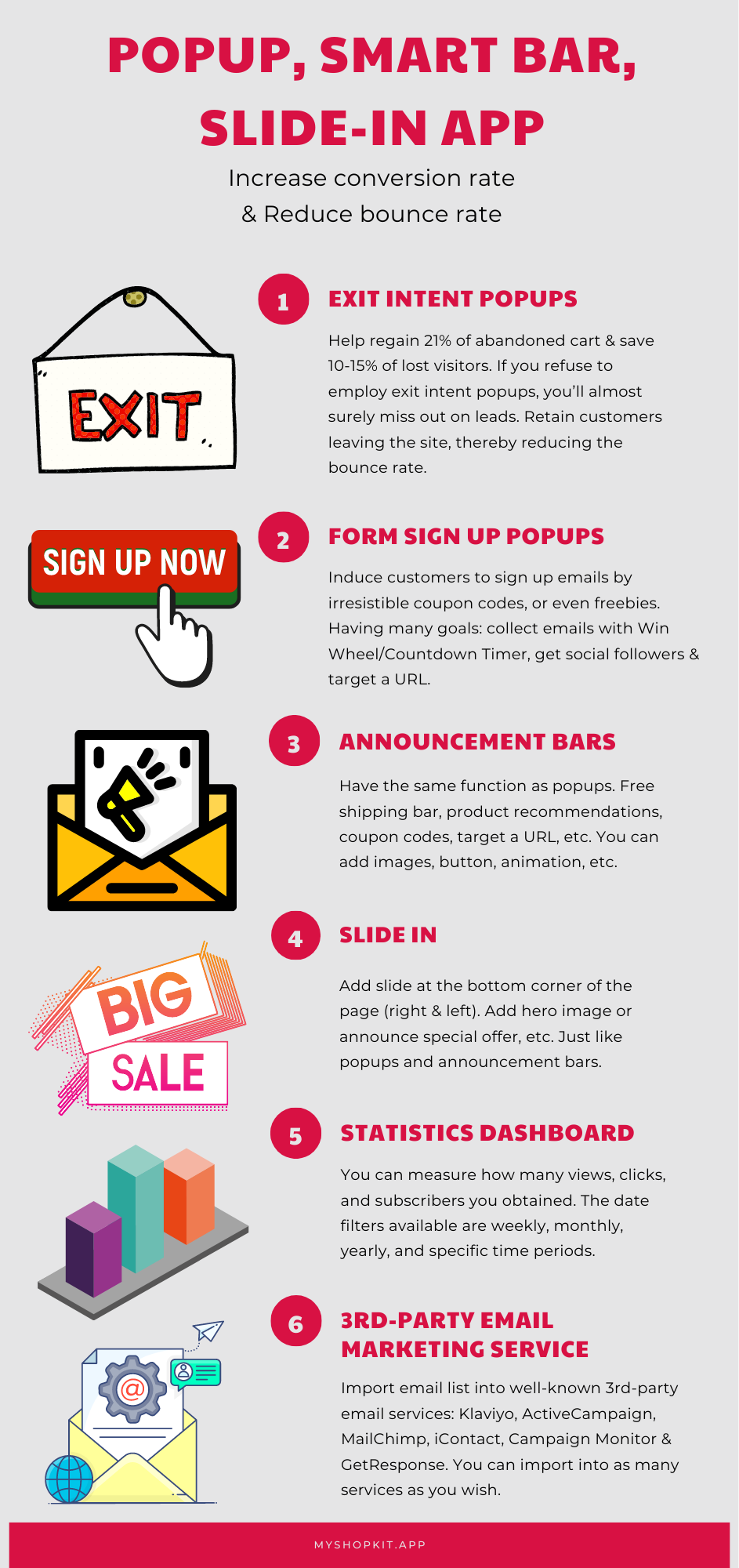 Product Badges
Catching visitors' attention at the drop of a hat thanks to product badges (e.g. Best Seller, Out of Stock, New Arrival, etc.). With different badges, you can target the right customers. You don't need to add badges manually. The app will auto-add product badges based on the criteria you set. You can also add badges by product tag.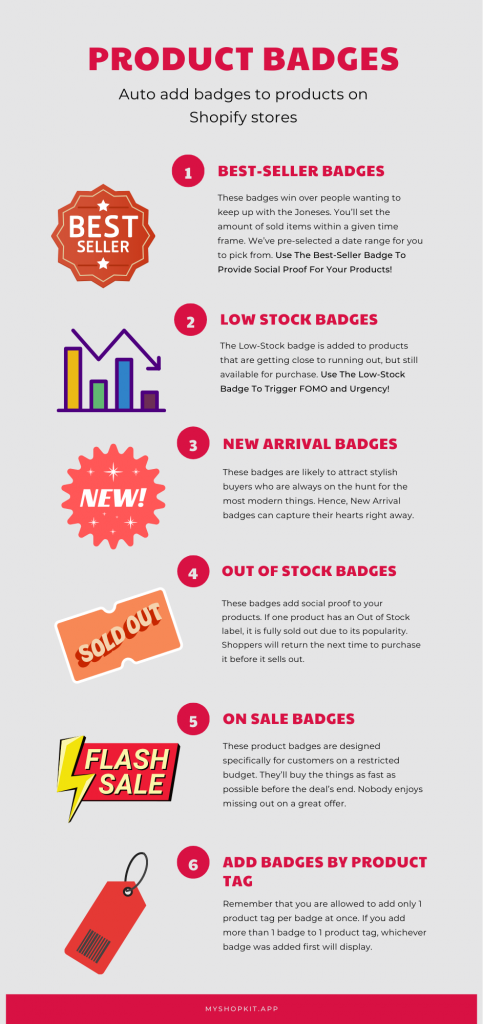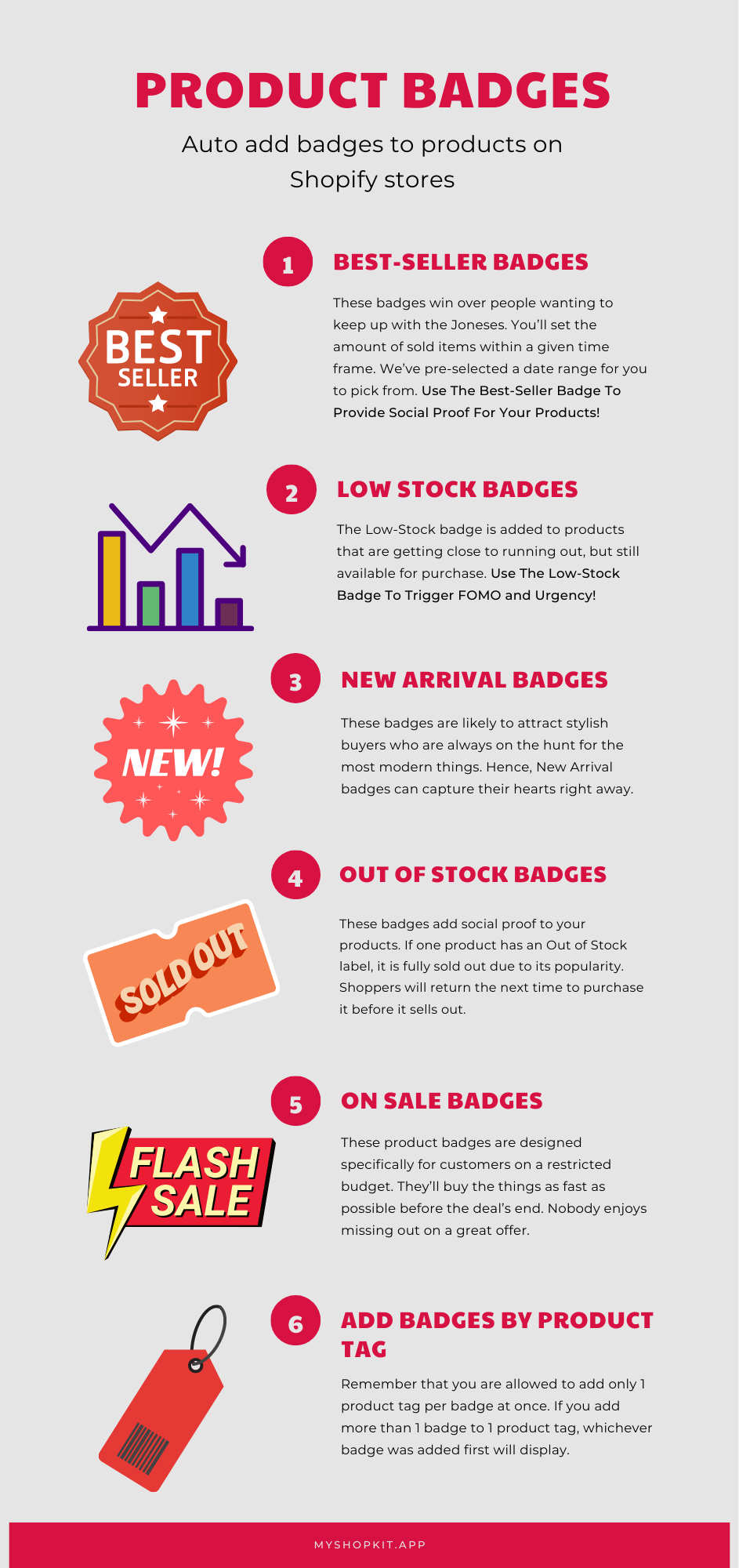 Image Optimizer
High-volume inventory might slow down your shop loading speed. The solution is optimizing images without negatively affecting original high-quality. Plus, this app helps auto-add product image alt text and restore deleted images. Hence, your store is more friendly to SEO.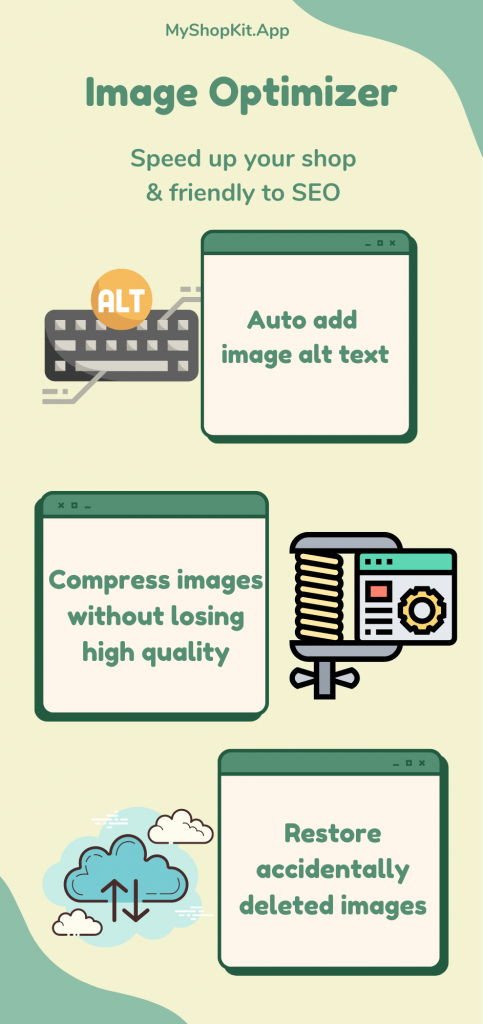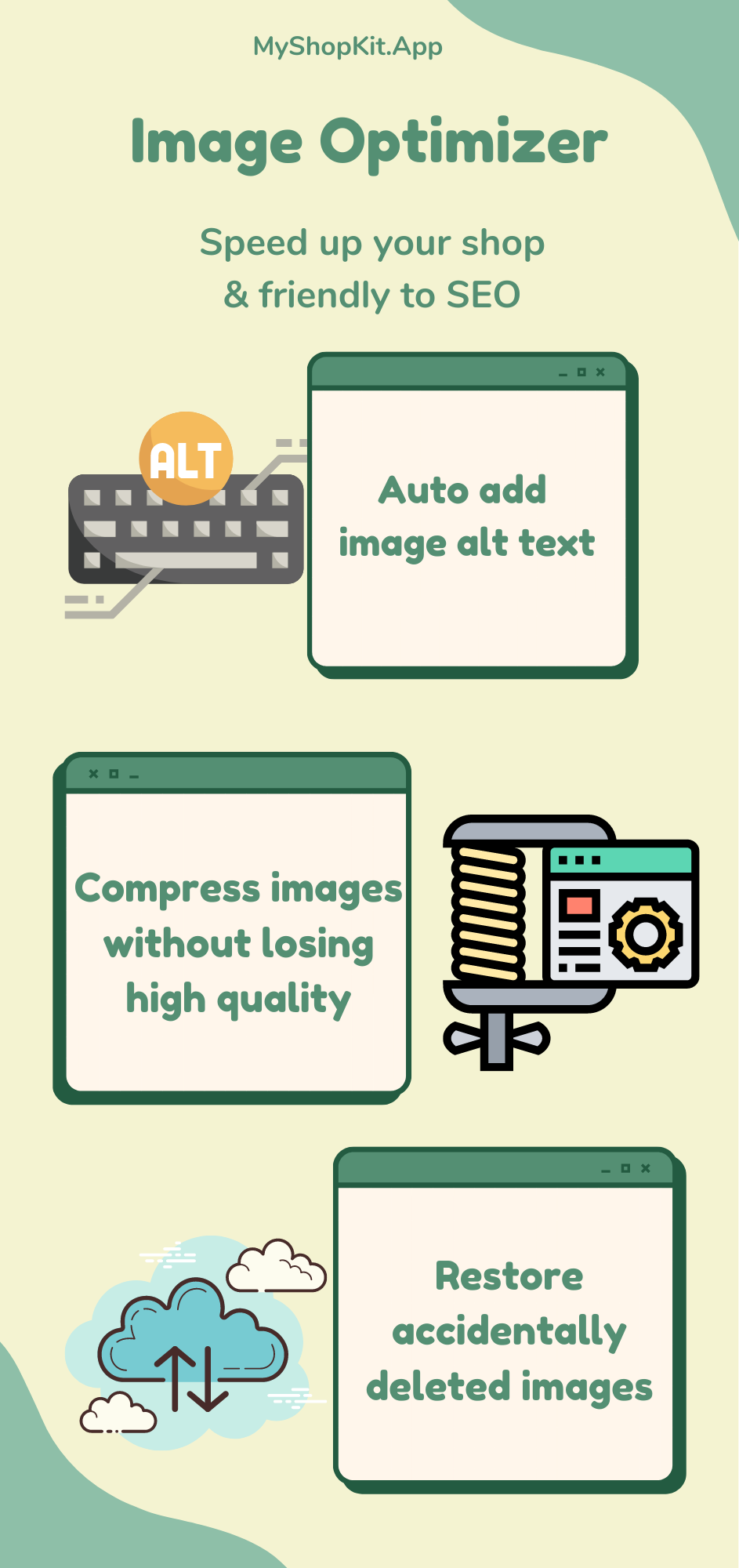 Currency Converter
If you wish to expand your business to the international market, you'd better use a currency conversion app. This app automatically displays domestic currency based on visitors' IP addresses. It also supports currency conversion at the slide-out cart, checkout page, and blog posts.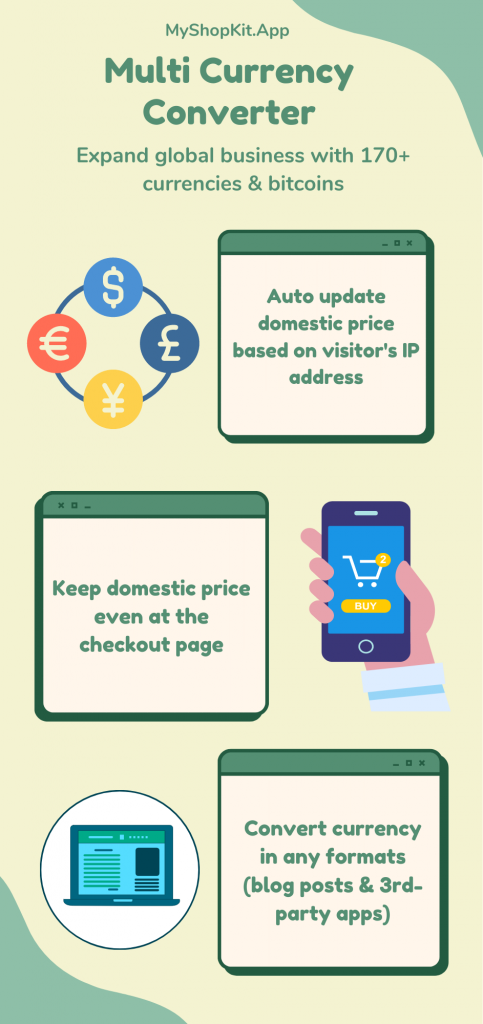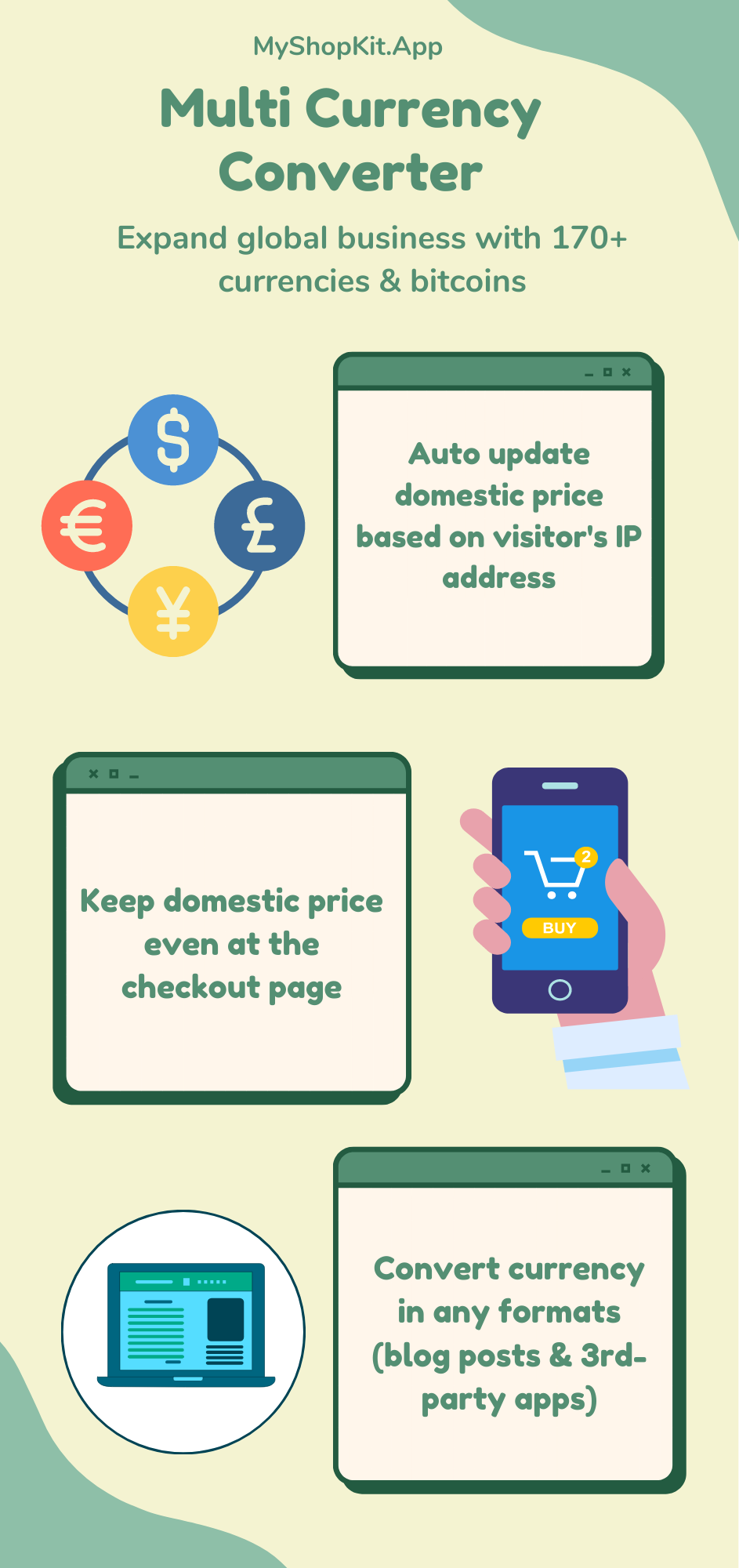 Motion theme Shopify: Final words
Shopify Motion theme is a good choice for visual storytelling your brand with video and animation. If you want to glamorize your Shopify store and create a one-of-a-kind eCommerce store, you could embed the above apps to do so.