If you're running a fishing Shopify store and seeking ways to increase conversion rates and elevate your online presence, you're in the right place. In this comprehensive guide, we'll delve into key strategies and features designed to transform your online fishing gear store into a conversion powerhouse.
By implementing these tips, you'll not only enhance the shopping experience for your customers but also significantly boost your sales and revenue. Let's dive into the world of optimizing your fishing Shopify store for success.
The Essential CRO Features for Your Fishing Shopify Store
To kick-start your journey towards building a highly optimized fishing Shopify store, consider implementing these essential Conversion Rate Optimization (CRO) features tailored to the angling industry. Watch demo store first.
Mega Menu
The Mega Menu is your secret weapon for facilitating seamless navigation through your vast collection of fishing gear. It empowers customers to effortlessly explore an array of fishing products, from rods and reels to bait and tackle, with ease. By simplifying the shopping experience, this intuitive menu ensures your customers can locate their preferred fishing gear in no time.

Image and Banner Illustrations
Capture your customers' attention with striking images and banners that illustrate the unique features of your fishing products. Showcase the craftsmanship and quality of your gear through visual storytelling, fostering an emotional connection with potential buyers.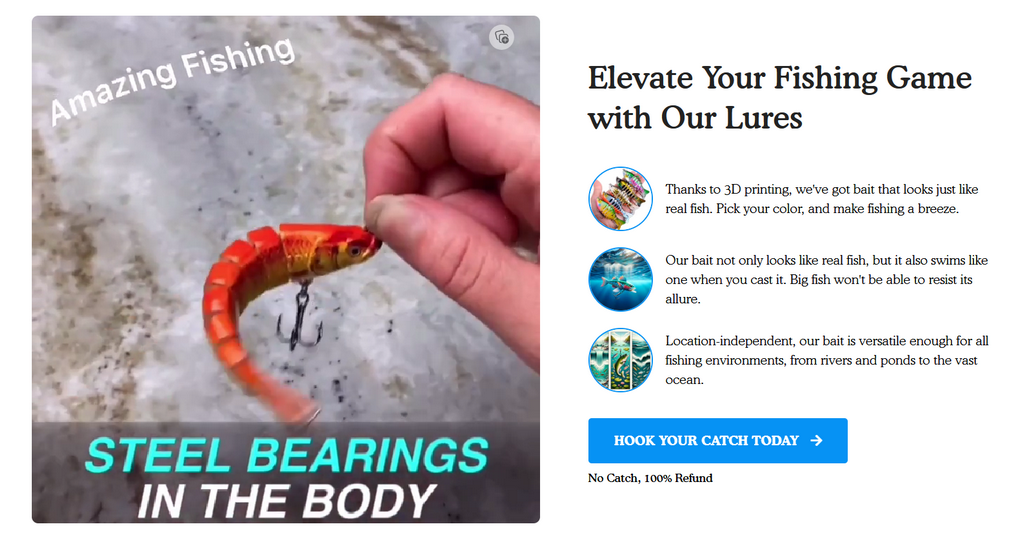 FAQs (Frequently Asked Questions)
Anticipate your customers' queries and provide answers proactively with a well-organized FAQs section. Clear and informative responses to common questions can alleviate doubts and streamline the decision-making process, increasing conversion rates.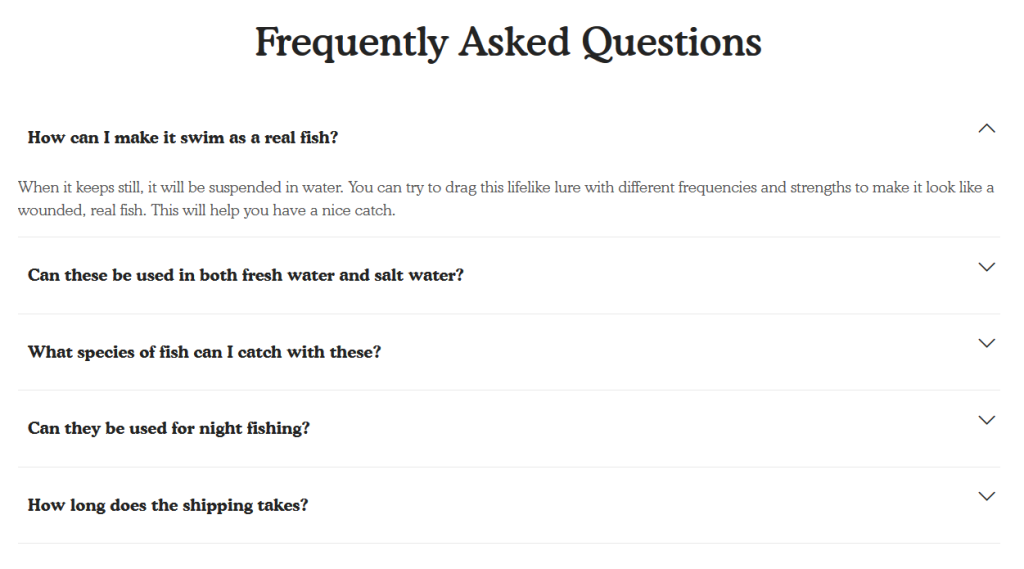 Discount % Announcement Bar Text Scrolling
Create a sense of urgency and excitement with a scrolling announcement bar that showcases ongoing discounts and special offers. Shoppers will be drawn to the dynamic display of savings, encouraging them to make their purchase promptly.

Customer Reviews with Customer Experience Photos
Leverage the power of social proof by prominently displaying customer reviews and experience photos. When prospective customers see real individuals sharing their positive experiences with your fishing gear, it builds trust and boosts their confidence in making a purchase.


Buy More, Save More, and Buy Combo
Encourage customers to invest in more fishing gear by offering enticing discounts and bundle deals. When customers see that they can save more by buying in bulk or as part of a combo package, they're more likely to explore additional product options and increase their cart value.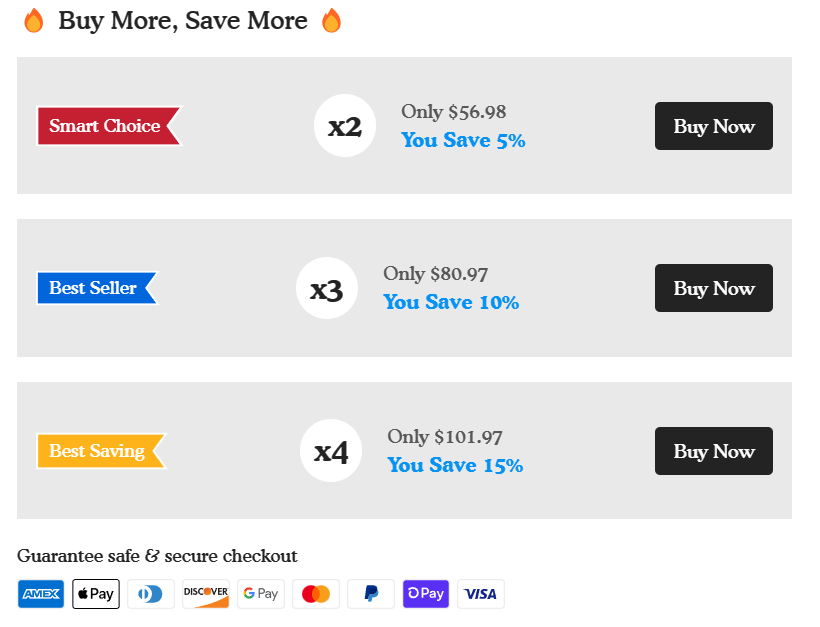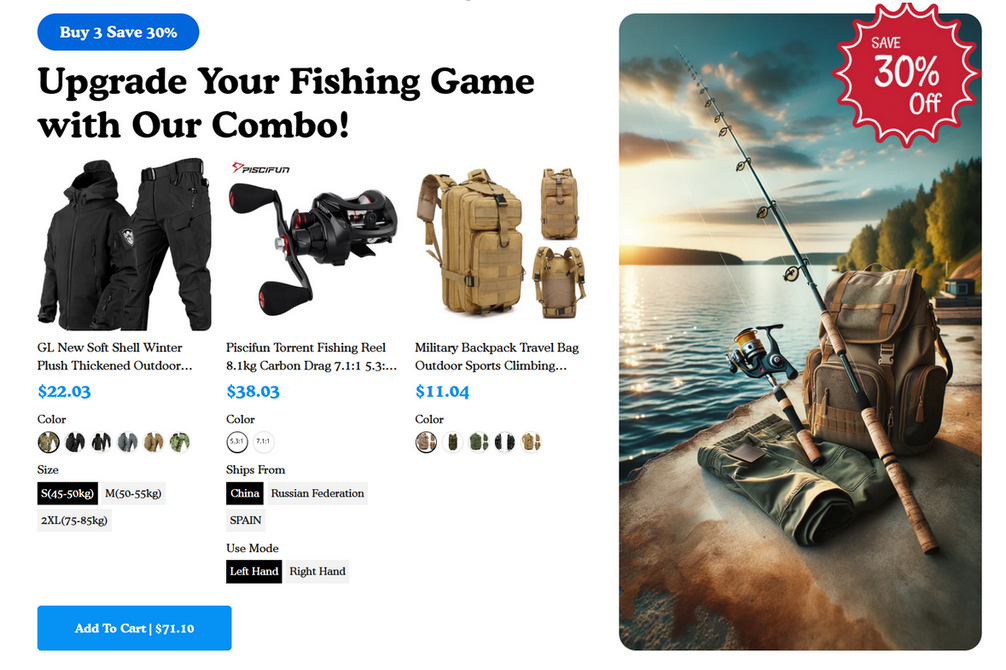 Compare Your Products to Other Brands
Empower your customers to make informed choices by providing detailed product comparisons. Highlight the advantages of your fishing gear over other brands, demonstrating the value and superiority of your products.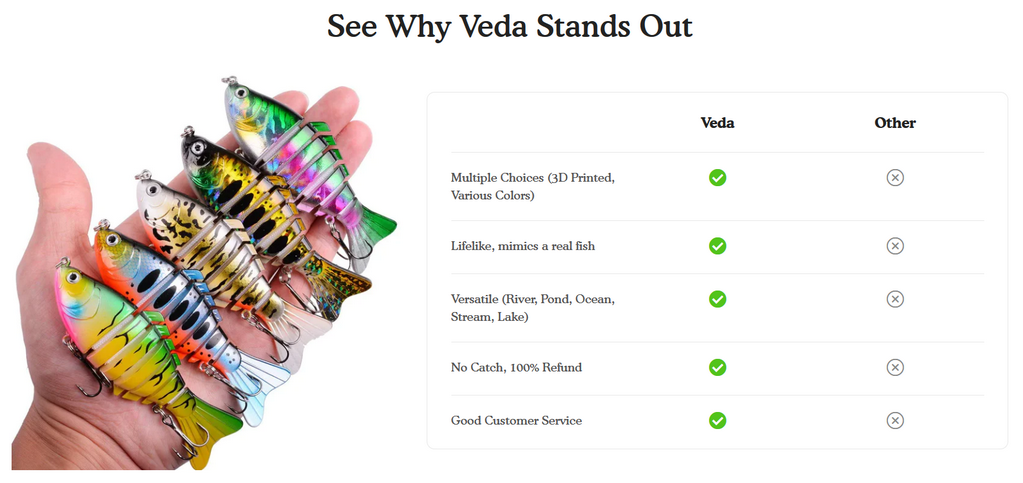 "You May Also Like" Products
Enhance the shopping experience by suggesting complementary fishing products. When customers view a fishing rod, for example, they may appreciate recommendations for compatible reels or tackle. This cross-selling strategy not only simplifies the shopping process but also increases cart values.

Social Instagram Feed
Integrate your Instagram feed to showcase captivating images of fishing enthusiasts enjoying your gear in action. This social connection creates a more engaging shopping environment, fostering trust and enthusiasm among your potential customers.

Countdown Timers
Create a sense of urgency and encourage immediate action with countdown timers. Whether you're running a flash sale or promoting limited-time offers, these timers instill a fear of missing out (FOMO) and motivate customers to make a purchase before time runs out.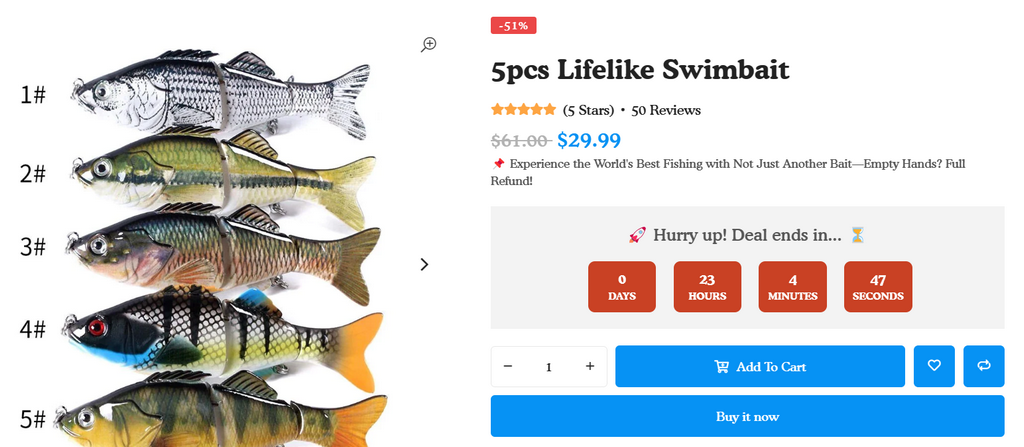 Parallax Images of Men Holding Big Fish
Engage and inspire your customers with dynamic parallax images featuring proud anglers holding impressive catches. These visuals create an emotional connection to the thrill of fishing and reinforce the potential of your gear.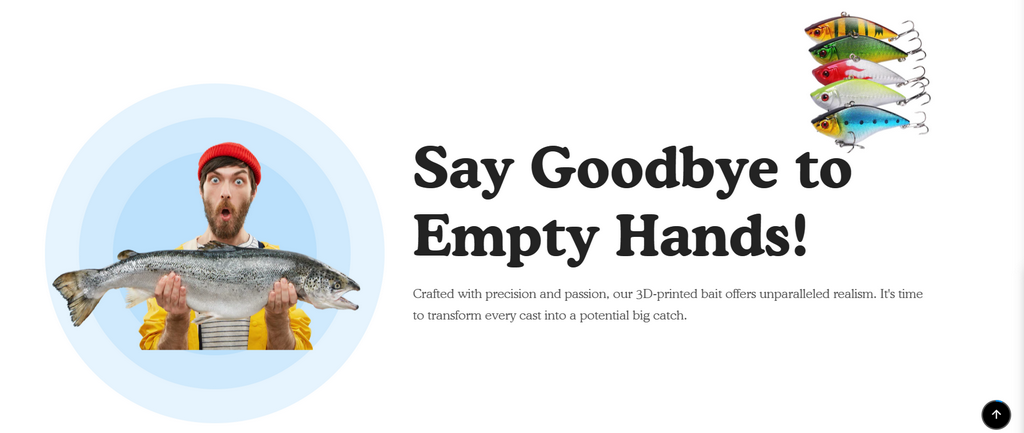 Mini Cart Drawer
Streamline the shopping process with a convenient mini cart drawer. This feature enables customers to review their selections and proceed to checkout with ease, reducing cart abandonment rates and enhancing the overall shopping experience.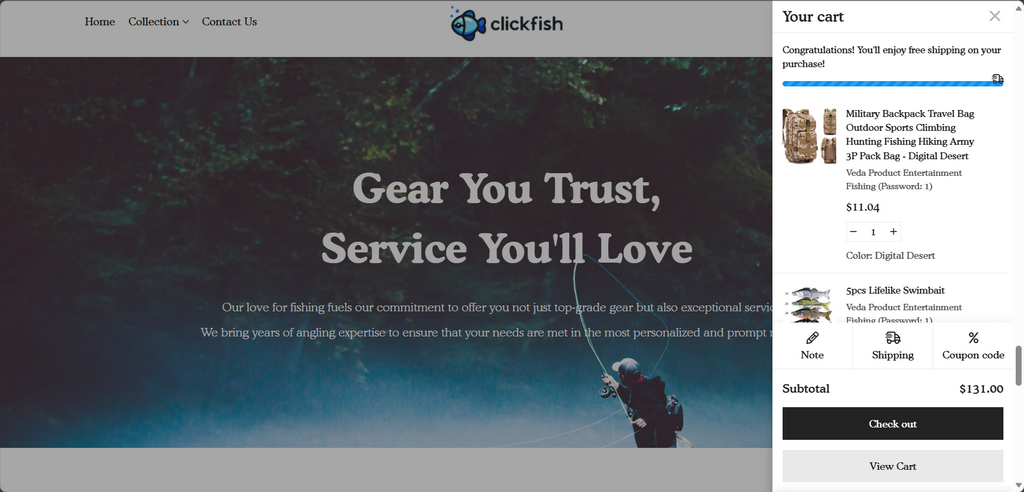 Incorporating these CRO features into your fishing Shopify store will enable you to provide an outstanding shopping experience for your customers while boosting your sales and conversion rates.
With these strategic elements in place, your fishing gear store is well on its way to achieving e-commerce success. Dive into the process of optimizing your fishing store for conversions, and watch your sales and revenue surge as a result.
Visit Our Demo Fishing Gear Store
To truly understand the impact of these CRO features on the shopping experience and conversion rates, we invite you to explore our demo fishing gear store. Step into the virtual world of angling and immerse yourself in a shopping environment where these features come to life.
Witness firsthand how optimized navigation, engaging visuals, and user-friendly interfaces can transform your customers' experience and encourage them to become loyal patrons of your fishing gear store.
Discover Demo Stores Across Different Niches
Don't limit your exploration to fishing gear alone. Expand your horizons by delving into demo stores from various niches. These demo stores showcase a diverse range of products and industries that have harnessed CRO features to drive conversions and provide a top-notch shopping experience. By exploring these different niches, you can gain valuable insights and discover innovative approaches that you can apply to your own fishing Shopify store.
Learning from a variety of niches can provide a fresh perspective on how to effectively implement CRO features and tailor them to your unique angling audience. Each niche has its own set of challenges and opportunities, and by studying successful examples across different domains, you can refine your strategies and stand out in the competitive fishing gear market.
📚 You might also like: Optimizing Your Food Shopify Store for Conversion: A Comprehensive Guide
Install Veda Builder for Your Fishing Shopify Store
Ready to streamline the process of building your very own CRO fishing Shopify store? Say hello to Veda Builder, the ultimate tool designed to make your journey towards optimization easier and more efficient. With Veda Builder, you can effortlessly incorporate these CRO features, among others, ensuring that your fishing gear store is on the path to maximum conversions and success.
Veda Builder simplifies the process, offering an array of powerful features and templates, allowing you to customize your store to perfection. Whether you're an experienced angler or new to the world of fishing gear e-commerce, Veda Builder is your trusted companion for building a CRO fishing Shopify store that's second to none.
In Summary
Your fishing store's success begins with the optimization of your website and the shopping experience you provide to your customers. By integrating these CRO features and leveraging Veda Builder, you're setting a course for Shopify triumph in the world of fishing gear. Start optimizing your store today and watch as your sales and conversion rates soar.
Optimize, explore, and build your fishing Shopify store with the confidence that you're equipped with the tools and knowledge to make a splash in the world of angling Shopify. The journey towards success begins here, so cast your net wide and embark on your path to fishing gear e-commerce excellence.