You know that Shopify is a big player in eCommerce but don't know exactly what is average Shopify store revenue? If you want to find the answer & other astounding statistics, keep reading this article. Then, you can decide whether you should start a Shopify store or not.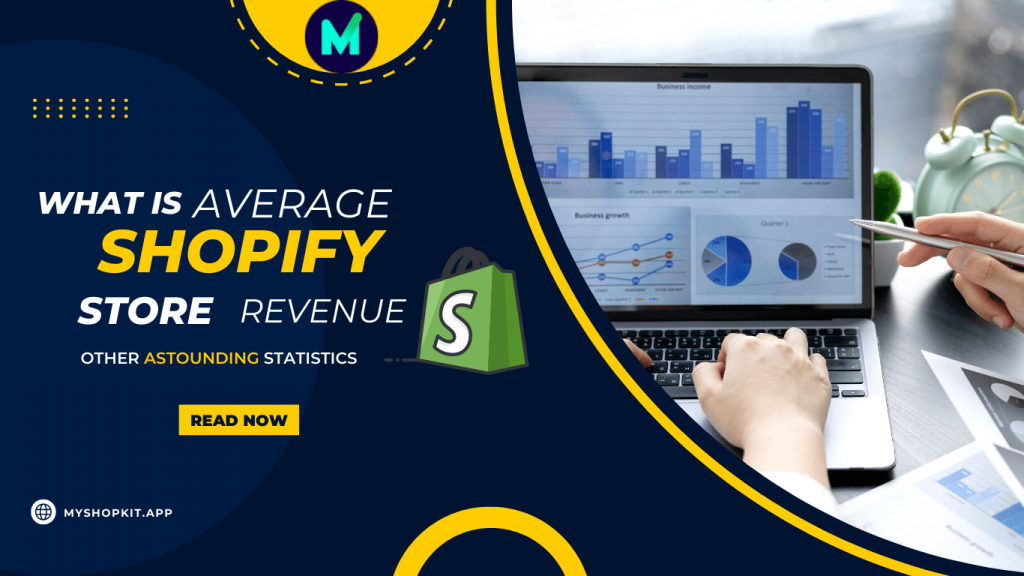 What is the average Shopify store revenue?
In September 2022, Littledata evaluated 2,261 Shopify businesses and discovered that the average Shopify store revenue per customer was $92.
Over $209 = the best 20% of Shopify stores while over $326 = the best 10%.
Below $53 = the worst 20% of Shopify stores while below $42 = the worst-performing ones.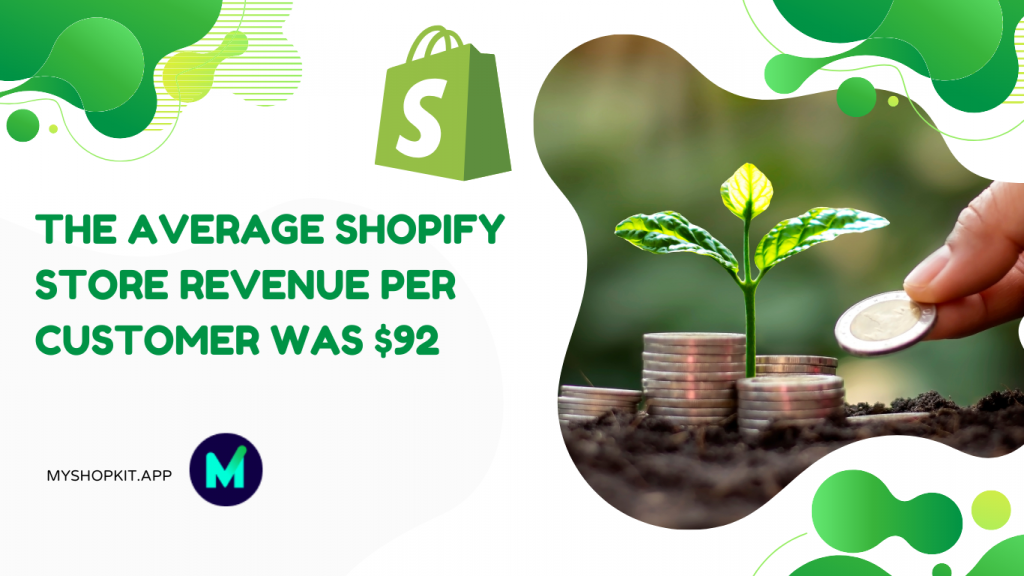 You may boost the average transaction value by cross-selling products, increasing FOMO with product badges, giving free delivery, or raising the price of specific products.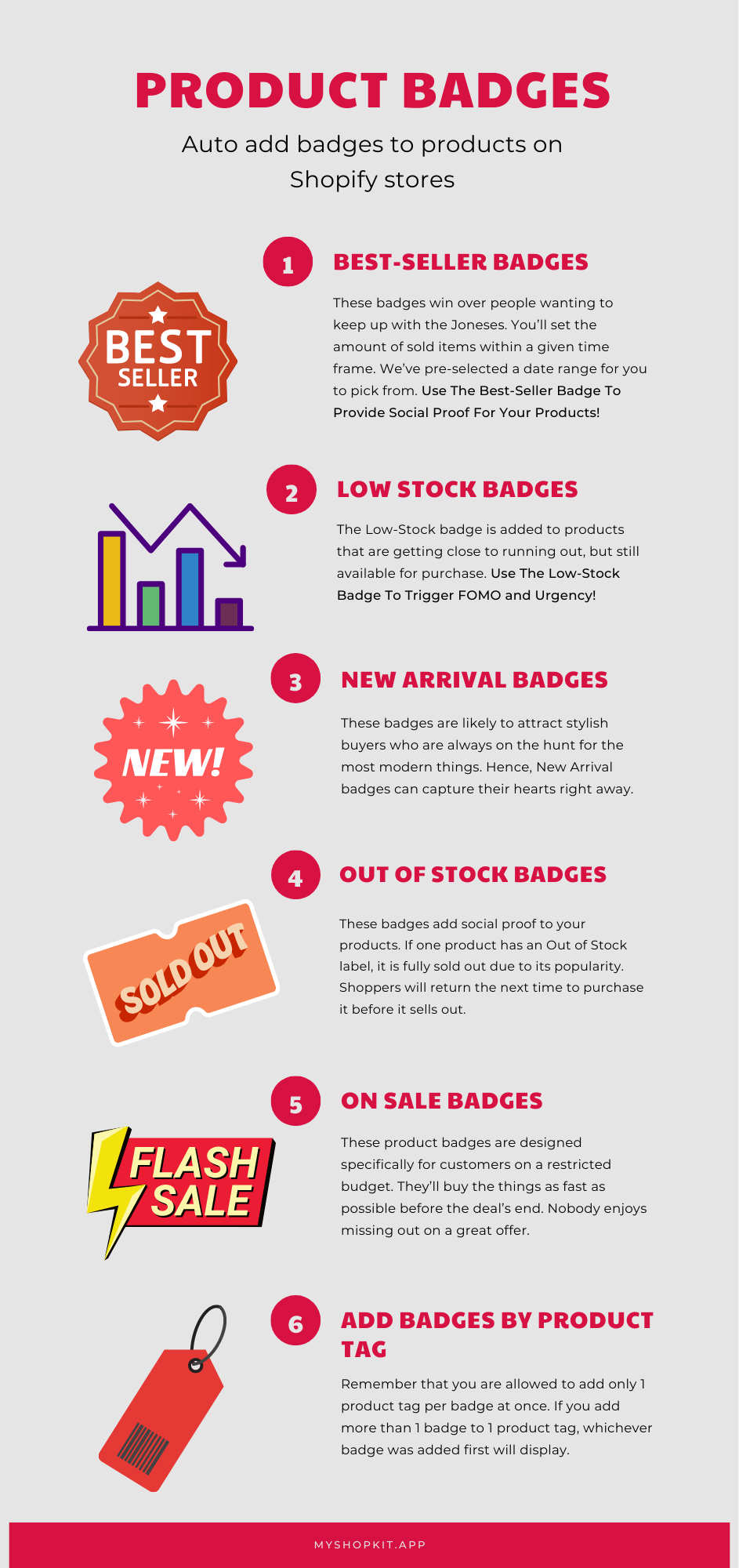 What is the average Shopify store revenue in the United States?
According to the research, an average Shopify business in the United States earns roughly $72 from a single consumer. In particular, high-paying shops typically make $149 per customer, whereas low-paying ones get $44.
What is the average Shopify store revenue in the United Kingdom, Scotland, and Ireland?
According to statistics, UK Shopify stores may make roughly £12,500, and with this revenue level, businesses are exempt from paying income taxes.
Shopify stores in Scotland made $72 in income per customer. However, this is an average rate that can be influenced by economic and sales variations.
In the case of Ireland, while there is no typical income data available, it may be increased by developing a sales plan and benefiting from a high-converting Shopify store builder.
What is the Average Shopify Store Revenue in Australia?
Australia is believed to have the 10th biggest eCommerce in terms of revenue. This is due to the A$35.2 billion market size of Australian Shopify stores. So you can envision how much money Shopify stores make in Australia.
How Much Money Does the Average Shopify Store Make Per Month in New Zealand?
As per 2016 statistics, around 325,000 merchants operated Shopify businesses, earning approximately $3.8 billion. At the moment, the average income of a Shopify business is roughly $3,897.
It is important to highlight that earnings are still unclear at this time, however, the bulk of them generate between 10% and 40% profit margins.
How Much Does a Shopify Store Make in the UAE, Saudi Arabia, Qatar, and Kuwait?
UAE Shopify stores make AED 136,366 on average/per month. In Saudi Arabia, the monthly income for Shopify business owners is roughly SAR 70,350.
In Qatar, the average monthly revenue for a Shopify business is roughly QAR 48,834. It is mostly due to the fact that eCommerce enterprises are thriving in Qatar.
Finally, the average income of Kuwaiti shops is roughly KWD 1,610.
What Does the Average Shopify Store Earn in Canada?
The most advantageous aspect of operating an eCommerce site in Canada is the favorable tax system. Regarding average monthly income, Shopify stores earn around C$6,583. However, the yearly income is about C$79,000.
In South Africa, how much can a Shopify shop make?
When it comes to economics, it goes without saying that South Africa is getting back on track, which implies that eCommerce firms are expanding.
Having said that, Shopify businesses are performing rather well in South Africa, where the market is projected to be worth $3.8 billion. The monthly Shopify revenue is about $3,897.
What Does a Typical Shopify Store Earn in Germany?
The typical Shopify store earns around €6,000 per month. Germany has a sophisticated economy and well-established economy. Honestly speaking, the eCommerce sector is still expanding, and this monthly revenue is rather impressive.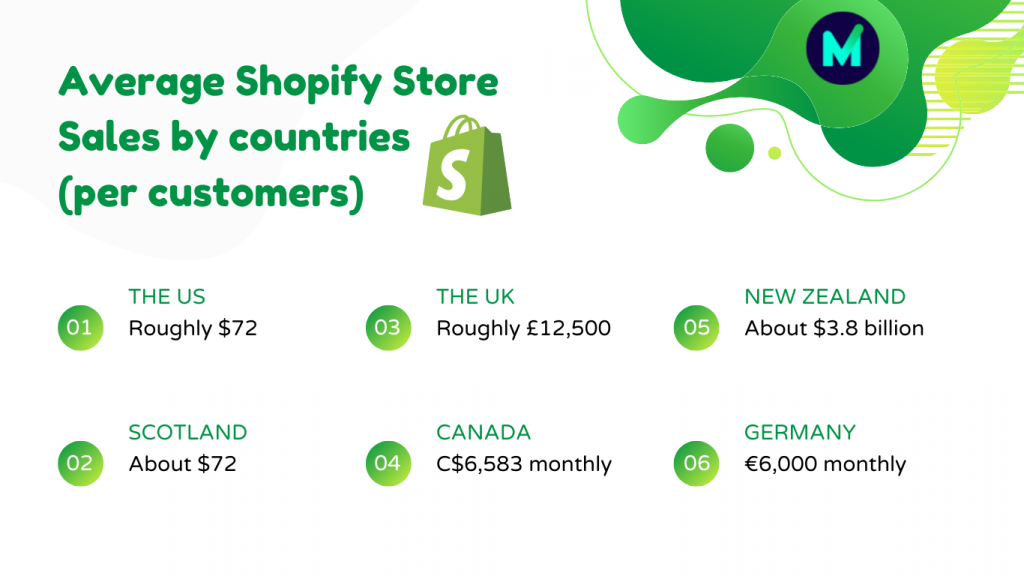 How many Shopify businesses exist?
Shopify powers 3.76 million online stores. The vast majority (69.67%) of domains are based in the US. The top three are completed by the UK and Australia. Shopify Plus is used by 6.082 active stores. The United States accounts for 67.49% of Shopify Plus subscribers.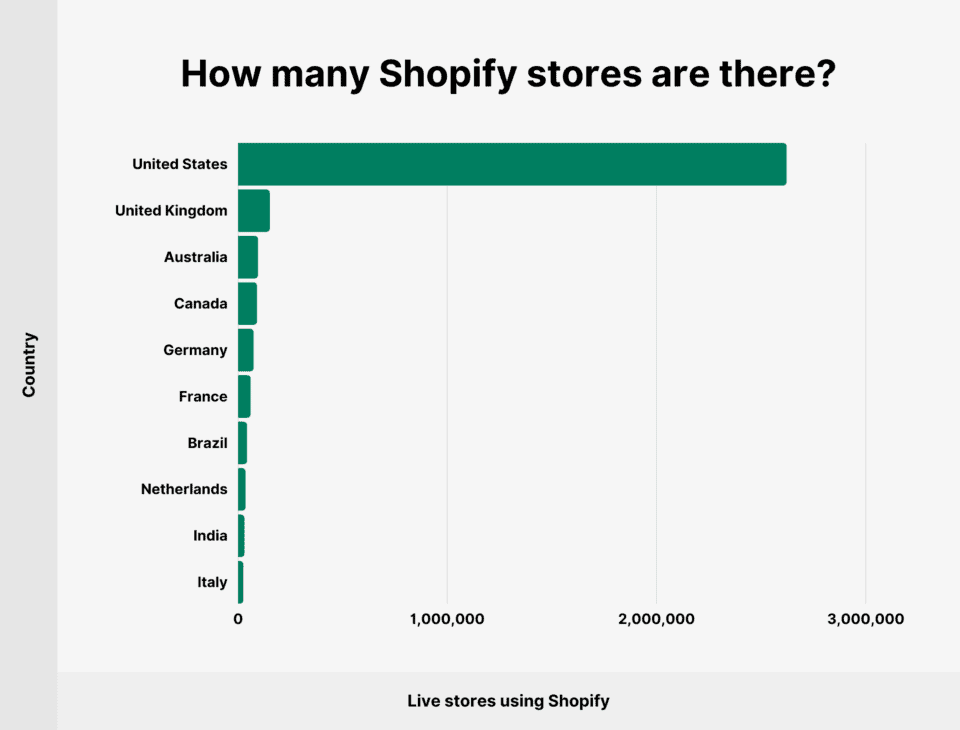 How many users make purchases from Shopify shops?
In 2020, 457 million consumers purchased from a Shopify business. Over the last year, the number of customers placing orders with Shopify businesses has climbed by 52.33%.
The number of apps in the Shopify App Store
In the Shopify App Store, 7,000 apps from 12 distinct categories are available for download. The number of Shopify apps has surged by 677% since 2015. Since 2019, the app store has introduced 3,300 new applications.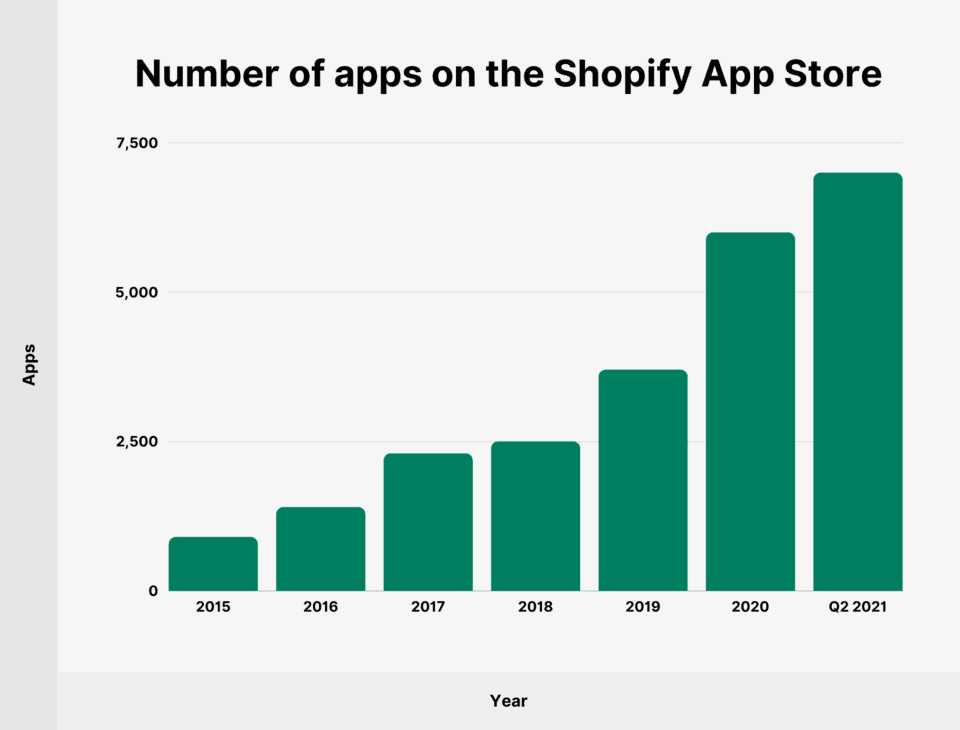 Shopify employs how many individuals?
Shopify employs and contracts with 7,000 people. Since 2017, Shopify has employed an extra 4,000 new workers and contractors. Over the last year, the company's workforce base has grown by 40%.
Gross merchandise volume on Shopify
In 2020, Shopify processed $119.58 billion in transactions. Shopify produced $79.5 billion in GMV by June 2021. In the last year, Shopify's GMV has climbed by $12.1 billion (40%).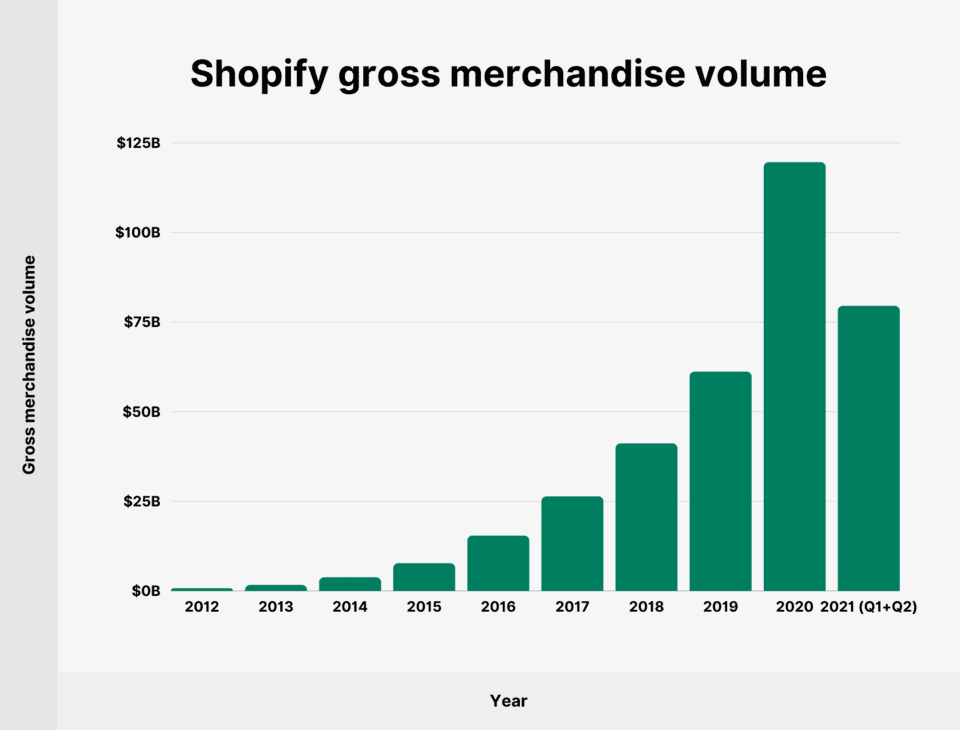 Finally, how much average Shopify store revenue can you make?
If you're considering launching a Shopify store, you're certainly curious about how much profit you can generate.
The answer is dependent on a variety of things, including the items you offer and how successfully you advertise and run your firm. However, with a little work as well as wise business decisions, it is feasible to earn a nice living through Shopify.