Running a successful e-commerce business requires more than just having the right products and marketing strategy. Website speed plays a critical role in the success of your Shopify store. A slow-loading page can be incredibly frustrating for customers, resulting in lost sales and decreased customer satisfaction. Fortunately, there are several ways to increase Shopify store speed, allowing you to provide customers with an enhanced shopping experience. In this article, MyShopKit will discuss 9 effective methods to help increase the speed of your Shopify store.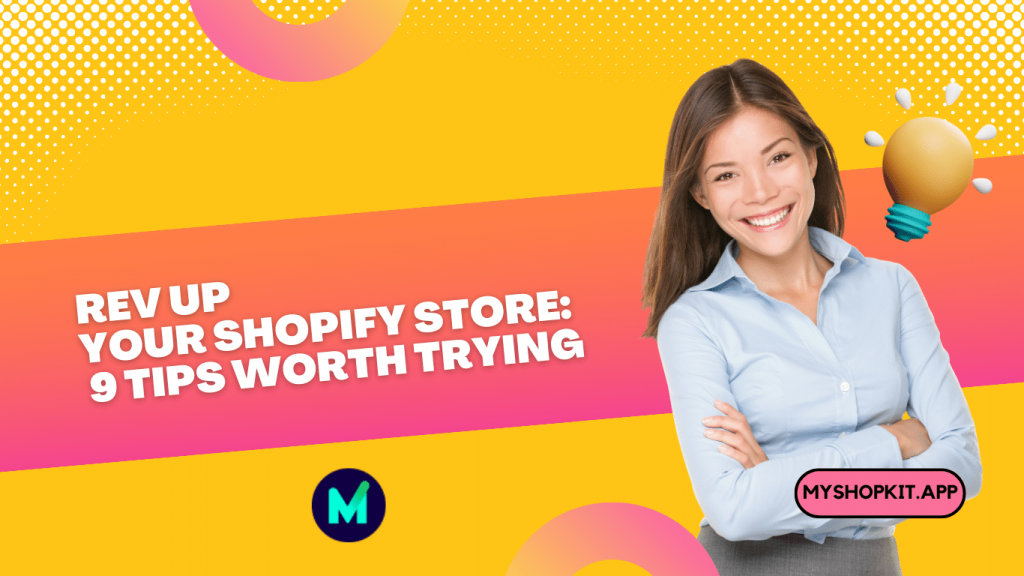 9 simple but effective tips to increase Shopify store speed
Store Speed and Performance Testing Tools
Google's PageSpeed Insights tool produces scores and recommendations for your pages in order to speed up your store. This tool exposes the essential components for both desktop and mobile.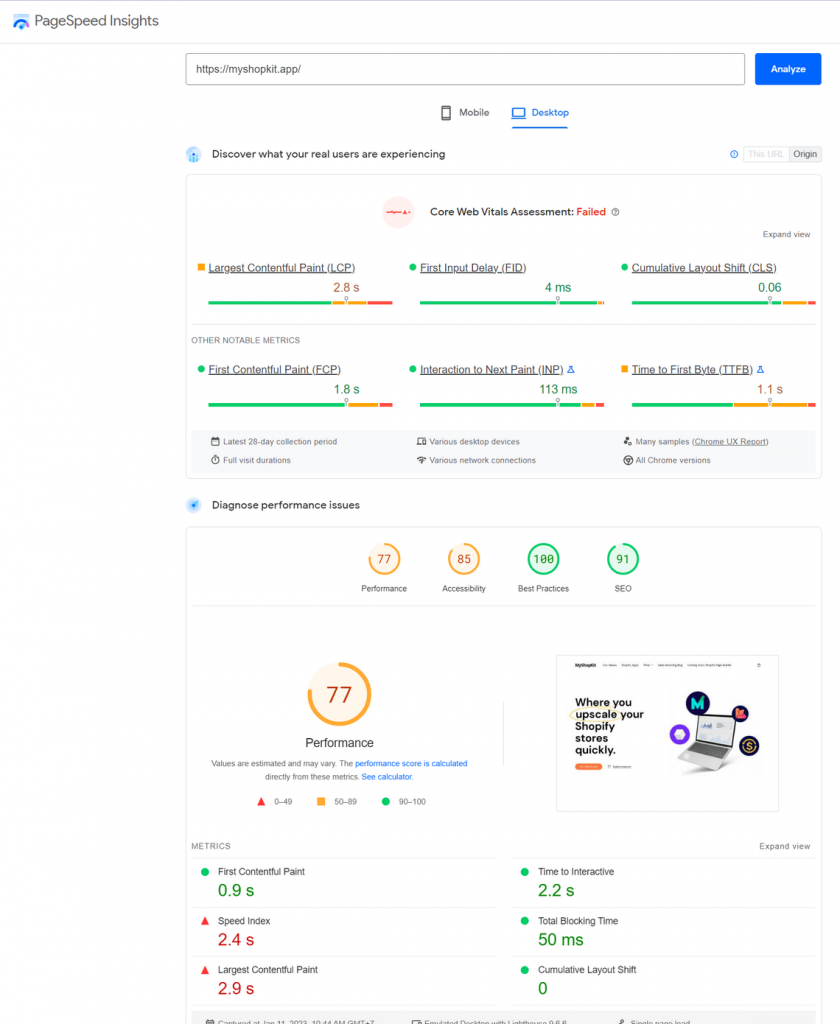 Another free tool is GTmetrix, which rates websites from A to F and provides tips for improvement. By selecting the "waterfall" tab in Gtmetrix, you can see the precise amount of time it took to complete each request.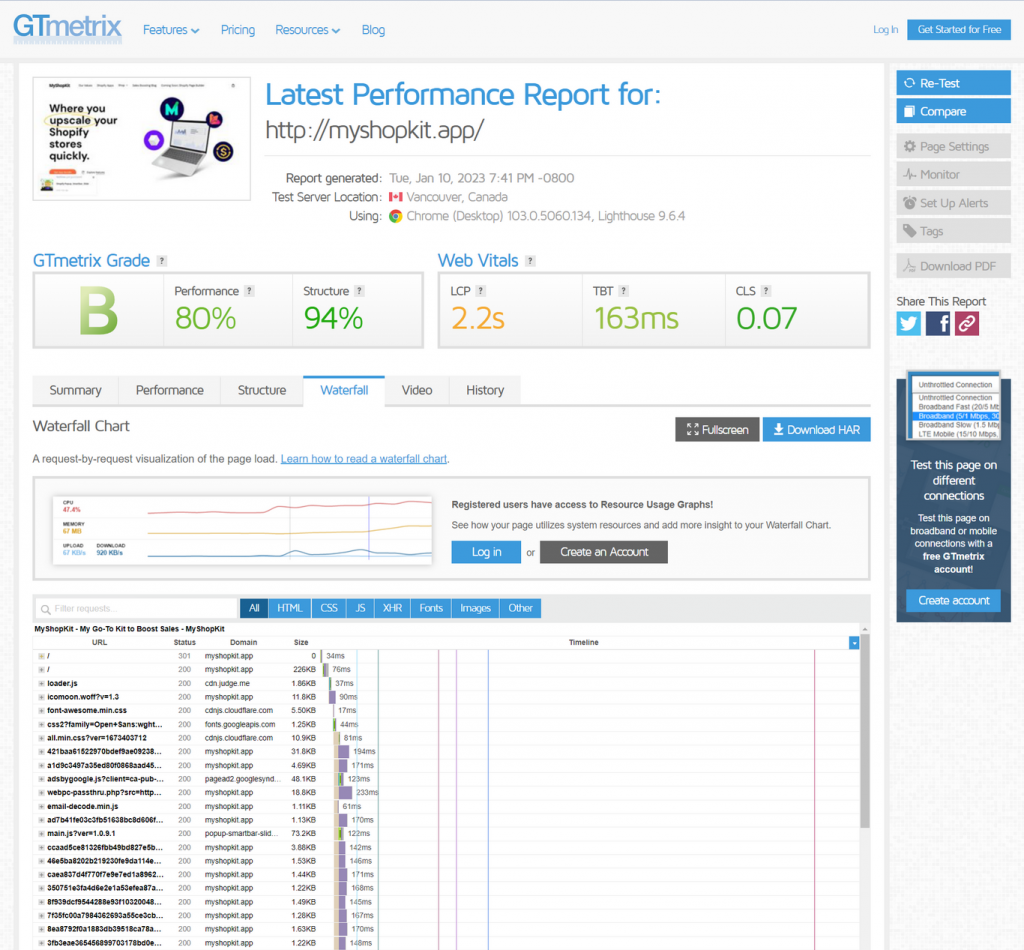 Testmysite.io is an additional tool that you can use to test your site performance. It rates your store according to its initial global load times from different countries as well as its security settings.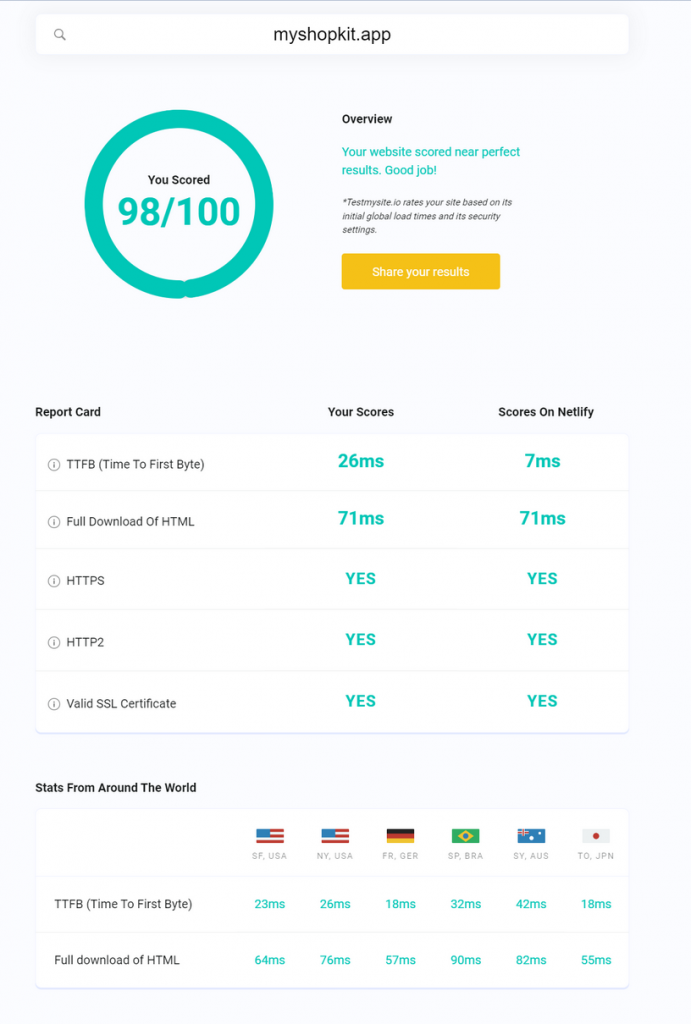 Speed Up Your Page with AMP
Accelerated Mobile Pages, often known as AMP, is created to enable any publisher to produce mobile web pages that load quickly. Since above 50% of purchases are made on mobile devices, it's critical to ensure that your store loads quickly and is optimized for mobile use. Thanks to AMP, mobile visitors can access your store swiftly. There are many Shopify apps that allow you to effectively create AMP pages for your store.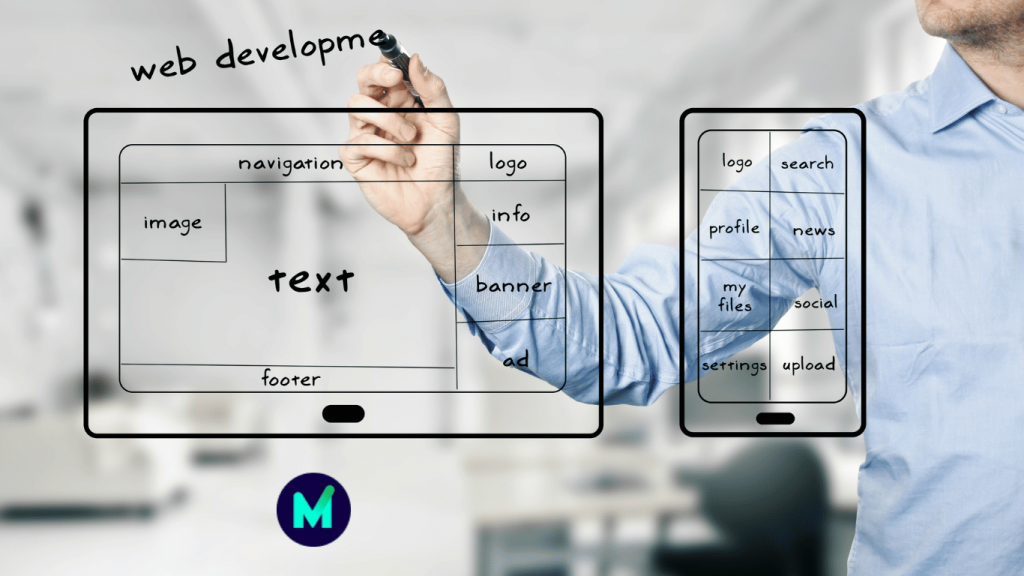 Optimize Media
Images are inevitable components of any eCommerce store. Unoptimized images can unfortunately slow down your store a great deal. Therefore, you had better upload both light and quality images. There are many apps that help you do so, the most powerful one is Image Optimizer.
On top of that, you can also apply the lazy loading technique. Only the content that users view above the fold will be loaded by the browser. This helps load parts of viewable content instead of loading the whole content, thereby boosting the speed. Similarly, you can use deferred video loading when your store has many videos.
Use Suitable Fonts
System fonts, Google fonts & licensed Monotype fonts are among the typefaces available in Shopify's font library. In case you used fonts that are unavailable on customers' devices, they have to wait for new fonts to be downloaded. That may put them off when they have to wait to see the text. Hence, you can consider utilizing system fonts that come pre-installed on the majority of PCs. You have a lot of alternatives, including mono, serif, and sans-serif families.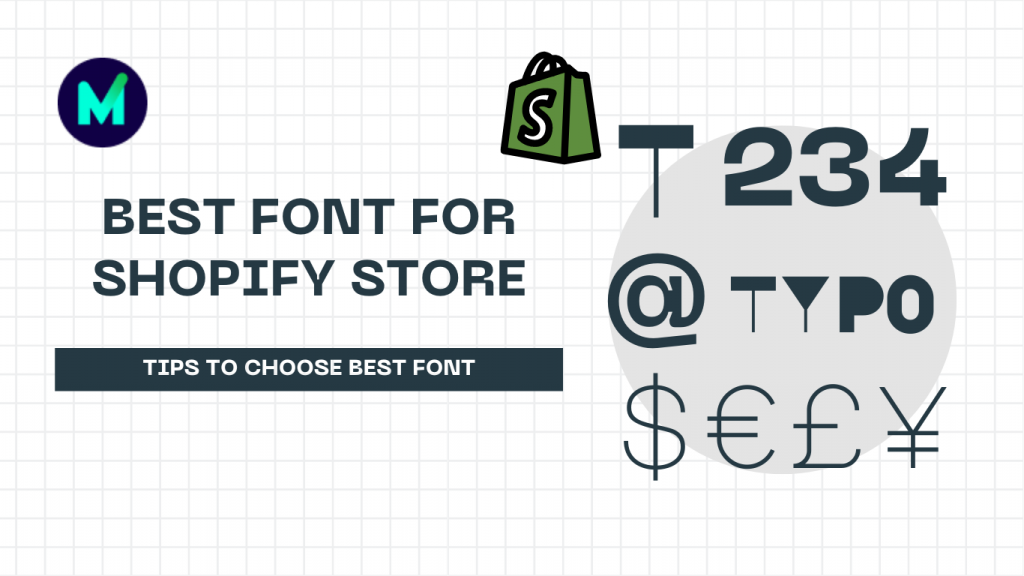 Uninstall Unneeded Shopify Apps
It is undeniable that Shopify apps are practical and helpful, particularly if you lack technical aptitude and coding skills. That said, keep in mind that most of them add certain CSS/JavaScript files to your store. The major issue is that JavaScript and CSS files are running in the background while you aren't using the app, which slows down the speed of your Shopify store.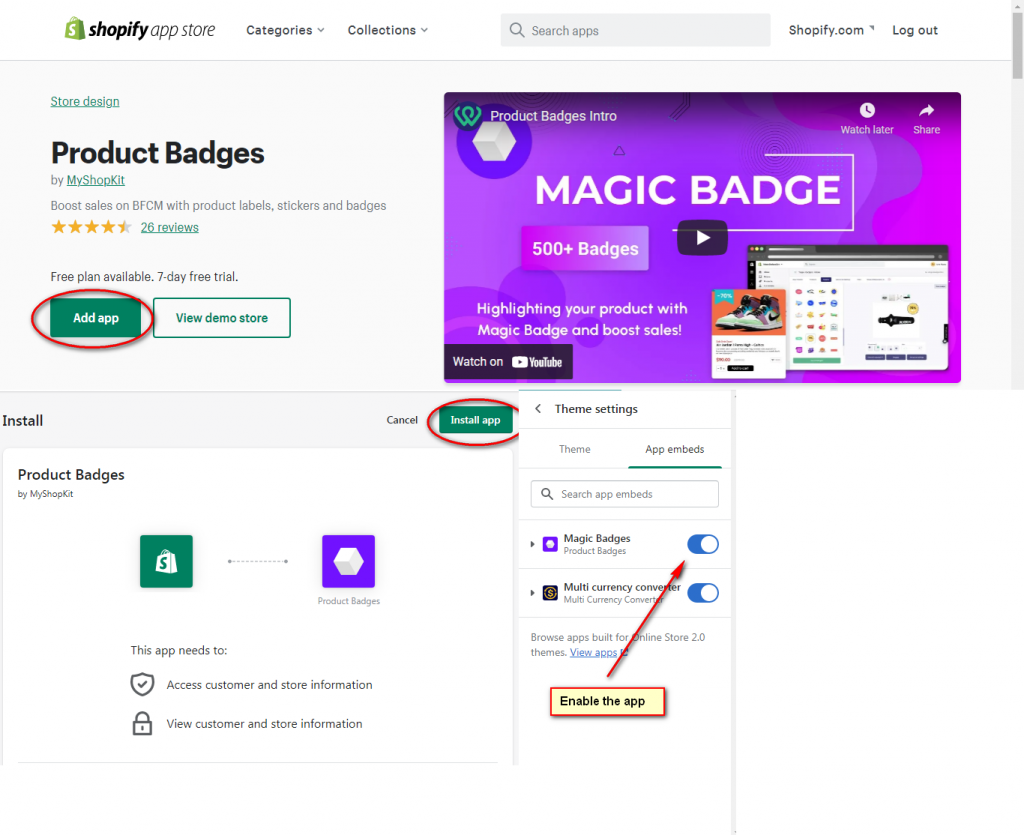 You should thus examine your store for any apps that you no longer use and uninstall them. You could have recently downloaded some apps and forgotten to remove them.
Download a Quick and Responsive Theme
It's a fact that the theme greatly affects store speed. Consequently, it's usually advised to check the below basics before installing a theme:
Opt for a theme that is quick and responsive.
Run the latest theme preview page via Google PageSpeed Insight to see how quickly it may be made.
Once you've decided on a theme, don't forget to keep updating it frequently. When you wish to add more functionality to your store without changing to another theme. Then, a page builder is the best bet. It can help you add more features without losing any customization. 
Google Tag Manager Can Help Store All Tracking Code
Normally, you install different tracking codes on your end for Google Analytics, AdWords conversions, remarketing tags, etc. This takes time & eventually affects how quickly your store performs in general. Google Tag Manager allows you to keep track of all those tags in one location. Google Tag Manager is compatible with Shopify stores. To add its code to your Shopify Plus store, see this page.
Reduce Broken Links & Redirects
Many redirects & broken links also cause performance problems. Therefore, keep redirects to a minimum and repair broken links.
Regarding redirects
Unnecessary redirection cause performance & speed difficulties, which may slow down the website's total load time. The built-in redirects feature named "URL redirect" in Shopify allows you to implement 301 redirects.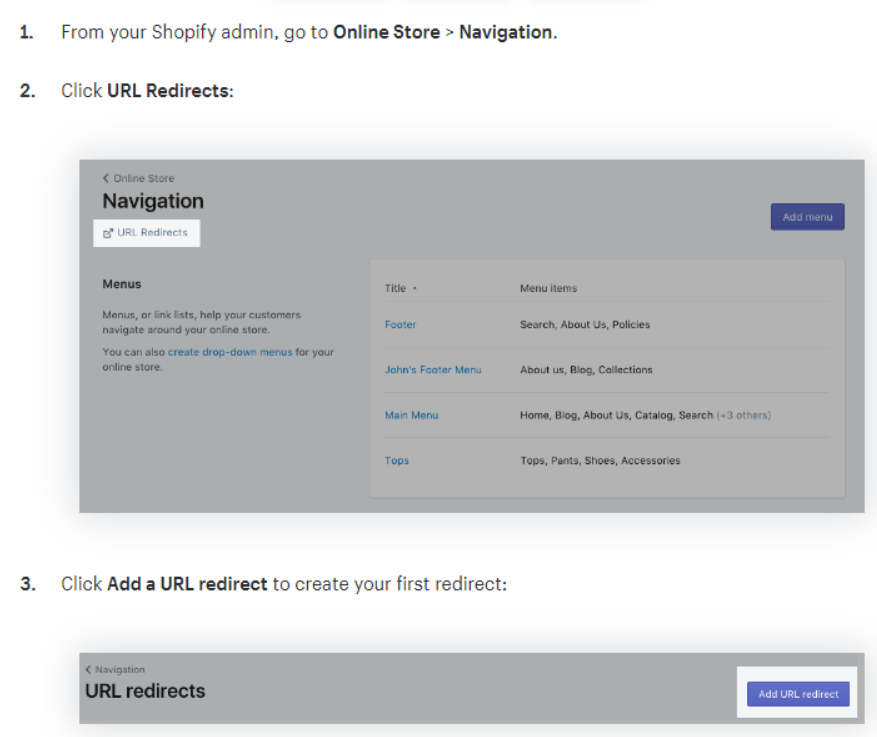 Regarding broken links
Broken links on your store can be detrimental, causing an unpleasant user experience as well as an increase in unwanted HTTP requests. Use free tools like Broken Link Checker and Xeno to discover and mend broken links on your Shopify website.
Use Hero Layout rather than Sliders
Since sliders frequently include 5-6 high-quality photos, it takes more load time. According to research, it is now time to fully disregard them. Use an excellent Hero Layout image with a distinct call to action rather than a slider.
Some intriguing Statistics to support ignoring sliders:
Only 1% of visitors click on sliders, meaning that most people don't use them. Sliders/Carousels Frustrate Users and Decrease Visibility
Carousels and Sliders are detrimental to SEO.
Sliders don't work well on mobile.
Sliders might damage SEO.
Increase Shopify store speed: Key takeaways
In conclusion, increasing Shopify store speed can have an immensely positive impact on your business. By following these nine effective strategies, you can optimize the performance and loading times of your shop to ensure that customers are having the best experience possible. Additionally, don't forget to continue monitoring your store's performance and making adjustments as needed in order to keep things running smoothly.