To 12+ Shopify Electronics store examples for you to get some inspiration to build your own Shopify store that is customer-friendly and high-converting. Check them out!
As the world progresses, so too does the way we shop. No longer are physical storefronts and brick-and-mortar locations necessary to make a sale. In fact, many businesses are now operated entirely online through eCommerce platforms like Shopify.
There are many different types of businesses that use Shopify, but one of the most popular categories is Electronics stores. These types of stores have flourished on Shopify due to the platform's ease of use and its ability to accommodate a large variety of products.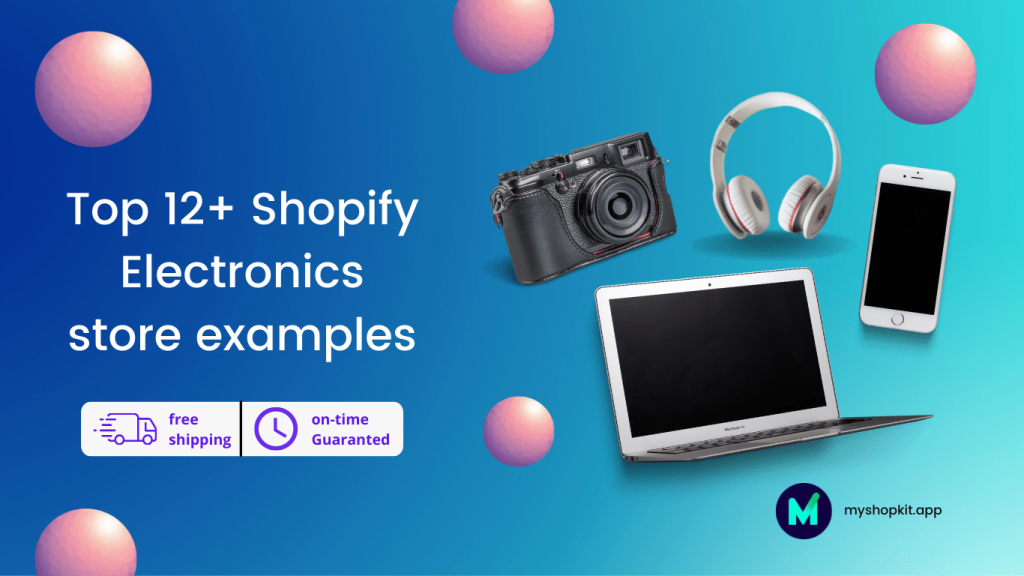 If you intend to run your own Shopify business in Consumer Electronics, you should look at the industry statistics and Shopify electronics store examples to be well prepared. And, this blog is here to help you. Let's explore now!
Shopify Electronics Store Statistics
In the Consumer Electronics category, there are 31,583 active Shopify businesses. The most prevalent sub-categories are
Mobile & Wireless Products: sold by 41.0% of Shopify merchants
Audio Equipment: sold by 15.6% of Shopify stores
Camera & Photo Equipment: sold by 10.0% of Shopify merchants.
The top nations for Shopify stores in the Consumer Electronics category:
The United States accounts for 53.4%
The United Kingdom accounts for 9.1%
Canada makes up 6.0% of Shopify stores
Australia makes up 5.8% of Shopify businesses.
The number of sold different products among Consumer Electronics Shopify stores:
1-9 different products: 35.2% of Shopify stores
10 – 24 different products: 16.5% of Shopify stores
25 – 49 different products: 12.3% of Shopify stores
Top Shopify themes used by Consumer Electronics stores
16.7% of Electronics Shopify merchants are using the Dawn theme
11.1% of Electronics Shopify merchants are using the Debut theme
3.9% of Electronics Shopify merchants are using the Impulse theme.
FREE Shopify Electronics store template by Veda Builder
Video demo
Welcome to our Shopify Electronic store example, powered by Veda Builder. Explore dynamic features and renowned brands like SONY, SAMSUNG, OPPO, and DELL. Showcase products and promotions with ease. Check out our video demo store to see it in action and unlock the potential of Veda Builder!
Features
Mega Menu with Product Placeholder: Our mega menu offers a comprehensive navigation experience, displaying categories and products at a glance, making it easy for customers to find what they're looking for.

Hero Slider with Drop-down Nav Bar: Our eye-catching hero slider captures attention and showcases your featured products. The drop-down navigation bar ensures seamless browsing and easy access to your site's sections.

Famous Brands like SONY, SAMSUNG, OPPO, DELL: We feature renowned brands like SONY, SAMSUNG, OPPO, and DELL, giving your customers confidence in the quality and authenticity of the products you offer.
Show Featured Products and Top Collections in Product Grid with Quick View: Highlight your best products and collections with our customizable product grid. Customers can quickly preview items with our convenient quick view feature.

Announcement Bar Scrolling Text "SALE OFF": Keep your customers informed and excited with our scrolling announcement bar. Promote sales and special offers to increase engagement and conversions.

Large Banner to Highlight Product Images: Use our large banner to create stunning visual showcases of your products. This feature allows you to highlight your top-selling items and grab your customers' attention.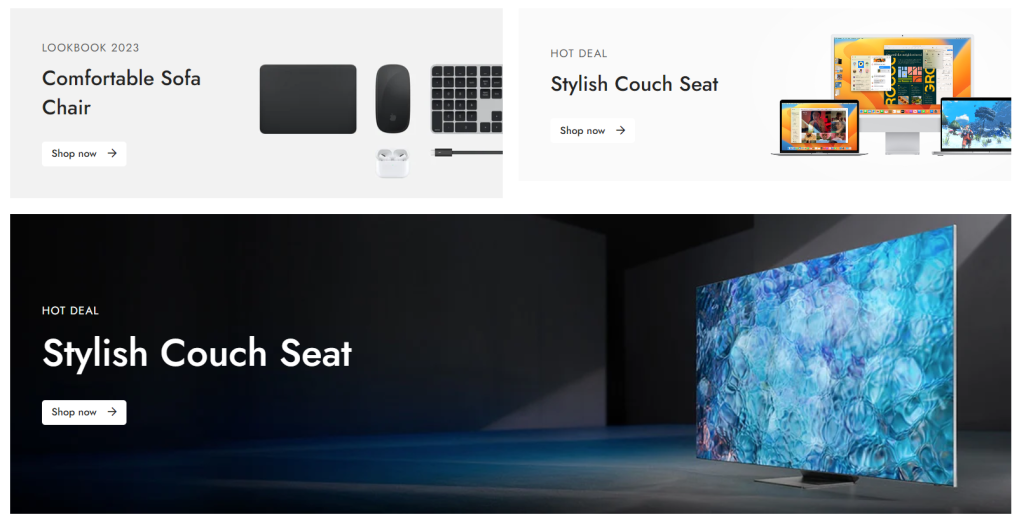 Download Veda to get the template
Visit Demo Store: Explore the example store to get a feel for the features and design, and see how it can benefit your business. Visit Electronics homepage (password: 1).
Explore More Demo Stores: Discover a variety of demo stores to find the perfect design and features that suit your specific business needs and preferences.
Download Veda Builder: Take advantage of Veda Builder to easily create your own stunning Shopify store. Download our app and unlock endless possibilities for your Shopify venture.
Top 12+ Shopify Electronics store examples
Staples has all of your favorite Electronics & office products. Examine a comprehensive selection of office supplies to discover all the equipment and services required to run your daily tasks. Find the best items like specialty paper, and file folders, as well as desk or workplace management solutions.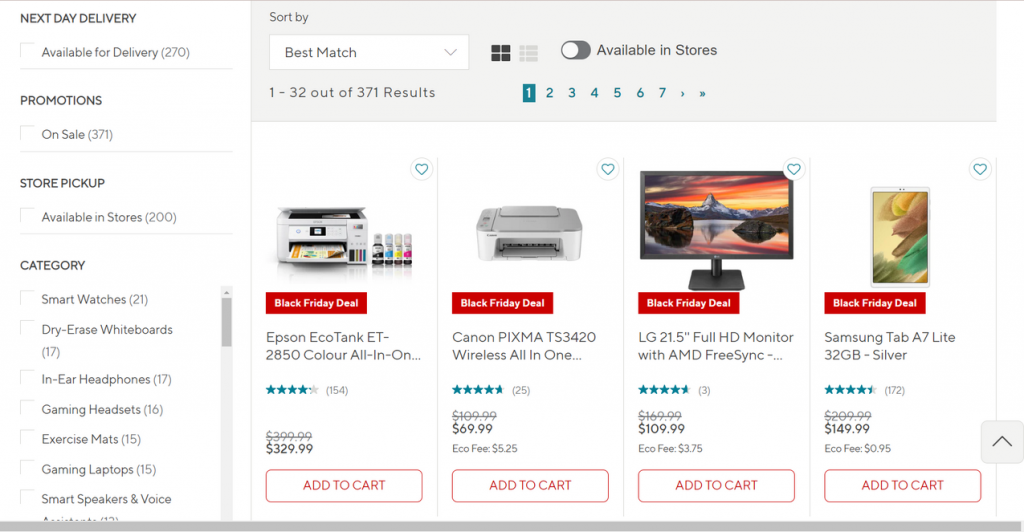 This is the store that uses many promotional banners on the homepage among Shopify Electronics store examples. With text such as "Get a head start on saving. Prices will not go lower on Black Friday."
What I like about this shop is the ultra-specific filtering bar. Therefore, customers can narrow down the selection and buy the most suitable items.
This Shopify store sells a wide range of different products. Mobiles & Electronics category is one of them. It sells computers, laptops, and smartphones; home entertainment devices; photography equipment; hardware and software; etc.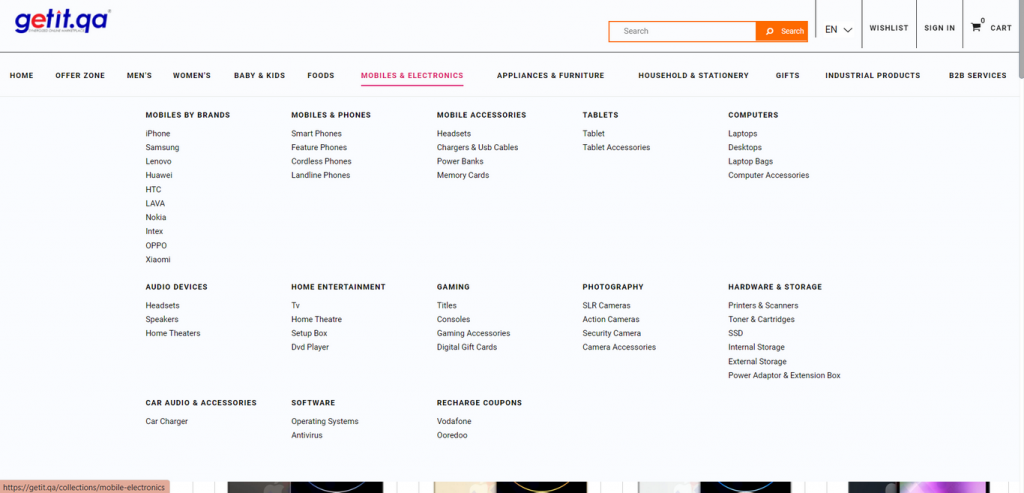 This shop has an impressive mega menu at the header. With multiple layers, customers can easily browse products just by using its menu. It also provides a warranty for each product.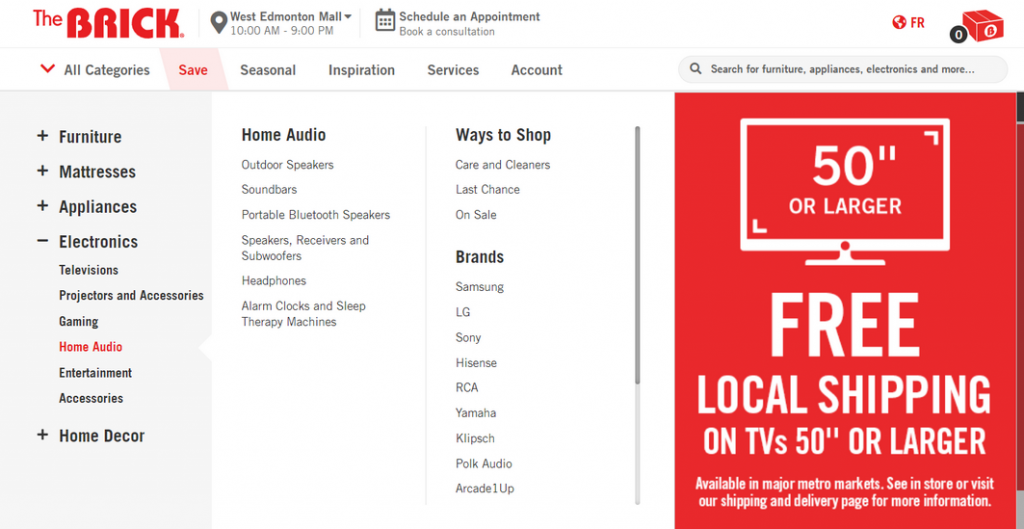 Like The Brick, this Shopify store uses a theme that offers an advanced mega menu and a very specific filtering bar. It also supports a predictive search bar for customers to find products faster.
If you want to spy on which theme Daily Sale or any other shops are using, I highly recommend the Shopify theme detector. This tool is free and you can check online without downloading it.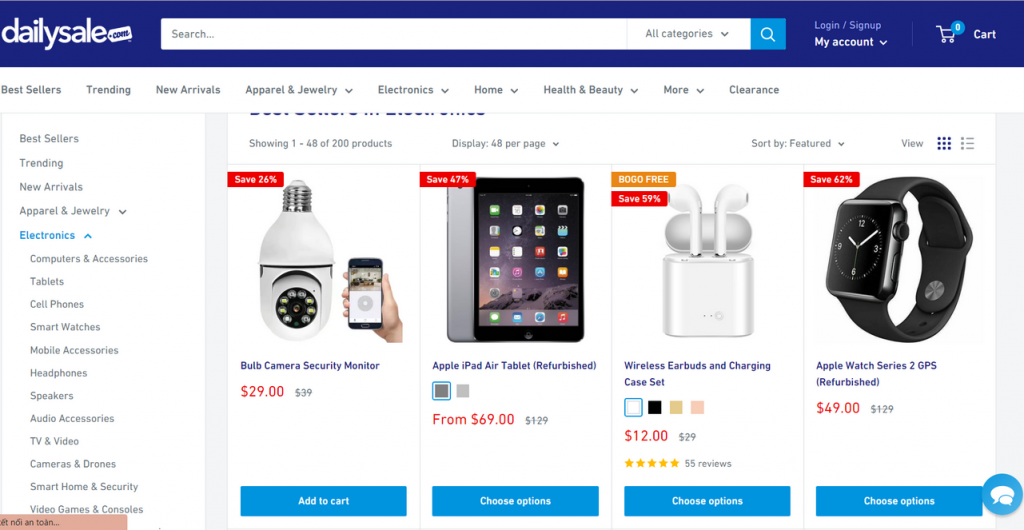 Viral product collection slider to showcase the most sold products. It also has a blog post section to highlight up-to-date news and provide tips for using its items.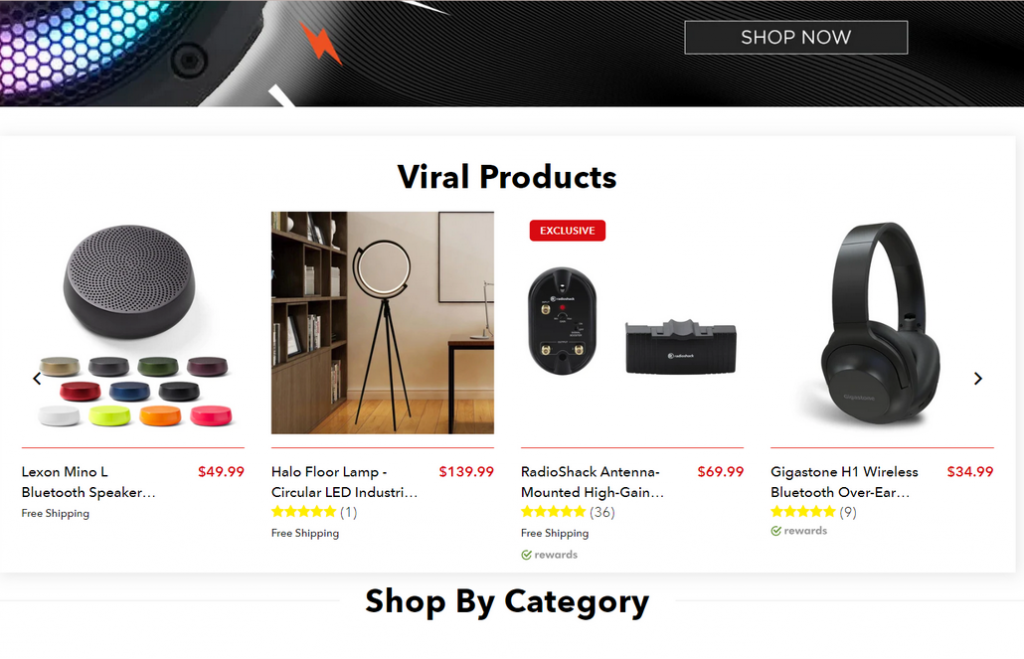 This Shopify store has a highly elegant and eye-pleasing store design. The special thing about Tanotis among Shopify Electronics store examples is the product horizontal slider. Instead of scrolling down, you only need to flip over the next slider.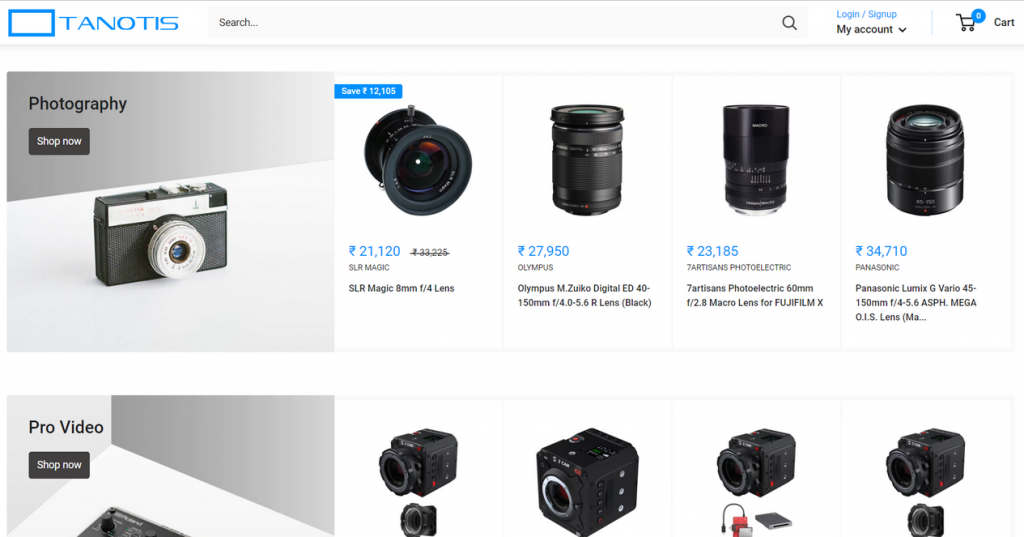 One of the earliest Electronics companies to create and provide Type-C devices was Satechi, which has now emerged as a market leader. Today, Satechi produces and distributes stylish accessories to customers all over the world.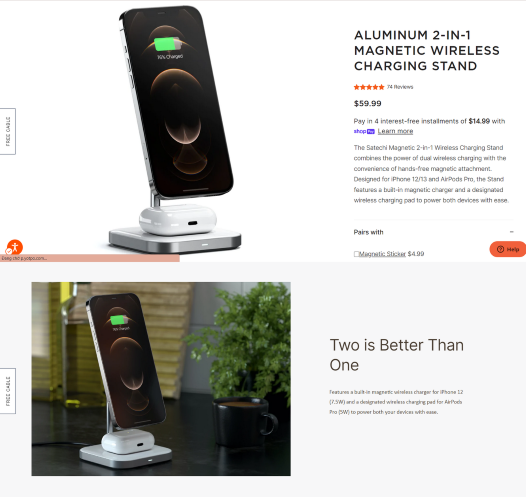 What I love about this store is the product landing page. Besides providing necessary information about the product, it also presents the features and benefits in an exciting way. With rich text with images, it helps customers to resonate with the product in real life.
Use a unique turntable to spin it. Custom turntables may be created by U-Turn Audio using inexpensive materials all the way up to high-end metal and craftsmanship. What impresses me is the very precise product specification, product in real life, and model comparison.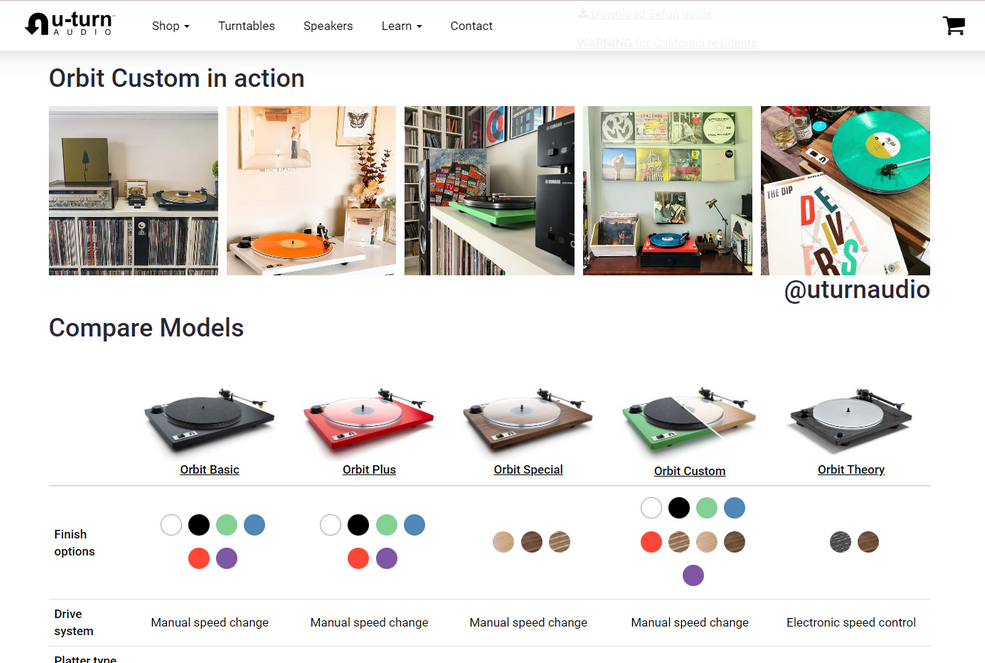 The house security company Ring offers video doorbells and motion-activated spotlight cameras. Their intended audience expects concise messaging, instructional films showing how their goods operate, and client endorsements. On their Shopify website, everything is available, including a real-world video series called "Neighborhood Stories" that shows their items in use.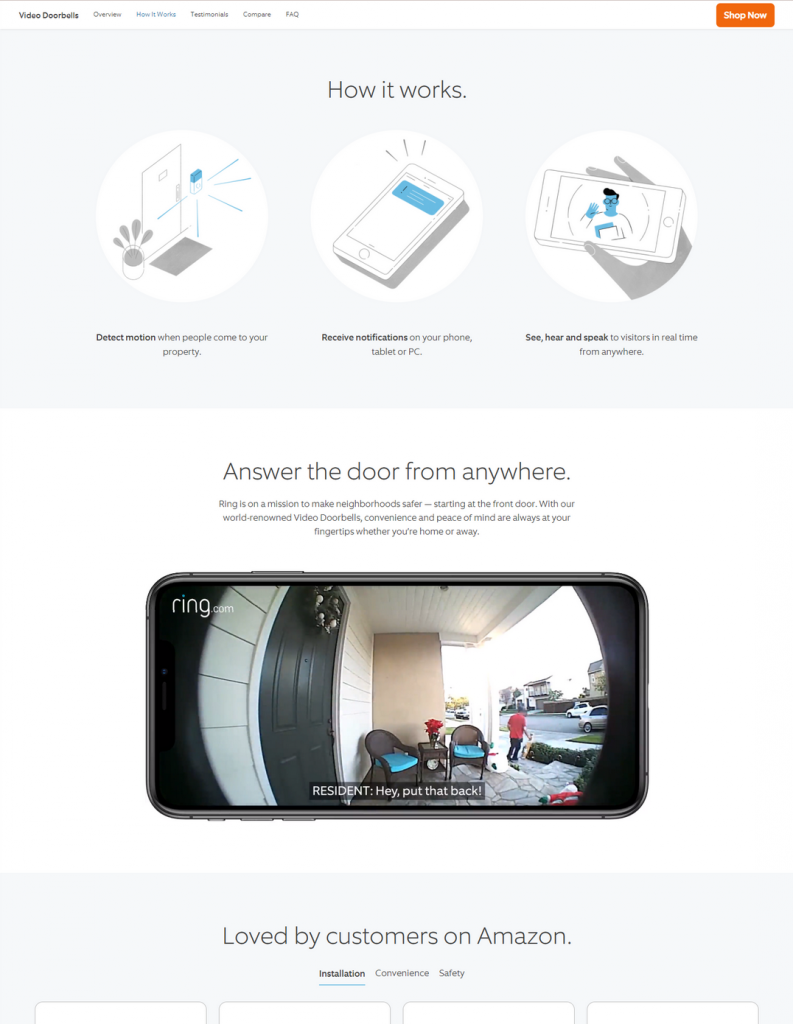 This little device lessens the effects of chemotherapy, morning sickness, and motion sickness. You don't think so? The website for Reliefband is crammed with 360-degree pictures, detailed explanations of how it operates, and user reviews.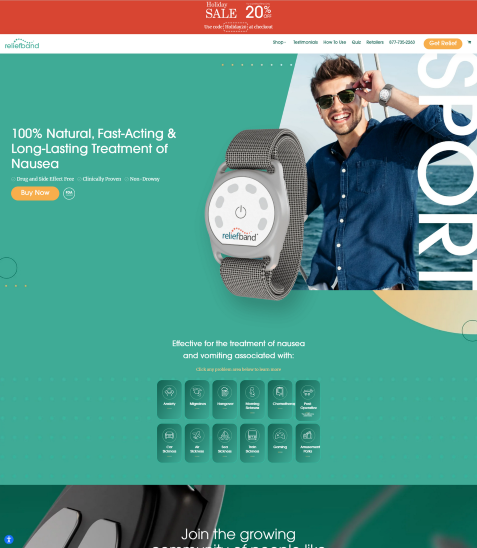 See how the watch responds to various user issues with an interactive hero banner. Design of the collection page that separates the main hero products from the extras of different landing page designs to entice consumers to investigate brands and products.
If you wish to create a sale header bar just as amazing as Reliefband, you should use MyShopKit Popup, Smartbar & Slide.
This firm is a market leader when it comes to providing technologies to enable reliable wireless networking solutions. They offer their home and business-level networking equipment.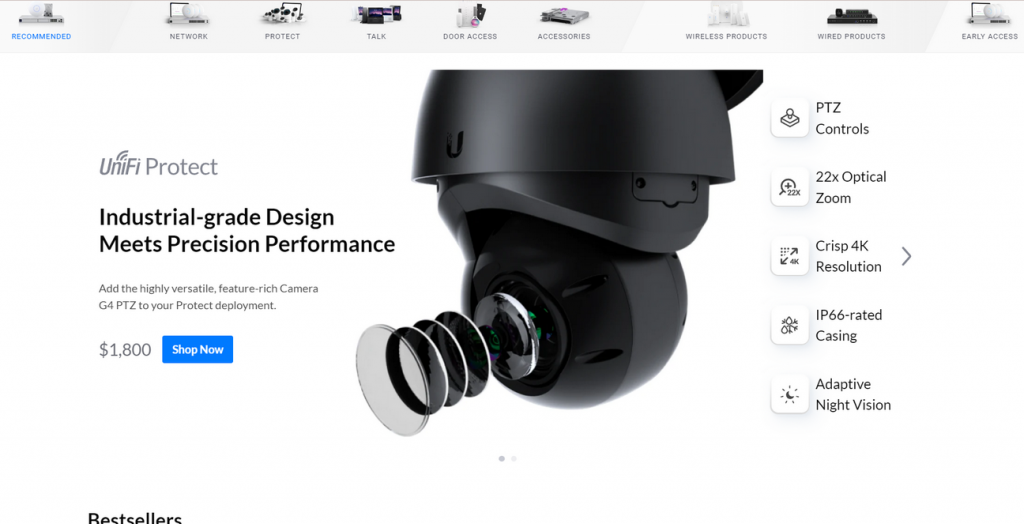 Chipolo, a little device that uses your smartphone to help you locate your keys, places a lot of emphasis on creating clear, appealing calls to action. Their Shopify landing sites prominently display their items, any discounts offered, and instructions for ordering them.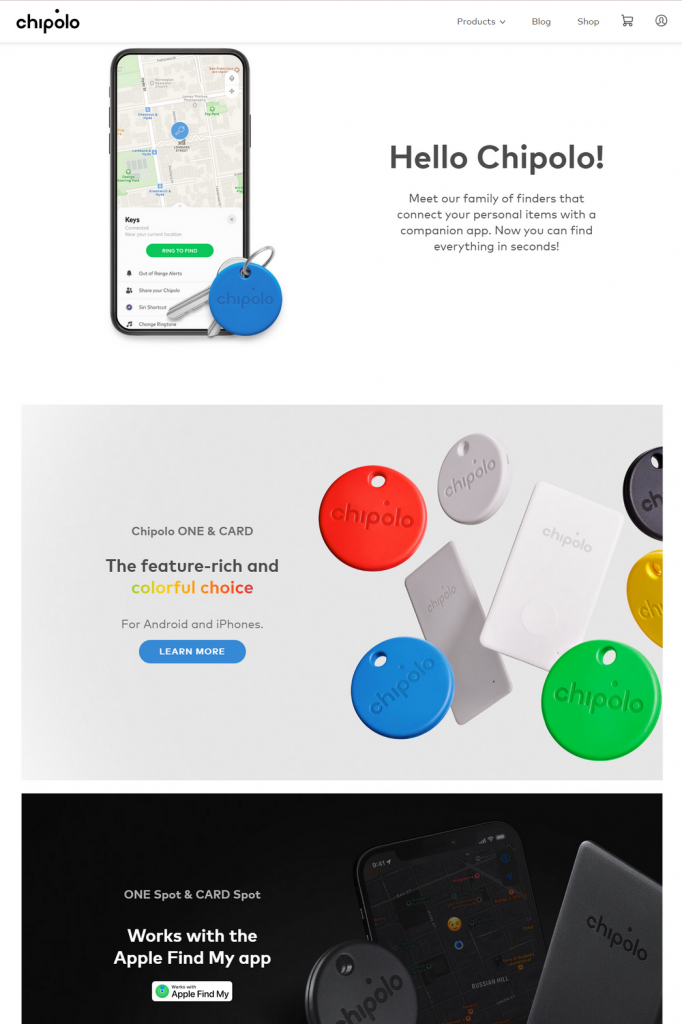 Other Shopify Electronics store examples by Webinopoly you can take a look at.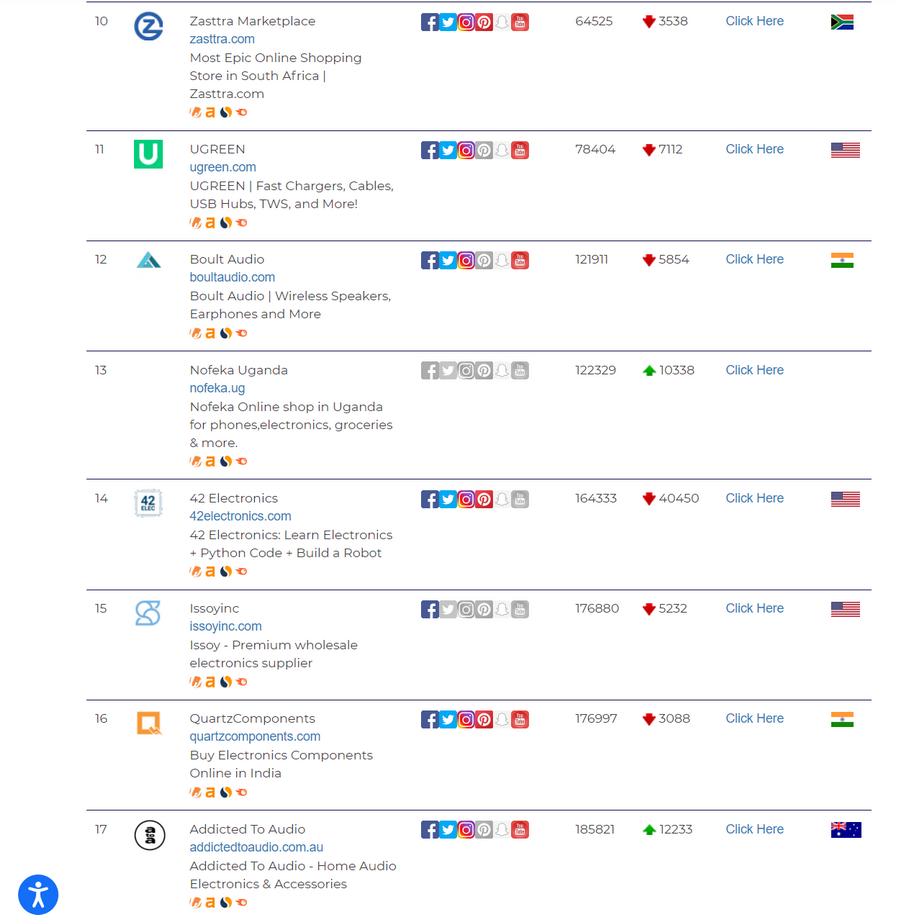 Shopify Electronics store examples: Key takeaways
In conclusion, these Shopify stores show that it is possible to have a successful online business in the electronics industry. By using Shopify, businesses can create a professional-looking website with all the features and tools they need to succeed.
These Shopify Electronics store examples are proof that with some creativity and effort, anyone can start and grow a successful online business. So if you're thinking of starting an electronics business, don't be discouraged by the competition. Just make sure you do your research and put together a solid plan.
>> Read also: Top 15 print on demand Shopify store examples.