Shopify email marketing software is a key element in any effective Shopify email marketing campaign. Many ecommerce firms greatly benefit from these apps since they help eliminate the burden of manually sending promotional emails to customers.
After having run various successful and unsuccessful email marketing campaigns, I accumulate relevant experience and draw valuable lessons. And because I'm well aware of the dire consequences of profitless email marketing campaigns, I don't want anyone else to make mistakes as I did in the past.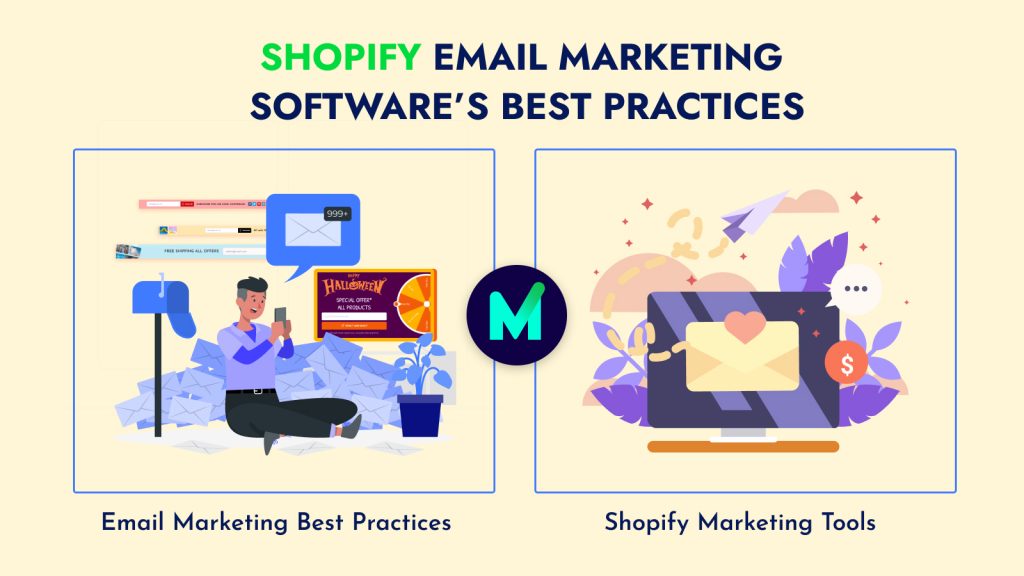 So, I'm happy to guide email marketers or ecommerce start-ups through how to make full use of Shopify email marketing software. This blog has 2 parts: email marketing best practices and reviews for Shopify email marketing services. Hope, this blog will partly help you avoid wasting time and effort in creating ineffective email marketing campaigns.
Shopify email marketing best practices
Wisely build & use Shopify email list
Collect Shopify email list naturally
Whether you're starting from zero or inheriting a list of Shopify email addresses, it's critical to ensure that each name on the list was added naturally and with permission.
Delete any rented email addresses from your mailing list right away. Or else, you will encounter such threats as:
Get poor interaction since lots of bought emails aren't genuine persons
Have your list refused by large ISPs (e.g. Yahoo, Gmail, and Aol)
Make your email service provider accounts prone to be shut down.
Utilize Popups, Announcement Bars & Slide-in to grow Shopify email list
This may be one of the quickest approaches to building a huge email list. It is also the most effective strategy to cultivate an engaged recipient base and maintain high email delivery rates because visitors voluntarily leave their email addresses.
You can use interstitials or Shopify exit intent popups to encourage visitors & customers to drop their emails by providing promo codes & coupons or freebies.
Shopify add to cart popup is also a great way to increase the number of purchases. One brilliant idea is displaying the flash sale announcement with an animated add to cart button that links to your product collection page.
About Announcement Bars, you can choose to place them in the header or footer of your online store. Announcement Bars are often used to announce free shipping or give product recommendations with the best-discounted price.
Slide-in has the same functions as popups and announcement bars. Its placement is at the end of the page, on both right and left sides.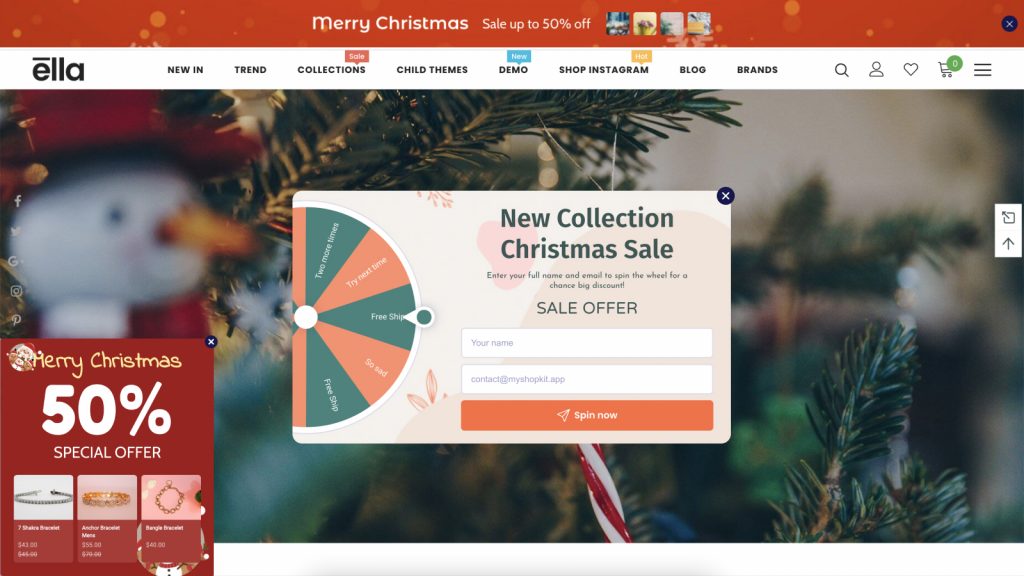 Above all, with the Statistics Dashboard, you are able to track how many views, clicks & subscribers you got from Popups, Announcement Bars & Slide-in. The date filters include week, month, year, and custom date range.
You might ask: But, I don't have a knack for app coding, what should I do? No worries. Our team of developers created such a powerful app tackling that issue for you. That is Popups, Smart Bars, Slide-in.
No coding skills required

Numerous attractive pre-built templates

Statistics of total emails signed up

Third-party email service providers integrated

It's free of charge.

MyShopKit Popups, Smartbars & Slide – Shopify email marketing solution
Segment your Shopify email list
In the past, most marketers would tend to send batch and blast emails. In other words, everyone received the same message together, regardless of their interests. However, nowadays, you won't get any interaction if you still do so as recipients can't feel any personal touch.
Personalization has been gaining popularity and becoming more crucial for Shopify email marketing. Batch and blast emails won't produce the desired outcome such as engagement rates or high conversion.
Thus, you'd better do your utmost to make every single sent email as relevant as possible.
You may segment your Shopify email list based on some insights into your customers' interests and activities:
What did they buy recently?
Where do they reside?
What time of the day do they often open your emails?
I know that email segmentation can be challenging and time-consuming. One piece of advice for you is using email automation providers, notably Klaviyo, MailChimp, iContact, ActiveCampaign, GetResponse, and Campaign Monitor.
These email marketing apps are available in Shopify stores. And they also partner with MyShopKit's Popups, Smart Bars, Slide-in. It means that:
When you use our Popups, Smart Bars & Slides to collect customer emails, you can import your email list into those Shopify email marketing apps. MyShopKit doesn't restrict the number of email marketing apps you can configure, meaning that you are allowed to import your email list into more than one app. How convenient it is!

MyShopKit's compatability with email marketing apps
Learn how to load customers emails collected by MyShopKit into email automation providers
Make it easy for customers to unsubscribe
You shouldn't retain someone who already lost interest in your business. It's just like a one-sided love that only leads to a dead end. All of a sudden, customers might find your emails unnecessary or they're no longer keen on your products. So, make it easy for them to unsubscribe at any time as well as make the process of unsubscribing instantaneous.
If recipients are unable to find the Unsubscribe option, they might mark your emails as Spam.
Clean your Shopify email list regularly
Some recipients might make an effort to unsubscribe when they don't like your emails. But, others don't bother and just ignore your emails. This can hurt your delivery rates and convey a signal to ISPs that your emails are unwanted.
To solve this problem, set aside some time each quarter to purge your email list of inactive subscribers. You can safely remove them if they haven't opened your email within a few months.
Properly prepare for successful Shopify email marketing
Comprehend your target market
Your target market is more than simply a demography. Thoroughly answer the below questions to figure out your suitable target customers:
When and how would they want to be contacted?
Is there a certain lingo, or even slang, that resonates with them more than others?
What acts set your audience apart from the rest of the population?
Test to find what appeals to your customers
Every aspect of your email should be A/B tested, from calls to action (CTAs) to subject lines. Some pointers to remember throughout your testing:
Make sure you have a large sample size to experiment with
You'd better test one element once; if not, you cannot get accurate results
Move on to the next test after you've found a winning ingredient
Use a pre-send checklist to make sure everything is in order
To avoid failure on the next Shopify email campaign, you should create a checklist of all the critical actions you need to consider before clicking "send".
We've put together a quick checklist for you to use, but be sure to add your own elements to ensure a smooth sending experience every time.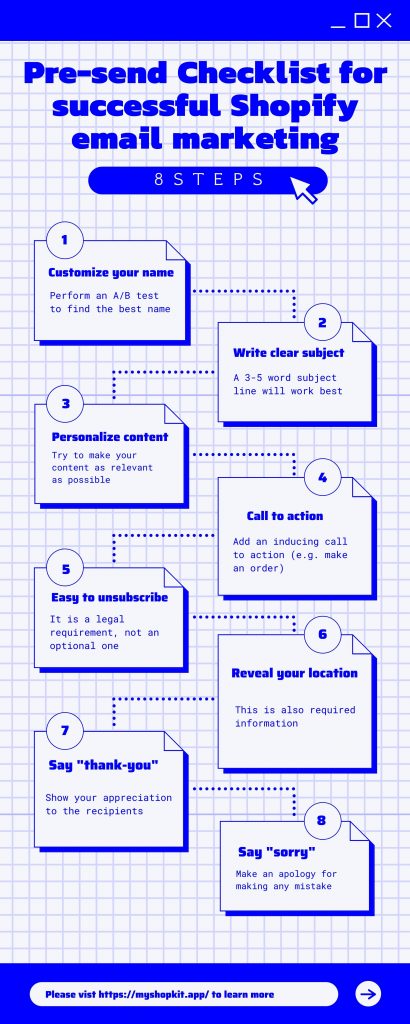 Choose relevant metrics to measure
Some typical metrics include open and click-through rates, and so on.
To figure out which metrics to track, first decide what your Shopify email's goal is:
Provide an engaging and urgent subject line and track your openings in case you want customers to read a critical update to your terms of service.
Clicks, visits, and conversions are the most important measures to track in case you wish to promote an offer or discount.
Quality takes precedence over frequency
Listen to your customers' email activity & grasp how often and what time of the day they get emails opened. Based on that, you can adjust the number of emails to send and find out the ideal timing.
It's not a good idea to bombard recipients with a series of emails con. If they are overwhelmed by your communication, they might decide to unsubscribe and in the worst-case scenario, they might report spam.
So, don't rush and start bit by bit to observe how your customers react to email sending frequency.
Cherish your VIP recipients
Your VIPs are your most powerful brand ambassadors. They are particularly into your business and often open & even share your emails. Thus, they deserve to be rewarded for their loyalty.
Plus, your VIPs can provide you with useful information. Do you want to try out fresh CTAs or email templates? Starting with your VIP customers & asking them ways to enhance your Shopify email marketing campaigns, they can offer fantastic ideas. Make sure to thank them with discounts or special offers.
Craft appealing & persuasive Shopify emails
Maintain consistent & on-brand email designs
Whether you use email templates from email marketing software or have in-house designers, make sure your emails always match your overall brand. In this way, your business can leave a long-lasting impression on customers and stand out from the crowd.
Some checklists need taking into consideration:
Colors are consistent with the brand.
At the top of the email, there must be a logo and link to your website
Brief hypertext denotes the URL's destination.
Provide a sense of urgency and action.
The footer contains pertinent corporate information as well as unsubscribe buttons.
There is neither too much text nor too many graphics.
Write an irresistible subject line
A subject line can make or break your email marketing campaign as it decides if the recipients feel the urge to open your emails. Keep your subject line as brief as possible (3-5 words). Consider creating your subject line after you've finished composing the rest of your email so you can determine which angle to take.
Don't use no-reply from names
Sending no-reply emails (e.g. [email protected]) can't add a personal touch. The recipients will feel that they are communicating with a robot, not a human being. Hence, they will be likely to feel disrespectful and unsubscribe from your emails.
Send out a fantastic welcome email
Welcome emails allow you to say hi to your new subscribers. You can also set expectations for the type of email your readers will get from you–and how often they will receive it.
Welcome emails are also a great way to direct recipients to your preference center, where they may change the frequency and type of emails they get from you. Getting off on the right foot might go a long way toward keeping your subscribers pleased.
Above are tried-and-true email marketing tips that you should put into practice to ensure your email marketing campaigns. However, I have to admit that putting those strategies into one email is fairly challenging. It requires human resources and takes lots of time to fulfill the above checklists. I also used to have the same problems when running email marketing campaigns.
Luckily, I got to know one viable marketing solution, which is email marketing tools. Shopify platform has different marketing software you can use to grow your business. In particular, Shopify developed its own app – Shopify email app.
I will give some comments on how good the Shopify email app is and compare it to other apps below.
Reviews for Shopify email marketing tools
Shopify email app
Shopify email app's bonus points
Setup in a 0-step
The app is automatically added to the Marketing area of your Shopify admin after you've installed it. That means quicker page loads and more accessible campaign analytics & tracking integrated into Dashboard.
Ready-to-use email templates
There are currently 8 templates you can simply edit key elements. Or you can also create emails from 1 blank canvas to better align with your brand.
Pricing
Every month, you get 2,500 free emails. If you wish to send additional emails, the following 1,000 emails will cost you $1. Plus, compared to other tools, Shopify Email enables a lot more contacts and mails every week.
Obviously, Shopify Email is the most cost-effective among its competitors. However, frankly, the Shopify email app is not my choice for a marketing solution as it has certain drawbacks
Shopify email app's minus points
Few email templates
As said before, this newly-developed app contains only 8 available templates along with 1 blank canvas. You might bore your recipients when often sending quite the same email designs.
No automated email marketing
You are supposed to manually segment your email list, which costs you a lot of time and effort. For small businesses, it would be OK. But when you have large email lists, manual segmentation will be a big problem.
The reason why you should install 3rd party Shopify email marketing software
Third-party Shopify email marketing tools (e.g. Klaviyo, MailChimp, iContact, ActiveCampaign, GetResponse, and Campaign Monitor) have outstanding features:
Various beautiful & easy-to-use email templates
Automated email marketing such as welcome emails, activation emails, and confirmation emails. These emails are sent automatically whenever customers or actions match the rules or triggers you set up.
Integrated with many other tools that help boost sales and collect customer data (including MyShopKit's Popups, Smart Bars, Slide-in)
Have personalized and well-targeted emails with accurate segmentation
Have a detailed report and analytics
The list goes on.
All of these apps have a free pricing plan. For a charged plan, these apps are more expensive than the Shopify email app. However, you get what you pay for because these apps offer you a more comprehensive email marketing solution.
Shopify email marketing: Final words
Depending on your business scale and your budget, you can choose a suitable email marketing app to help stay in touch with your customers. Don't forget to apply the email marketing tips I've provided for you to ensure profit email marketing campaigns.