Shopify email marketing best practices
Wisely build & use Shopify email list
Collect Shopify email list naturally
Get poor interaction since lots of bought emails aren't genuine persons
Have your list refused by large ISPs (e.g. Yahoo, Gmail, and Aol)
Make your email service provider accounts prone to be shut down.
Utilize Popups, Announcement Bars & Slide-in to grow Shopify email list
No coding skills required
Numerous attractive pre-built templates
Statistics of total emails signed up
Third-party email service providers integrated
It's free of charge.
Segment your Shopify email list
What did they buy recently?
Where do they reside?
What time of the day do they often open your emails?
When you use our Popups, Smart Bars & Slides to collect customer emails, you can import your email list into those Shopify email marketing apps. MyShopKit doesn't restrict the number of email marketing apps you can configure, meaning that you are allowed to import your email list into more than one app. How convenient it is!

MyShopKit's compatability with email marketing apps
Make it easy for customers to unsubscribe
Clean your Shopify email list regularly
Properly prepare for successful Shopify email marketing
Comprehend your target market
When and how would they want to be contacted?
Is there a certain lingo, or even slang, that resonates with them more than others?
What acts set your audience apart from the rest of the population?
Test to find what appeals to your customers
Make sure you have a large sample size to experiment with
You'd better test one element once; if not, you cannot get accurate results
Move on to the next test after you've found a winning ingredient
Use a pre-send checklist to make sure everything is in order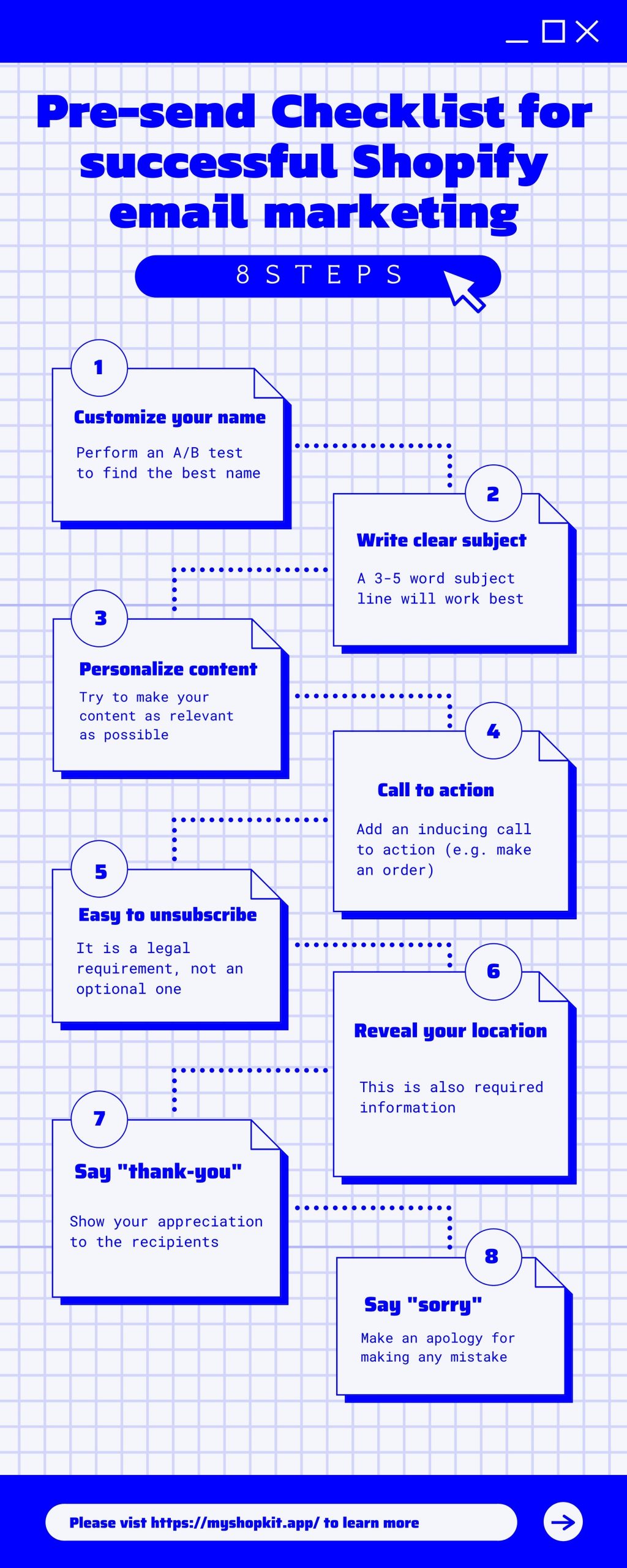 Choose relevant metrics to measure
Provide an engaging and urgent subject line and track your openings in case you want customers to read a critical update to your terms of service.
Clicks, visits, and conversions are the most important measures to track in case you wish to promote an offer or discount.
Quality takes precedence over frequency
Cherish your VIP recipients
Craft appealing & persuasive Shopify emails
Maintain consistent & on-brand email designs
Colors are consistent with the brand.
At the top of the email, there must be a logo and link to your website
Brief hypertext denotes the URL's destination.
Provide a sense of urgency and action.
The footer contains pertinent corporate information as well as unsubscribe buttons.
There is neither too much text nor too many graphics.
Write an irresistible subject line
Don't use no-reply from names
Send out a fantastic welcome email
Reviews for Shopify email marketing tools
Shopify email app
Shopify email app's bonus points
Setup in a 0-step
Ready-to-use email templates
Pricing
Shopify email app's minus points
Few email templates
No automated email marketing
The reason why you should install 3rd party Shopify email marketing software
Various beautiful & easy-to-use email templates
Automated email marketing such as welcome emails, activation emails, and confirmation emails. These emails are sent automatically whenever customers or actions match the rules or triggers you set up.
Integrated with many other tools that help boost sales and collect customer data (including MyShopKit's Popups, Smart Bars, Slide-in)
Have personalized and well-targeted emails with accurate segmentation
Have a detailed report and analytics
The list goes on.
Shopify email marketing: Final words