DH SEO ALL-IN-ONE BOOSTER App provides stress-free SEO for your Shopify store. In particular, On-Page SEO gives it a competitive edge over other Shopify SEO apps.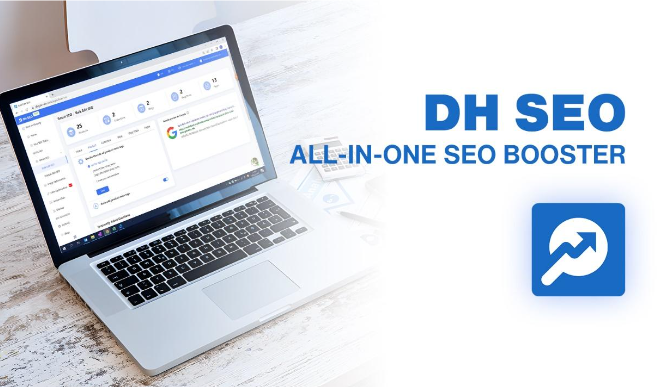 There are plenty of cheap alternatives – why choose DH SEO ALL-IN-ONE BOOSTER App?
As the world of SEO continues to evolve, so does the need for such a Shopify SEO app as DH SEO Booster. It's one of those apps that you will use on a daily basis and it's something that you will not want to be without.
This app is all about making your Shopify store rank higher on Google by optimizing all aspects of your store, from meta tags to image compression.
DH SEO ALL-IN-ONE BOOSTER APP IS BUILT EXCLUSIVELY FOR SHOPIFY – no hacky workarounds like the majority of other seo apps.
Have an easy-to-navigate app interface with in-depth guide, Ignore SEO technical terms as everything here is super clear
Live chat 24/7 non-technical support to back you up whenever you need assistance, willing to walk you step by step to improve your SEO score
Save time and effort with Auto Manual Meta tags features. Ensure your meta tags (i.e. meta title and meta description) are relevant and optimized to rank and convert
Improve key SEO metrics: organic traffic, search-ability on Google, website ranking and speed, etc.
Increase your product images' presence on Google Image Search with Auto add All Images Alt-tags & compression
Dramatically reduce the file size of your images with our image compression engine that decreases page load times to improve your rankings
Ensure your URLs are structured for success with our URL Keyword Optimization tool
Automatically build, maintain, and submit your sitemap to Google to ensure every page is indexed and crawled by Google
Get detailed insights into your site's SEO health with extensive SEO reports, letting you know you're on the right track or not
More functions will be developed continually.
Will I jump to the first page of Google if I use DH SEO Booster app?
Smart SEO in its simplest form can be broken down into two core components.
Technical SEO optimizations (On-Page SEO)
Building reputable backlinks (Off-Page SEO)
This app will ensure that you are set up for On-Page SEO success which is a key element. We will constantly monitor and automatically optimize your store to ensure you are meeting Google's best practices when it comes to Technical SEO.
The APP WILL NOT build backlinks for your store. Building backlinks is a manual process that can take months, if not years of dedication to achieve a top-ranked site.
Please be cautious of any app that guarantees you results, because it's not true.
Each SEO plan is tailored to fit your business size and the way it grows. Join us with a free 7-day trial, downgrade anytime you want with set-up efforts remaining. No personal information will be gathered
START OPTIMIZING YOUR SITE WITH DH SEO ALL IN ONE SEO BOOSTER NOW!
🎁 A gift for you: Shopify SEO checklist you wish to know earlier (downloadable)