There are a ton of different Shopify t shirt store examples that have successfully launched and managed to make a profit. In this article, we're going to provide you with examples and tips on how to launch your own store and make it successful.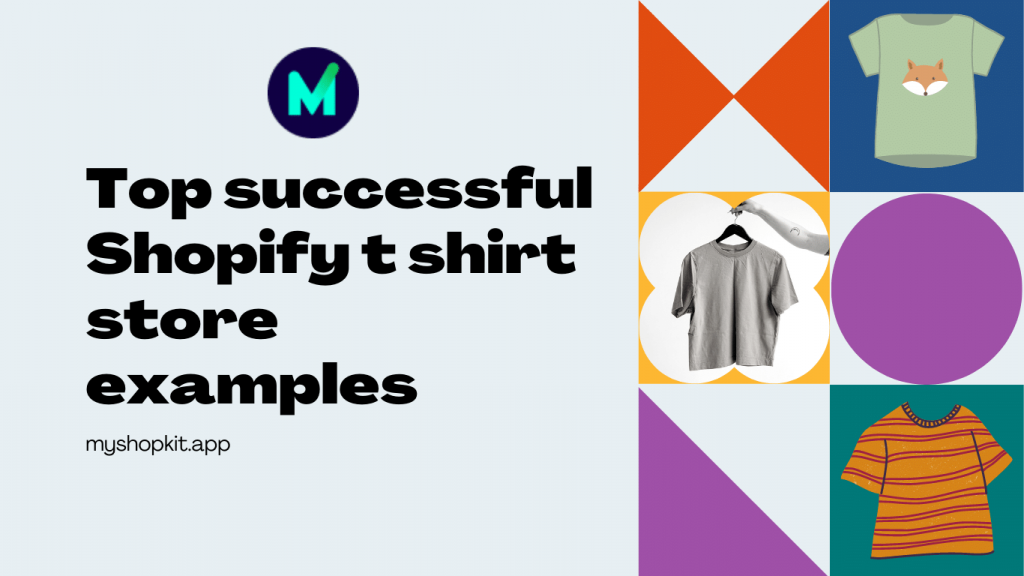 Tips to launch a successful Shopify t-shirt store
Identify a niche
Since there are numerous t-shirt shops, choosing a niche is crucial. It will serve as the focal point of your store and assist you in developing a distinctive brand. Consider what you personally love doing, you might find interesting t-shirts.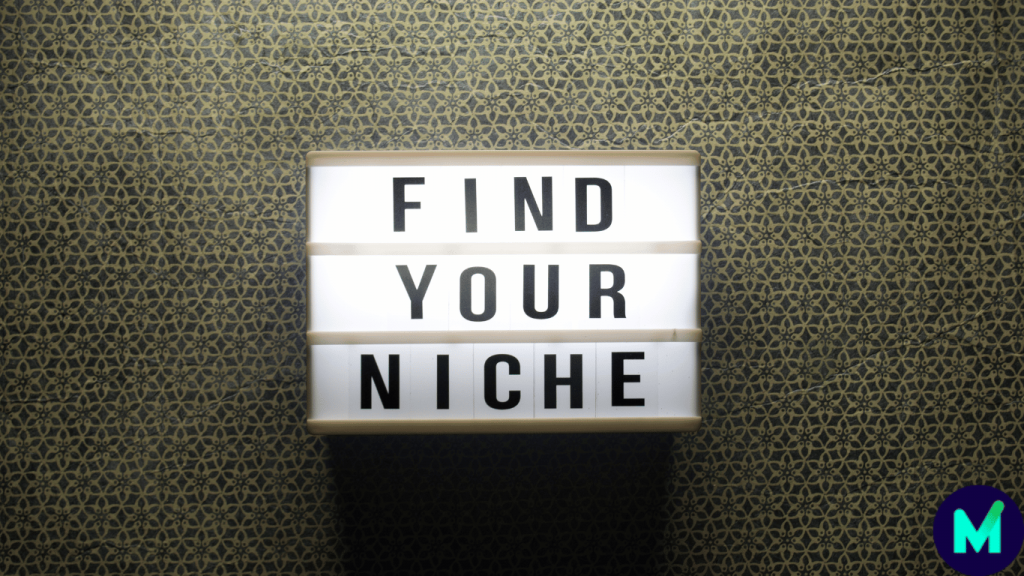 Discover reliable suppliers of materials
You need to enlighten yourself on t-shirt fabrics and print jobs. Because quality is essential to your t-shirt design's success. It might be tempting to forgo quality in favor of higher profit margins, but you should consider how a buyer would select and stick with your brand.
Therefore, you should consider the fit, material, size, weight, and softness of your t-shirt. When you are certain of your requirements, you can request samples from manufacturers to help you make a wise choice.
Design your own t-shirts
Looking at what else is well-liked if you are having trouble coming up with design ideas. For the best-sellers, you may browse various t-shirt markets. The ability of your designs to resonate with potential customers is what counts most. If you aren't a designer, you may get assistance from freelance websites, design forums, and even buy pre-made designs from markets for t-shirt graphics.
Mock up your t-shirts
Making mockup pictures will be your subsequent step after you have your finished designs. Your consumers can see how the design will appear when printed on the shirt. You have two options: get samples and shoot the product photos by yourself, or make a digital mockup on your pc.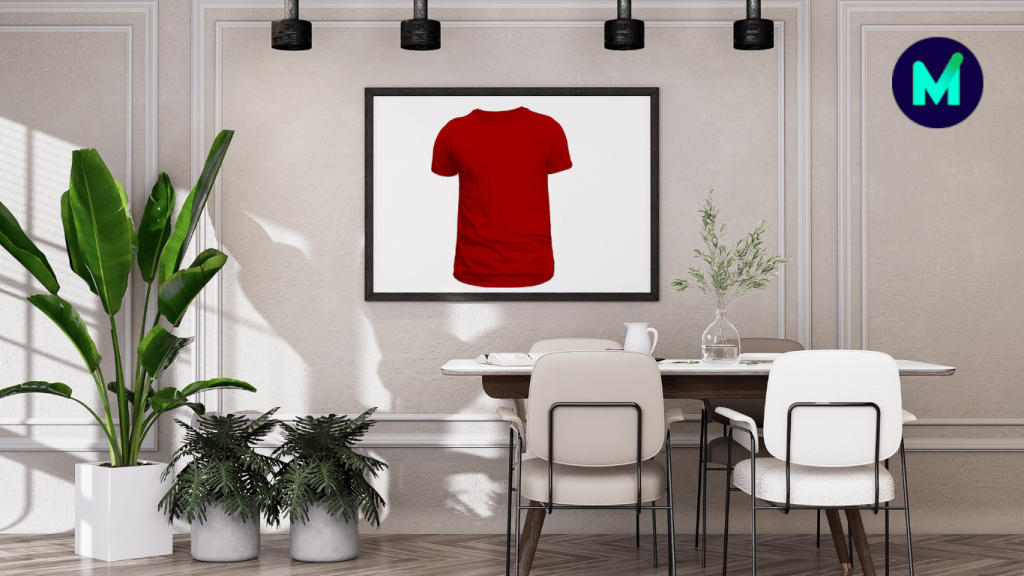 Test your t-shirts
It's time for some quality assurance. Make sure your product matches the interests of your target market. You may get feedback on your designs while marketing your company by posting them on social media sites or a community website like Reddit. An excellent option to test, validate, and get financing upfront for your concepts is through crowdfunding websites.
Additionally, wash your shirts—either by hand or in a washing machine—and check the results. You might also wish to experiment with different t-shirt sizes to see which ones you like most.
Top 8 successful Shopify t shirt store examples
This store records an estimated monthly traffic of 61,000 users. It focuses on all-over print garments with a broad choice of appealing patterns. In addition to t-shirts, Shirtwascash also offers leggings, sweaters, hoodies, and swimwear. Every article of clothing offered has been uniquely created, from offbeat to street designs.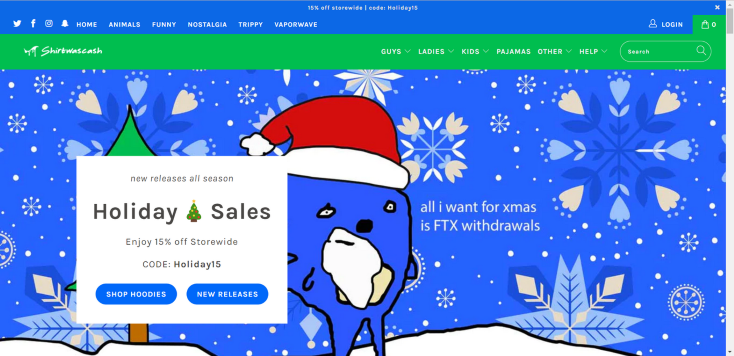 Shirtwascash offers well-established user procedures. These guidelines enable customers to exchange or return garments as long as the item is unused within 90 days after the transaction. These flexible rules have contributed greatly to increasing sales and profits.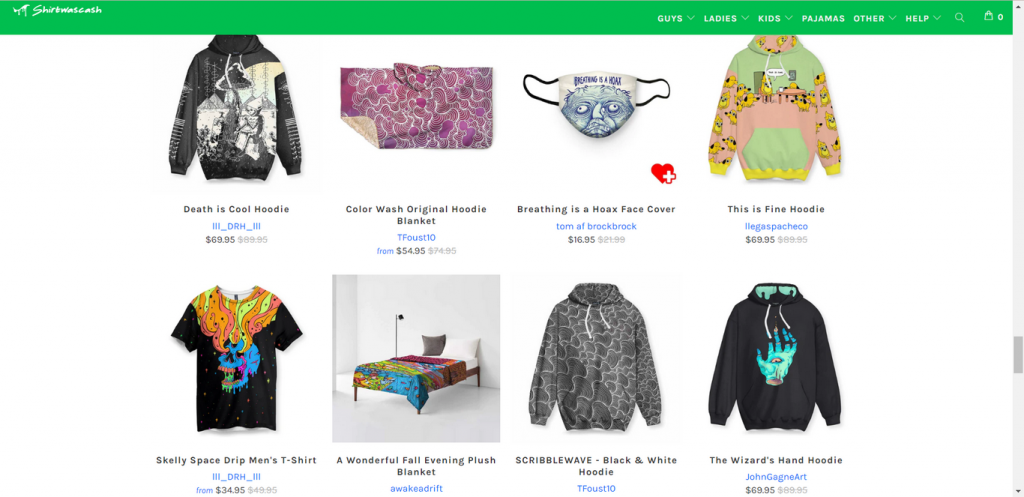 TeeFury, known for its pop culture & limited t-shirts, greets me with an exclusive rewards slide-in on the left corner and a popup with 15% off. The shop publishes new garment designs every 24 hours; these freshly launched designs are frequently sold at discounted pricing for the first few shoppers. This FOMO marketing tactic has resulted in increased sales. The store reports an average monthly traffic of 358,000 users.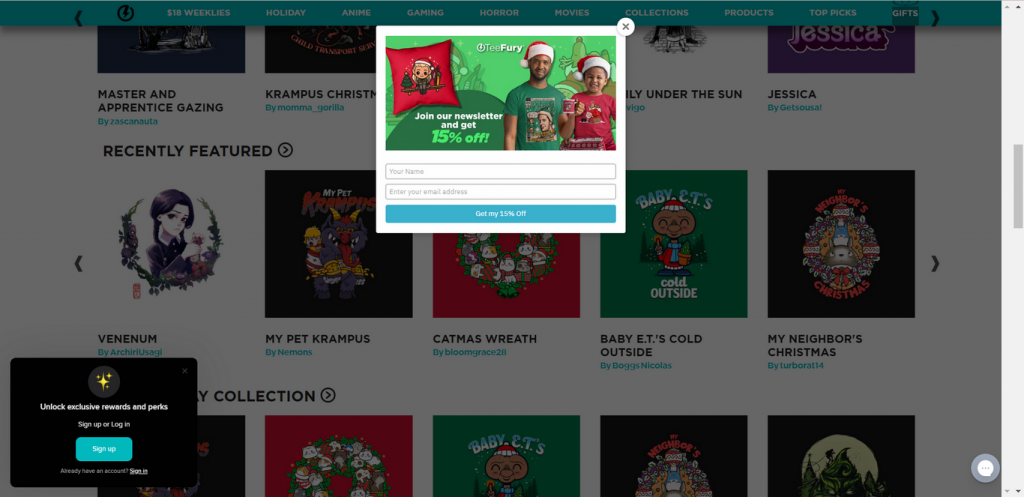 Artists of TeeFury have an everlasting drive for producing outstanding designs. Essentially, their designs express a feeling of satire and pop culture. The shop also offers shirts for certain genres, like anime, dystopian, paranormal, etc., to cater to the demands of a wider audience.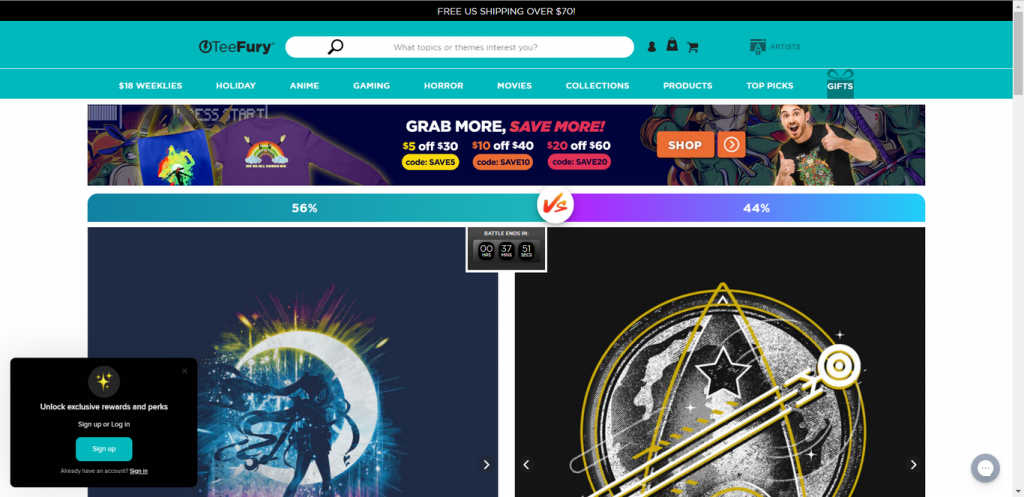 You may get a lot of knowledge from this store if you wish to specialize in t-shirts with animal graphics. Think Pup sells t-shirts featuring illustrations of several dog breeds.
Additionally, the company makes customized shirts by adding appealing names. For instance, it has names like "Corgifornia," which appeals to dog lovers in California. Think Pup aims to satisfy all of its users' requirements by adjusting the color of the shirts or implementing new concepts. This helpful shirt personalization service enhances not just the store's reputation but also improves fan loyalty.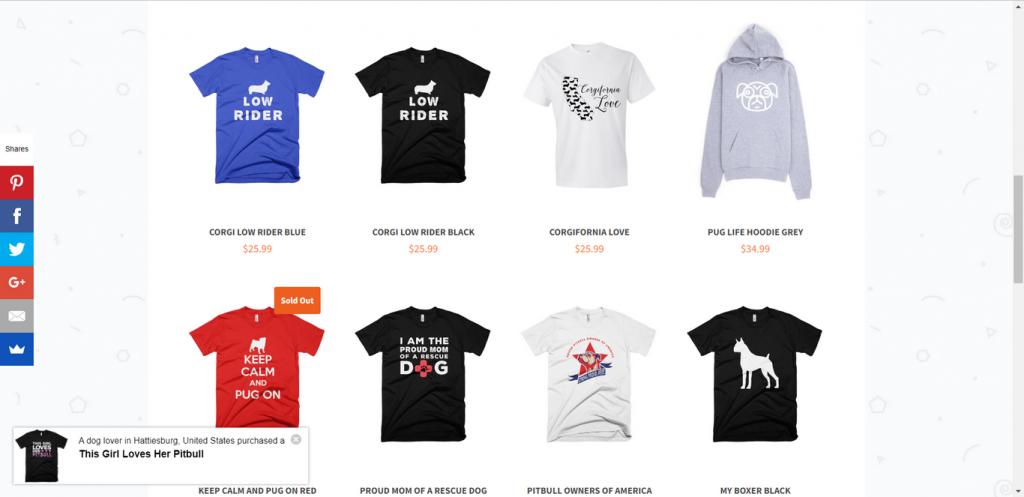 One thing that I like about this store is the use of Product Badge like Sold out to educate customers about the status of products. You can also add more badges such as New Arrival, Best-seller & Hot Today to interest customers. The use of the sale popup is also a great way to encourage visitors to buy. 
Factory43 focuses on the specialized market of graphic t-shirts, which manifests in the homepage video. I really love the exciting ideas illustrated in the images and video. The store also provides excellent layouts and a highly user-friendly UI. People may skim through the products sold and even place purchases more easily thanks to the straightforward website design.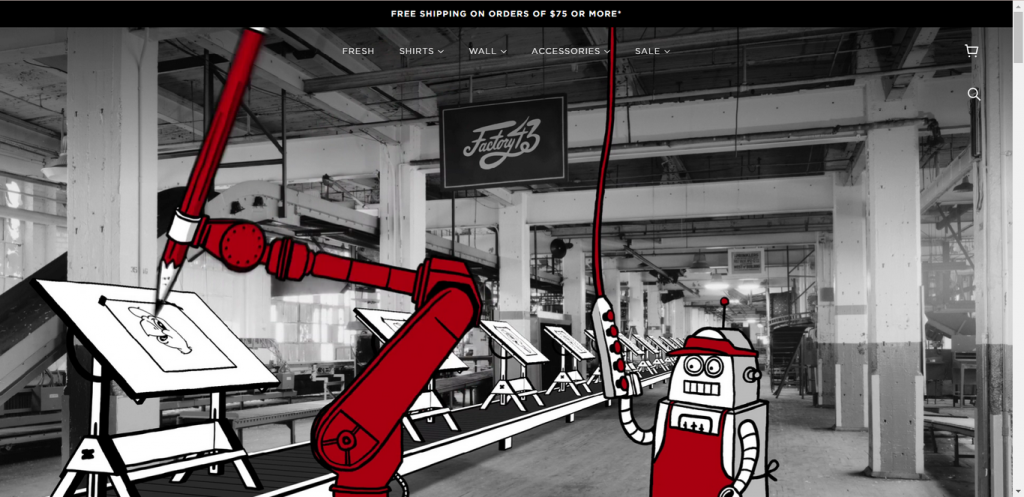 Additionally, Factory43 prioritizes quality over quantity. Because of this, despite their rarity, t-shirt designs are incredibly appealing and attention-getting. Establishing a presence on additional websites, such as Twitter, Instagram, Facebook, and Pinterest, helps Factory43 increase sales. All of these pages generate a lot of revenue for the company while also bringing in more devoted fans.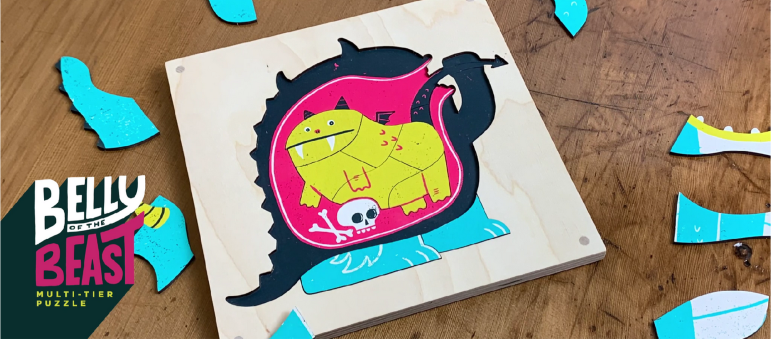 📚Related Reading: Top 9 successful Shopify pet store examples – MyShopKit
For each event, TextualTees focuses on producing humorous T-shirts. They claim that comedy from TV, popular culture, and the internet inspires them. However, they provide more than simply amusing T-shirts and have a modest pricing of just around $10. If you intend to make the cost your selling point, you may learn a lot from this example.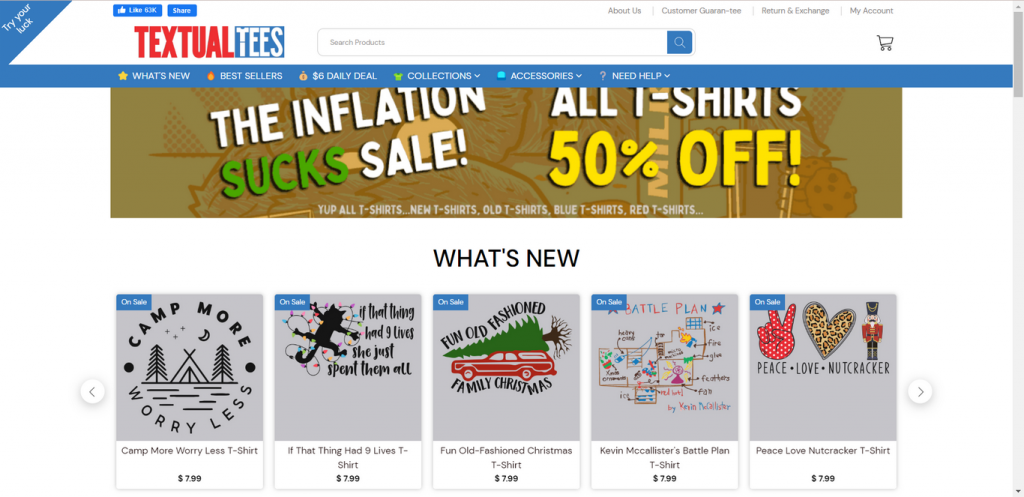 They promote the terms "cheap" and "funny" in their meta tags. Visitors can seek inexpensive t-shirts with amusing designs with ease. Customers may see their company identity via their emphasis on slogans and popular culture, and they keep up with the newest significant trends quickly.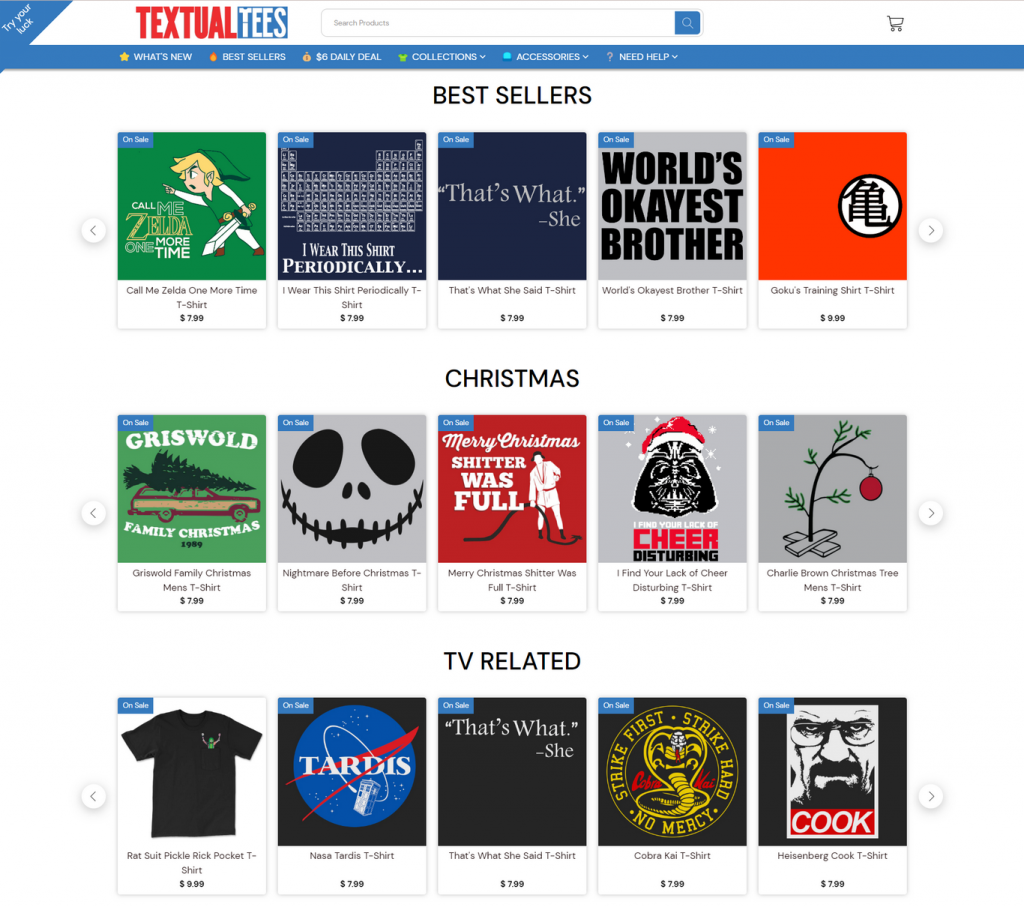 TextualTees also use product badges such as On Sale to highlight the sale, making customers buy their already-cheap items. On the product page, there is a sticky bottom bar showing quick add to cart. This allows customers to scroll down the page while seeing the add to cart button.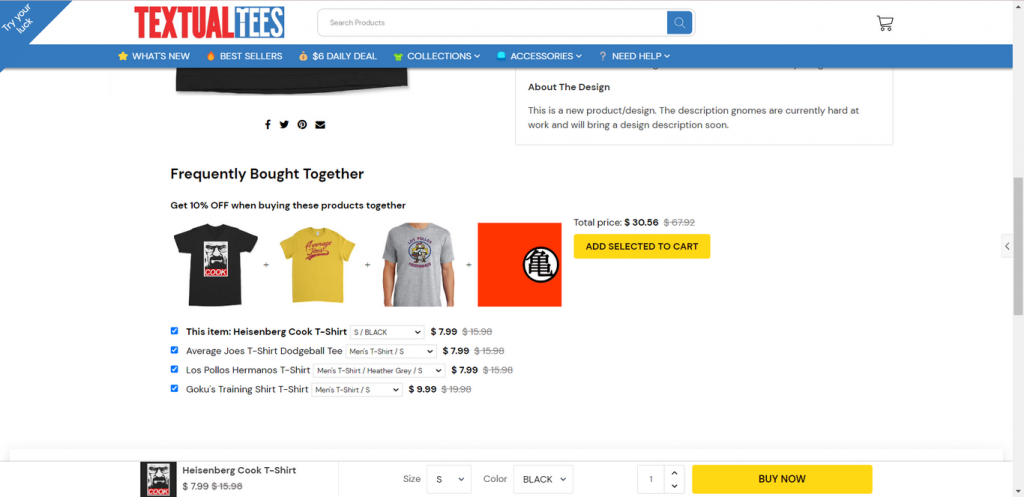 The store & product design clearly display the brand identity of Shelfies. With the most vibrant niche, when you take a glance at some of their items, you can't help but smile. Customers may find a trending impact on pop culture on the main page, which is fantastic for displaying the collections at the top. The layout is simple to use and makes it simple to locate items of interest.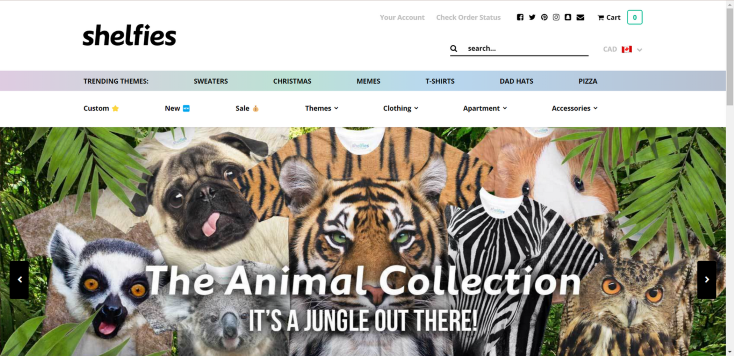 I should also point out that the store's minimalist design, which has bold black writing and lots of white space, makes the items stand out. Plus, the product filter is advanced enough for customers to narrow down their search.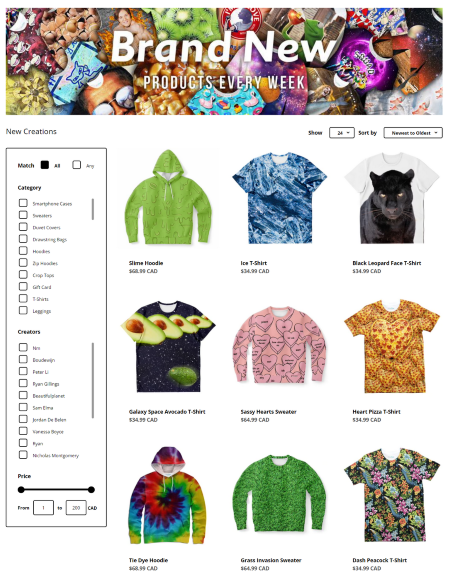 A fantastic example of how to benefit from originality is Ape Snort. You can notice the brand identity right away on the homepage. Through looking at images of their items being worn by big-headed people. Visitors are quickly drawn in by the design's humor. And there are over 10 product pages to peruse.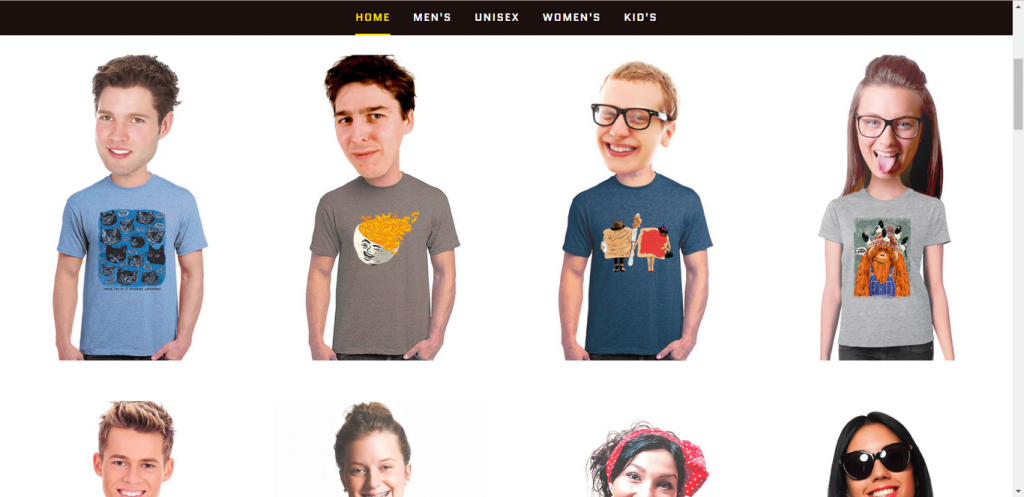 The layout of the homepage couldn't be simpler, consisting only of a few product pages & a banner advertising their promotion. They don't have a blog or an opt-in form, thus the company must solely be interested in selling. However, I believe they are passing on an opportunity to further increase their profit.
It is still entertaining to look at, though. Which prompts you to consider how you might distinguish your Shopify t-shirt business from all of its rivals. Just create something unique and unmistakable!
This Shopify t-shirt business offers t-shirts with Christian themes to women solely. The store has a lovely style made up of several photos that give it a feminine vibe. Even some of the elements appear on the screen in a pleasant way. Customers and visitors are enticed to keep scrolling by just glancing at these stunning photographs.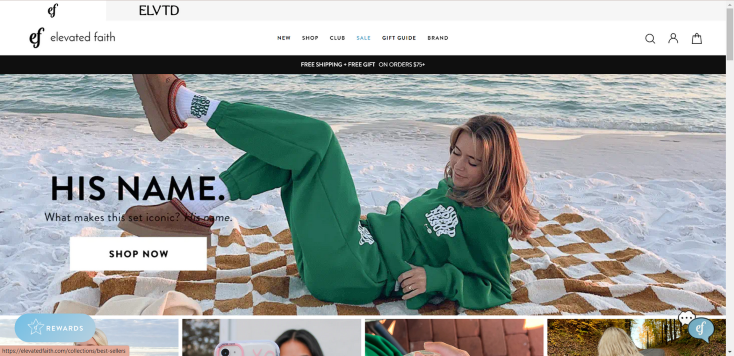 Elevated Faith has a presence on almost all significant social media networks. The brand has above 300k followers on Instagram and above 125k followers on Pinterest. The store's enormous success can be attributed to its ability to consistently update interesting content.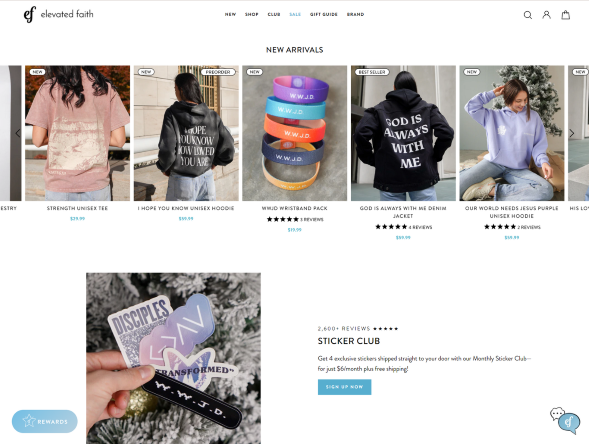 This store does a great job of persuading why customers should buy their products. It provides its mission statement and testimonials below each product.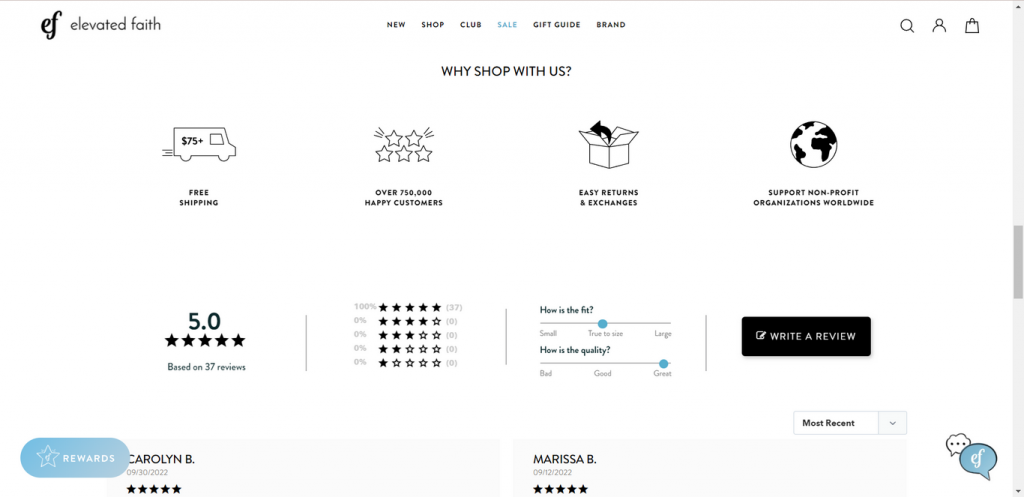 Shopify t shirt store examples: Conclusion
In conclusion, if you're looking to create a t-shirt store on Shopify, there are plenty of example stores out there to follow. From small, one-man operations to well-funded businesses with millions of dollars in sales, there's a model that will work for you. With the right strategy and the right tools, setting up your own t-shirt store is a breeze. So go ahead, get started!