Are you looking for email marketing agencies for Shopify dropshipping? If so, there is no need to go further as this blog is made for you. In this blog, I will introduce you to established email marketing agencies and ways to increase your email list.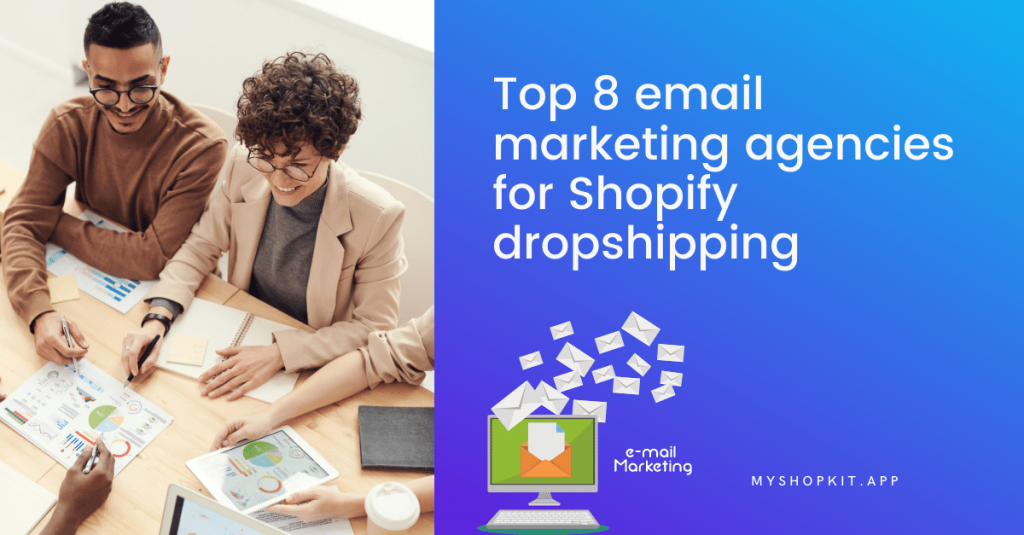 The remarkable benefits of effective email marketing
➤ Creating content tailored to a different segmented audience. The personalized content is shown from the subject line to the content and frequency of sending emails. If the subject line includes the recipient's name, that email will likely open. The content sent to one-time customers is not the same as returning ones.
➤ Carrying out surveys and collecting feedback is more effective when sent via email. Email subscribers are really interested in your products and services, and gathering customer feedback from email subscribers is a good move.
➤ Increasing the number of orders. Email marketing campaigns can promote items or services, convince visitors to buy after abandoning their carts or send customers exclusive offers.
➤ You can also introduce loyalty programs via emails, rewarding your customers with coupons or freebies for their action.
➤ Increasing your store's traffic. Do you produce great content but don't know how to distribute it to customers? Thanks to email marketing, you can send weekly newsletters to your subscribers. They can update valuable growth tips and get engaged with your business. This also helps search engine optimization of your Shopify store.
All in all, email marketing campaigns factor into the success of your eCommerce business. Email is a crucial marketing channel to feature products/ services, get customer feedback, improve sales, and drive traffic to your store.
Why are email marketing agencies for Shopify dropshipping important?
When you start dropshipping on Shopify, you have many tasks and problems. You might be aware of the importance of email marketing. However, you are clueless about how to execute a workable email marketing campaign. That's the reason why there exist email marketing agencies for Shopify dropshipping.
Their goal is to make sure your email marketing efforts are successful. They offer a wide range of services, from a la carte to full-service agencies. They assist with email layout, copy, plus content creation on occasion.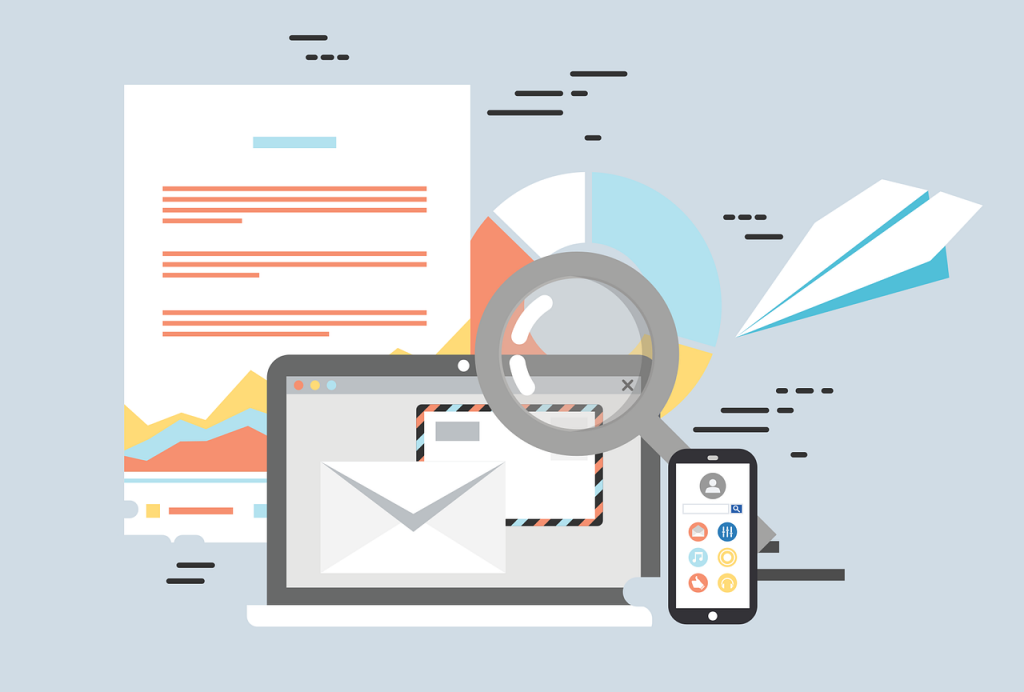 Like other specialized skills, email marketing requires time and effort to master. Email marketing agencies for Shopify dropshipping have already had experience. They put in the time and effort to keep up with industry developments and grasp the client relationship path.
Hiring an email marketing firm provides your company access to industry knowledge that most start-ups don't have. With their guidance, your next email marketing campaign will have a far better chance of succeeding.
Top 8 email marketing agencies for Shopify dropshipping
Below, I have rounded up the top 8 well-known companies specializing in email marketing. Depending on your budget and goal, pick the best email marketing agencies for Shopify dropshipping.
Fuelmade
Fuelmade is the ultimate full-service agency for eCommerce businesses. They specialize in customer experience and converting leads into paying customers. This email marketing agency can create relationship-based email sequences that keep your consumers happy and content.
Beauchamp Sullivan & Co.
It's possible that your objective is to develop more intimate ties with consumers. If that's the case, BS&Co. would be your first choice. They are experts in developing relationships via marketing channels.
Chronos Agency
Chronos focuses on generating a positive return on investment. This service is for you if you would like to create a thorough eCommerce email marketing strategy that gets results.
Boundless Labs
This is a full-stack email marketing service. Their experts have expertise such as building email lists, developing email marketing funnels, and carrying paid acquisitions for both B2B and B2C. Developing a data-driven strategy is the top priority. They collaborate with their customers by forming a relationship to assist them in achieving their business objectives.
Mangrove Digital
Mangrove Digital is dedicated to assisting eCommerce businesses with acquiring, retaining, and engaging their customers via email and SMS. They think that having a great email marketing plan will enhance customer loyalty, better lifetime values, and ultra-relevant brand experiences.
Wavebreak
Wavebreak helps high-growth DTC and eCommerce brands get the most out of their email and SMS campaigns. Since its inception, it has designed and improved creative email and SMS campaigns for the strongest DTC businesses. A comprehensive strategy, consumer experience, segmentation, customization, finest creativity, faultless execution, and detailed reporting are all priorities.
InboxArmy
They are well-known in the business for their quick email marketing response. Customizable coding, email template creation, and 360º email marketing monitoring are among their services.
SmartMail
They're experts in creating a sales-driven eCommerce customer journey. They handle all aspects of email marketing for virtually any online shop. Their achievement speaks for itself, as they specialize in automated trigger campaigns.
How to grow your email list before hiring email marketing agencies for Shopify dropshipping
The prerequisite for creating successful email campaigns is having a sustainable email list. Why do I write "sustainable"? Because you need to grow your email list naturally rather than tricking visitors into subscribing without consent. You are encouraged to develop effective strategies to collect customers' emails. In other words, you need to tempt visitors into leaving their email addresses with irresistible offers.
One effective way to do so is by using popups, announcement bars, and sliders. Use them on your Shopify store or website outside of the Shopify platform to persuade customers to subscribe. If you have coding knowledge, you can add code to your theme. However, if you are clueless about coding, you should install a Shopify app.
MyShopKit Popups, Announcement bars, and Slides app is the most widely-used Shopify app helping you expand your email list. What makes the MyShopKit app stand out from the pack is gamification and exit-intent popups.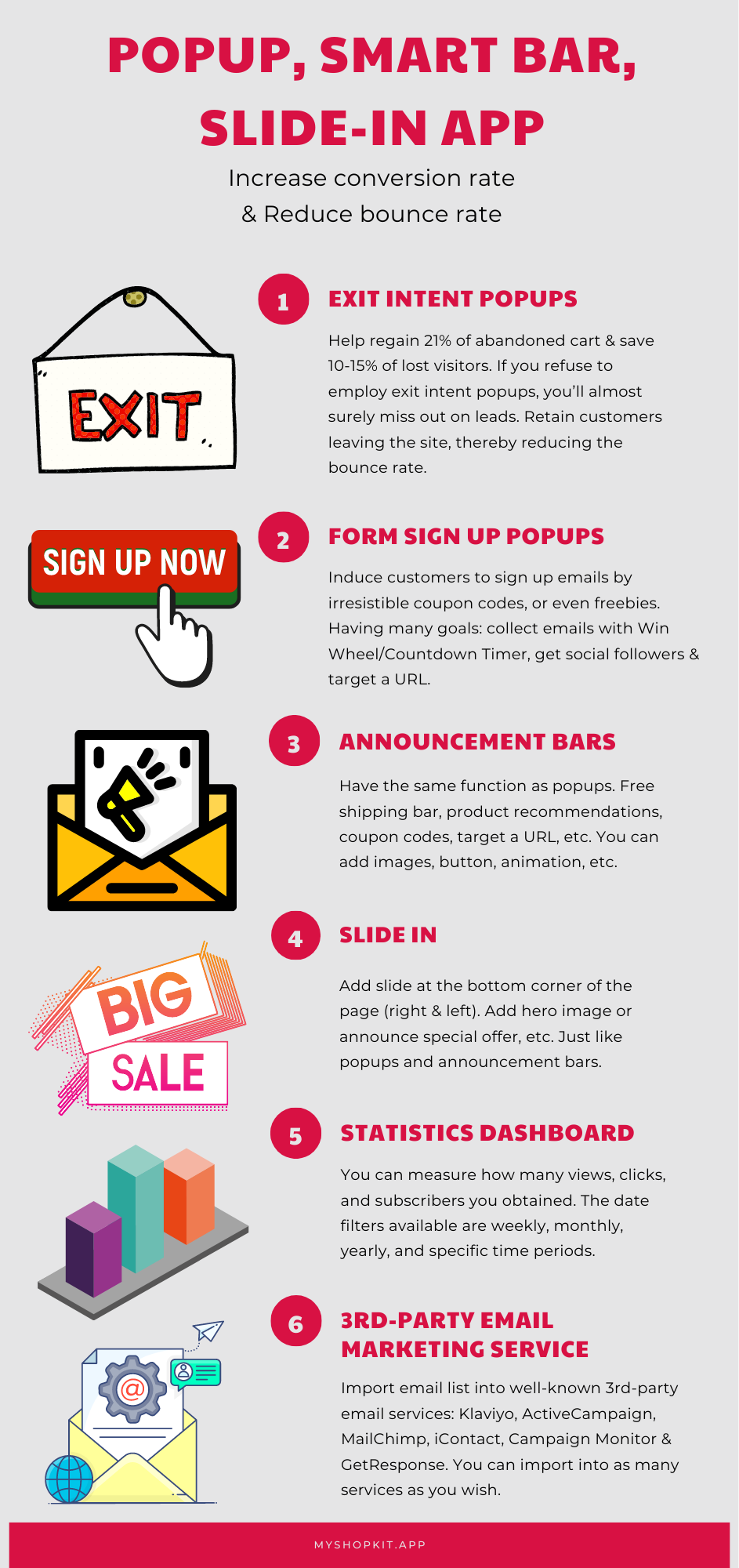 People are really into playing interactive games of chance. If your customers are lucky enough to get a gift, they will definitely want to claim it. Because the gift proves how lucky they are. To get the gift, they should leave their correct email addresses. The gift such as coupons, discounts, and freebies will be delivered to the email address of the lucky person.
Now, you succeed in collecting email addresses with permission. Not to mention increasing sales by offering money-off coupons.
Final words for email marketing agencies for Shopify dropshipping
I hope that through this blog, you can opt for the most suitable email marketing agencies for Shopify dropshipping. If you wish to find out more about the above email marketing agencies, you can search for information on Google. Don't forget to have a sustainable email list before reaching out to them. Because once you hire professionals to do email marketing, you should provide an extensive email list so that they can do data analysis better.