Nowadays, people have considered Kalles Shopify Theme a significant and helpful theme for eager sellers looking to construct a professional online store. Kalles Shopify Theme never disappoints clients with its features and styles. Continue reading to know how fantastic this theme is.
Please type password: wheelo to access the demo store
What Is Kalles Shopify Theme?
Kalles Shopify Theme is one of Shopify stores' most well-known themes. It provides a range of styles appropriate for the varying demands of merchants and will provide their consumers with a smooth and seamless shopping experience. It also brings a contemporary design, a minimalist aesthetic, and a variety of tangible demonstrations to your online store.
Kalles theme embodies simplicity, creativity, and affordability. That is why Envato Tuts+ has ranked Kalles Shopify Theme as the number one Shopify Dropship Theme.
What Makes Kalles Shopify Theme More Outstanding Than Other Products?
Ease of use, original design, diversity, and a reasonable investment are always the main factors for shop owners picking a theme to build an online store. Kalles Shopify Theme always meets the high standard requirements. It provides over 40 attractive homepage demos from which to choose. You can select the demo, add your text, and publish it in a few minutes with a one-click installation.
Besides, a strong new filter is a significant function from Kalles Theme. It allows users to filter product characteristics rather than tags while retaining extremely quickly loading times.
The next factor that makes Kalles theme outstanding is conversion speed. Do you know that the speed of your website influences 70% of your traffic? No one wants to waste time browsing through product pages, so Kalles pays more attention to loading speed and is proud to be the fastest theme.
Kalles Theme also provides customers with various helpful functions. It would be remiss not to mention the ability to optimize product pages, excellent mega menu, product variation swatches, and so on. All these features are available in Kalles Shopify Theme – the best theme for you.
Top 4 Apps You Must Try With Kalles Shopify Theme
Popup, SmartBar, Slide In
Advertising has increased the efficiency of the company industry. As a result, Popup, SmartBar, and Slide In is a must-have app for introducing new items, promotions and driving traffic to your online store. This app offers great templates for all of your design goals, including:
Collect emails
Collect emails with Win wheel
Collect emails and get social media followers with a discount
Target a URL
Get social follows
Effective email marketing with integrated well-known 3rd-party email services, etc.
Popup, SmartBar, Slide In offers over 300 themes, and you can customize color, text, and animation to let you design distinctive Popup, SmartBar, or Slide In templates. Furthermore, this application is entirely compatible with and simple to install on the Kalles Theme. With only a few clicks in a few minutes, you can have a beautiful popup or smartbar for your website up and running right away.
Let's read this article Exit Intent Popup: Shopping Cart Abandonment Solution to know more about using this app. I am sure this post 14+ Latest Shopify Popup Examples in 2022 will assist you in finding ideas to create your popups.
Please watch the video below to understand how to use Popup, SmartBar, and Slide In on Kalles Shopify Theme.
Product Badges
Product badges are "virtual stickers" placed on items online to highlight crucial characteristics. Labeling items make it simpler for consumers to locate what they're looking for, encourages purchases, and fosters a more productive habit of using the website. Allow Product Badges to assist you in accomplishing this.
The most noticeable characteristics of product badges include
Add different aesthetic badges to goods automatically: On Sale, Out of Stock, and New Arrivals. However, you may manually add badges to your items.
Promote user creativity: You can design your badges easily and rapidly with Product Badges.
Create an easy-to-use interface for your online store.
Modern design minimalist feel
Spend a few minutes to discover how to design amazing badges through 12 ideas to boost sales with product badges. Don't forget to watch the below video! You'll see how effectively Product Badges integrate with the Kalles Theme.
Multi Currency Converter
Currency conversion plays a vital role in international shops. No foreign client wants to take their eyes off a product to check its price in their own country. Therefore, you should utilize Multi Currency Converter tool to give more than 170 local currency units and convert them automatically.
It saves time, effort and encourages clients to purchase things more quickly. The more perks you provide your customers, the more rewards you will receive.
Image Optimizer MyShopKit
As the name implies, Image Optimizer MyShopKit will assist you in optimizing photos and content for your website. It has remarkable traits such as:
Pictures Compression: Find and compress images while maintaining image quality. After that, all optimized photographs are instantly uploaded to your online shop.
Alt Text Optimization: Alt text is vital for SEO because Google frequently prefers it. You will no longer need to add it manually. Let Image Optimizer MyShopKit add alt text for your website automatically.
Set one time – use a long time: What you have to do is install this function. This app will scan new photos daily and take care of them for you.
Wait! Wait! Don't go so fast. Take a look at the below video to know using way Image Optimizer MyShopKit in Kalles Theme.
Veda Builder: Reasonable Alternative to Shopify Kalles Theme
Basically, Kalles is only one Shopify theme whereas Veda Builder possesses a wide range of Shopify themes. With Veda Builder, building a Shopify store is a piece of cake. This praise-worthy app offers various page & theme templates that you easily customize to create a single page or the whole store of your own.
Most of Kalles theme features can be found in Veda Builder's themes. Veda can override Kalles as well as any other Shopify themes. It means that you can use Veda as a theme or combine it with other Shopify themes. Veda also enables you to customize all elements, sections, pages, and themes.
Most importantly, the price of Veda is really affordable, even for a small & low-budget start-up. It's no exaggeration to say that Veda Builder is an all-in-one Shopify store builder & a rival to many other popular Shopify themes.
If you wish to install this powerful Shopify store builder FOR FREE, you can contact our support team at [email protected] or leave a comment below. We're very pleased to guide you on how to install Veda Builder as soon as it's launched. We have a really special offer for the first Veda users, don't miss out!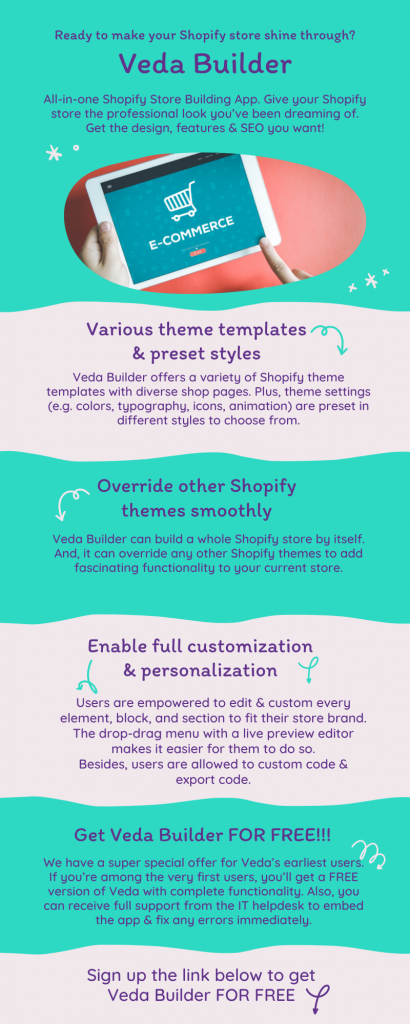 Kalles Shopify Theme: Final Thoughts
In my opinion, Kalles can be considered the only Shopify theme you'll need to establish a strong, trendy, and unique online store. It satisfies even the most discerning users with a wide range of homepage layouts, product layouts, loading speeds, and so on.
However, if you want to diversify your store more, you can consider installing Veda Builder. Also, let's combine Kalles theme with superior MyShopKit apps including Popup, Smartbar, Slide In, Multi Currency Converter, Product Badges, Image Optimizer MyShopKit to provide your consumers with a smooth and seamless shopping experience.
Besides Kalles Shopify theme, we also review other popular Shopify themes from Themeforest such as Shelle theme and Wokiee theme, and Maestrooo's Prestige theme. You might want to have a look at them.
Don't hesitate to share this post with your friends if you find it useful. Remember to come back for more information on other fantastic applications.